Jochen Rindt: the man who brought cars to dancing life
He could do absolutely anything with a car, writes Paul Fearnley. And Jochen Rindt did it with style and panache too.
Jochen Rindt was super-cool and mega-quick. With the stylish, willowy Nina on his arm and stopwatches, this German-born Austrian epitomised motor racing in the second half of the 1960s.
Even a young Niki Lauda – not much different from the older Niki, truth be told – was star-struck: only Rindt, he reckoned, could carry off the wearing of a full-length fur coat: "On him it looked truly majestic."
Rindt was flamboyant in the cockpit too, his rapid progress a sequence of arcs whose balletic grace belied the daredevil commitment at their core.
He could do absolutely anything with a Formula 2 car – lead from the front or charge from the back or stage-manage a slipstreaming melee – and was the category's unequivocal 'King' in the presence of Messrs. Clark and Stewart.
He was, however, uncrowned in Formula 1.
Having burst onto the scene in May 1964 with an F2 victory at Crystal Palace – following a pole position at Mallory Park – his signing for the waning Cooper concern would leave him wanting at the highest level.
Brabham in 1968 provided the speed but not the reliability – its quad-cam Repco was no match for Cosworth's DFV – and so, albeit somewhat reluctantly, Rindt joined Lotus for 1969.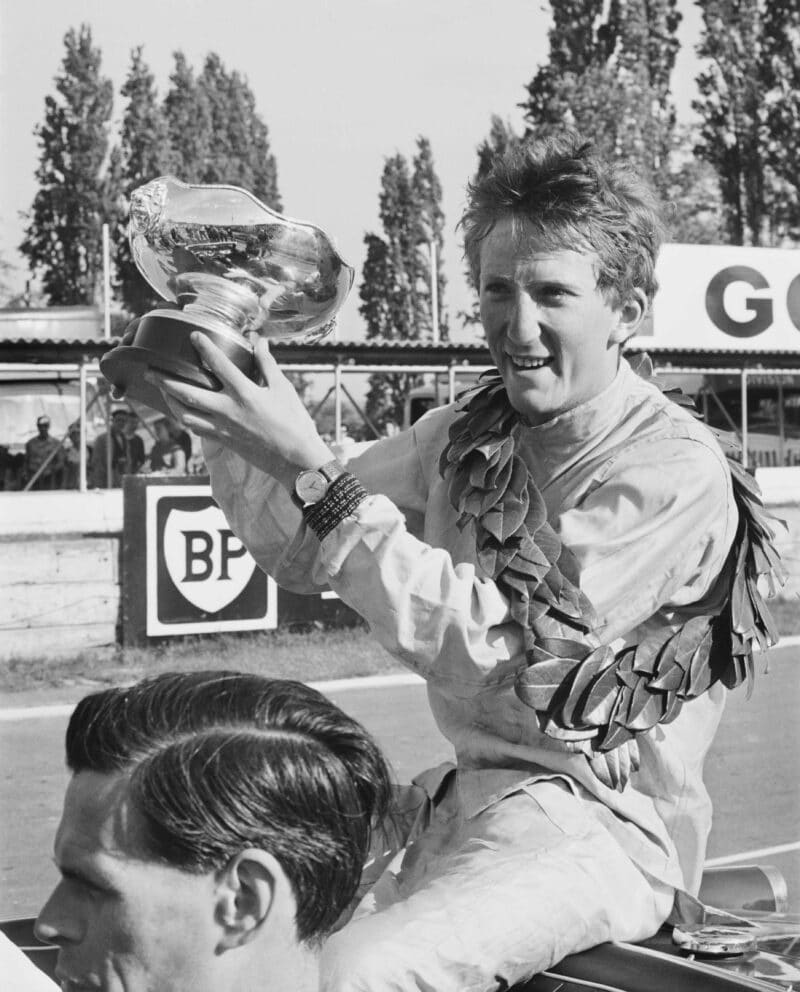 His relationship with Colin Chapman would be tempestuous – it could only be thus given their mercurial natures – and Rindt, fretting about his cars' integrity as the sport grasped greedily but barely clung to the unseen hand of downforce, even aired his doubts in public.
Yet they needed each other. There was no way on God's Green Hell that safety-minded Stewart – Rindt's only superior after Clark's death – was going to bale from his shipshape Matra (unless forced to use a Matra engine!), and Rindt was in a rush to become World Champion before moving on to bigger and better things in cahoots with manager Bernie Ecclestone: 1970, therefore, would be strictly business.
Having finally broken his category duck at the last GP of 1969, Rindt found another gear: the one that allowed him to win at the slowest possible speed. A sensational Monaco victory had everything to do with his brio and panache in a model past its best, but the arrival of the game-changing Lotus 72 thereafter allowed him to pick and choose his moments. Suddenly luck appeared to be on his side, too – as often it does when winning seems easy suddenly.
Stewart, now lumbered with a lumbering March, witnessed his best friend's evolution from natural talent to thinking man's driver and braced for their battles to come. He was looking forward to them, in truth, for Jochen always raced cleanly.
Rindt's fatal accident during practice at Monza occurred as he attempted to slip downforce's swirling bonds. Running without wings at Chapman's suggestion – and with his own racy acquiescence – the car looked a handful, albeit manageable in his expeditious hands, when a brake-shaft likely broke, turning it sharply left into Armco that parted to reveal a post beyond.
F1's new king was thus denied his coronation and likely cheery abdication – Rindt had so many strings to his bow and the inglorious gladiatorial death of friend Piers Courage had pulled other targets starkly into focus – and as such he remains in the modern memory mainly as the only posthumous World Champion.
Those who saw him perform, however, saw him bring any car to dancing life, saw him scribe those shapes, rubber on Tarmac, will never forget him – and a goodly number will lay claim to his being the best.
The point is moot. His best perhaps lay forever ahead of him. Beyond doubt is that there have been very few faster than this John Lennon lookalike who was the sixth Beatle to George Best's fifth.
---
Jochen Rindt: 2020 Hall of Fame nominee
Voting is open for the 2020 Motor Sport Hall of Fame, with Jochen Rindt among the F1 nominees. Make your choices below, and be in with a chance of winning a £265 Striling Moss print from Tim Layzell.