Leclerc loses out as Perez wins dramatic 2022 Monaco GP: as it happened
Sergio Perez in changeable conditions as rain brought plenty of excitement to the 2022 Monaco Grand Prix
Charles Leclerc's unlucky run at Monaco continued as Sergio Perez won a Monaco Grand Prix that was packed with drama as the rain fell on the Principality.
The start of the race was significantly delayed as heavy rain hit the track, starting more than an hour late, but it proved to be worth the wait, as drivers on full wet tyres first got to grips with the slippery track, and then the drying racing line.
The timing of pitstops proved to be Leclerc's undoing, as the polesitter left it too late to switch to intermediate tyres and fell behind Sergio Perez. Carlos Sainz was dictating strategy from his cockpit and elected to remain on full wets.
He was vindicated a few laps later when the track was dry enough for slicks and both teams stopped. Although Perez seized the lead, Sainz leapfrogged his team-mate who was relegated to fourth behind Max Verstappen.
That's the way they finished, but not before a nail-biting final few laps, where they ran nose-to-tail as Perez on soft tyres came under attack from Sainz.
After being ordered to hand the lead of the Spanish Grand Prix to Verstappen at the last race, it was vindication for Perez.
"No words, no words," radioed Leclerc at the end of the race. Ay ay ay, the season is long but we cannot do that."
The race was stopped after two hours, before full-distance, after a red flag caused by Mick Schumacher losing his Haas into the barriers. Here's how it played out:
Weather brought the hope of an unpredictable race and from that perspective, the rain started falling too early – as the cars were on the grid, rather than racing with slicks on a dampening track.
The light downpour triggered a decision to delay the start and run the formation lap behind the safety car, forcing all the teams to fit full extreme wet tyres to the car.
There was frantic activity as tyres were wheeled up and down the pitlane, physios raced to switch helmets with clear visors, and umbrellas were summoned.
"Everyone take some deep breaths and cool down," radioed Hamilton
"What are we waiting for? For it to dry up?" asked Verstappen pointedly, undoubtedly accompanied by vigorous nodding from fans who believe modern F1 is too safety-conscious.
But the rain was torrential by the time the cars got away at 3.16pm, and over two formation laps, the radio messages made it clear what the next chapter of the race would be.
"To be honest, wetter than I thought it would be," said Daniel Ricciardo.
"It's raining like crazy," said Leclerc from behind a wall of spray generated by the safety car. Seconds later, race control triggered the red flags and the cars filed back to the pitlane, crossing a river of water at the entrance.
Lap 1 started with the safety car leading the line of cars out of the pits and the Monaco barriers claimed their first victims almost immediately, before racing was underway: Nicholas Latifi damaging his front wing after failing to make the Loews hairpin and Lance Stroll glancing the barrier, suffering a puncture; the Aston Martin and Williams dropping to the back.
The safety car dived into the pits after two laps and the rolling start on lap 3 saw the cars maintain position. Charles Leclerc leading ahead of Sainz and Perez remaining ahead of Verstappen behind.
Pierre Gasly made an early stop to switch to intermediates and began setting fastest sectors on lap 4, with clear air — but was still struggling with grip, as he fishtailed on his way to Mirabeau and locked up into the Nouvelle Chicane.
Gasly went on to set the fastest lap of the race on lap 5 as the track dried out, although Sainz soon went faster.
Vettel and Tsunoda were next to switch to intermediates as Leclerc set the fastest time on lap 7, leading Sainz by 3sec, with Perez 2sec further back and 1.2sec ahead of Verstappen.
Asked about the conditions, Verstappen said: 'Drying but still tricky on these tyres".
George Russell was pushing in pursuit of Lando Norris's fifth palace, outbraking himself at the Nouvelle Chicane and running over the kerb.
By lap 10, Gasly was on the back of the line of full wet runners who hadn't yet pitted and, 45sec off the leader, was frustrated in his attempts to pass Zhou Guanyu in 14th.
Both moved up on lap 11, as Albon braked too late and drove into the run-off area at St Devote, dropping down from 13th to 16th.
It was Zhou running off track a few corners later, sailing over the kerbs at Nouvelle Chicane and keeping Gasly behind him.
But the AlphaTauri was past when he dived down the inside at Mirabeau for 13th place; Ricciardo next in his sights a second up the road.
Gasly was hunting for a gap by the end of lap 12, eyeing the outside of Rascasse, then found a way past at the swimming pool chicane on lap 13 as his intermediate tyres gave superior traction.
"It's definitely inters now," radioed Perez, but was left out on track as Red Bull kept its options open. "We are going to go straight to dry," Sainz told his pitwall on lap 15, dictating strategy from the cockpit.
Lewis Hamilton pitted at the end of the same lap and switched to intermediate tyres from eighth position, only losing a place to Esteban Ocon and emerging well ahead of the charging Gasly in 12th.
Perez followed suit on lap 16, swapping his full wets for intermediates and dropping from third to fifth, just ahead of George Russell and 2.5sec behind Norris.
Sainz was told to pit for intermediate tyres on lap 17. "I think it's the wrong decision," said Sainz. "Stay out, stay out was the message soon afterwards, as Verstappen changed on to the green-walled rubber.
Norris stopped for intermediates, going from fifth to seventh, ahead of the battle between Esteban Ocon and Hamilton who came together at St Devote; Hamilton poked his nose down the inside but Ocon chopped across it, rubbing the front wing with his right-rear tyre, causing noticeable damage to the Mercedes.
Leclerc pitted on lap 18, putting on intermediates and falling behind Perez who had been lapping more than 5sec per lap faster than the Ferrari.
At the same time, Mick Schumacher pitted for slicks, choosing the hard tyre and dropping to last, and he was soon followed by Latifi.
The Hamilton-Ocon battle continued apace, barely a hair's breadth apart as Hamilton tried outlandish moves around the outside of Mirabeau and at the Swimming Pool Chicane, which proved unsuccessful.
"Have any of his [defensive] moves been investigated?" asked Hamilton. That question would be answered several laps later, when Ocon received a 5sec penalty for causing a collision.
Ferrari decided to switch to slicks on lap 21 in a chaotic call, as Sainz, in the lead, and Leclerc were told to pit. Late on, Leclerc was given a message to stay out, but it was too late and both cars arrived for a double-stack stop for hard tyres. "Why, why, what are you doing?" yelled Leclerc whose dominance at the front was well and truly over.
With both Ferraris dropping behind the Red Bulls, the team responded immediately with the same tactic on lap 22: Perez, followed by Verstappen switched intermediates for hard tyres.
Both Red Bulls held on to their advantage: Perez emerged a second ahead of Sainz, and Verstappen barely a car's length ahead of Leclerc. They were followed by George Russell, 12sec back on hard tyres and lapping fast.
Sainz was on Perez's gearbox as they crossed the line to lap 24 when a high-speed flick of the Ferrari's tail forced him into a split-second full opposite-lock correction; the Ferrari losing around a second but miraculously still in the race.
All the cars had switched to hard tyres by lap 26, Perez leading from Sainz, Verstappen and Leclerc, with the leading four covered by 2.5sec.
Russell was further back, ahead of Norris, Alonso, Hamilton, Ocon and Bottas.
"I can smell something burning but I don't know if it's from this car," Verstappen radioed.
Kevin Magnussen had just retired when his team-mate Mick Schumacher lost the rear of his car in the Swimming Pool Chicane on lap 27, spinning round and slamming the rear of the car into the barriers, the force splitting the car in two.
Schumacher climbed out safely after telling his pitwall: "I don't understand it" and a safety car was deployed to clear the wreckage.
Lap 30 brought a red flag to repair the damaged barrier.
The race resumed with a rilling start after two laps behind the safety car that allowed lapped cars to pass. Red Bull opted for medium tyres, while Ferrari chose hard tyres.
Perez already had a gap to Sainz behind him as they crossed the line to start lap 33, but had a scare when he locked up at Mirabeau. Sainz was quickly under attack from Verstappen on his softer tyres, with Leclerc keeping in touch.
Further back, Hamilton, who had switched his white helmet for trademark yellow was putting pressure on Fernando Alonso in a fight for seventh, with the odds very much stacked against Hamilton as the driver behind on a dry Monaco track.
The top four remained around 1sec away from the car in front as lap 38 began but Sainz was starting to close up to the leader, setting a 1min 17.381sec fastest lap in the process. Perez responded with a lap time three-tenths faster the next time round.
DRS was enabled on lap 40, not that it helped Hamilton who remained stuck behind the roadblock of Alonso — 20sec off Norris, who was the next car ahead on sixth.
Behind him, tightly packed, was Hamilton then Ocon, Bottas, Vettel, Gasly, Ricciardo, Stroll and Tsunoda.
"Any sign of graining on Checo," Sainz radioed in hope. "Not yet," was the response from the pitwall.
Norris was frustrated in sixth on lap 42, asking what he was meant to be doing, running 4sec behind Russell but being told to conserve his tyres. He pleaded for the chance to push the Mercedes in the hope of a mistake, which his engineer agreed to: warning that he'd need rubber on his tyres if rain came at the end of the race, which looked a possibility.
"If we're doing any stopping, make sure we jump this guy in front," said Hamilton on lap 45 as the procession continued; the leaders closing on the backmarkers.
Sainz missed the Nouvelle Chicane on lap 46 and went over the kerbs — a incident noted by Verstappen over team radio. He dropped back from Perez and was running 3sec behind at the start of lap 48, 1.5sec ahead of Verstappen, with Leclerc 2.5sec further back.
Russell remained fifth, 6sec back from the Ferrari, while Norris had been unable to close the gap and was almost 7sec back.
Zhou Guanyu offered another impressive display of car control as he found his Alfa Romeo sideways in a bid to pass Tsunoda coming out of the tunnel on lap 49. Incredibly, he straightened the car, avoided contact and ran safely over the kerb. "I need some new pants after that," he said, losing a place to Latifi.
The other Williams was at a standstill: Albon retiring in the pits.
Alonso had started upping his pace, even setting the fastest lap on lap 50, partly in response to Ocon's 5sec penalty, which would drop the Frenchman down the running order unless he was 5sec clear of Bottas behind.
The graining that Sainz was hoping for was visible on Perez's tyres on lap 51, as his pace slowed and the leaders closed up to run nose-to-tail — with traffic looming large.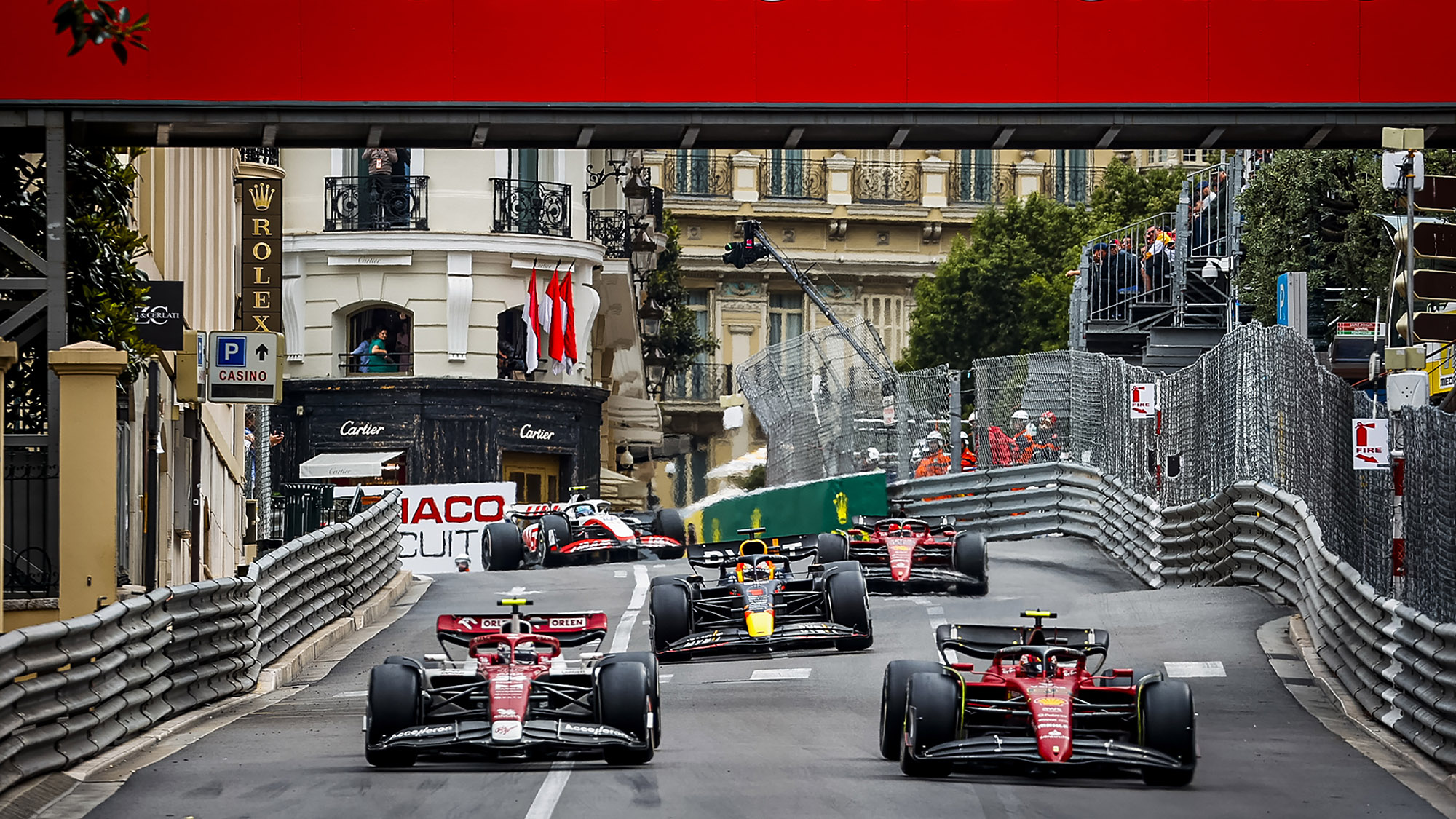 Tsunoda was the first car to be lapped on lap 53, after running off at St Devote.
Sainz had a look at lunging for the lead at Nouvelle Chicane, weaving behind Perez but deciding against it. The pair almost collided at Loews hairpin on lap 54, as Sainz struggled to stop, but contact was avoided.
Perez had slowed his pace by 2-3sec per lap, which helped reduce the race distance by a lap: the time limit ran out just before he crossed the start/finish line. Lap 64 saw Perez hold on and cross the line to win.
2022 Monaco Grand Prix results
| | | | | |
| --- | --- | --- | --- | --- |
| Position | Driver | Team | Time | Points |
| 1 | Sergio Perez | Red Bull | 1hr 56min 30.265sec | 25 |
| 2 | Carlos Sainz | Ferrari | +1.154sec | 18 |
| 3 | Max Verstappen | Red Bull | +1.491sec | 15 |
| 4 | Charles Leclerc | Ferrari | +2.922sec | 12 |
| 5 | George Russell | Mercedes | +11.968sec | 10 |
| 6 | Lando Norris | McLaren | +12.231sec | 9* |
| 7 | Fernando Alonso | Alpine | +46.358sec | 6 |
| 8 | Lewis Hamilton | Mercedes | +50.388sec | 4 |
| 9 | Valtteri Bottas | Alfa Romeo | +52.525sec | 2 |
| 10 | Sebastian Vettel | Aston Martin | +53.536sec | 1 |
| 11 | Pierre Gasly | AlphaTauri | +54.289sec | |
| 12 | Esteban Ocon | Alpine | +55.644sec** | |
| 13 | Daniel Ricciardo | McLaren | +57.635sec | |
| 14 | Lance Stroll | Aston Martin | +1min 00.802sec | |
| 15 | Nicholas Latifi | Williams | +1 lap | |
| 16 | Zhou Guanyu | Alfa Romeo | +1 lap | |
| 17 | Yuki Tsunoda | AlphaTauri | +1 lap | |
| 18 | Alex Albon | Williams | DNF | |
| 19 | Mick Schumacher | Haas | DNF | |
| 20 | Kevin Magnussen | Haas | DNF | |
*Includes additional point for fastest lap
** 5sec penalty applied after the finish