McLaren to enter IndyCar racing full-time in 2020 with Schmidt Peterson Motorsports
- Last updated: December 5th 2019
McLaren has committed to the IndyCar Series in partnership with Schmidt Peterson Motorsports, with Chevrolet power and Gil de Ferran in charge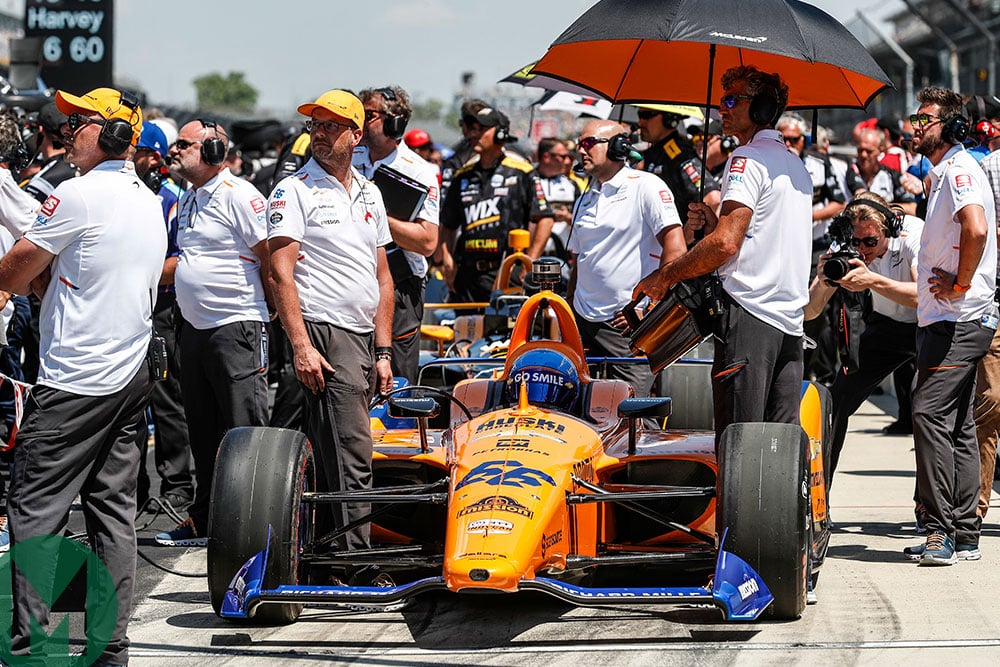 Fernando Alonso in the McLaren entry at the 2019 Indianapolis 500 Photo: Motorsport Images
McLaren has confirmed that it will return to full-time IndyCar racing from next season in a partnership with Arrow Schmidt Peterson Motorsports (SPM) and using Chevrolet engines.
The team will be renamed Arrow McLaren Racing SP and will field two cars in the 2020 IndyCar Series. Twice CART champion Gil de Ferran, now McLaren's sporting director, will lead the IndyCar programme. McLaren says he will "helm a dedicated group from McLaren Racing, independent of the Formula 1 team."
Under the partnership, SPM's infrastructure will "underpin the team's operations", while McLaren will add "technical expertise, commercial experience and marketing strength to enable the new entity to perform at the highest competitive level and regularly challenge for wins and the series title".
---
More: Where it went wrong for Alonso at the 2019 Indy 500
---
SPM has competed as a fully-fledged IndyCar team since 2011 when Sam Schmidt took over the FAZZT team. It has been a frequent front-runner since, and has won seven races. Its most recent victory was at Iowa last year with James Hinchliffe driving.
The team's best championship result is Simon Pagenaud's third place in 2013's drivers' standings. SPM co-founders Sam Schmidt and Ric Peterson are to continue in their current roles under the new arrangement.
"IndyCar has been part of McLaren since our early years of racing, and the series today provides not only a commercial platform to continue to grow our brand in North America, but competition with some of the best teams in international motor sport," said McLaren boss Zak Brown.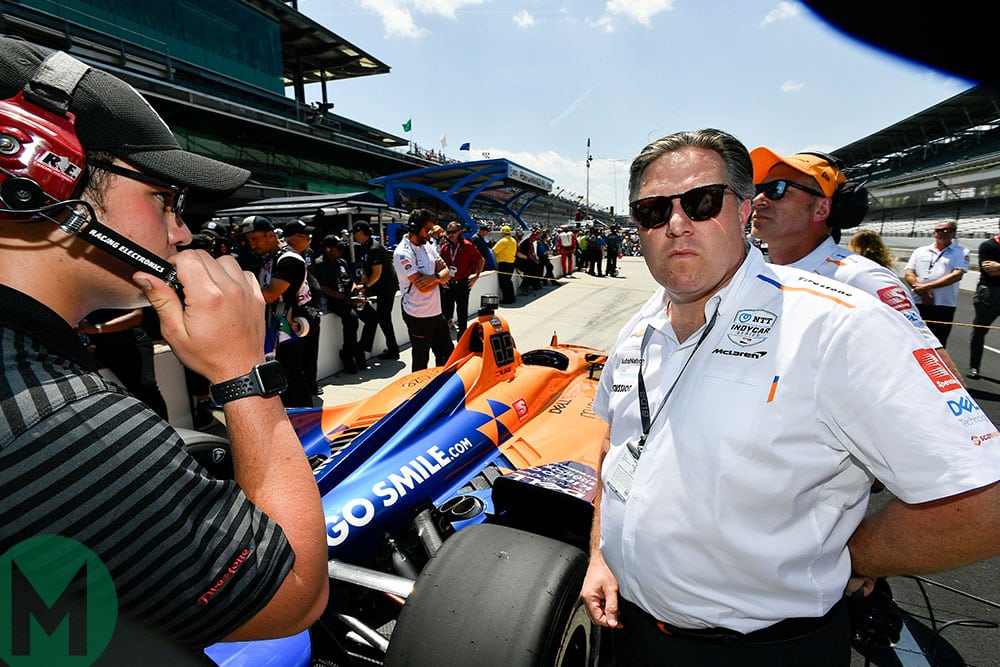 Zak Brown at the 2019 Indianapolis 500 Photo: Motorsport Images
"This team provides McLaren with the right synergy as a strategic partner for our return to the sport. We believe together we can help each other achieve our mutual ambitions. Sam Schmidt and Ric Peterson have built a solid foundation and we look forward to working together to take the team to the next level."
"IndyCar is a natural fit for McLaren," added de Ferran, "given our legacy and determination to succeed at the top levels of international motor sport. Our ambition, over time, is to consistently compete for wins and championships."
Schmidt was also pleased with the deal. "I'm extremely proud of the team that Ric and I have built and that a legendary brand like McLaren Racing has decided to partner with us to form Arrow McLaren Racing SP to continue our march to the top of IndyCar," he said.
---
More: Andretti, Alonso and the lessons of Indy
---
McLaren last competed full-time in IndyCar in 1979, and more recently partnered with Honda and Andretti Autosport for Fernando Alonso's 2017 Indianapolis 500 effort, wherein he led 27 laps prior to his engine failing late on. McLaren with Alonso also entered this year's Indianapolis 500 as a full McLaren entry, but failed to qualify.
Today's announcement made no mention of the driver line-up for 2020, though the news will give rise to speculation about Alonso's potential involvement.
McLaren's recent IndyCar efforts as noted have been with Alonso at the wheel, plus Alonso's ambition to win the Indianapolis 500 and with it complete motor sport's 'triple crown', having already won the Monaco Grand Prix and the Le Mans 24 Hours, is well-documented.
Alonso has however previously expressed reluctance to compete in an entire IndyCar season.
James Hinchcliffe and Marcus Ericsson are SPM's current full-time drivers, and it is thought likely that that the team's switch from Honda to Chevrolet power will mean Hinchcliffe moves elsewhere.
---
More: Gil de Ferran: 'Alonso is one of the best drivers who's ever lived'
---