Mercedes 1-2 finishes: just like the '50s
- Last updated: December 4th 2019
Mercedes is getting back to its dominating ways, and its strike rate of 1-2s this decade eclipses that of Williams and McLaren at their peaks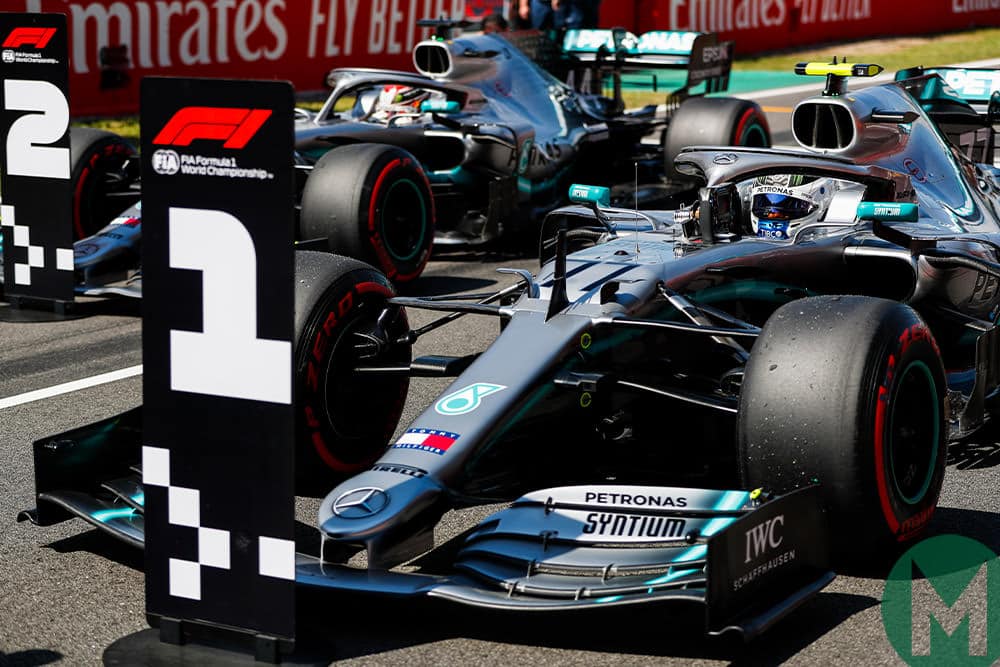 Valtteri Bottas takes pole at the 2019 Spanish Grand Prix Photo: Motorsport Images
Mercedes-Benz is making Formula 1 look as easy as 1-2-(3) while Ferrari is making it patently clear that absolutely, it's not.
The former's is a long-established dominating habit albeit with several large gaps.
In 1914 it broke French hearts on the eve of WWI by finishing 1-2-3 in the Grand Prix de l'ACF at Lyon. A fourth Mercedes set fastest lap before retiring.
Its Silver Arrows of the second half of the 1930s sent the increasingly desperate French running for their sports cars.
(Nothing against the French, you understand.)
And in 1954 its fantastic but flawed W196 stromlinienwagen finished 1-2 at Reims upon the marque's post-WWII return to motor racing's big leagues. A third car set fastest lap before retiring.
But there's been nothing quite like this: 44 of Mercedes-Benz's 79 wins during F1's turbo-hybrid era since 2014 have been 1-2s.
Ferrari has managed just a brace in the same period.
But even Michael Schumacher's Scuderia falls short in this regard. Its dominant 2002 and 2004 seasons saw it score 'just' nine and eight 1-2s respectively.
So, too, does the McLaren-Honda superteam of Alain Prost and Ayrton Senna. It scored 10 in 1988.
---
More: Ayrton Senna by Alain Prost
---
Mercedes-Benz's 2015 – even with the increased number of races factored – is the most dominant campaign: a dozen 1-2s from 19 rounds. A 63.2 per cent strike rate compared to McLaren's 62.5 per cent from the 16 rounds of 1988.
---
1-2 Grand Prix results by team
| Position | Team | Number of 1-2s |
| --- | --- | --- |
| 1 | Ferrari | 83 |
| 2 | Mercedes | 49 |
| 3 | McLaren | 47 |
| 4 | Williams | 33 |
| 5 | Red Bull | 17 |
| =6 | Lotus | 8 |
| =6 | Brabham | 8 |
| =6 | Tyrrell | 8 |
| 9 | Cooper | 6 |
| 10 | BRM | 5 |
| =11 | Alfa Romeo | 4 |
| =11 | Brawn | 4 |
| =13 | Matra | 2 |
| =13 | Benetton | 2 |
| =13 | Renault | 2 |
| =14 | Maserati | 1 |
| =14 | Ligier | 1 |
| =14 | Jordan | 1 |
| =14 | BMW-Sauber | 1 |
---
But this mark is up for grabs now that Mercedes-Benz has scored five 1-2s from five so far this season.
It will establish a new record for consecutive 1-2s should it repeat the trick in Monaco.
Ferrari's longevity – it scored its first 1-2 at the 1951 Italian Grand Prix – has it ahead overall with 83 to the 49 of Mercedes-Benz.
It's also unique in scoring a brace of 1-2-3-4s.
And its six sweeps of the podium puts it five ahead of the next best.
Such results were possible during the world championship's early years thanks to multi-car works teams bolstered by privateers.
Ferrari's 1-2-3-4 at the 1952 German GP – run to Formula 2 regulations – included a 500 model driven into third place by Swiss restaurateur Rudi Fischer and run by his Ecurie Espadon outfit.
Its 1-2-3-4 at the 1961 Belgian GP included a works 'Sharknose' painted in the yellow of Ecurie Francorchamps and driven into fourth by local hero Olivier Gendebien.
The latter had featured in Cooper's 1-2-3-4 in the 1960 French GP at Reims, too, his Yeoman Credit Racing Team car sandwiched between the works 'Lowline' versions of winner Jack Brabham and Bruce McLaren. The other Yeoman Credit car of Henry Taylor completed the sequence.
This just a fortnight after Cooper had 'owned' the podium at Spa: Brabham, McLaren and Gendebien being the finishing order on that occasion.
Maserati needed no such 'help' in finishing 1-2-3-4 in the 1957 Argentine GP, the 250Fs of Juan Manuel Fangio, Jean Behra, Carlos Menditéguy and Harry Schell being works-entered.
The same was true of Mercedes-Benz at the 1955 British GP at Aintree, its W196s, now in handier open-wheeled form, driven by Stirling Moss, Fangio, Karl Kling and Piero Taruffi.
Such results became harder to come by as fields diversified and teams became more concentrated and reliability harder to come by during the 1960s. Not since the 1961 British GP, also at Aintree, has a podium been swept: by the 'Sharknose' Ferraris of Wolfgang von Trips, Phil Hill and Richie Ginther.
Of the 84 world championship rounds held during the 1950s – the first of which provided a 1-2-3 for the Alfa Romeos of Giuseppe Farina, Luigi Fagioli and a guesting Reg Parnell at Silverstone – 30 of them provided 1-2 finishes.
That's 35.7 per cent.
That dropped to 25 per cent in the 100 races of the 1960s.
---
More: How F1's high-wing era came to a dramatic end
---
Team Lotus's inability to prepare a second car equal to that of Jim Clark's – driver superiority accepted – skewed that figure. Only when Hill joined it in 1967 – in conjunction with the arrival of Cosworth's DFV – did that change. And then only twice.
Hill had had more success in this regard with BRM, leading four 1-2s before being overturned in a fifth by a young Jackie Young Stewart at the 1965 Italian GP.
Upstart Brabham, blueprint for the F1 'kit-car' teams to come, also scored five 1-2s, as did Ferrari.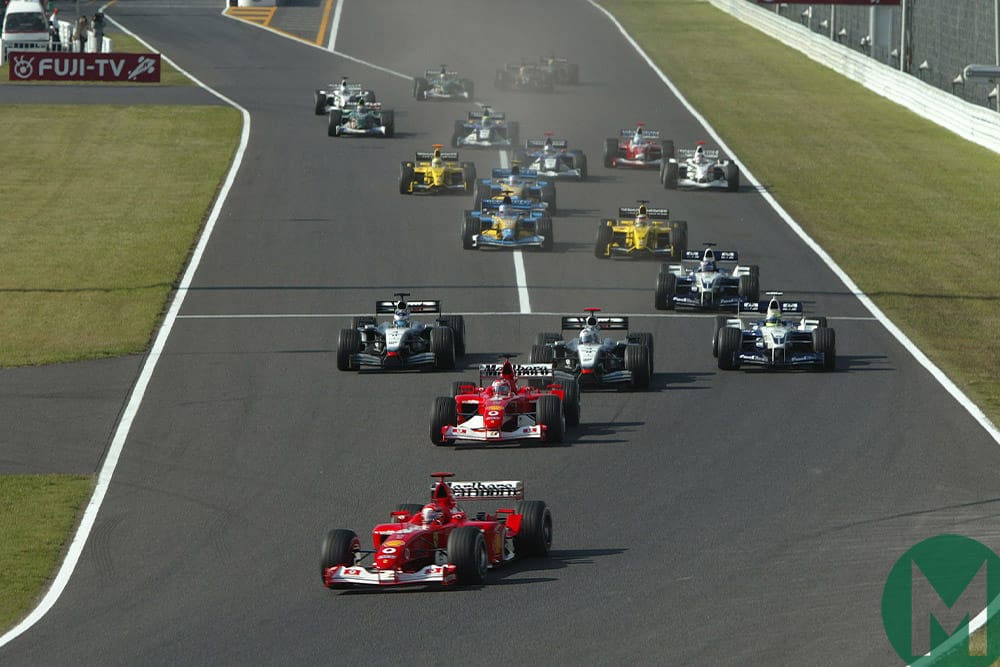 2002 Japanese Grand Prix Photo: Motorsport Images
One-twos were rarer yet in the 1970s: 28 from 144 races equating to 19.4 per cent.
The 1975 and 1977 seasons were devoid of them – the only occasions this has occurred.
Mauro Forghieri's flat-12 took Ferrari to 11; Tyrrell used its Matra springboard – two 1-2s in 1969 – to score eight more as a constructor, including one for its six-wheelers; Lotus continued to struggle until it cracked ground effect and bolted on (just) enough reliability; Williams broke though; Ligier flattered to deceive; and McLaren went without.
That changed in the 1980s when Ron Dennis rewrote the rules of engagement. The first 1-2 for his McLaren was flash in the pan – John Watson and Niki Lauda charging from the back of the grid at Long Beach in 1983 – but the other 21 that decade were symptomatic of his creation of the no-stone-unturned team.
The same was true of Williams in the 1990s and Ferrari in the noughties. The former took a hi-tech lead and scored 17 1-2s. The latter created a bubble of invincibility around an unblinking lead driver and a fast but compliant number two and scored 33.
These mega teams made 1-2s more common: 26.3 per cent of all GPs in the 1980s; 24.1 per cent in the 1990s; and 31.6 per cent in the 2000s.
The current decade's figure stands at 35.2 per cent.
Given that there are 16 GPs remaining, that Valtteri Bottas has rejoined the party and Mercedes-Benz has an unprecedented 1-2 strike rate of 25.3 per cent from 194 races – Ferrari's is 8.5 per cent from 975 races – we may end up where we started 79 years ago.
That's not healthy and a new regimen is required. A modern '1970s'?
---
1-2 Grand Prix results by decade
| Decade | Number of 1-2s | Total Grands Prix held | Proportion of 1-2s |
| --- | --- | --- | --- |
| 1950s | 30 | 84 | 35.7% |
| 1960s | 25 | 100 | 25.0% |
| 1970s | 28 | 144 | 19.4% |
| 1980s | 41 | 156 | 26.3% |
| 1990s | 39 | 162 | 24.1% |
| 2000s | 55 | 174 | 31.6% |
| 2010s | 64 | 182 | 35.2% |
| Totals | 282 | 1002 | 28.1% |
---