"Never underestimate Niki Lauda": the 1984 Austrian F1 Grand Prix
- Last updated: December 4th 2019
By 1984, Niki Lauda had never won his home Formula 1 race. Yet in the thick of his all-McLaren title fight with Alain Prost, fortune – and his native cunning – paid off at a vital time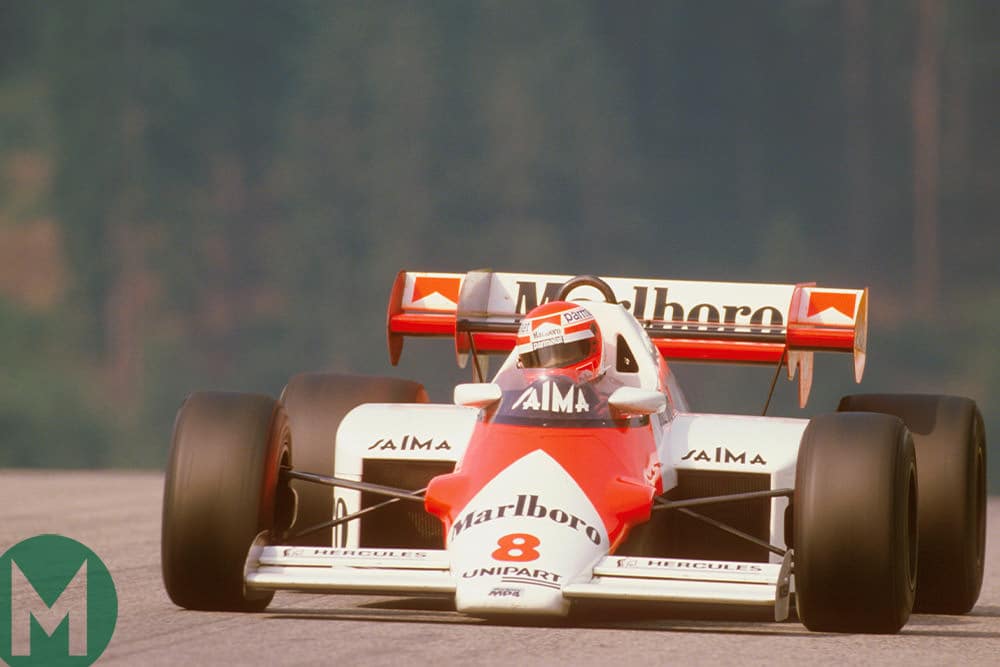 Niki Lauda, 1984 Austrian Grand Prix Photo: Motorsport Images
Nigel Mansell used to say the inspiration of his home crowd would gain him half a second a lap. Whatever the accuracy of that assessment, his record in British races was imperious. Yet there are some for whom, by contrast, nothing goes right seemingly in their native round. Mark Webber and Rubens Barrichello, for two, can attest.
And Niki Lauda was in a similar predicament heading into his own home race, the Austrian Grand Prix at the magnificent Österreichring, in 1984. He'd made his Formula 1 debut at the track 13 years previously, but with all the glory since his best result at home was a distant second behind Alan Jones's Shadow in 1977.
Even more top of Lauda's mind at this point would have been his intense world championship fight with his rapid team-mate Alain Prost in their dominant McLaren-TAGs.
Five rounds remained and they were hard to separate; Prost 4.5 points ahead. Lauda didn't have Prost's raw speed, but was putting his race-day cunning to good use. It served him particularly well in Austria.
The Österreichring was on the site of the race's modern host, the Red Bull Ring. But there the resemblance ends.
"It would be hard to make a choice between the Austrian GP circuit and the Spa-Francorchamps circuit in Belgium, either for exhilaration, satisfaction or sheer grandeur," noted Denis Jenkinson in his report. "With a lap speed of over 150mph and some pretty daunting high-speed corners… "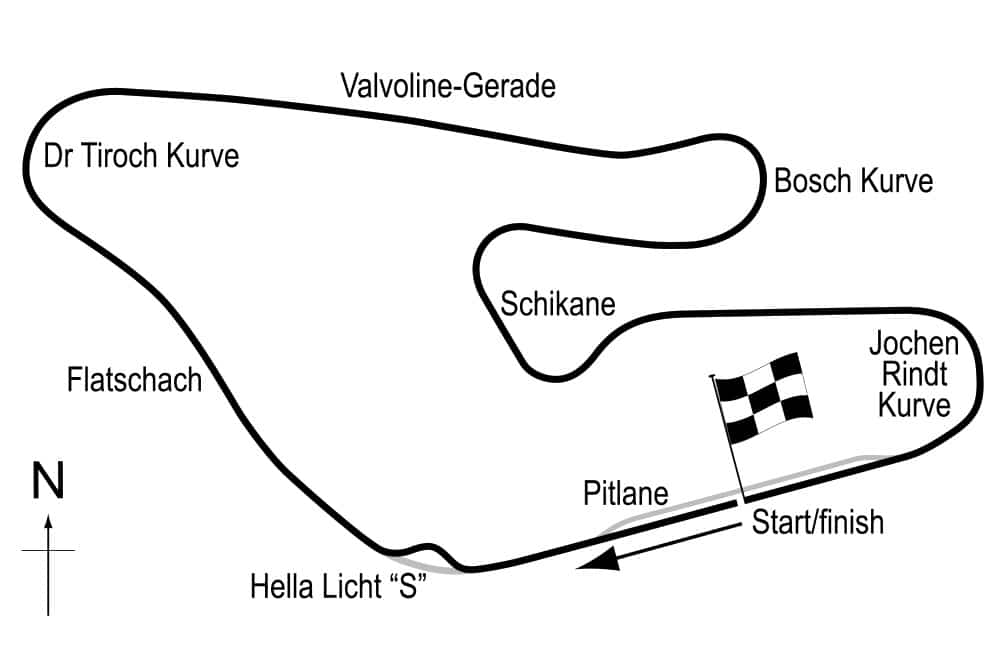 ---
More
---
Lauda qualified well by his 1984 standards, starting fourth, with Prost shy only of the year's habitual polesitter, Brabham's Nelson Piquet. And come the race Lauda quickly shadowed the leading pair. Ominous.
"As everyone in Formula 1 racing knows, never underestimate Niki Lauda," Jenkinson explained, "and when you realise that the leaders are not getting away from him and he is lying third you have to be prepared for anything."
The closest McLaren had to an Achilles' heel that year was gearbox reliability. From early on it impacted Prost, him holding in fourth gear. And this proved crucial. When, as he chased leader Piquet, Elio de Angelis dumped oil from his expiring Lotus-Renault across the Rindt Curve.
"In a flash the leading Brabham gave a twitch, which Piquet caught instantly," Jenks observed, "but when the second-place McLaren slid on the oil Prost only had one hand on the wheel, and that was his undoing; the McLaren spun and stalled on the outside of the curve; the Frenchman's race was over."
This didn't make Piquet's life easier however, "as Lauda moved into second place," Jenks continued, "and of all the people in Formula 1 the last one you need in your mirrors is the crafty and experienced Lauda."
Worse, Piquet's rear tyres were shot, and Lauda indeed moved past to lead on lap 40 of 51. Piquet immediately and conspicuously ceded defeat.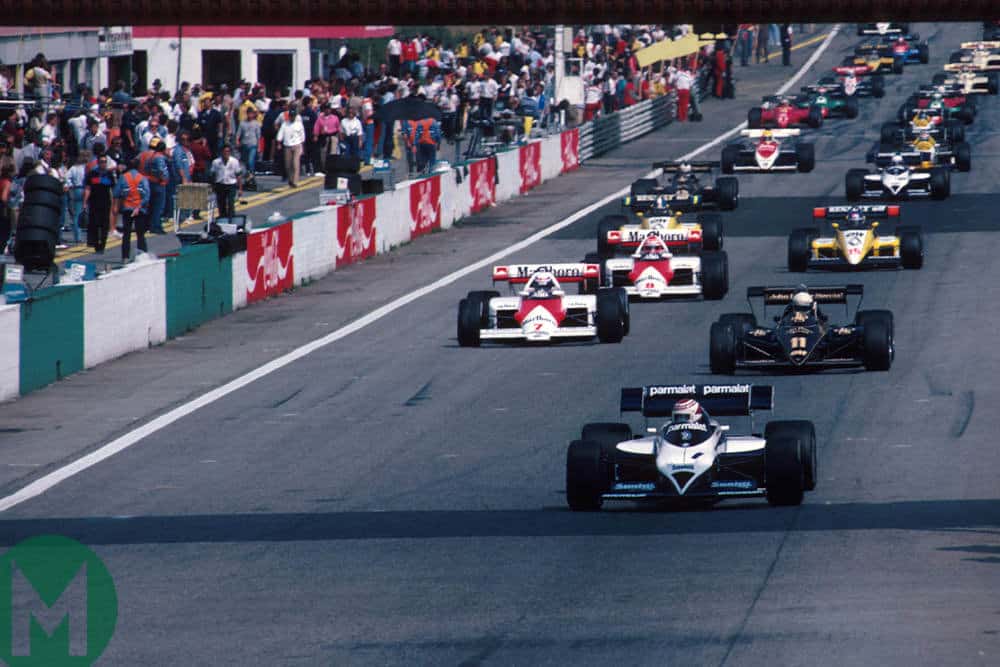 1984 Austrian Grand Prix, Nelson Piquet leads the field Photo: Motorsport Images
Yet a couple of laps later, matters changed again. McLaren's Achilles' heel struck Lauda too.
He took up the peculiar story in his autobiography, To Hell and Back: "I accelerate out of Bosch Corner in fourth gear, there is a terrific bang, and I lose all power.
"Differential gone, I think to myself, and hold my hand up and am just about to find a convenient place to park on the grass when the thought strikes me: 'damn it, it's a long walk back to the pits from here'. I fiddle around with the gears, find third.
"I make no conscious effort to check what possibilities are still left – I simply put my foot down in third, shift up to fourth as the revs come up, get no response, and automatically move up to fifth. Fifth is working.
"'Keep going', I think, 'maybe you can place fifth or sixth'. This will cut about five seconds off my lap times. It will take him [Piquet] three or four laps to catch up."
But, as one lap gave to another, the gap remained steady. "It flashes through my head," Lauda continued, "of course, Nelson knows the way I drive. He probably thinks I'm deliberately driving more slowly."
---
---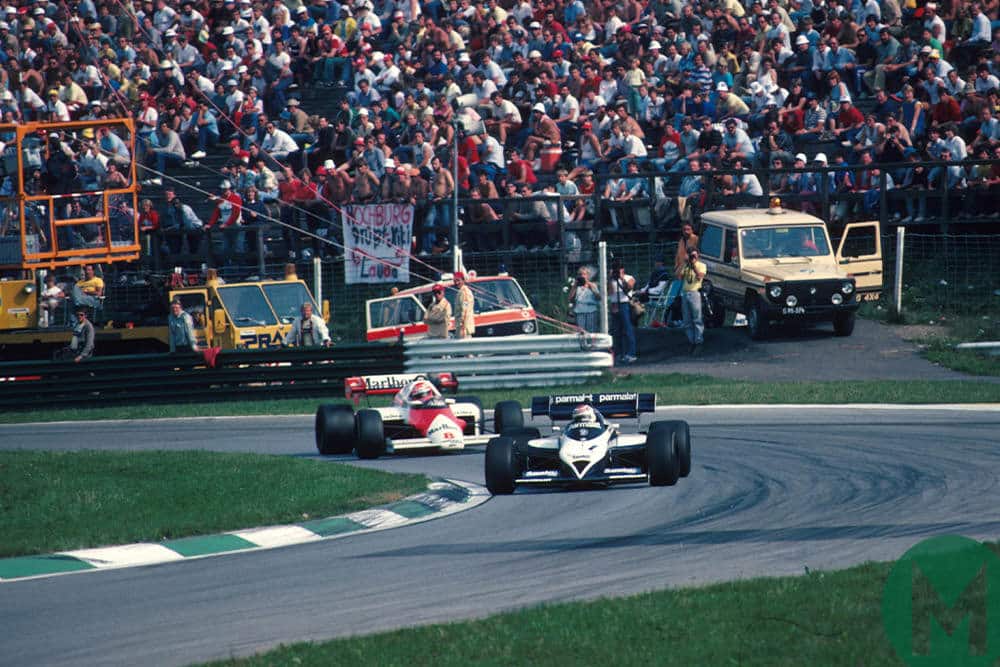 Piquet leads Lauda Photo: Motorsport Images
Piquet indeed thought just that – that Lauda was cruising home. His reputation had gone before him, and it paid dividends at this most crucial time. "There was no drama, no gesticulating, in fact no signs that anything was wrong, so that neither Piquet nor his pit staff could guess at anything amiss," noted an admiring Jenks.
"I take the flag," Lauda recalled. "Piquet and I walk up to the winner's rostrum. He asks how things went. 'Well', I say, 'my fourth gear was shot'. I can tell by his expression how shattered he is that he let his opportunity slip."
It had a wider significance. Lauda now led Prost in the table for the first time. He'd got nine points on Prost that day. And he won the championship in the end, his third, by a scant half point.