After 22 races, most of which were spent locked in battle with Hamilton, Verstappen acknowledged the "tense" and intense fight with his rival in the post-race press conference and a Sky Sports interview before the result was protested.
"It's been an incredible season, not only this race but incredible battles," he said. "To be sitting here right now: that's an unbelievable achievement…I think over the whole season, we were not the quickest team.
"Lewis is an amazing driver, an amazing competitor. They really made it really really hard for us and I think everyone loved to see it. Of course, the two teams ran against each other and we had some tough times. But I think that's all part of the sport and it's emotion. Everyone wants to win.
"I have a lot of respect for Lewis. I'm just very happy that I won it because it's been a very tough season fighting Mercedes and Lewis. But I don't want to sound arrogant or whatever to say it's a satisfaction to win against him. I have a lot of respect for him as a driver and I know he's an amazing driver in terms of what he has achieved.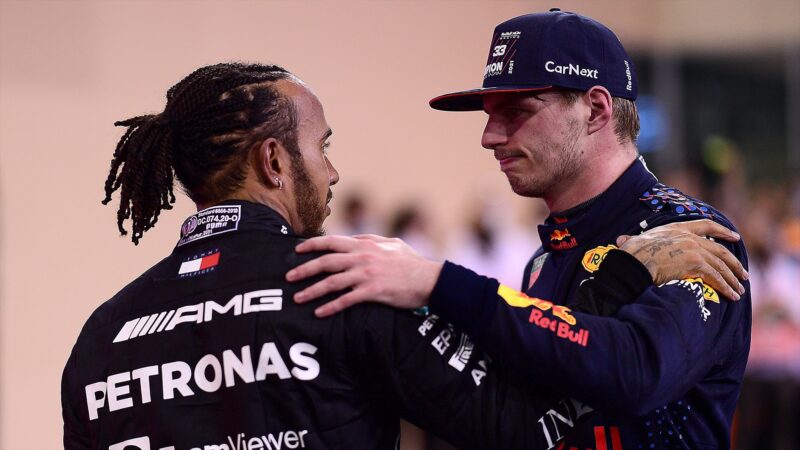 "In general the quality [this season] has been very high, set by myself and Lewis, of course, we have been pushing each other to the limit every single time.
"There've been quite some tough races physically because you're just pushing flat out all the time. There is no lap to rest. And you know, throughout the whole weekend: your qualifying, the race, it was so important to always try and be perfect which is very hard in Formula 1: a little tiny lockup can make a difference between P1 and P2. And then the championship battle we had was massive. So the level of focus required was very high.
"I think we have really enjoyed it. Of course, you know, we had our moments but I think in a championship battle that's part of it.