Nigel Mansell's best drives
Fast, aggressive, and an unparalleled ability to provide drama. Nigel Mansell provided some of history's most astonishing drives, and on his birthday we look at eight of the best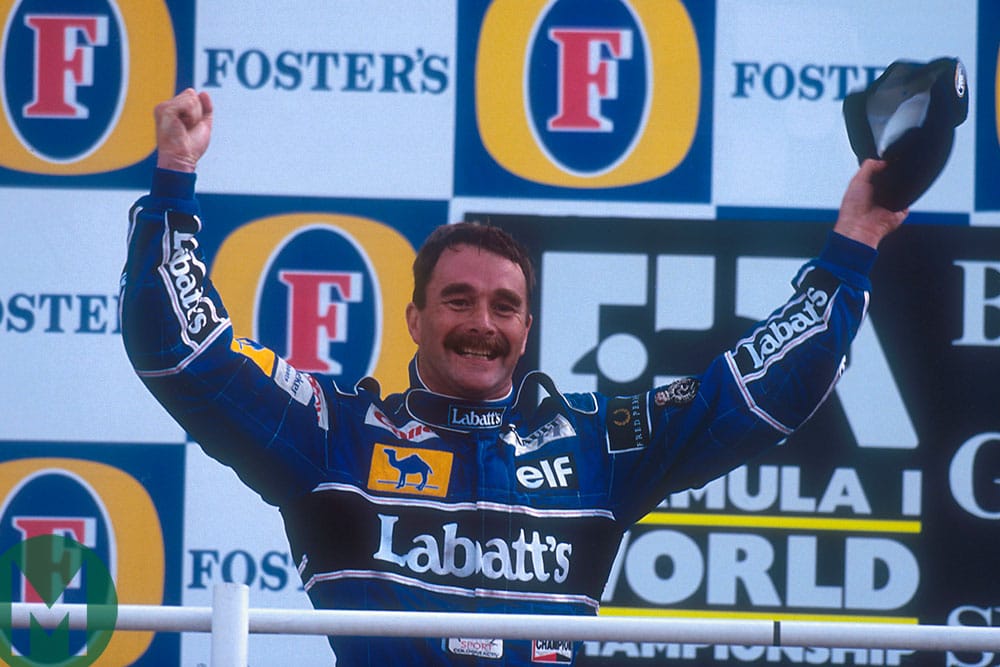 Nigel Mansell celebrates on the 1992 British Grand Prix podium at Silverstone Photo: Motorsport Images
Additional reporting by Jake Williams-Smith
Love Nigel Mansell? Or loathe him? It's hard to be indifferent about him, and this is so in large part as, whatever else you think of Mansell, gripping theatre was never far away with him.
And this of course manifested on track where Mansell provided some of the most astonishing and dramatic drives in motor sport history. To mark his birthday, we look at eight of Mansell's best.
1981 Monaco Grand Prix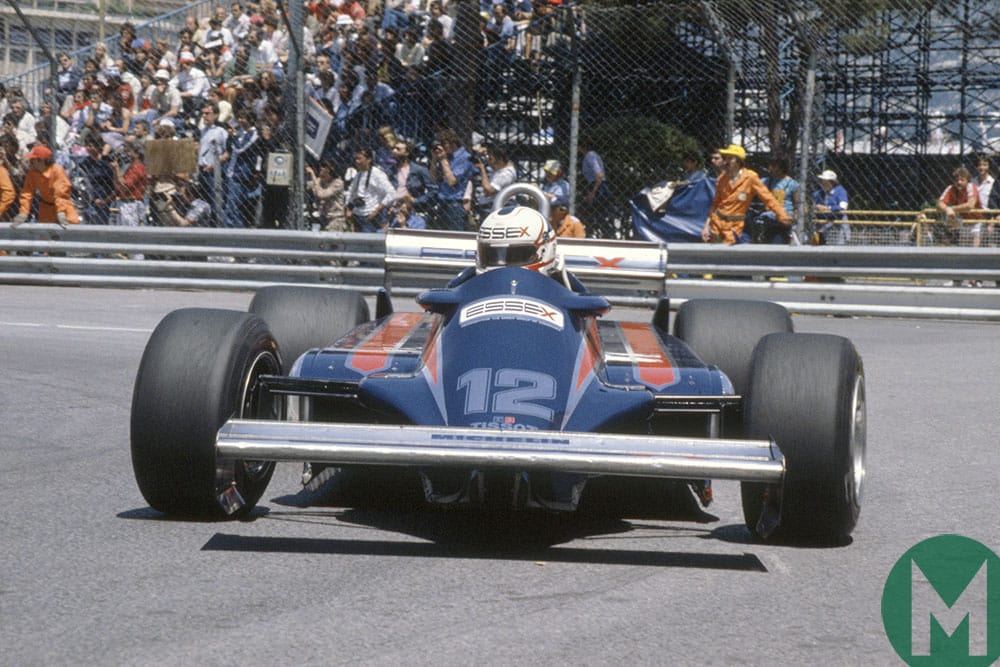 Mansell in his Lotus 87 at Monaco in 1981 Photo: Motorsport Images
It is said often that Nigel Mansell was a late developer. His first four-and-a-bit years as an F1 driver, at Lotus, did not amount to much in hard results with poor and unreliable cars plus having a difficult relationship with boss Peter Warr.
But there still were clues therein about Mansell's potency. He'd shown grit with which he'd become synonymous in time, such as by taking part in Lotus's selection test with a broken back then doing his F1 race debut sitting in a pool of fuel. And he also showed skill, by qualifying third for the 1981 Monaco Grand Prix, setting a mark barely a tenth off pole.

Denis Jenkinson for one was impressed, drawing sharp contrast between Mansell and his team-mate Elio de Angelis. "While the young Italian was fiddling about and looking for ways to make the car help him go fast, and getting petulant if it didn't, Mansell got stuck in and put all his effort into his driving," Jenks said in his Motor Sport race report.
Again it didn't convert to a hard result, as on lap 14 Mansell "got a bit sideways" and Carlos Reutemann's Williams ran into the back of him. Mansell had to drop out with a broken rear suspension rocker arm.
1983 British Grand Prix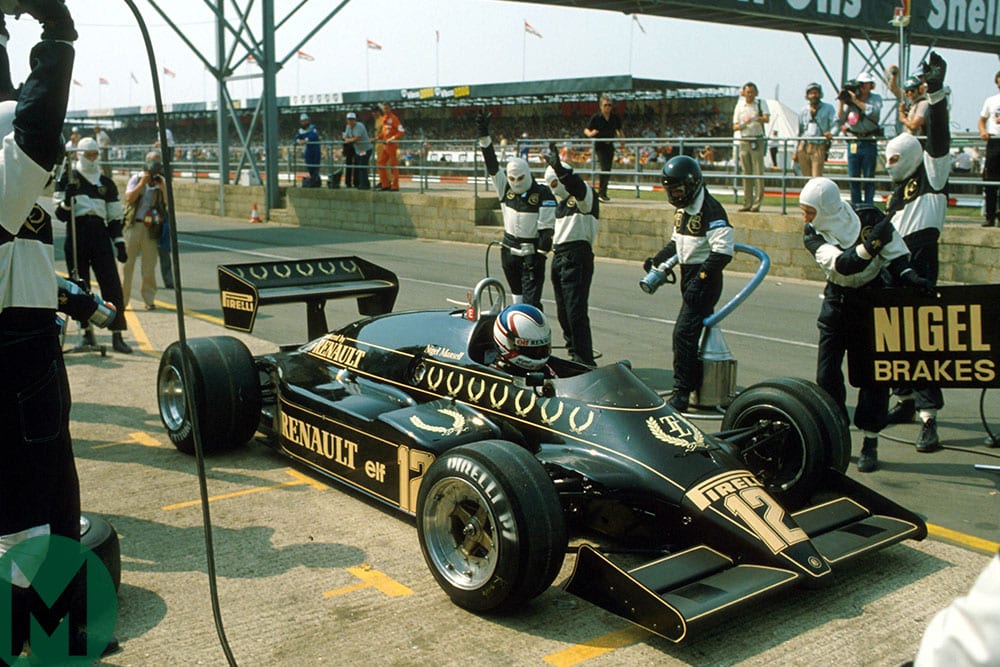 Mansell exits the pits in his Lotus 94T in the 1983 British Grand Prix Photo: Motorsport Images
For Mansell, 1983 didn't start promisingly. It was the year turbo engines took hold; trouble was Lotus only had one such Renault unit, and that went to 'number one' de Angelis. But for the British Grand Prix, all changed. New designer Gérard Ducarouge had produced two new and much-improved 94Ts, and both had a Renault turbo in the back.
A persistent practice misfire and having to use the old car meant Mansell started 18th, but come the race he vaulted to 12th on lap one, which became ninth after three tours. There he sat for a time, and came alive later on a long strategy, making a late refueling stop.
---
More: Lunch with… Nigel Mansell
---
He emerged from his halt in fifth behind René Arnoux's Ferrari and quickly disposed of him in spectacular style to finish fourth.
But Mansell reckoned it could have been even better. A wheel balance weight had fallen off on lap one, and Mansell reckoned it cost him around a second a lap for the rest of that stint. That was 43 laps' long, and he finished 39sec behind the winner…
1985 South African Grand Prix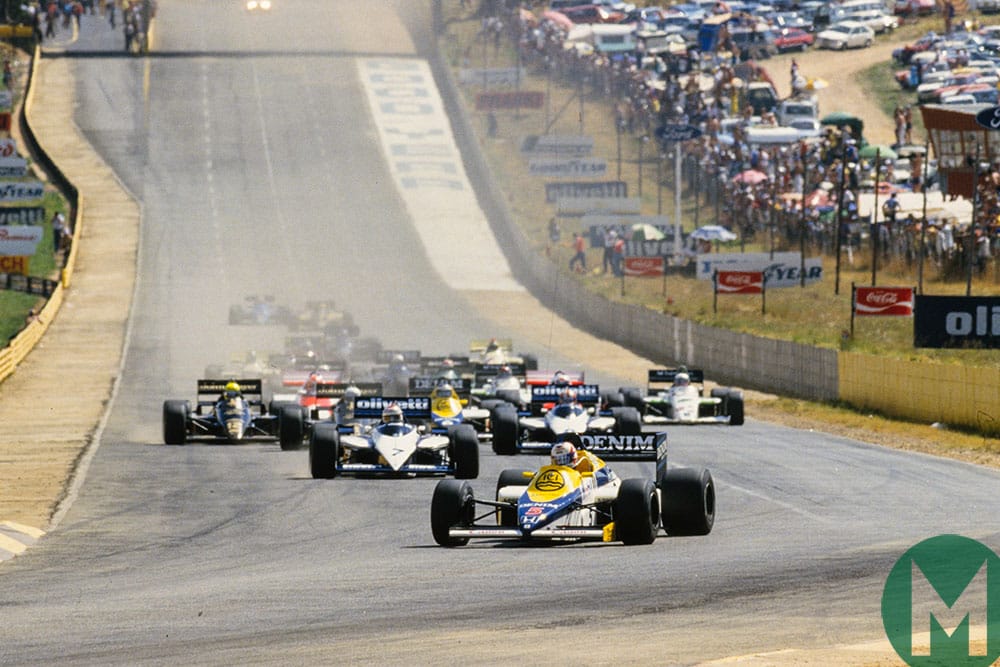 Mansell leads at the start of the 1985 South African Grand Prix in his Williams-Honda Photo: Motorsport Images
It is one thing to achieve success; quite another to sustain it. The transformative effect of Mansell's first ever F1 win, the 1985 European Grand Prix at Brands Hatch, is often noted. But arguably the next win, at the next race in South Africa, was more pivotal. This one was under sustained pressure. And it confirmed that Mansell was here to stay as a race victor.
It was a curious event; some teams and sponsors boycotted over apartheid and it proved F1's last visit to the country for a while. Mansell took pole, only his second ever after the equally-curious 1984 Dallas race. And in the race, as Alan Henry put it in his Motor Sport race report, "by dint of keeping a cool head, Mansell retained control".
---
More: Mark Hughes on Mansell
---
This was despite a rotating cast of prestigious close challengers. Williams team-mate Keke Rosberg took the lead early but slid off on oil, then mounted a furious comeback. McLaren's Niki Lauda in his penultimate race showed up well but then had turbo failure.
Alain Prost's McLaren challenged too but a misfire blunted his challenge. The 'Red 5' Williams remained in command and won. It was a sight that would become familiar.
1986 Portuguese Grand Prix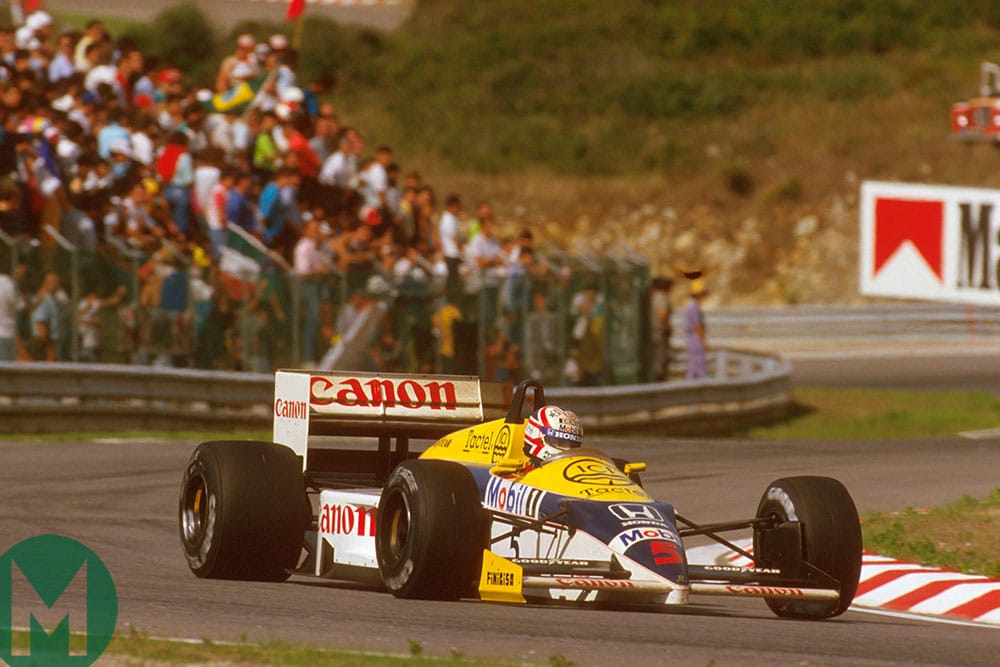 Mansell negotiates an Estoril turn on his way to the 1986 Portuguese Grand Prix win Photo: Motorsport Images
Mansell may have been denied pole position by a Lotus driven by Ayrton Senna, but the Williams man would not be stopped come Sunday.
Senna got a poor getaway off the line and it allowed Mansell the chance to sweep past into the lead. It was an advantage he would not surrender nor ever look like losing, driving away from the chasing pack with relative ease.
The Brit ended up with a winning margin of 18sec over Prost but had lapped everyone up to fifth place, scoring the fastest lap of the race by some margin on the way.
Mansell's victory would propel him 10 points clear at the top of the drivers' championship but the Briton would be denied his first Formula 1 title after a fifth-place finish in Mexico and a famous tyre blowout in Australia handed Prost the crown.
1989 Hungarian Grand Prix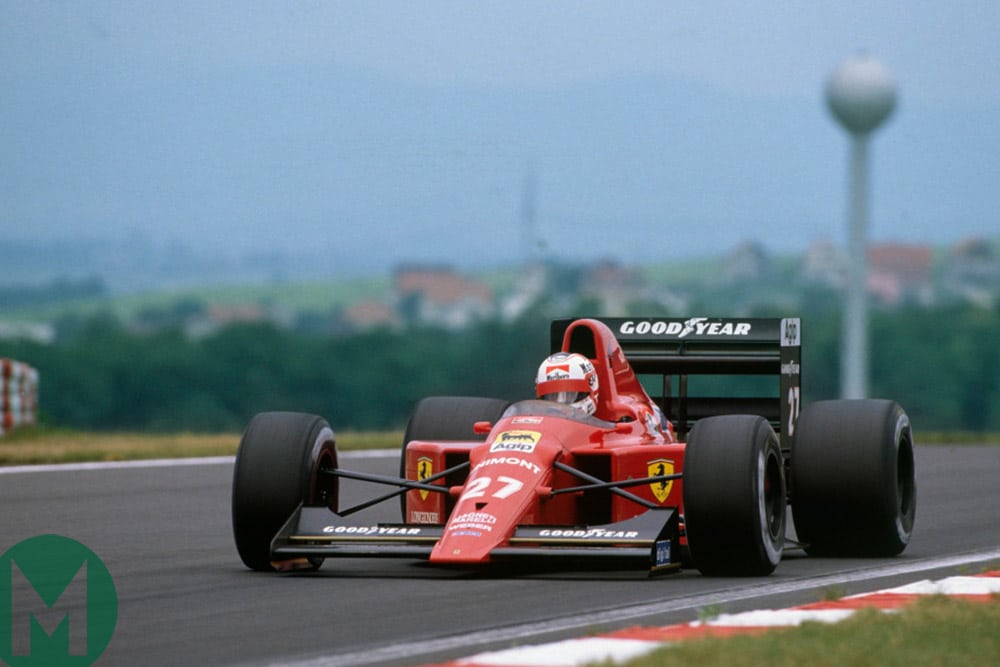 One of Mansell's finest drives for Ferrari, he won the 1989 Hungarian Grand Prix Photo: Motorsport Images
The McLaren-Honda in the hands of Prost and Senna proved to be unbeatable most days, but this was not the case at the 1989 Hungarian Grand Prix.
The dominant combination was beaten on track in a straight dog fight between Mansell and Senna. By virtue of the ill-handling Ferrari 640, Mansell would qualify only 12th at Hungaroring, a track that was hardly known for overtaking. The Ferrari man would lap almost two seconds quicker than anyone else in his comeback through the pack.
---
More: "Senna realised I was the only driver he couldn't intimidate": Mansell's majestic 1989 Hungarian Grand Prix
---
Il Leone had navigated his way up the order, passed Prost and Riccardo Patrese and was soon harrying Senna for the lead. An opportunistic Mansell seized his chance with 19 laps remaining. As the leading duo came up to lap Stefan Johansson, the Onyx driver had briefly blocked the Brazilian and it was all that it took for Mansell to pounce.
A quick switch out from underneath the McLaren that had lost all its momentum behind Johansson and the lead was Mansell's. He would not look back either, going on to win by 25sec.
1991 British Grand Prix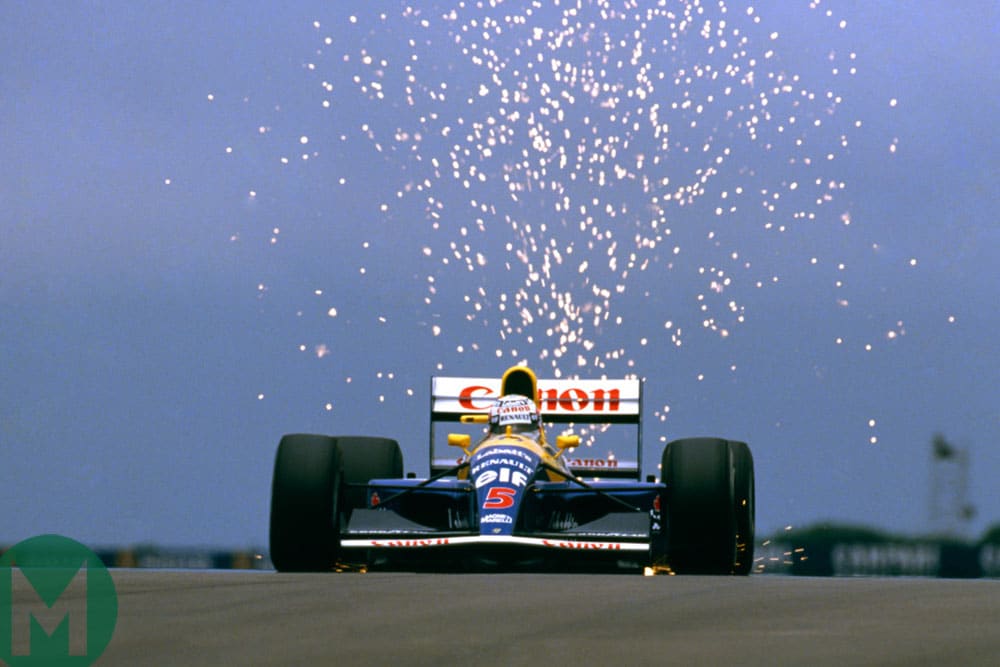 Mansell on the way to victory at the 1991 British Grand Prix Photo: Motorsport Images
Pole. Fastest lap. Home victory. It was a Mansell-dominated weekend at Silverstone as the Brit stole back some much-needed momentum in the 1991 drivers' championship fight with Senna.
In what he would call people power, the half-a-second-per-lap Mansell believed the home crowd gave him was definitely on display in 1991. He put his Williams on pole by over half a second from Senna, with team-mate Patrese a full second down on his time.
In serene form in front of a packed-out Silverstone, the hero would not be denied his victory in front of the huge support either, dominating from start to finish and winning by 42sec from Gerhard Berger and Prost.
Title rival Senna had come to a halt on the penultimate lap and slipped to fourth as a result. Mansell would pull over on the cool down lap to give the Brazilian a lift back to the pits.
1992 British Grand Prix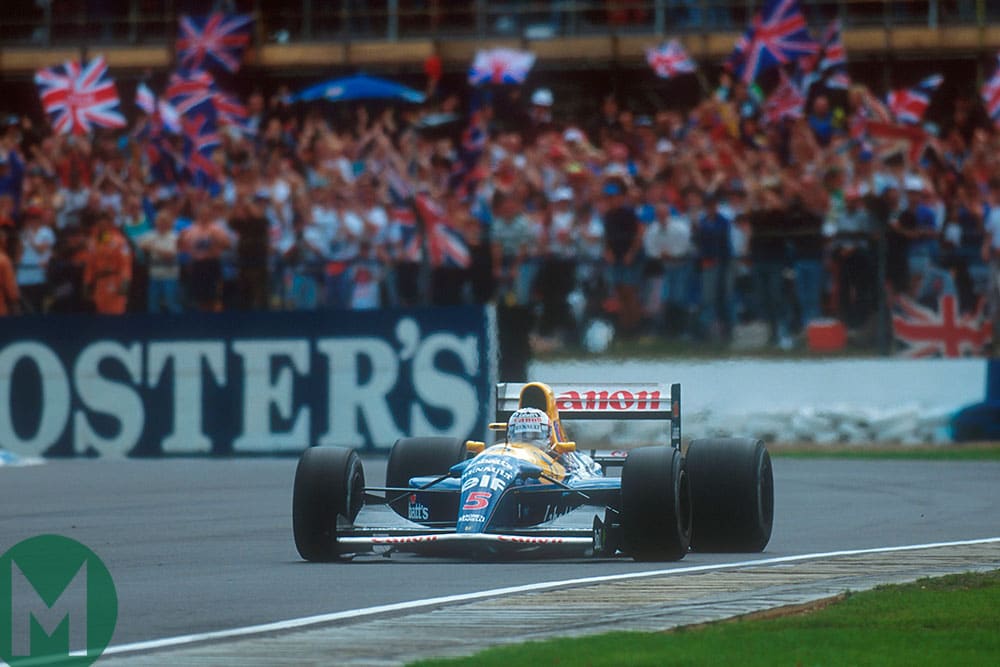 Mansell roared on by his home crowd to dominant 1992 British Grand Prix victory Photo: Motorsport Images
If Mansell's 1991 performance at the British Grand Prix was dominant, then this was an other-worldly level the Williams driver had reached.
Red Five was on pole by 1.9sec (one point nine seconds…) in what was an absolute thrashing of the competition.
The only time the Brit lost control of his destiny was off the line at the start, with team-mate Patrese passing the home hero into Copse. It would not be long before Mansell stole back his lead however and he left the rest of the field to fight among themselves from that point on.
Winning his home race for the second year in succession albeit by (only) 39sec this time, his emotions were palpable.
The home support would prematurely invade the track to swarm their idol while others continued to race after their man took yet another victory at Silverstone.
1993 New Hampshire Indy 225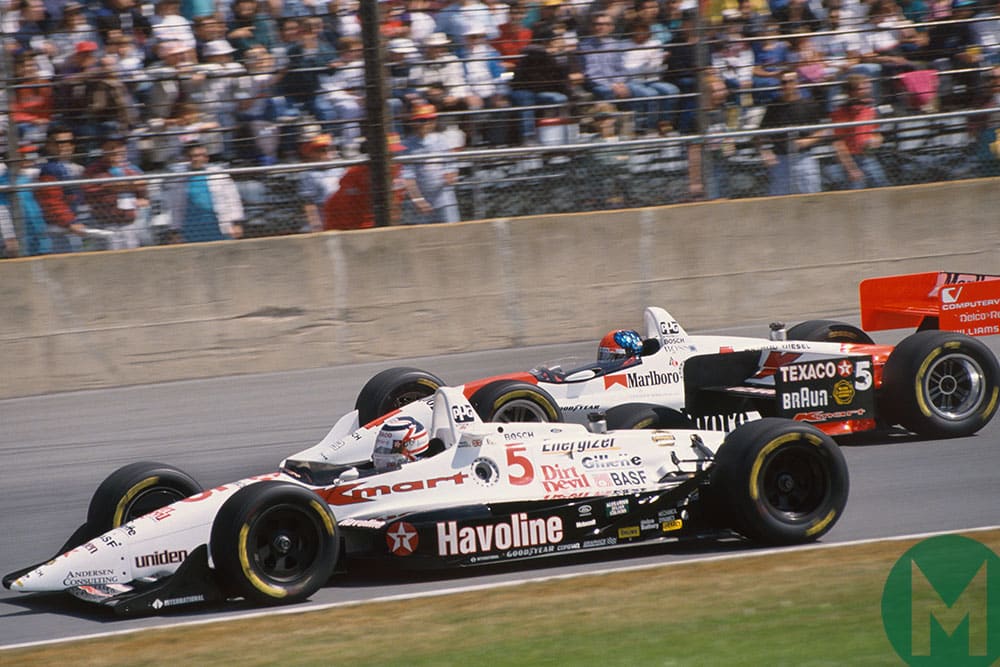 Mansell battles with Emerson Fittipaldi's Penske on the way to his rookie 1993 IndyCar championship Photo: Motorsport Images
Winning the IndyCar championship on your first attempt was supposed to be difficult enough. Doing so with your best form on ovals – meant to be alien to you – was much less likely still.
Yet Mansell did just that in 1993. He won five races that year, and four were on ovals. He even had the toughest of oval baptisms, spinning backwards into the wall practicing at Phoenix, getting knocked unconscious as well as suffering cracked vertebrae and muscle damage.
Missing that race, then placing an unlucky third in the Indianapolis 500, Mansell subsequently won every oval round.
---
More: Straight out of Hollywood
---
New Hampshire was likely his best of the lot, prevailing after a race-long battle with Penske pair Emerson Fittipaldi and Paul Tracy.
"That was my best performance of the year, no question," Mansell said, "and one of the top three races in my career. Following Paul and Emerson, I learned how to race on a one-mile oval in New Hampshire. It was great, pure racing at its best. Running at 200mph with Ayrton Senna in F1 didn't come close."