Racing world pays tribute to Niki Lauda
- Last updated: December 5th 2019
F1 teams add tributes to Niki Lauda on their cars at the Monaco Grand Prix, as colleagues, friends and fans continue to share their memories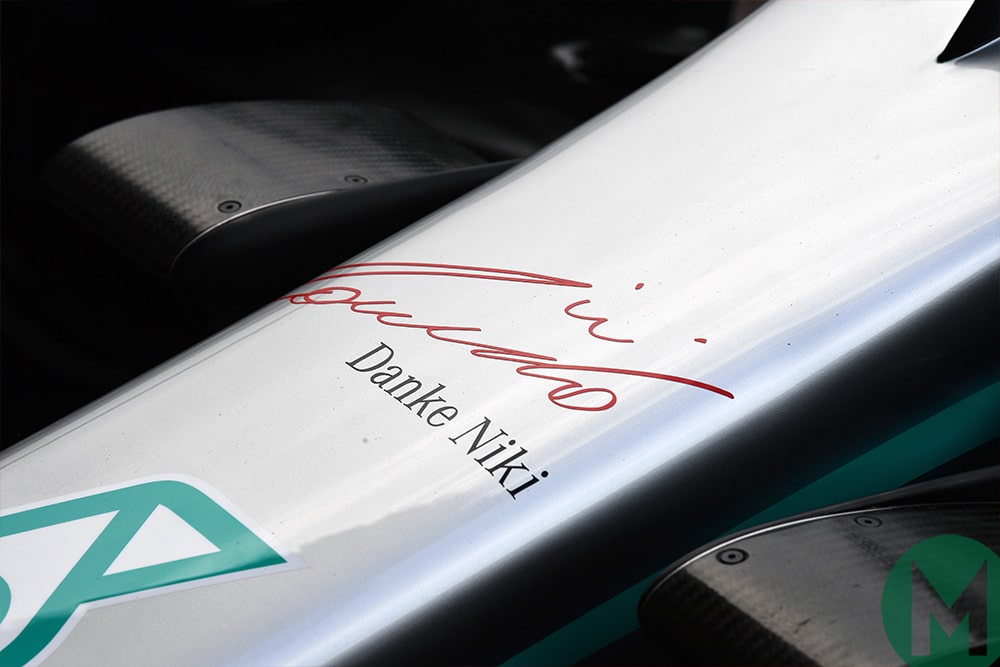 Mercedes cars carry the team's thanks to Niki Lauda at the 2019 Monaco Grand Prix Photo: Motorsport Images
Niki Lauda's Mercedes team-mates have paid tribute to the three-time world champion, as mourners gathered for his funeral in Austria.
A video (below) shows colleagues' memories of working with the Austrian, who was non-executive chairman of the Mercedes F1 team until his death.
It follows a series of tributes throughout the F1 paddock at the Monaco Grand Prix, a week after his death.
Mercedes, Ferrari, Red Bull and Haas were among the manufacturers to add the Austrian's name to their cars, recalling his championship-winning years and his famous red cap. Ahead of the race, the drivers stood for a minutes silence, each one wearing a red cap emblazoned with the word: "Niki". Lewis Hamilton used a red helmet dedicated to the champion
View the gallery of images at the bottom of the page.
The announcement of Lauda's death prompted a flood of tributes from former team-mates, colleagues, friends and fans. We have rounded some of them up below.
---
Obituary: Niki Lauda, 1949-2019
---
Lauda family
"In deep mourning, we announce that our beloved Niki has passed away peacefully with his family on Monday.
"His unique achievements as an athlete and entrepreneur are and will remain unforgettable. His tireless drive, straightforwardness and courage remain an example and a benchmark for all of us.
"He was a loving and caring husband, father, and grandfather away from the public."
Lewis Hamilton
Mercedes F1 driver
"I'm struggling to believe you are gone. I will miss our conversations, our laughs, the big hugs after winning races together. God rest your soul. Thank you for being a bright light in my life. I'll always be here for your family should they ever need me. Love you man."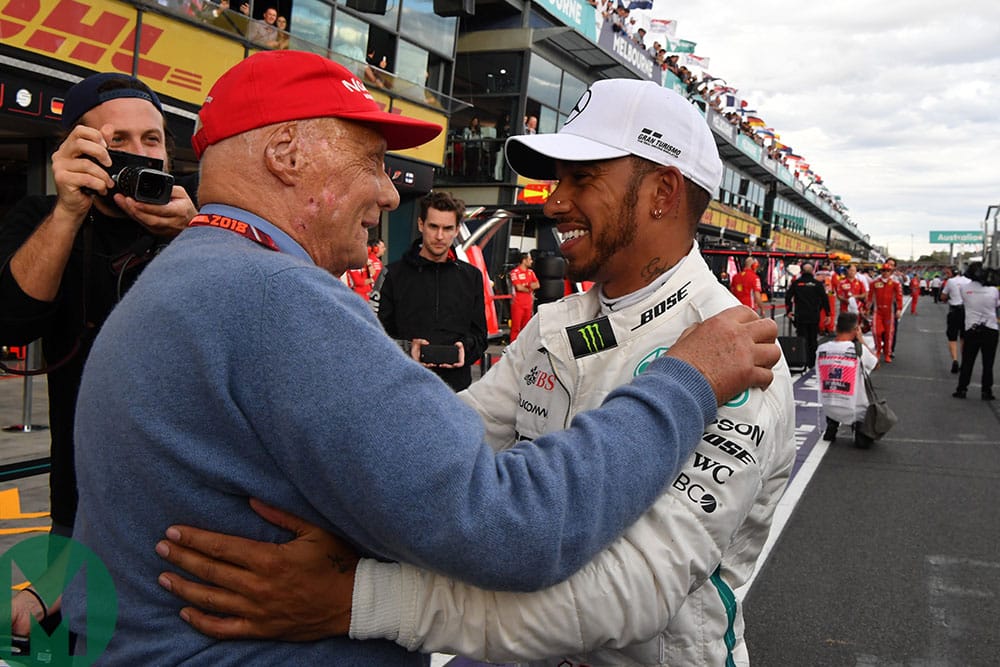 Lauda congratulates Hamilton on pole position at the 2018 Australian Grand Prix Motorsport Images
Alain Prost
McLaren team-mate 1984-1985
"There are champions and people with trophies, but we have lost a titan of the sport, who has never complained about anything – not about his life, his health, or his accident, and who always looked to the future," Prost told Agence France-Presse, speaking in French.
"I've known him for about forty years of my life, and he's been an influential figure. He was my idol when I started karting, during the Ferrari years (1974 and 1977), when Lauda won his first two world titles.
"Then, we were team-mates, making up then greatest partnership that I've known in the sport. We shared the success at McLaren: he won the championship in 1984 and me in 1985. Through this we forged a strong friendship.
"When he won the title in 1984, I was just as happy as if I had won."
Prost described Lauda as "extremely intelligent", with "straight, correct and honest" answers — a rarity in Formula 1. "I never had to wonder' what is he talking about? Is there a hidden meaning?" said Prost. No, Niki, was Niki.
"He also knew how to have fun, in contrast with his nickname of 'the computer', said Prost. "That image really stuck, but he was someone who knew how to divide work and his private life, who really knew how to relax and he taught me a lot about that.
"If I had a mechanical problem or similar issue in a Grand Prix, I used to be furious: one evening, he took me to a nightclub and we started drinking whisky and coke, which I had never done before. We laughed a lot and he told me: 'You see, this helps you to forget what's happened in the past, so you won't look back tomorrow'.
"That was his philosophy: there was work and there was fun. Since then, I've managed to compartmentalise my life and it's Niki who taught me this."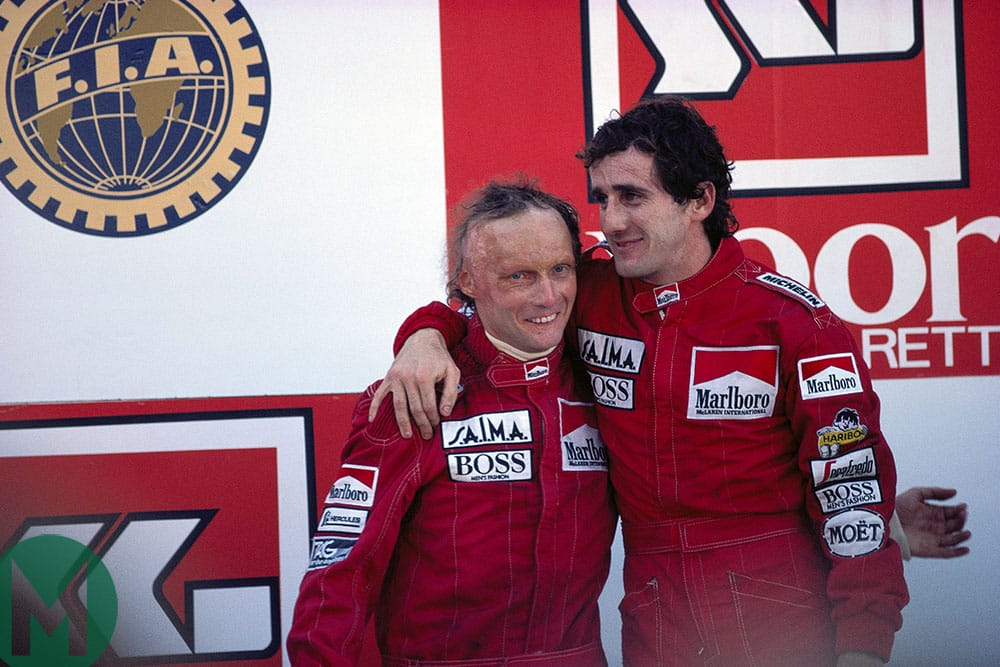 Lauda celebrates winning the 1984 F1 championship by half a point from Prost Motorsport Images
Toto Wolff
Team Principal, Mercedes-AMG F1
"I wish to send our deepest condolences to Birgit, Niki's children, his family and close friends.
"Niki will always remain one of the greatest legends of our sport – he combined heroism, humanity and honesty inside and outside the cockpit.
"His passing leaves a void in Formula One. We haven't just lost a hero who staged the most remarkable comeback ever seen, but also a man who brought precious clarity and candour to modern Formula One. He will be greatly missed as our voice of common sense.
"Our Mercedes team has also lost a guiding light. As a team-mate over the past six and a half years, Niki was always brutally honest – and utterly loyal. It was a privilege to count him among our team and moving to witness just how much it meant to him to be part of the team's success. Whenever he walked the floor in Brackley and Brixworth, or delivered one of his famous motivational speeches, he brought an energy that nobody else could replicate.
"Niki, you are quite simple irreplaceable, there will never be another like you.
"It was our honour to call you our Chairman – and my privilege to call you my friend."
Mattia Binotto
Team principal, Ferrari F1
"When I was little I saw Lauda win for the Prancing Horse on race tracks all round the world. I was not yet ten and to me he seemed like a fearless knight."
Nico Rosberg
Mercedes F1 driver 2010-2016
"Dear Niki. Thank you for everything that you did for me. I learned so much from you. Your passion, your fighting spirit, to never give up, your belief that you always meet twice in life, and even your patience with us youngsters. Myself and all of your 100 million fans around the world whom you also so strongly inspired to never give up in the hardest of times are thinking of you and your family and wish that you Rest in Peace."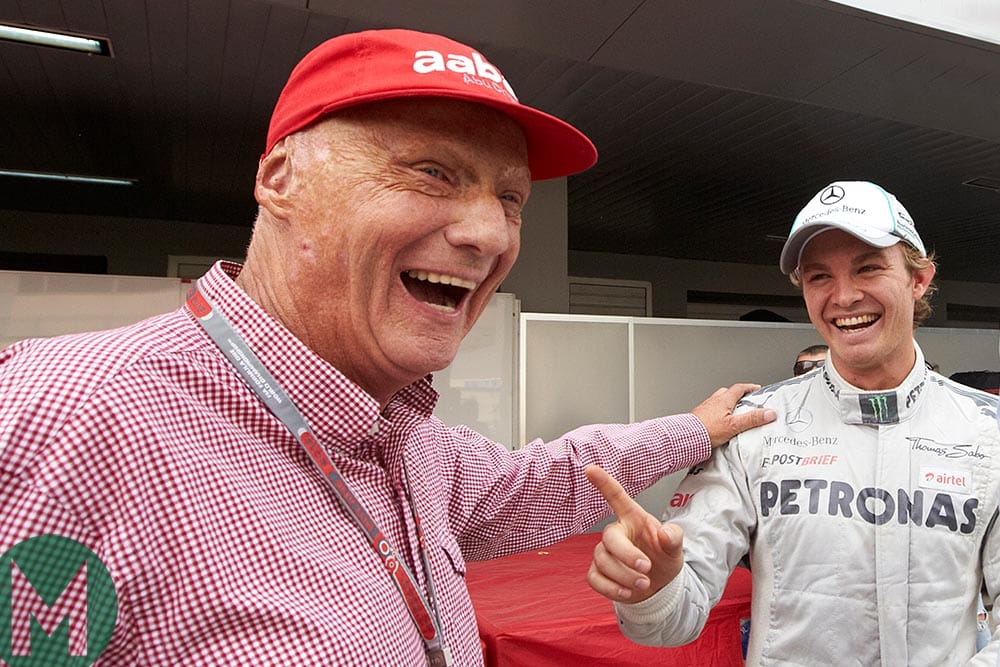 Lauda and Rosberg at the 2012 Indian Grand Prix Motorsport Images
Max Verstappen
Red Bull F1 driver
"Shocked by the loss of Niki Lauda. He was a true legend in our sport and someone I had great respect for. May he rest in peace."
Chase Carey
Chairman and CEO, Formula 1
"It is with great sadness that we learned of the death of Niki Lauda. Formula 1 has lost not only one of the truly great exponents of the sport but also one of its heroes. His love of racing and the courage he demonstrated were simply extraordinary and he inspired so many fans. His passing is a great loss for the entire Formula 1 family and motorsport as a whole. All our thoughts go out to his family."
British Racing Driver's Club
"Today the motorsport community mourns the loss of a motorsport legend and friend. RIP Niki Lauda. Our thoughts are with his family and friends."
Nigel Mansell
1992 F1 world champion
"Such a sad loss, Niki was a legend of the sport and an inspiration to so many. Thoughts are with his loved ones."
Ferrari F1 team
"Everyone at Ferrari is deeply saddened at the news of the death of our dear friend Niki Lauda. He won two of his three world championships with us and will always be in our hearts and in those of all Ferrari fans. Our sincere condolences go to all his family and friends."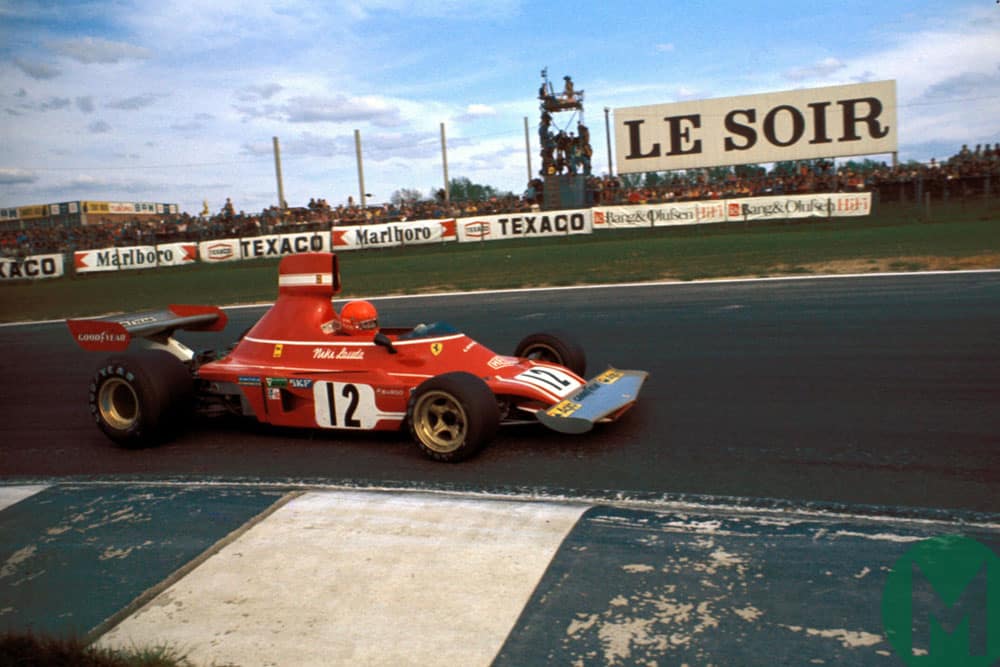 Lauda and his Ferrari 312B3 at the 1974 Belgian Grand Prix Motorsport Images
McLaren F1 team
"All at McLaren are deeply saddened to learn that our friend, colleague and 1984 Formula 1 World Champion, Niki Lauda, has passed away. Niki will forever be in our hearts and enshrined in our history."
Mark Hughes
Motor Sport grand prix editor
"A fond memory of Niki Lauda. Valencia 2010 he was a TV pundit and had just landed Saturday morning. 'Is Alonso going to get pole?' he asked. 'Dunno, Niki.' Niki: 'Tell me. I'm about to talk to 8 million people.'"
Ryan Hunter-Reay
2014 Indy 500 winner
"'From success, you learn absolutely nothing. From failure & setbacks, conclusions can be drawn. That goes for your private life as well as your career.' – Niki Lauda. A true icon of our sport. Saddened for the entire Motorsport community."
Jean Todt
FIA president
"Niki Lauda was a hero of motor sport, who inspired me in my youth. He is a milestone in the history of F1. All my thoughts go out to his family, friends and Mercedes-AMG F1 team."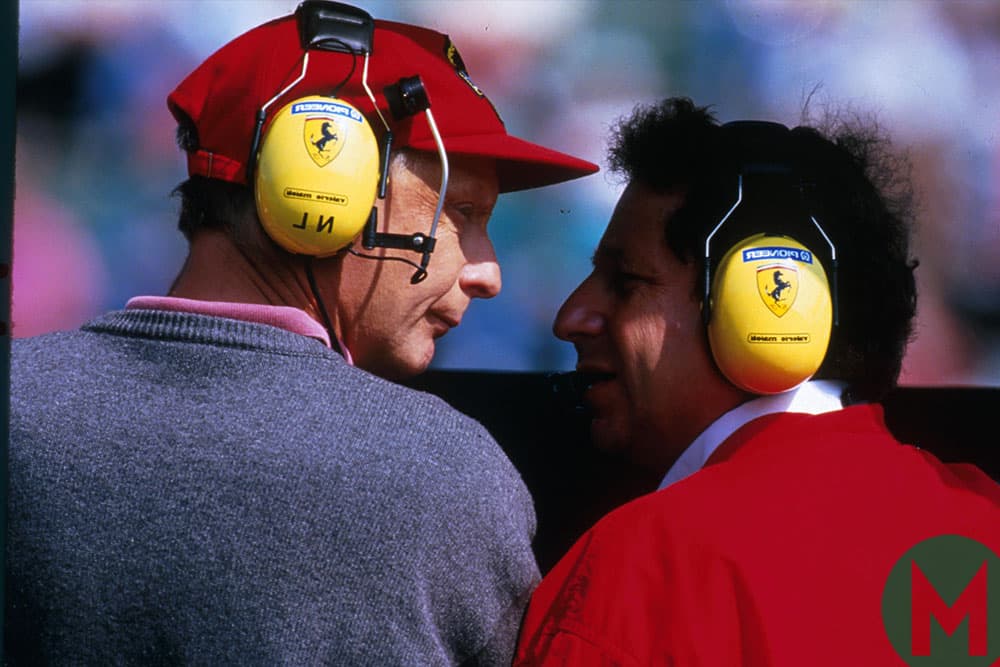 Lauda and Todt at the 1993 Portuguese Grand Prix Motorsport Images
Ron Howard
Director, Rush
RIP the Great Niki Lauda. Here's our last meeting in Monte Carlo in '18 (below) We first met while making the movie Rush. The F1 world knows of his grit & intensely competitive spirit, but that matched w/his keen intelligence & wisdom made him a distinctively remarkable man. a force.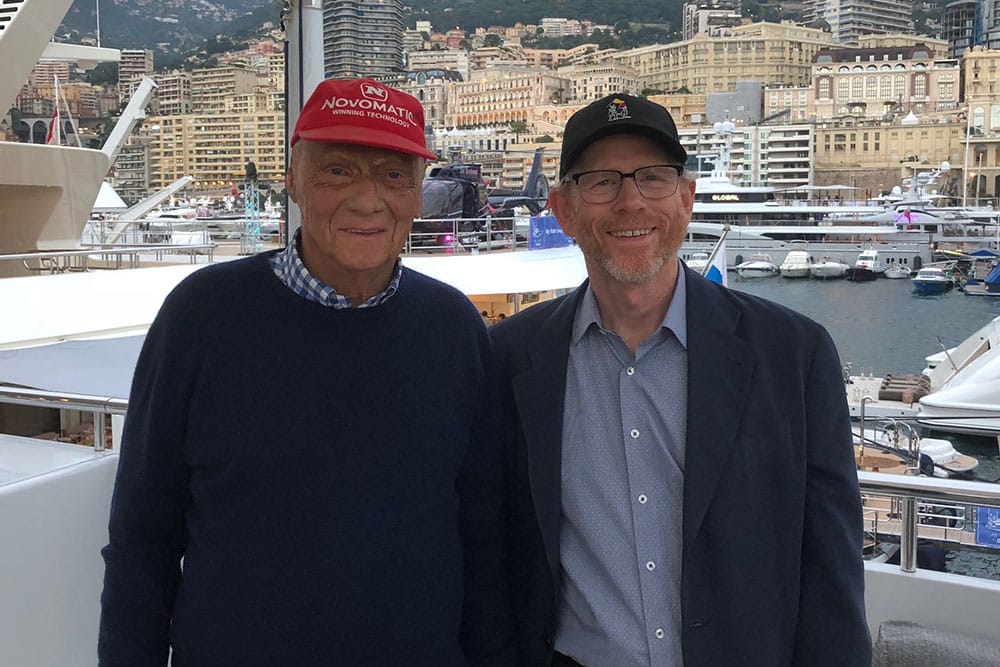 Ron Howard with Lauda in 2018 @RealRonHoward
Carlos Sainz Jr
McLaren F1 driver
"Very saddened to hear that Niki Lauda has passed away. One of the last proper heroes of our sport, a true gentleman, and a great human. RIP."
Ted Kravitz
F1 presenter
"Niki Lauda was one of a kind. To live through so much, to achieve so much and to do it with a twinkle in the eye, glinting under that red cap. He was different class – Thoughts with his family, friends and colleagues. Remember him with a smile."