"Senna realised I was the only driver he couldn't intimidate": Mansell's majestic 1989 Hungarian Grand Prix
- Last updated: December 4th 2019
It was approaching two years since a McLaren-Honda – driven by Ayrton Senna and Alain Prost – had been beaten in a straight fight in Formula 1. At the 1989 Hungarian Grand Prix a magnificent Nigel Mansell drive for Ferrari did just that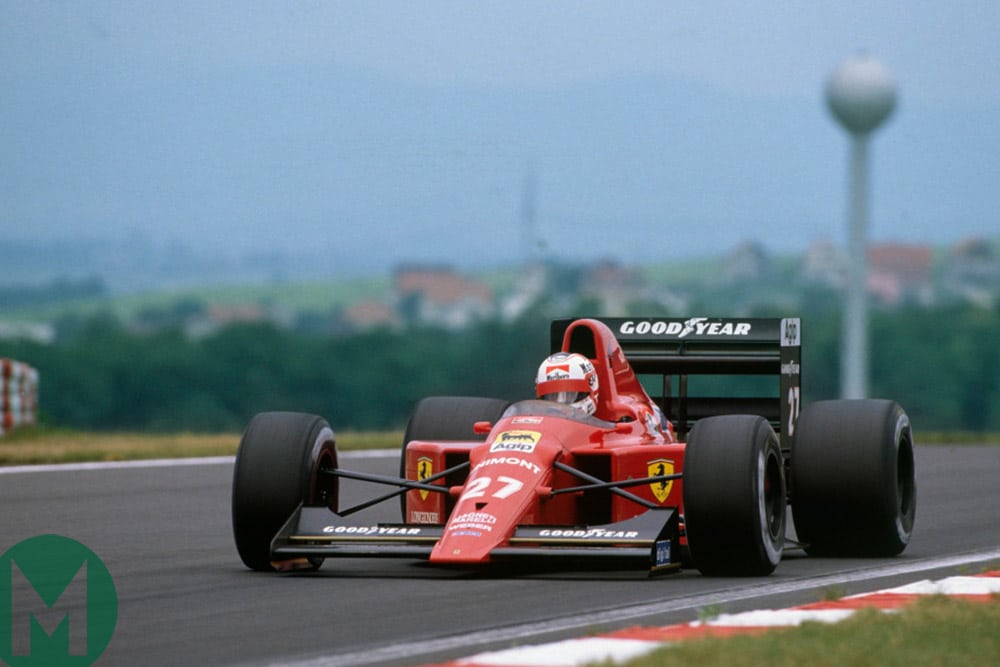 Nigel Mansell on the way to magnificent victory in the 1989 Hungarian Grand Prix in his Ferrari Photo: Motorsport Images
There is a reason we like to talk about Formula 1's McLaren-Hondas from 1988 and '89, driven by Ayrton Senna and Alain Prost. For something like 18 months they were, in a sense, invincible.
"To find the last time McLaren was really beaten fair and square in a grand prix — as opposed to losing a grand prix, which is another matter altogether — you have to go back to Adelaide 1987," said David Tremayne in his Motor Sport report for the '89 Hungarian Grand Prix. "In motor racing, that's an awful long time for anyone to be so dominant."
And in that very Hungaroring race Nigel Mansell and Ferrari achieved the feat not seen since Adelaide pushing two years before. There was someone fitting also that it was done with a Mansell drive that, even for one as habitually associated with drama as him, has good claim to be his finest of all.

A few doubted how the combustible Mansell and highly-strung Maranello outfit would coexist when they paired up for '89. But the doubters were quickly placated. Mansell drove with his typical extreme pace and aggression; the tifosi quickly adored the man they christened Il Leone.
Mansell even won his first Ferrari race, at Rio in Brazil. It was highly unexpected too, as the car's all-new 'semi-automatic' paddleshift gearbox was only expected to last a few laps.
Results were fairly meagre subsequently, mainly as gremlins with the innovative 'box persisted. But in Hungary win number two arrived.
From the very start of the weekend there were reasons to believe this grand prix would provide something different. The twisty Hungaroring bunched up the order, and the notorious low-grip surface created many problems. Trouble was, it did so especially for Mansell.
"The F1/89 felt so bad that it just didn't work on qualifiers, so Nigel qualified on Goodyear's softer C compound race tyres," Tremayne outlined. "On his way to arriving at that conclusion he gained more experience of running on the Cs and the harder Bs than anyone else in the place.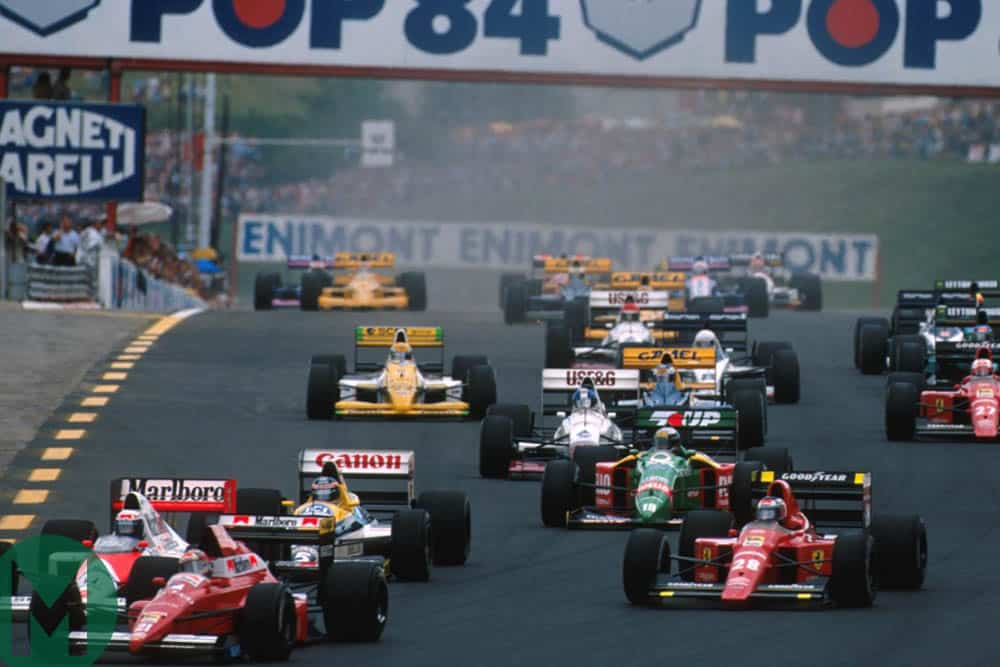 Mansell [no27 on the far right] has plenty of cars to overtake at the start of the 1989 Hungarian Grand Prix Photo: Motorsport Images
"Being Mansell, he parlayed that into a raceday advantage that he exploited fully."
Still, it meant he started 12th. "At a circuit on which overtaking is damn near impossible, it seemed an insuperable handicap," Tremayne added.
Mansell immediately made four places at the race's first turn, but then he got stuck in a queue behind Alex Caffi's Dallara who'd sensationally qualified third.
Mansell gained a place on lap 12 when Alessandro Nannini decided on an early tyre change, then he passed Thierry Boutsen and Caffi in quick succession to be fifth on lap 22. But he now was nearly 20sec off the lead.
No problem. Mansell gobbled at the gap to the leading group by up to 2sec a lap. By lap 38 – half distance – he was with them. Three laps later he was by Prost too to run third.
---
More
---
While catching the leaders, Mansell had a stroke of luck. His team-mate Gerhard Berger had been running with the front pack, and sought to outfumble them with an early tyre stop. But Goodyear inspected his discarded C compound – which he and Mansell started on – and concluded they'd have been good to go the distance. This information was relayed to Mansell.
Another stroke of Mansell luck was that this race didn't have the usual story of the age of McLarens streaking free at the front. Pole was taken by a fine Riccardo Patrese effort in his Williams-Renault. And he was controlling the pace in first to a nicety, keeping the McLarens behind.
However Patrese's effort was all spoiled at two-thirds' distance by a holed radiator. Senna was by in a flash to lead and Mansell followed him through. A tearful Patrese walked in.
Mansell now shadowed Senna, though where he was going to get by wasn't obvious. But just five laps later the moment arrived.
"[They] came up behind Stefan Johansson's Moneytron Onyx as they exited the right-hander at the bottom of the hill after the start," Tremayne said. "Johansson had already been into the pits to have an awkward gearshift examined, and just as Senna closed on to his tail, the Onyx jumped out of fourth. Ayrton was right behind it, gaining as much of a tow as he dared.
---
1989 Hungarian Grand Prix Report
---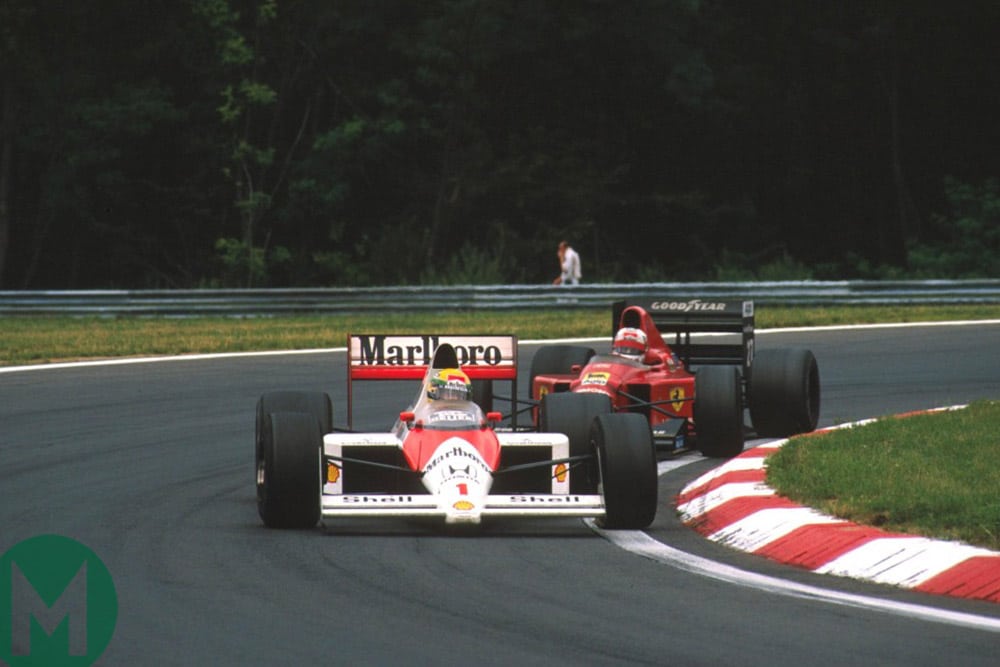 Mansell shadows Ayrton Senna's McLaren-Honda in first place Photo: Motorsport Images
"Mansell, sensing his tiny loss of momentum, blasted alongside after a sideways twitch to slow the Ferrari as it nearly rammed the McLaren, and just had sufficient momentum of his own to take the lead.
"'All my overtaking moves [today] were the sort I'd rather not think about,'" he admitted, 'but that one was the tightest!'"
Senna stayed with him for a while, then settled for second. Mansell glorious win was complete.
"Ayrton tried to intimidate other drivers," Mansell told Motor Sport years later. "We weren't too dissimilar except in how we achieved it. But Ayrton and I were born to compete with each other. Some of the best overtaking manoeuvres in the history books, Ayrton and I share them.
"It took years, but eventually the penny dropped with Ayrton. He realised I was the only driver in the paddock he couldn't intimidate. Eventually there was mutual respect between us.
"But he hated it when I passed him in Hungary."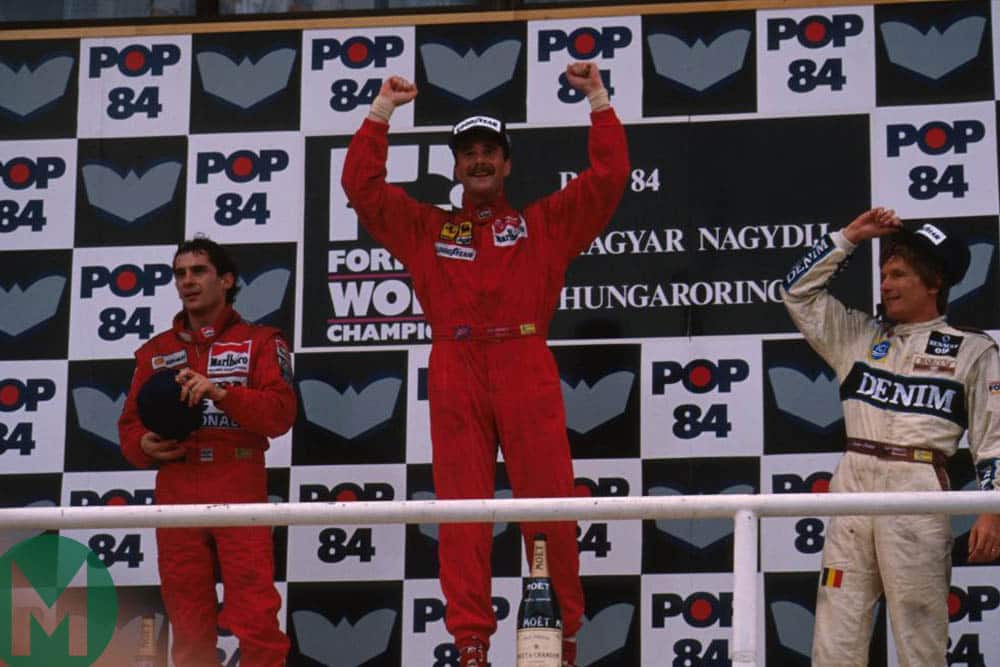 Mansell celebrates on the podium, flanked by Ayrton Senna and Thierry Boutsen Photo: Motorsport Images