"Brian Barwick had made the right decision," recalled Murray in 2013. "Brian is a super bloke – the best I ever worked for in television. 2001 would an absolutely magical year for me. At the British Grand Prix, I had the most emotional send-off. The RAF parachute team came down with a bloody great banner which said something like: 'We're going to miss you'. ITV had a Murray Walker poster competition; you had to produce a banner at the Grand Prix and there were dozens of them. It was incredible.'
The final race of the 2001 European season was at Monza. Walker and a number of British F1 teams got there with European Aviation, an ad-hoc charter airline run by Paul Stoddart, who also owned the Minardi F1 team. Louise Goodman, ITV's pit lane reporter, was a regular flyer with what was known affectionately within F1 as 'Stoddy Air'.
"We had the same crew every time," said Goodman. "They knew the return journey from Italy would be Murray's final flight with Stoddy Air. They put decals down the side of the plane, saying 'Murray. Thanks for the memories.' That was the theme on tee-shirts we all wore. Murray didn't know any of this and we were all waiting on the tarmac, forming a guard of honour.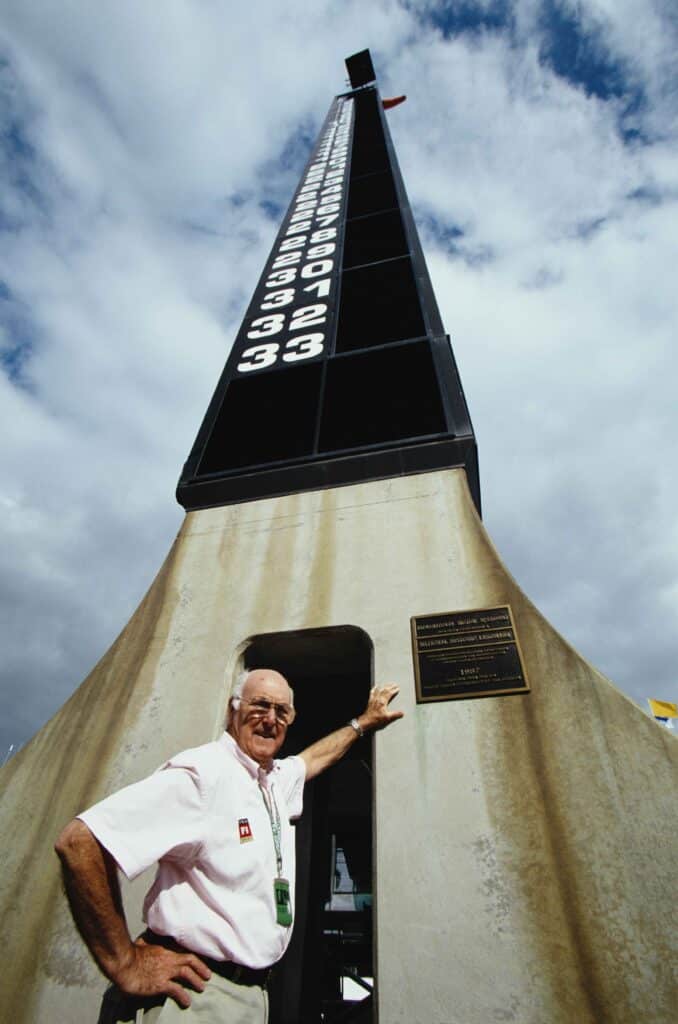 "A regular occurrence on each return flight was somebody would be selected to swap clothes with a hostess and serve drinks to everybody. So, of course, it only seemed right and proper that Murray should be designated to swap outfits on this trip. Murray being Murray, he fully got into the spirit of it and had a wonderful time!"
A more official send-off would occur at the next race, the United States Grand Prix, which would be Murray's final television broadcast. On the Friday evening, Murray was taken to the Paddock Club, where he found Tony George [boss of the Indianapolis Motor Speedway], Flavio Briatore, Bernie Ecclestone, drivers, mechanics and the media waiting. Murray was the centre of attention, drivers being called forward to ham it up and stumble through various 'Murrayisms'. Ecclestone paid a brief but genuine tribute to 'the man who has done more than anyone for attracting people to F1'. George then presented Murray with a brick from the original surface of the famous oval.
The US Grand Prix on 30 September 2001 was to be the only time in the history of F1 when the entire occasion was arguably more important than the actual race. This was the first major public gathering in the USA since the 9/11 atrocities 19 days before. When Walker and Martin Brundle finished their commentary at the end of an emotional day, Murray delivered a final monologue.