Verstappen penalised after collision with Hamilton at 2021 Italian GP
Max Verstappen and Lewis Hamilton came together once more, putting both out of the Italian GP – the Dutchman has now been penalised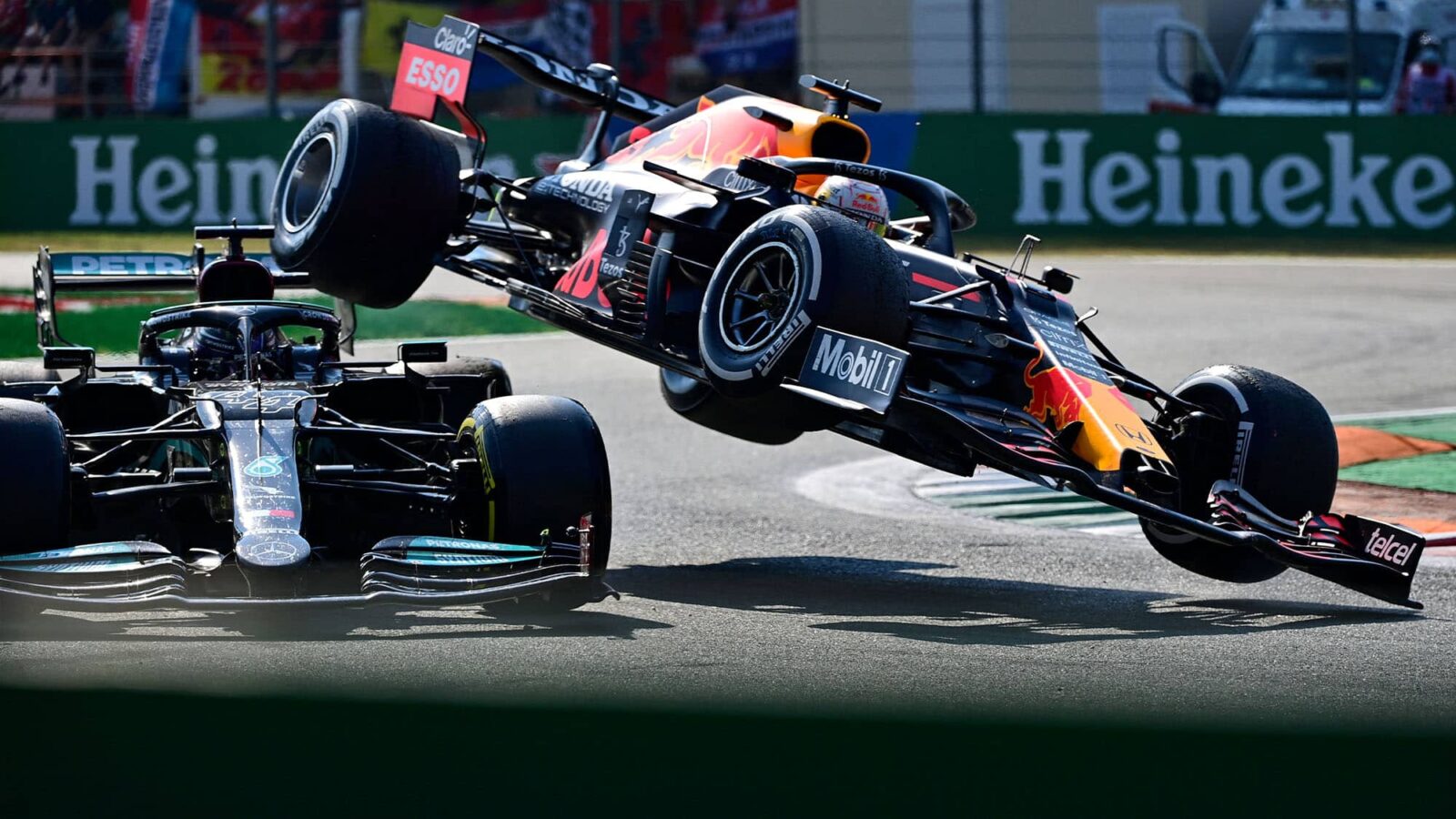 The 2021 Formula 1 title fight went up another notch in intensity after Lewis Hamilton and Max Verstappen collided mid-race at the 2021 Italian Grand Prix, with the latter being penalised.
Verstappen was fighting back from a poor 11sec pit stop which would've left him behind the Mercedes driver once the tyre changes had shaken out.
However, Hamilton's stop was also slow at over 4sec, meaning the Red Bull was able to draw alongside as the Mercedes came back onto the pit straight.
Hamilton squeezed Verstappen who was on the outside entering the first chicane. The Red Bull bounced over the sausage kerbs before mounting the Mercedes, its right rear tyre grinding over the roll hoop and halo – both cars ended up in the gravel trap and were out of the race.
Verstappen complained over the radio the Mercedes left him no space, whilst Hamilton remained silent.
The incident was noted as stewards said they would investigate after the race – they have since given Verstappen a 3-place grid penalty for the upcoming Russian Grand Prix in two weeks, as well as two penalty points on his licence.
Immediately after the crash, the drivers were at odds at to where to apportion blame.
"It's exactly the same scenario that happened at Turn 4 where I was in the same position as Max and I gave way, that's racing – this time he didn't want to give way," said Hamilton when interviewed by Sky.
"He knew what was going to happen but he didn't back out – I don't know what else to say.
"I'm a little bit stiff and sore on my neck because it [Max's tyre] landed on my head but I'll be OK. I was racing as hard as I could."
However, Verstappen was adamant that he was not at fault.
"We realised it was going to be close into Turn 1," he said in an interview with Sky. "[Hamilton] cut across after the [pitlane exit] white line and I had to go on to the green part to not touch.
"I went around the outside. And of course, he realised I was going for it. So he just kept on squeezing me."
He added: "I didn't expect him to just keep on squeezing, squeezing, squeezing, because he didn't even need to.
"Even if he would have left me just a car's width, we would have raced out of Turn 2 anyway. And I think he would have probably still been in front.
"But then he just kept on pushing me wider and wider. And at one point, there was nowhere to go.
"He just pushed me onto the sausage kerb. And that's why, at the end of the day, we touched because of the rear tyre."