Watch Senna's legendary Donington F1 lap
- Last updated: December 4th 2019
Relive possibly the finest lap in all of motor sport, as McLaren looks back to Ayrton Senna's famous 1993 opening tour at Donington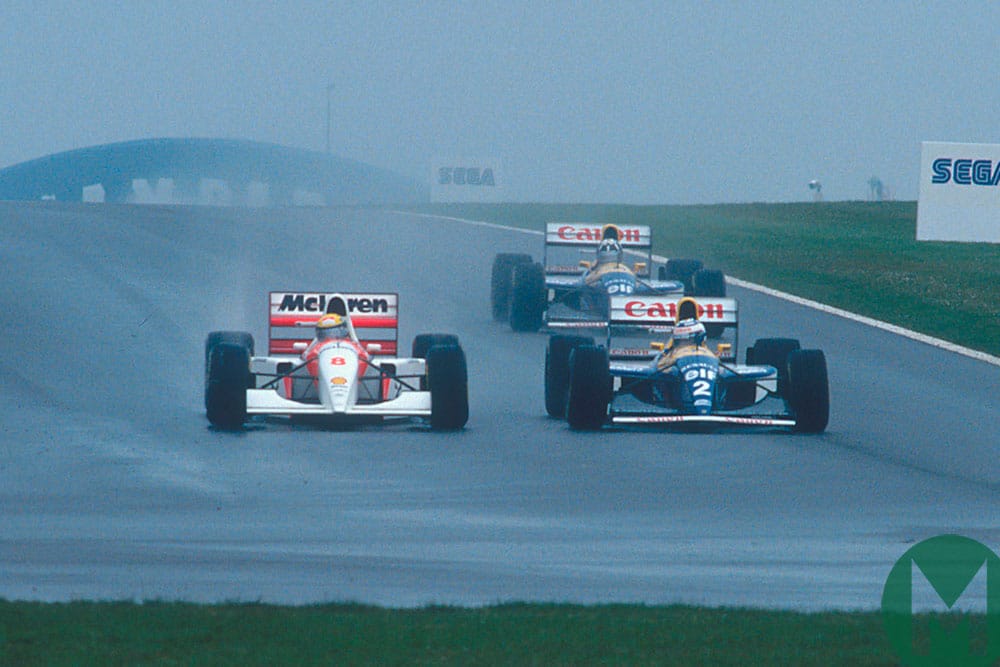 "The image is clear in my mind's eye," said Motor Sport features editor Simon Arron; "a ball of first-lap spray containing two Williams-Renaults, Karl Wendlinger's Sauber, Michael Schumacher's Benetton and Ayrton Senna's trim McLaren MP4/8 tagging on at the back. When the cars reappeared about 90 seconds later, the Brazilian led by several lengths."
You'll know what happened in between in the European Grand Prix at Donington Park, which took place on this day in 1993. Down to fifth at the start; Schumacher firmly claims the racing line. Yet Senna dodged inside at Redgate, then through the Craner Curves he's past Wendlinger too – on the outside!
By McLean's he's inside Hill. Through Coppice then The Esses he, for the first time in a corner that day, doesn't pass anyone. But he's merely deferring it for the Melbourne Hairpin, where he gets inside of his nemesis Alain Prost to lead. Senna won by nearly a lap.
---
More: Lap of the Gods
---
"There have been some opportunist moves in Formula 1 over the years – Jacky Ickx passing Niki Lauda round the outside at Paddock Bend in the 1974 Race of Champions, or Nigel Mansell diving past Ayrton Senna up the hill in Hungary in 1989 – spring immediately to mind," said David Tremayne in his Motor Sport report at the time.
"But few have equalled the audacity shown by Ayrton Senna in the opening lap of the Grand Prix of Europe."
And you can watch a video by McLaren below where various team members reflect on it all. It includes all-important footage of the amazing lap itself.
"In the wet I don't think there's been anyone as quick," says mechanic Neil Trundle.
"He's in an underpowered car, he's at a disadvantage, it rains, the conditions suit him; just classic Senna," adds designer Steve Nichols. "The really great ones like Senna have to be willing to stick it right on the limit all the time."
"Whereas everybody else was really going on tiptoes trying to find where the grip was, Ayrton instinctively knew where the grip was," notes fellow designer Matthew Jeffreys. "Corner after corner he just leapt in front of everybody."
And, as Neil Oatley reminds us, "he was overtaking the class of the field at that time." Some 12 F1 world championships between them indeed.
Yet the lap also very nearly never happened. For one, F1 wasn't supposed to be at Donington at all. Rather it was supposed to be far from Leicestershire, at futuristic Autopolis in Japan for an 'Asian Grand Prix'. But that fell through amid money problems and Donington – which long had sought a race – was an 11th-hour replacement.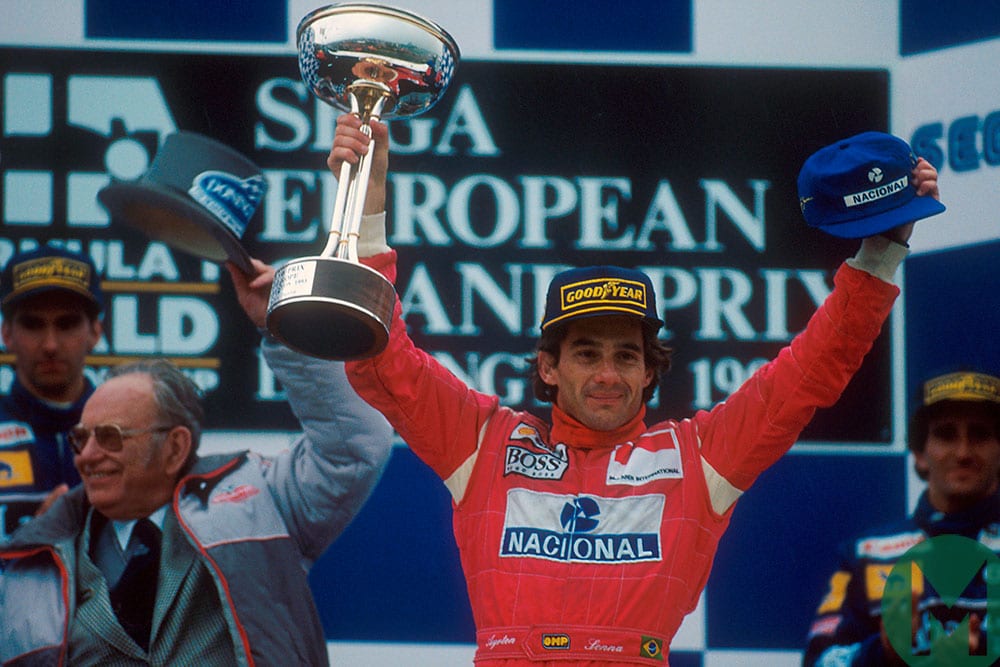 For another, Senna very easily might not have been there either. He didn't relish the idea of, with a customer Ford engine, being well outpowered by the Williams-Renault – Martin Whitmarsh reckoned the difference was around 50bhp. Senna spent much of the off-season suggesting he would sit 1993 out and even at this stage still was signing race-by-race contracts and often committing to races mere days or even mere hours before opening practice.
Plus had it been dry Senna likely would have been nowhere near – he qualified some 1.6sec off Prost on pole on the sunny Saturday. Yet come the race the weather was typical for a British Easter weekend. This, as in the previous round at home in Brazil, brought Senna right into the picture.
And the lap did happen. Which is something to be grateful for.