Watson: Penske is the "greatest president the USA never had"
- Last updated: December 4th 2019
The 1981 British Grand Prix winner John Watson picks his fantasy US President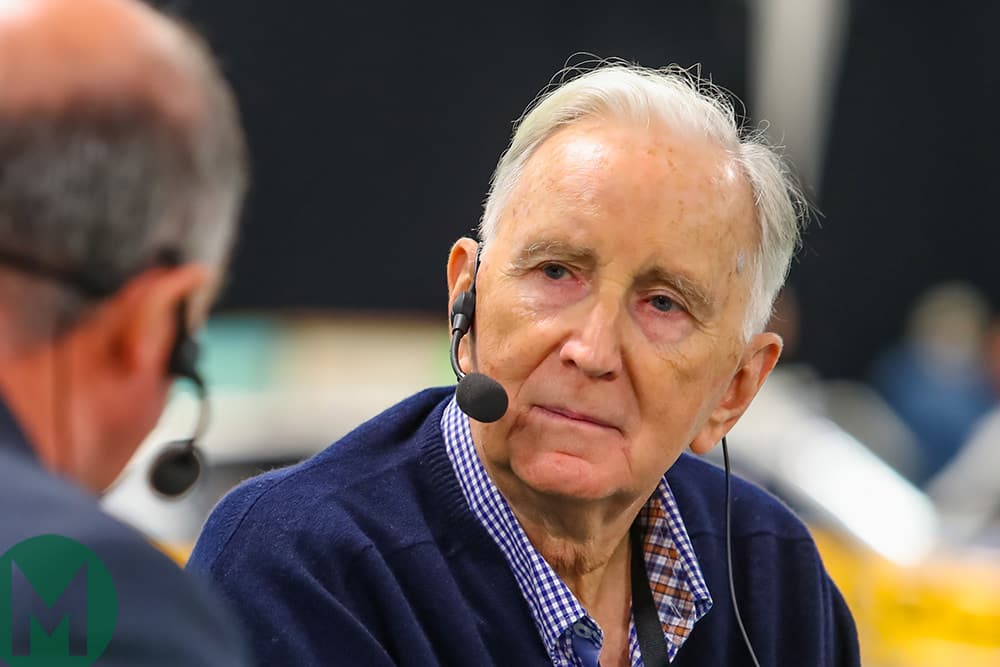 John Watson says that Roger Penske is the "greatest president that America has never had" in a podcast recorded at Race Retro.
The 1981 British Grand Prix winner, who also picked up four more grands prix victories – one with Team Penske in 1976 – talks to Motor Sport in an informal podcast recorded at February's Race Retro historic motor sport show.
"In fact, I saw him three years ago and said: 'Roger, why don't you run for the Presidency of the United States of America?'" says Watson.
Penske recently joined Motor Sport editor Joe Dunn at the Royal Automobile Club to record a Talk Show, before he attended the Club's Annual Motoring Dinner.
"I went to the Royal Automobile Club event and caught up with Roger," continues Watson. "And Roger's no different now, going back 43 years to 1976.
"His vitality, enthusiasm, his awareness, his alertness – it's just unchanged. He is one of the most remarkable people I've ever met, whether that's inside motor sport or not."
Penske turned 82 on February 20, and he still has a hands-on approach to running his business and racing team.
"The function in London was on Thursday evening, and it finished around 10.30pm, and Roger was due to get up at 3am on Friday morning to fly to Germany for a business meeting, then to fly onto Holland for another meeting," says Watson.
"That's Roger. His life is structured very, very carefully and precisely so that everything happens as it should. He goes to virtually every event that his team competes in, be it NASCAR or IndyCar."
Watson told us that Penske treats his motor racing team as an outlet from the stresses of his career.
"Somebody asked the question about the amount of time he spends away from home. He replied: 'I say to my wife Kathy, it's just like me playing a game of golf or doing a bit of fishing.'
"That's how he equates what he does in motor racing: it's his weekend pleasure. It's getting away from all the pressures, the responsibilities of his day job, which is running the Penske empire, so he loves to go to the races and he loves to be involved and he often still is.
"And he's good at it."
Team Penske picked up a hat-trick of wins this weekend in major series as Scott McLaughlin swept the two races at Adelaide in the Australian Supercar Championship while 2018 NASCAR champion Joey Logano won at Las Vegas. McLaughlin's win was the first in that series for the Ford Mustang while Logano's team-mate Brad Keselowski took that respective honour for NASCAR's Mustang the previous week at Atlanta.
"The other thing is, he's got great humility. [Team Penske] is an egalitarian team." continues Watson.
"When Roger comes into the garage in the morning, he's not coming in and people are bowing to him; he's coming in as a member of the team.
"And if he happens to see something on the garage floor that he thinks should be removed, he doesn't say, 'Who's responsible for that? Get them to clean it up!'
"He'll get a broom and a pan and pick it up."
Watson raced at Team Penske after Mark Donohue lost his life in the 1975 Austrian Grand Prix. Donohue, whose career is discussed in length in the latest Royal Automobile Club Talk Show, won the 1972 Indianapolis 500 for Penske, took the team's first NASCAR win in the same year and finished on the podium for the American Formula 1 team.
---
Listen, watch and download: Roger Penske: Royal Automobile Club Talk Show
---
Trump should rethink tariffs – Penske
In the Talk Show, The Captain also discusses current US President Donald Trump's trade tariffs that threaten Penske's business. While he's refrained from commenting on Trump's leadership – telling Motor Trend in 2017 that he was "straight down the middle" politically – he did hint that the incoming trade tariffs needed a rethink.
"From a US perspective, the German brands and the premium brands were about 66 per cent of our business in the US.
"And if you put a $2500 tariff [on imports], which is what people are talking about, whether it's true or false, it'll have an impact and we're not sure what it is.
"You know, we're bracing ourselves today, we have to expect that it could happen. It's going to mean cutting costs, it could mean reducing a number of jobs within the company, dividend payments… all these things could be a part of our menu of things to do.
"So, it's troubling, and we hear it because the auto industry in the US, it's not just the manufacturers building the cars, it's a supply chain. People and companies, around the world really, not everything is built in the US.
"One of the issues is that while the US manufacturers might be in great shape a lot of their content is coming offshore so, to me, it's certainly an issue that we talk about and lately, almost every day.
"People realise that the chamber has now given the president its thoughts on tariffs and he has 90 days to make a decision. He might do a Tweet out tonight while we're here on what he wants to do. It could have an impact on the markets…" explained Penske.
All of our podcasts are also available on Spotify