We go again: 2021 Austrian Grand Prix what to watch for
Part three of F1's first triple-header of the season will be at the Red Bull Ring this weekend
They can't all be classics but hopefully this weekend's Austrian Grand Prix outdoes the Styrian race from the week before.
Teams will have gathered plenty of data and drivers will have had time to reflect on what went right and what went wrong last time out.
Pirelli is doing its part by bringing in a softer compound for this race, potentially opening the door to a two-stop strategy.
Will that be enough for Mercedes to get back on terms with Red Bull and fight for the victory?
Here's what to keep an eye on during the 2021 Austrian Grand Prix race weekend.
New tyres
Pirelli has done its best to spice up a back-to-back weekend by bringing an alternative choice of tyres for this weekend's race. While the C2, C3 and C4 tyres were the range for the Styrian race, this weekend teams will get to use tyres a step softer.
The C5 will become the softest tyre teams can pick for the Austrian GP, with the C4 becoming the medium and C3 the hard. Teams found in the higher temperatures that the medium was the tyre of choice but that the hard compound was preferable to run in the race rather than the soft compound Pirelli had initially suggested for a one-stopper.
Ready for round 2? #AustrianGP 🇦🇹 #Fit4F1 pic.twitter.com/L5y1DbFhX0

— Pirelli Motorsport (@pirellisport) June 28, 2021
Sergio Perez almost made his two-stop strategy work and likely would have passed Valtteri Bottas for third place had the race been one lap longer, but will we see more try and go aggressive on strategy this time?
Audi and Porsche in the paddock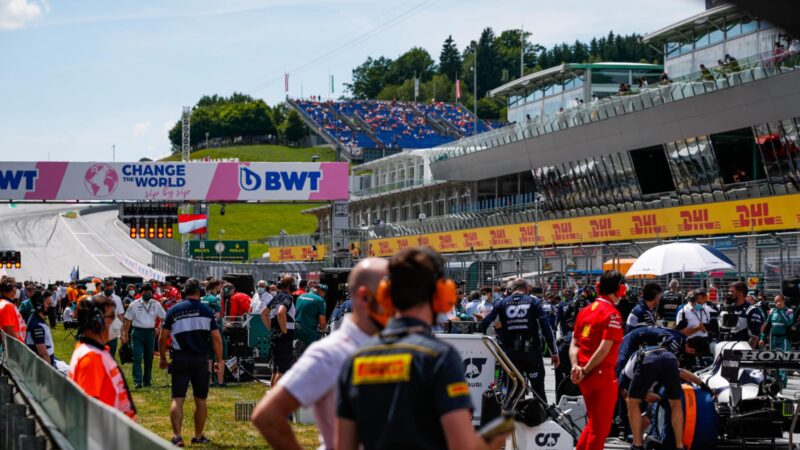 Behind closed doors somewhere in the paddock this weekend, F1 bosses will gather manufacturers from inside and outside of Formula 1 to discuss the future of the sport, in particular, the 2025 engine regulations.
The likes of Mercedes' Ola Källenius and John Elkann of Ferrari will meet with Porsche CEO Oliver Blume and Audi's chairman Markus Duesmann. FIA president Jean Todt and F1 managing director of motor sport Ross Brawn will be in attendance with F1 CEO Stefano Domenicali.
If the new CEO can get more major manufacturers to sign onto any plans for the future, it would be a huge coup for the ex-Ferrari man in his first year as F1 boss.
Formula 1 has already touted the use of synthetic fuels and plans for the technology as being a key part of the next set of regulations, but might we get more clarity on what to expect in the coming weeks after the meeting?
This weekend could shape more than just the 2021 championship.
China's first F1 driver for eight years
Guanyu Zhou will become the first Chinese driver since 2013 to take part in a Formula 1 race weekend when he takes over Fernando Alonso's Alpine for FP1 on Friday.
Zhou currently leads the Formula 2 championship and remains as part of the team's junior driver line-up. He will become the first Chinese driver to take part in a grand prix weekend since Ma Quinghua drove with Caterham in 2013.
"It's going to be a very special moment," Zhou said. "I'm preparing myself as much as I can to be ready and also ensure that I'm able to complete all the targets and plans that the team have set me to do. There have not been many Chinese drivers in Formula 1, so to be behind the wheel of an F1 car during a race weekend is going to be a very proud feeling.
"It's going to be even more special that I'm driving Fernando's car as he inspired me to pursue a career in racing when I was young. I'm very happy with my achievements so far and I'm very thankful for the support I have from those around me. My aim is to maximise this opportunity and I'm really looking forward to it."
About that rain…
So the forecasts were a little off last weekend but fear not because there's more rain on the way. Maybe.
With a 60% chance of rain for Saturday, there might not be wet weather running in qualifying but that jumps up to 90% on race day.
After last weekend's straightforward race, a sprinkling would be a welcome surprise and provide plenty of drivers the chance to maximise their results.
Lando Norris was deflated after having to let Bottas and Perez pass him to get the best out of his race strategy, but had it rained the McLaren driver might have scored another podium for the team.
George Russell on the other hand might not be in favour of a downpour. He showed Williams had decent pace in the dry and narrowly missed out on making Q3.