Winning 2020 F1 title would mean more in "momentous" year, says Hamilton
Lewis Hamilton has said that winning a seventh Formula 1 world title, while battling injustice and inequality, would mean more than his previous championships
Winning the 2020 world championship while campaigning for greater equality would mean more than any of his previous six titles, Lewis Hamilton has said.
He described this year as momentous, as he prepares to begin the campaign to retain the championship, while also fighting for greater equality, amid the Covid-19 pandemic.
Hamilton, who has revealed a new black helmet design, also said that he anticipated a show of support against injustice and inequality from all drivers ahead of this Sunday's Austrian Grand Prix.
"Winning the title this year would mean more than ever before, being that it is such a momentous year in the sense [of] this pandemic, which we are still fighting, but then on a more personal level and the Black Lives Matter and fighting for injustice and equality," Hamilton told media in Austria.
"To be also fighting for something so important — it is not going to change in our time, our generation, but for our kids — it is such an important moment for us.
"So yes, winning the world title during this time would be even more important."
Still We Rise. ✊ @LewisHamilton's 2020 helmet explained by the man himself! 👇 pic.twitter.com/xYup0Wk7P7

— Mercedes-AMG F1 (@MercedesAMGF1) July 2, 2020
Hamilton has revealed a new black helmet design to co-ordinate with the new Mercedes car and race suit livery, which has been changed to reflect the team's commitment to increase diversity in the sport.
The wording on the back of the helmet, which previously carried the title of the poem, Still I Rise, by civil rights campaigner Maya Angelou, has been changed to 'Still We Rise'.
Hamilton said that he expected a show of solidarity amongst all of the drivers ahead of the race on Sunday.
"We haven't all spoken so I'm sure that during this weekend we will," he said in Thursday's press conference. "It's not been at the top of my mind. It's not really been a priority for me to come with a plan to kneel at the startline. We'll see on Sunday.
"I think whatever we do, we'll try to do it united, I think it's really important we remain united or we become united more so in this sport and we really do have to fight for the injustices and the inequality."
"We will, I'm sure, as drivers, all stand to represent something."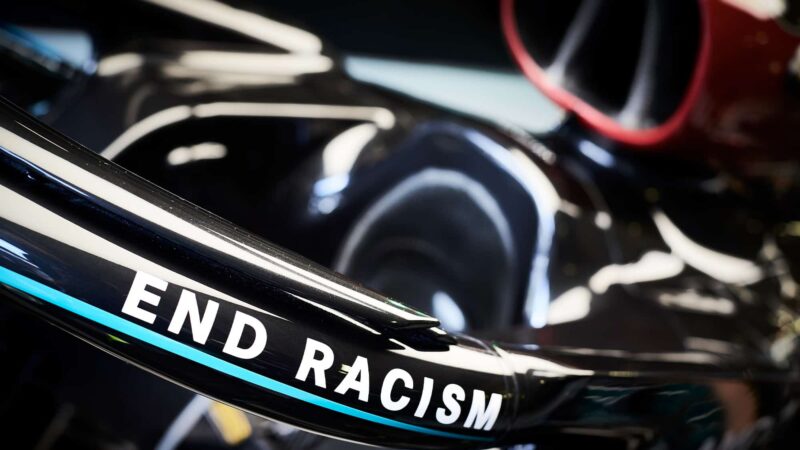 Asked whether the push to improve diversity would continue, Hamilton said: "In terms of whether or not it's sustainable, it has to be.
"It's not enough to just take a moment and post blackout Tuesday or whatever it may be and then go back to your regular lives. It has to continue, we have to stay on it.
"We all have to come together. Each if us, our voices are powerful and if we bring them together collectively, we can have a huge impact."