Ford unveils its no-limits GT Mk II 700bhp track-only supercar
- Last updated: December 5th 2019
Ford shuns road and race constraints with an unrestricted track-only GT Mk II machine – that will cost you a cool $1.2million – featuring vast strides in power and aero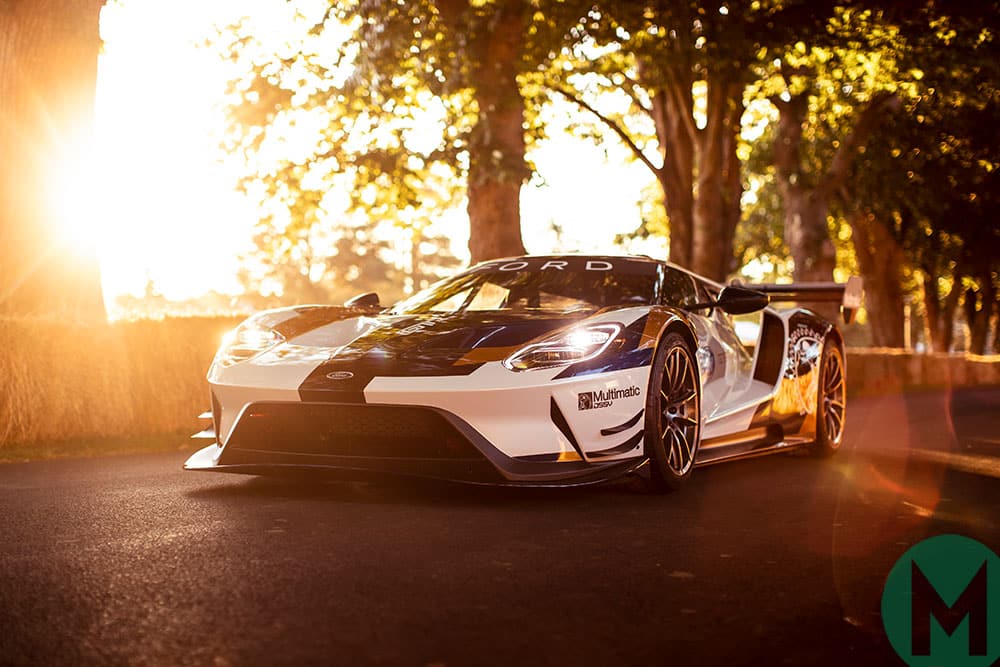 Ford has unveiled a new track-only, limited edition, ultra-high-performance supercar at the Goodwood Festival of Speed. It's called the GT Mk II and it's a no-holds-barred machine designed solely for the track.
It's not road legal nor is it designed for a particular racing series, which means it is one of those cars that seeks to find out what is possible without those restrictions and designers have free rein to maximise the engine and aerodynamics.
The GT Mk II features an upgraded 3.5-litre twin-turbo Ecoboost V-6 engine that is capable of 700bhp; 50 more than the current GT road car and some 200bhp than the regulation-restricted and recently-retired Le Mans Ford GT. This makes it the most powerful Ford GT ever. It also has a roof-mounted intake scoop and a water sprayer system to cool the charge air cooler.
The aerodynamics have had similar treatment, with Ford stating that with the Mk II there has been a 400 per cent increase in downforce versus the road car, and that it can achieve upwards of 2g lateral grip, thanks to its large dual-element wing, new splitter and diffuser as well as other aero revisions.
---
More: The Ford GT is back
---
There also has been focus on saving weight, with the road car's adjustable modes and ride height replaced with five way adjustable Multimatic DSSV shock absorbers and a fixed ride height, saving over 90kg as well as improving handling and aero efficiency. The car also has 19-inch wheels with race-spec Michelin tyres, and carbon-ceramic brakes. A passenger seat is optional.
The GT Mk II has been co-developed with Multimatic, which also had a major role in developing the current Ford GT road and race cars. The Mk II also made its worldwide track debut on the Goodwood hill climb course this morning.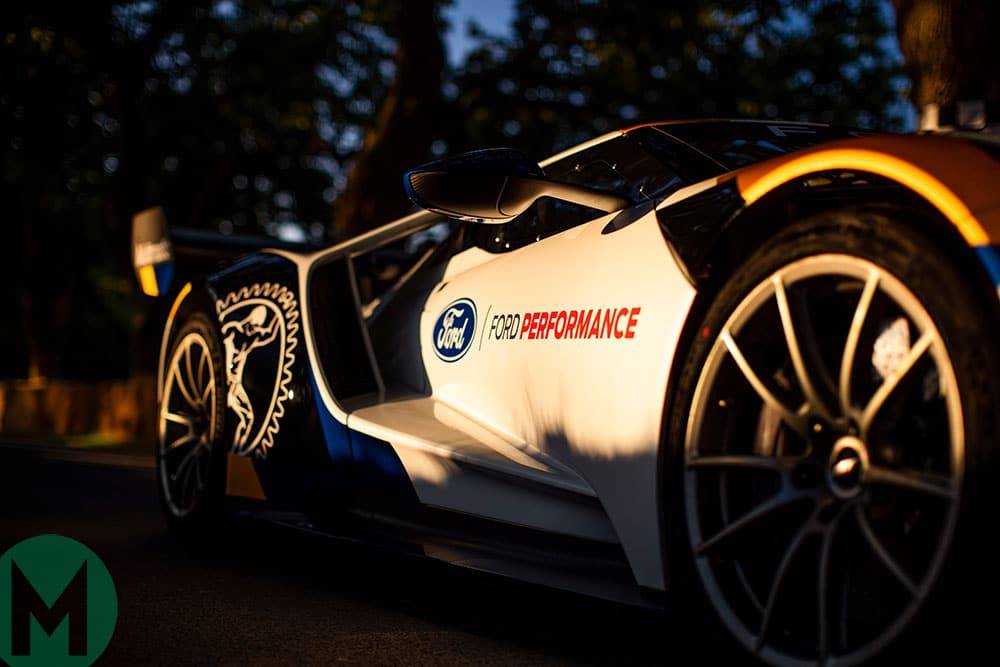 Ford last month said that it would "make a special Ford GT supercar announcement" at the Goodwood event, and released a teaser image of the car in silhouette.
Ford is to build only 45 examples of the GT Mk II and it has a starting price of $1.2 million.
"The true off-the-hook performance capability of the GT hasn't yet been fully showcased," said Multimatic's chief technical officer, Larry Holt. "The road car is obviously limited by the many global homologation requirements that it must comply with, and the race car suffers from the restriction of the dreaded Balance of Performance, resulting in it being 150bhp down to the road car. The Mk II answers the regularly asked question of how would the car perform with all the limitations lifted: the answer is spectacularly."