VW will use F1 tech on the Nürburgring
- Last updated: December 4th 2019
Volkswagen will attempt to break the Nürbugring-Nordschleife track record with its Pikes Peak-dominating I.D. R – with DRS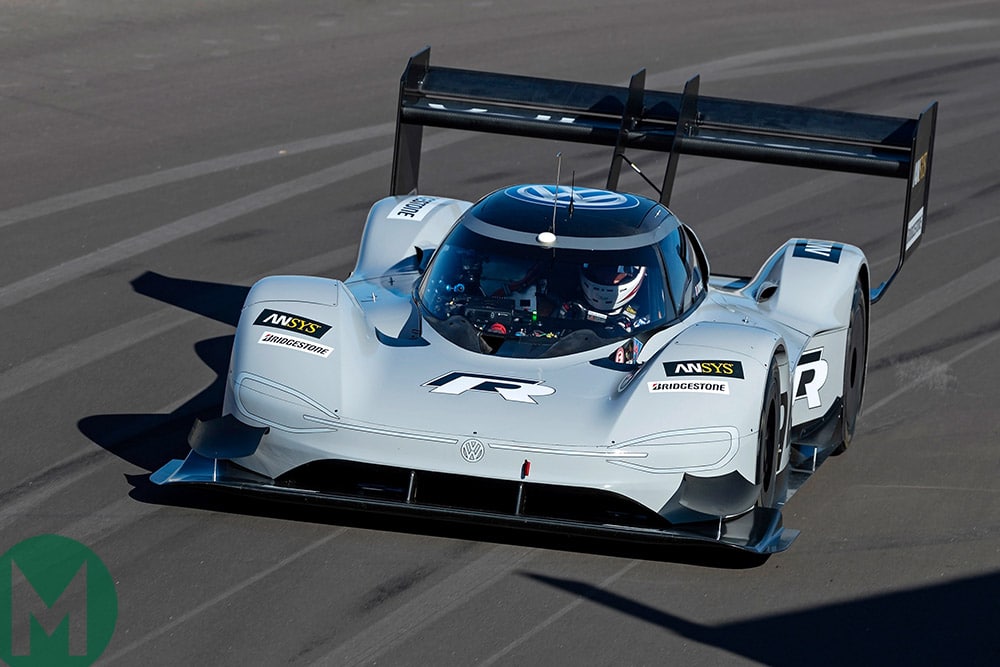 The Volkswagen I.D. R will take on the Nürburgring-Nordschleife this year with the hope to break the track record using Formula 1 technology, in the form of the Drag Reduction System.
VW broke the overall Pikes Peak record with its electric I.D. R in 2018, setting a time of 7min 57.148sec up the Colorado hillclimb.
But the I.D. R isn't going for the Porsche 919 Evo's time of 5min 19.546sec, rather, the electric record of 6min 45.9sec set by the NIO EP9 in 2017.
François-Xavier Demaison, technical director of Volkswagen Motorsport, explains: "Though almost identical in length at roughly 20 kilometres, the Nordschleife presents a completely different challenge for aerodynamics in comparison to the hillclimb at Pikes Peak.
"In the USA it was all about maximum downforce, but because the speeds are a lot higher on the Nordschleife, the most efficient possible battery use is of much greater importance with regard to the aerodynamic configuration."
And with the air much denser at the German circuit, the I.D. R needs a new rear wing with new elements and a DRS, which will decrease downforce by around 20 per cent when in use.
The aerodynamic aid will be most important at the 3km-long straight – Döttinger Höhe – at the end of the lap.
"With an activated DRS, the car requires less energy to maintain its top speed over the entire Döttinger Höhe," says lead aero engineer Hervé Dechipre. "The ID. R reaches its top speed quicker and with a lower use of energy."
It's not been made clear when VW will attempt the record, but Romain Dumas – who took the car to Pikes Peak in 2018 – will be at the wheel.
Dumas compared the Nürbugring to Pikes Peak last year, saying: "The course is comparable to the legendary Nordschleife of the Nürburgring: plenty of fast corners and barely a straight section where you can relax.
"Only Pikes Peak is even more dangerous than the Nordschleife, because many places have no crash barriers.
"As such, you can never push yourself to the very limit. I would say that you need the precision of a circuit racer combined with the fearlessness and improvisational talent of a rally driver."