Foul play in Ford's 1966 Le Mans 24 Hour photo finish? 'Yanks at Le Mans' extract
- Last updated: December 5th 2019
Ford's efforts to secure a dead-heat photo finish at Le Mans in 1966 cost Ken Miles victory from a four-lap lead. But was it back luck or intra-team conspiracy?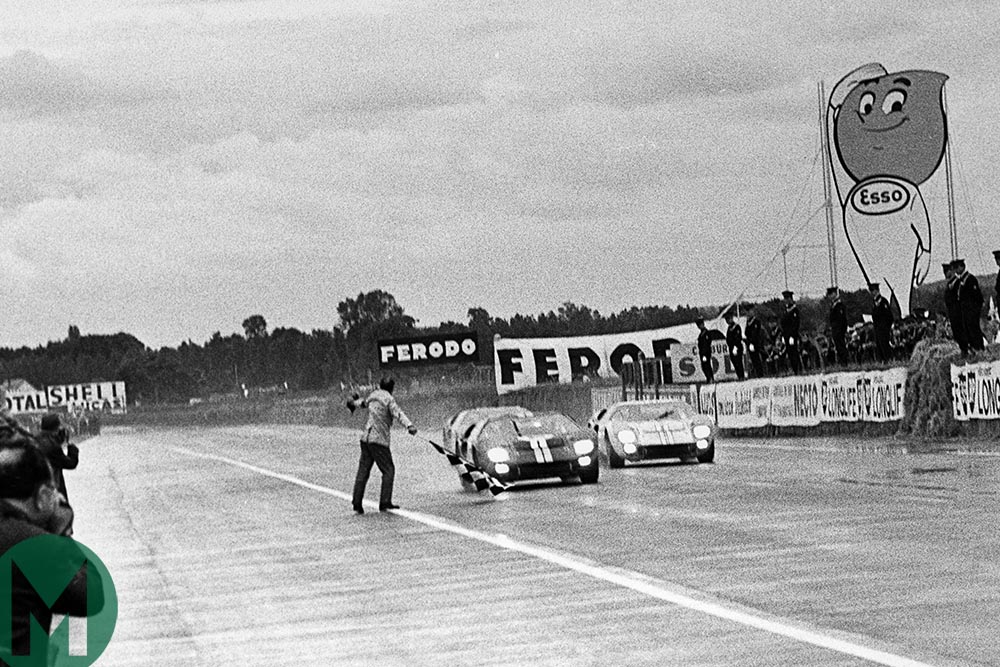 Bruce McLaren controversially shades Ken Miles as the chequered flag is waved at Le Mans in 1966 Photo: The Cahier Collection, Bernard Cahier
Ford dominated the Le Mans 24 Hours race in 1966, winning it for the first time, and taking all the podium places with its updated MkII and stellar driver line-up. But instead of euphoria on the podium, Chris Amon and Bruce McLaren, who were classified first, were strangely subdued.
The pair had inherited victory from fellow Ford driver Ken Miles in car no1, who had earlier pulled out a lead of almost four laps over Amon and McLaren in car no2, before being ordered to slow down by the team, in order to engineer a dead-heat finish, and a powerful photo opportunity.
Miles thought he had won — as did the PA commentator — but it was no2, that was classified first, after whispers of conspiracy and sabotage. The full tale is told in a new book, Twice Around the Clock: The Yanks at Le Mans. In our second extract from the three-volume book, Motor Sport publishes an edited version.
Extract from Twice Around the Clock: The Yanks at Le Mans
When Ken Miles brought his car in for service and a driver change, he was informed of the plan. Miles was crushed. And furious. To him, this was revenge by those at Ford who didn't like him. Busy with the car, Charlie Agapiou heard none of this, but when he looked up, immediately he knew something was wrong.
"Ken said, 'They don't want me to win the race. They want the Amon/McLaren car to win.' I said, 'Ken, what are you talking about? You're miles ahead of them, how are they going to win the race?' You gonna' stop on the back chute or what? That's impossible.'
But Miles was told the dead heat finish had been okayed by the ACO. To refuse to cooperate would mean the end of his career with Ford, so grudgingly, he agreed to go along with it, perhaps even believing that he had one or more laps in hand and that it would be for appearances only. But had that lap advantage disappeared with a suspect brake disc change?
Earlier, Hulme had brought their car in for scheduled brake change. Multiple sets of bedded-in rotors (discs) were prepared in advance by the crew chiefs of each car.
The new rotors were fitted and Miles took off for his stint, still laps ahead of McLaren. But then, trouble. Miles brought the Mk II back in the next lap. Agapiou was there.
"Ken said, 'I've got a vibration, a brake vibration.' I said, 'It can't be a brake vibration, it must be the tires.' He said, 'I'm telling you, it's a brake vibration.'"
Knowing the rotors had been bedded in, Agapiou threw on a new set of wheels and tires and Miles was sent out. Only then did Agapiou learn that the rotors he'd been given were not in fact the ones bedded in for Miles' car. Those had been taken by the McLaren crew. There was no time to find out why. Miles was on his way in again, and another set of rotors had to be fitted. Agapiou was livid.
"We ended up having to get two more rotors and hoping they were okay. In that time, Ken lost close to two laps, I think. All this poncin' around, because McLaren's crew chief, who was a good friend of mine, didn't take the time to bed rotors in and put them aside for when his car came in. And McLaren ended up with our rotors."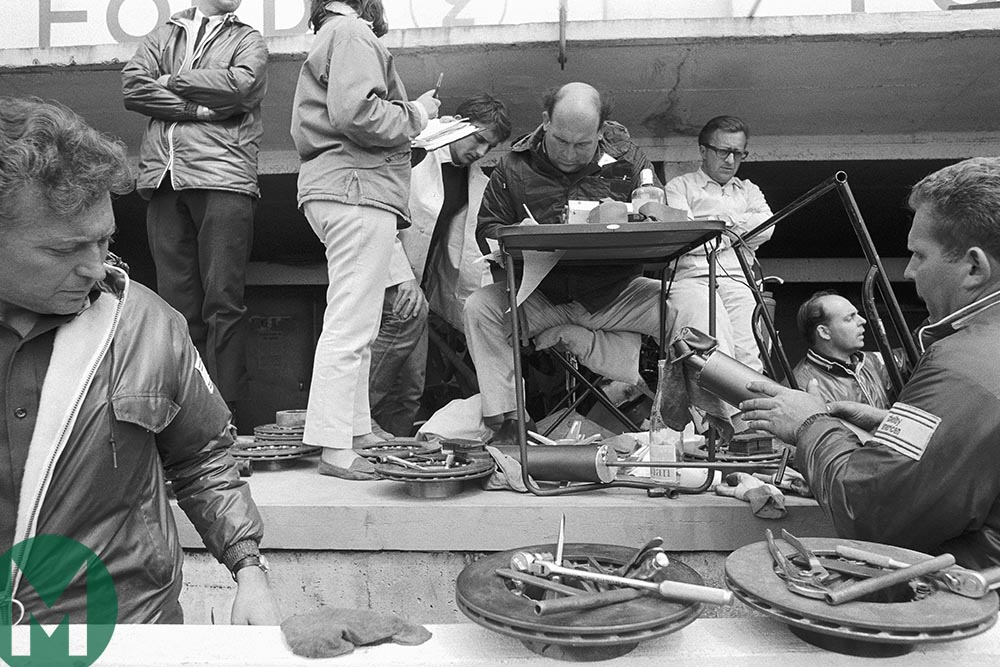 Ford's bedded-in brake discs ahead of the 1966 race Photo: Rainer Schlegelmilch
Thinking about it later, Agapiou suspected foul play.
"Ken was close to four laps ahead of McLaren. So there was no way he could have just slowed down for four laps. It would have looked stupid with the bloody press. I don't know what went on, but he lost a ton of time with those two stops."
In any case, the fix was now on near the end of the race. McLaren and Miles were told they'd finish in a dead heat and that both would be declared winner. What no one was told was that the ACO changed their mind – and notified Ford officials – that there could be no dead heat.
As instructed, Ken Miles slowed to let McLaren catch up on the final lap, and for Hutcherson in his and Bucknum's third Mk II.
As they approached the actual timing line, short of where the flag is thrown, Miles and McLaren seemed to be nearly side by side before Miles inexplicably checked up, allowing McLaren to surge ahead – then Miles pulled forward again.
It's fair to say that, like the French P.A. announcer, most initially believed Miles had won. He'd led so much of the race and obviously slowed to let McLaren and Hutcherson catch up at the end, and when Hulme climbed aboard, their No. 1 car certainly looked the winner.
Though first back to the podium, the No. 1 car was stopped and officials waved the Amon/McLaren car ahead – as the P.A. announcer now proclaimed them the winners. And so it stood, with an almost uncomfortable McLaren and Amon and a joyous Henry Ford II on the podium, joined only later by Miles and Hulme.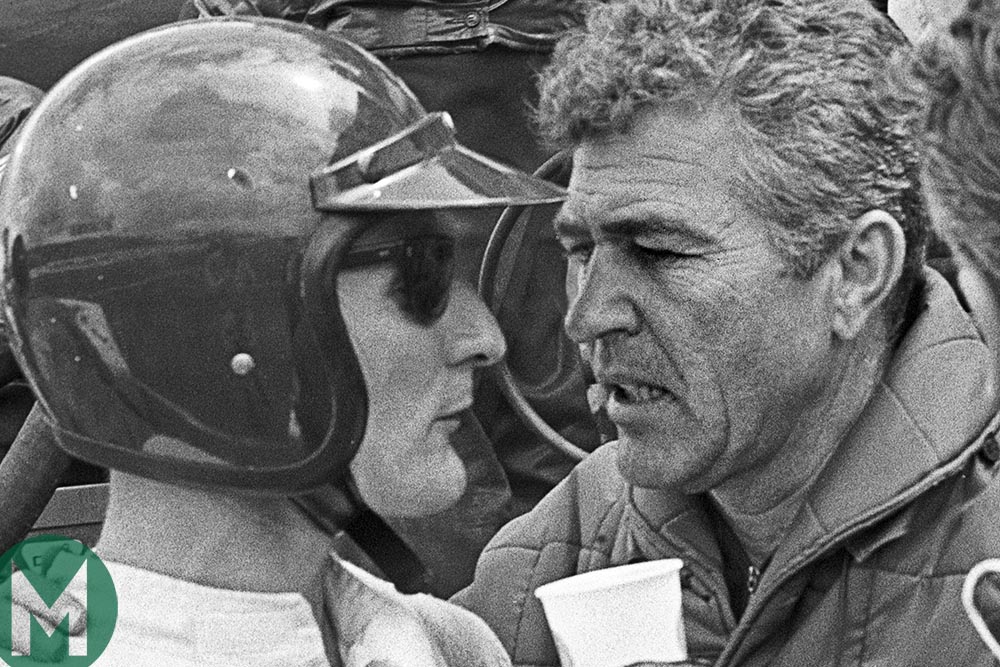 Shelby tells Miles that Ford wants him to engineer a dead-heat victory Photo: The Cahier Collection, Bernard Cahier
[Carroll] Shelby was unequivocal.
"Ken Miles was way ahead of the race. He would have been the only man in history to win Daytona, Sebring and Le Mans. He should have won it."
Charlie Agapiou, too, remained adamant that his friend was robbed, and pulled no punches as to where the blame lay.
"He did exactly what he was told, and at the end, he slowed down on the back chute and all over the place to let McLaren unlap himself. He followed his orders and then he got f***ed. That's what happened."
It was a bitter irony that two months later Ken Miles, was killed testing a prototype of the ultimate designed-and-made-in-USA Ford racecar with which Briggs Cunningham's dream of a totally American car driven to victory at Le Mans by American drivers would finally be realized.
Twice Around the Clock: The Yanks at Le Mans is currently on sale in the Motor Sport shop
---
Read extract 1: Phil Hill's secret ploy to win Le Mans
---
About the book
Taking in 26 years of research and interviews by historian and author Tim Considine, Twice Around the Clock: The Yanks at Le Mans is a three-volume set that tells the history of more than 320 American drivers and the US cars that have competed at Le Mans.
It covers the period from the first race in 1923 to the present day, telling of heroism, courage and cunning in the voices of the drivers, mechanics, owners and witnesses of the time.
The volumes uncover previously-unseen pictures among 900 images, as well as scores of untold stories, which add humanity – and a fair bit of profanity – to history. They include tales of a team-member sneaking in to cars to race stints for tired drivers; of after-dark and unauthorised adjustments to cars; and of drivers cheating eyesight tests so that they were able to race.
In addition to the narrative, the book includes statistical records for every American driver, car and engine that has competed at Le Mans.