McLaren Le Mans return chances are "decent", says Zak Brown
McLaren CEO Zak Brown reveals the team's Le Mans hopes to Motor Sport in the latest issue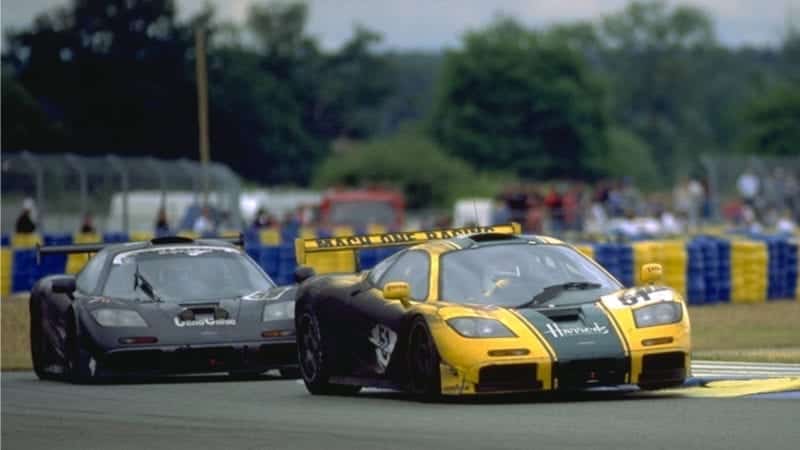 The chances of McLaren returning to the Le Mans 24 Hours in the new Hypercar era are "decent", Zak Brown has told Motor Sport in an exclusive interview for the April 2021 edition of the magazine that goes on sale this week.
Speaking to Motor Sport a matter of days before Ferrari announced its own plan to return to Le Mans and the World Endurance Championship in 2023, McLaren Racing's chief executive officer made it clear he wants the company to return to the race it won with the F1 GTR in 1995 and said he expects to make a call on a campaign at some point this year.
"It's under review and has been for quite some time," said Brown. "It's something we would like to do. Le Mans and sports car racing is something that makes sense for our brand, we've had success there before and the shareholders like that form of motor racing."
But in contrast to Ferrari, Brown says McLaren will only consider the parallel Le Mans Daytona hybrid (LMDh) class to compete for overall honours in endurance racing, rather than the Hypercar class that has also been chosen by Toyota and Glickenhaus for their campaigns from this year and Peugeot from 2022. His thinking echoes that of both Porsche and Audi, which have announced their own top-line sports car returns for 2023 in the LMP2-based LMDh category that will take its bow in the US IMSA series next year.
"We would only do LMDh because LMH [Hypercar] doesn't have a cost control element to it where LMDh does," said Brown. "If we were to do it LMDh would be how we would do it."
The American is "bullish" about the year ahead as the world begins to emerge from the Covid-19 pandemic, but he admitted such a big decision to commit to a campaign can only be made once "the dark cloud clears up." He added that the earliest a McLaren could appear in the WEC and at Le Mans is 2024 and that before pressing the green light, he'd need to know more about the balance of performance that will be used to equalise LMH and LMDh cars, allowing them both to fight for overall race victories under a single Hypercar category at La Sarthe.
"I'm a little concerned over the LMH and LMDh balancing," he said. "That being said, the fact that Porsche and Audi have come in gives us confidence because they know how to win at Le Mans. Having them on the LMDh side gives me confidence that they'll make sure there is balance of performance between the two types of cars."
McLaren finished third in the Formula 1 constructors' standings in 2021 and is targeting a return to the front of the grid by the middle of the decade. It has also established its own team in IndyCar in partnership with Sam Schmidt's operation and has an option on a Formula E entry. Adding an endurance racing arm to its plans would complete the set.
"It's an expensive project and it requires a lot of development," said Brown. "With IndyCar it's a simpler, but not easier, form of racing where you buy the Dallara and have a Chevy in the back. This requires a longer lead time and until we are out of Covid I think it would be unwise to take a big decision like that, until we have greater visibility of where the world is going. If we were to enter it would be 2024 and in order to be ready for 2024 I need to make a decision sometime in the middle of this year.
"We're active, we're ready, we just need to see if the stars align."
Brown covers much more ground in the Motor Sport interview, conducted as part of the magazine's preview for the 2021 F1 season. He also discusses:
· Why he is keeping a lid on expectations in F1 this season, despite the team's third-place finish last season;
· Which of his wide-ranging collection of historic racing cars Daniel Ricciardo might get to sample this year;
· Why he believes the team is on the right track to achieve its target of fighting again for world championships in the future;
· Why F1 should return to Indianapolis as part of its expansion in North America, but how the calendar should be capped at 20 races per year;
· And why he'd relish McLaren building its own F1 engines, if the new power unit rules from 2025 can make it viable financially and from a competitive perspective.
To read the full interview, check out the April 2021 edition of Motor Sport magazine, on sale this week.