The road to Nazareth
- Last updated: September 19th 2019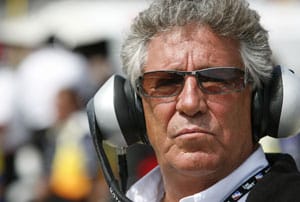 On Monday after the Canadian Grand Prix, our editor in chief Nigel Roebuck and I drove south from Montreal through the Adirondack Mountains to Albany. After dinner and an overnight stay at my friend and photographer Gary Gold's home we continued our trip south to spend an afternoon with Mario Andretti at his home in Nazareth, Pennsylvania.
Armed with a selection of fine black and white Bob Tronolone photos, shot in the sixties, we planned to chat with Mario about the glory days of championship dirt car racing when four or five races on one-mile dirt ovals – usually State Fairground tracks – were rounds of the USAC Indy car championship. Nigel will write a story for Motor Sport later this year about our conversation with Mario and I'm sure some parts of our day will appear as vignettes in his column.
1970 Watkins Glen 6 Hours, July 11 – Jo Siffert/Brian Redman, Porsche 917K, 2nd position, battles with the Mario Andretti/Ignazio Giunti Ferrari 512S Spyder, 3rd position.
For my part, as a fan, student and biographer of Mario's career, the man never ceases to charm and inform me, not only about motor racing but as a human being, family man and friend. He is as good as they come and he's also an incredibly funny guy with a sharp, dry wit. He's a great mimic too, and even though he exudes character and charisma he has a remarkable ability to put everyone at ease so they feel entirely comfortable and equal. It's a rare gift.
Mario's great achievement in racing encompasses all those things but his career was defined by its tremendous diversity and by its competitive longevity. From dirt tracks to Formula One and sports car racing and darn near everything in between, including victories in the Daytona 500 and at Pike's Peak, Andretti amassed a wider range of race wins and championships than any other driver and was fearsomely competitive well into his fifties.
He's also passionately committed to the sport and was a major influence in cajoling and compelling the warring open-wheel factions in America to sit down at the table to find a way to bury the hatchet and form a single Indycar championship after twelve ruinous years of civil war. Without him, it may never have happened. He is a giant of the sport in many, many ways and Nigel and I will continue to take great pleasure in writing about and with him on a wide range of subjects in the pages of Motor Sport.