Watch the Porsche 917 Members' Meeting parade
- Last updated: December 4th 2019
Witness the iconic Le Mans-winning Porsche's 50th anniversary being celebrated at Goodwood in a demo including Webber and Attwood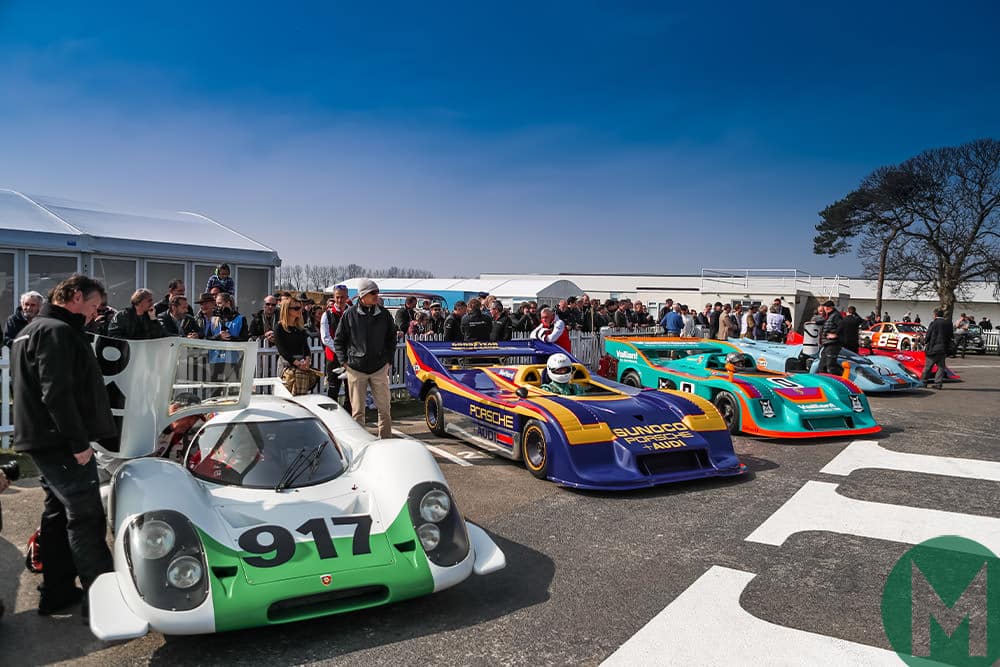 The Porsche 917's 50th birthday was marked at last weekend's 77th Goodwood Members' Meeting with an on-track parade of examples of the car. Mark Webber, Richard Attwood – the first Le Mans winner in a 917 – as well as TV presenter Chris Harris were among those driving. And you can watch the parade in full below.
The 917 was born out of the obsession of Porsche's Ferdinand Piëch with winning the Le Mans 24 Hour race. The car made its debut at the Geneva Motor Show on March 12, 1969, and was designed to not only break Porsche's duck in the famous endurance event, but to dominate it.
It took victory in 1970's Le Mans, Porsche's first outright Le Mans win, in the hands of Attwood and Hans Herrmann. The 917 then won Le Mans again the following year, that time with Helmut Marko and Gijs van Lennep at the wheel.
The 917 more broadly has entered motor sport folklore since.
---
More: The Porsche 917: a monument to heroism
---
The very first 917, chassis no001, led the parade around the Goodwood Motor Circuit. White-and-green chassis no001 was used originally as the car's test model, but underwent extensive restoration at the Porsche Museum last winter.
That car was joined on the demo by three more cars from the Porsche Museum: the 1970 Daytona 24 Hour-winning 917K and two 917/30s. Webber, who won the 2015 World Sportscar Championship in a Porsche, drove a 917/30 in which Mark Donohue dominated the 1973 Can-Am championship and lapped Talladega at over 220mph in the process. The car boasts 1500bhp from a 5.4-litre flat-12 engine.
Neel Jani, 2016 Le Mans 24 Hour winner for Porsche, also was on the parade as was Motor Sport's contributing editor Andrew Frankel who drove a 917/30, as did Richard Meaden, while Harris piloted a 917K.
"To drive one of only two 917/30s to be raced by Mark Donohue in Can-Am is of course a dream come true," said Frankel.
"But to be able to drive it as fast as I dared at a high-speed circuit like Goodwood so suited to its unique talents was beyond the powers of even my unconscious imagination until the moment it happened.
"The word 'unforgettable' is one of the most over-used in the dictionary but I mean it in the most literal sense. The memory of wheelspin at 120mph on the approach to Madgwick will live with me forever."
Bringing up the rear of the parade was a privately-owned 917/10 bedecked in bright STP livery, which it wore in period when raced by Jo Siffert in the 1971 Can-Am Challenge.