BTCC in 2019: bringing the entertainment back
- Last updated: January 13th 2020
It was a season that brought comparisons to the glory days of the 1990s — complete with a nail-biting finale: 2019 showed that the BTCC is back to its best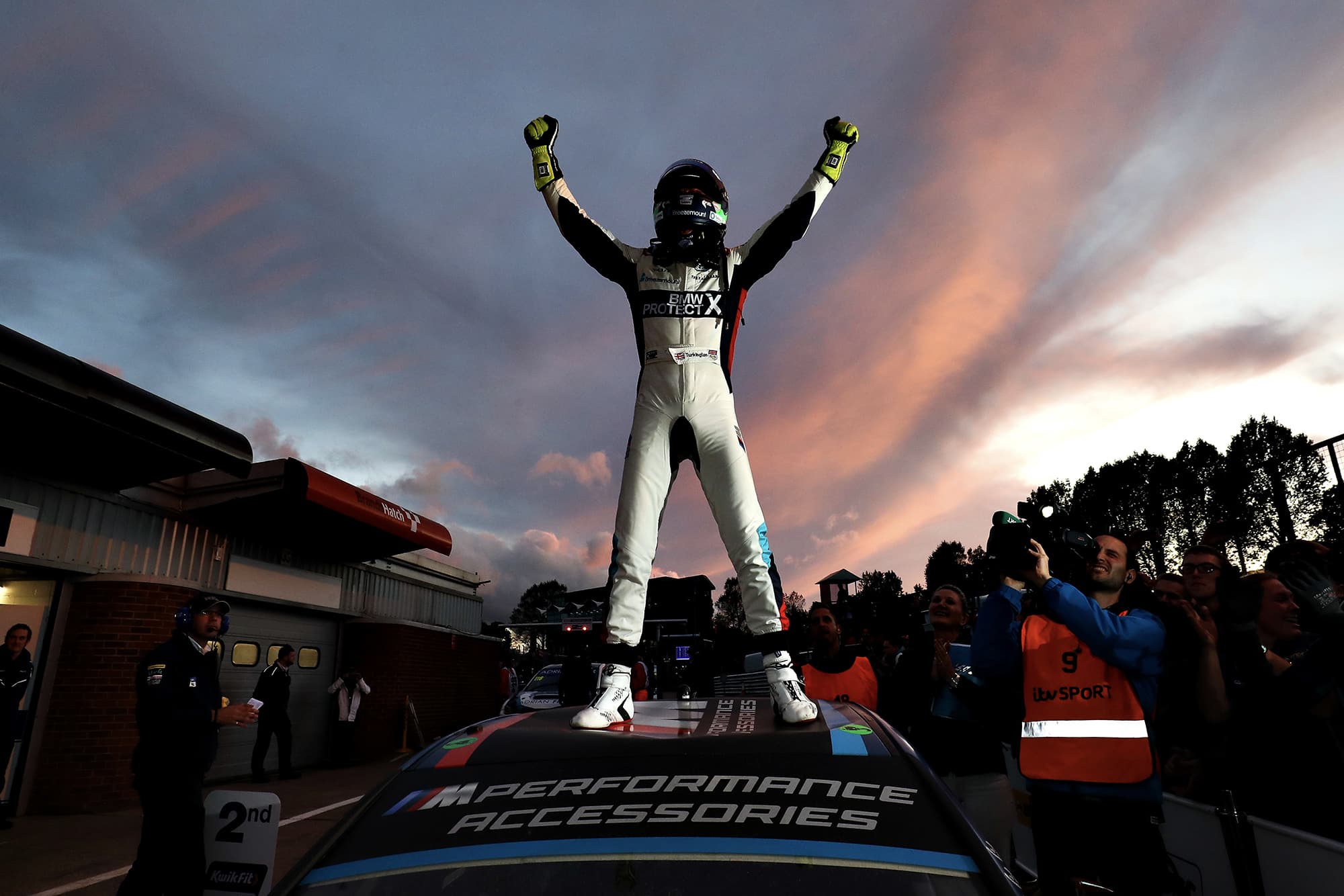 Turkington emerges victorious from the season-ending drama at Brands Hatch Photo: Motorsport Images
This year's British Touring Car Championship was a classic, plain and simple. It will go down as one of the tightest, most dramatic, and most entertaining years of tin-top racing there has ever been.
And that's not just my opinion, take that of veteran commentator and 1992 BTCC champion Tim Harvey, speaking right after that stunning Brands Hatch finale, which left everybody, from fans to officials and the teams themselves, breathless.
"There simply hasn't ever been a finale like that before, ever," Harvey told Motor Sport. "People still talk about my 1992 season, but that came down to one race, here we had three races and the title momentum swung a different way after each. It was amazing to watch and was typical of this year's BTCC. And I think it's just getting stronger."
And as a case in point, this season featured 12 different race winners – just five behind the all-time record of 17 set last year – using eight different brands of car and the championship was decided by just two points. To make things even tighter, two drivers tied for second place, with the runner-up spot only being decided on the countback of race wins.
On paper, Colin Turkington is a four-time BTCC champion and that's that. The reality is that by mid-afternoon on the final race day, nobody actually expected that to be the case.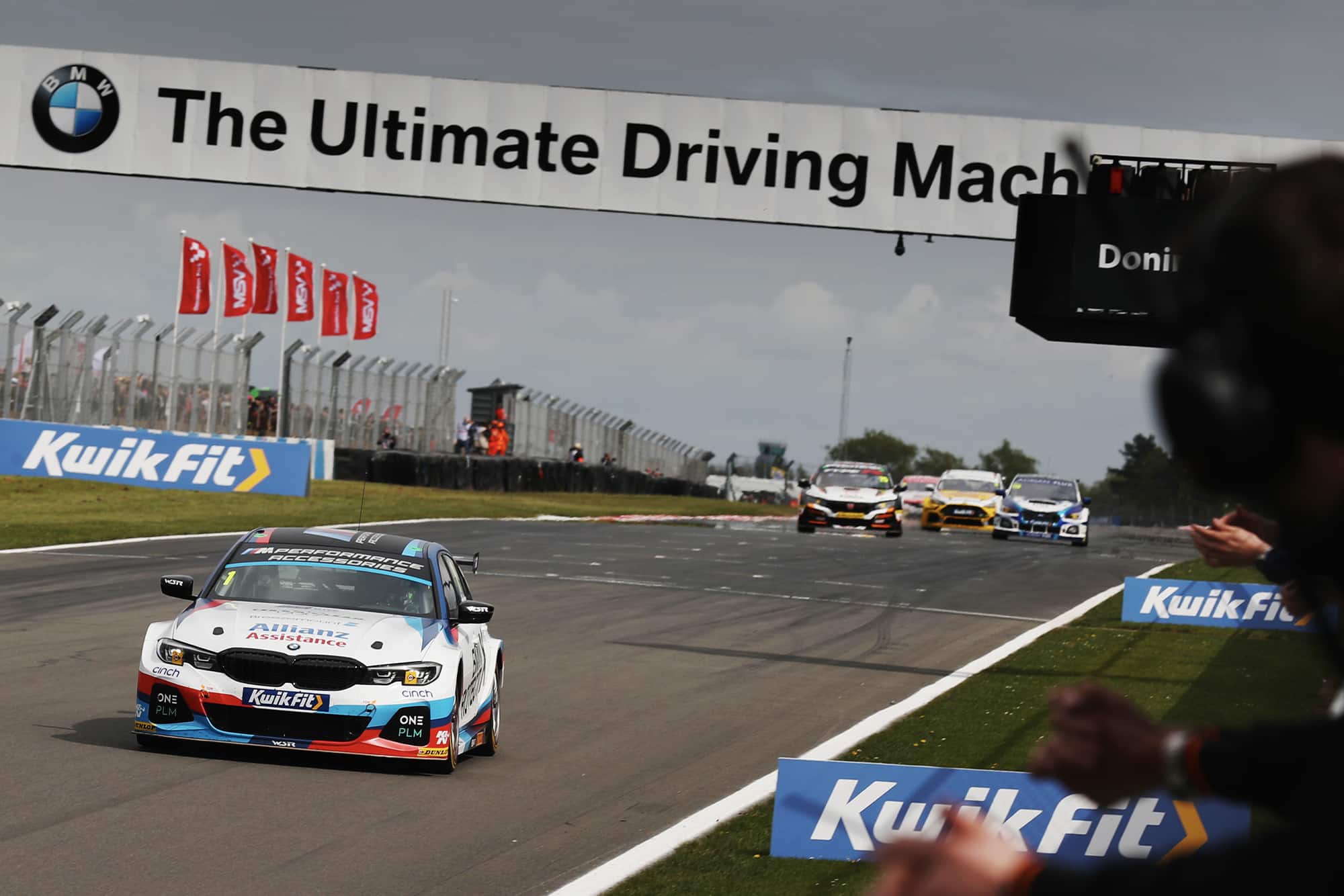 BMWs dominated the early season Photo: Motorsport Images
Turkington found himself embedded within the star of the show for 2019, which was the West Surrey Racing BMW 330i M Sport. Despite only getting its donor chassis in late 2018 and unveiling its first car just before the series' media day in February, WSR nailed the build in an impressively tight timescale.
The BMWs hit the ground running, with the 3 Series winning nine of the first 15 races of the year, but in reality it could have been more. By the mid-season break, Turkington had amassed four wins, but team-mate Andrew Jordan shaded him with five of his own. By rights, Jordan should have sat atop the points by the mid-season break, had it not been for a disastrous bit of bad luck that ultimately played a deciding role in the season's outcome.
Cammish climbed from his stricken car and trudged to the sidelines, forced to watch the only racing lap of the season he failed to complete
Jordan was ruled out of all three races at Donington Park in April after being caught up in a nasty multi-car collision on the first lap of the weekend, eventually being T-boned by an unsighted Adam Morgan. It damaged the Pirtek-liveried BMW beyond immediate repair and sent AJ to the local hospital for precautionary checks. Jordan has suffered similar luck before – he missed a race at Snetterton in 2014 due to concussion following a practice accident and had to sit one out at Thruxton last year after suffering from a debilitating sickness bug – but never has his bad luck been quite this damaging.
Then came a mid-season blow for the Beemers, which had their turbo boost reduced by 0.02bar, which coincided with a 0.02bar increase for its front-wheel-drive rivals, leading to a sizable power swing (around 8bhp) that certainly had an impact. Across the last 15 races, 13 were won using front-wheel-drive machinery, meaning the second half of the year became more about consistency and consolidation for Turkington and Jordan.
The story of the season then became about three factors. Firstly, Turkington's masterful midfield battling at the wheel of his 330, secondly Jordan's determination to fight his way back into title contention – also fuelled by knowing he would lose long-term backer Pirtek at the season's end, so in reality it could actually be his final shot at the title in what was de-facto the best car on the grid – and thirdly, the rise of Dan Cammish.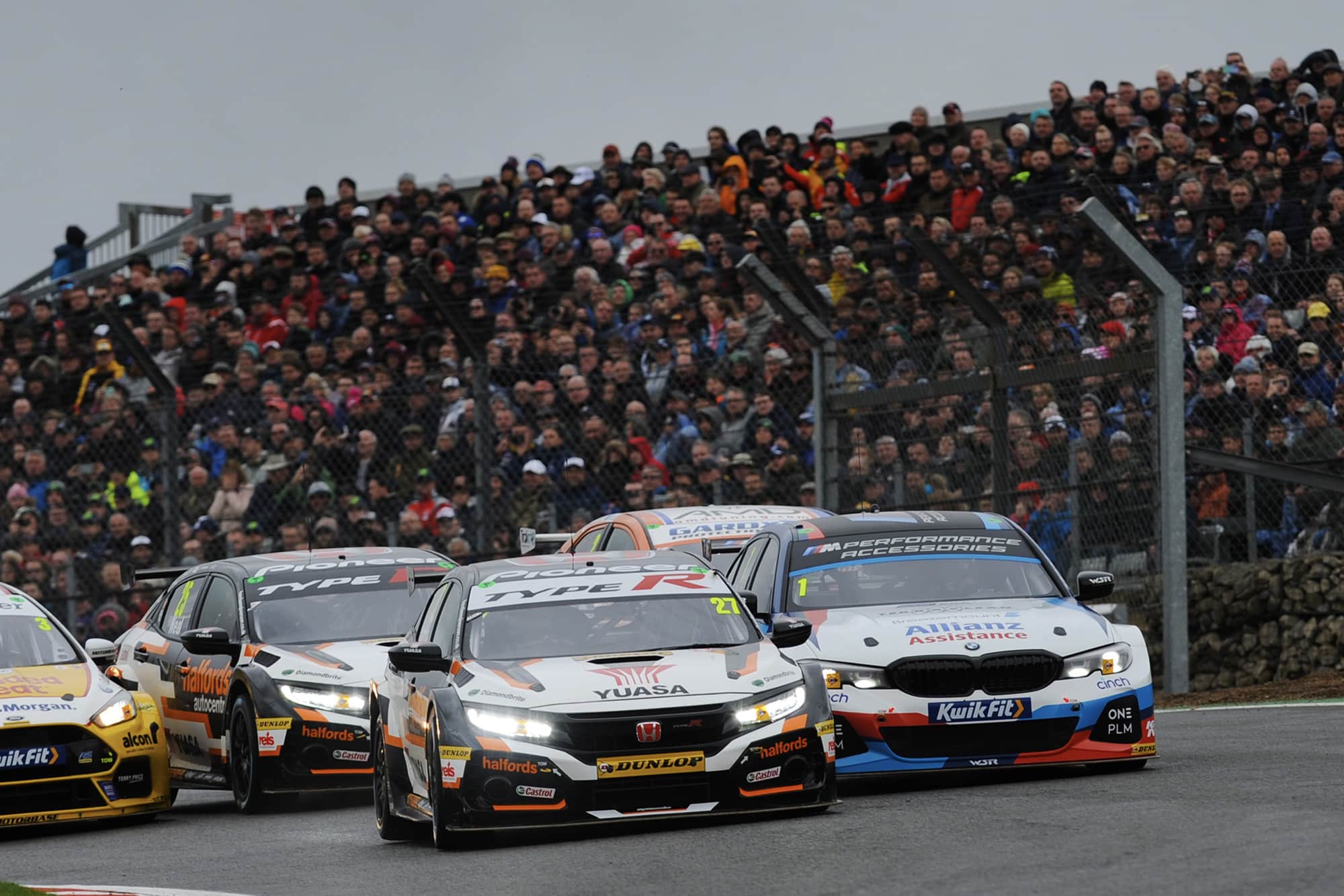 Cammish led the Civic charge with season-long consistency Photo: Motorsport Images
The year wasn't all about the BMWs – Team Dynamics' latest Honda Civic FK8 proved to be a close contender to the rear-driven German saloons. With a year of development behind it, Dynamics had done a great job of widening the new car's operating window to ensure it worked at almost all circuits, in almost all conditions.
However, with Dynamics stalwart Matt Neal enduring more than a few points-costing setbacks, it left Cammish leading the works Civic line. He was only out of the points twice before that fateful Brands finale, having taken 11 podium finishes and a win to boot. Meaning he went into the final weekend splitting the recovering Jordan and leader Turkington, whose points lead had been trimmed after he was blatted into the gravel at Knockhill as the one real blot on the second half of his season that really allowed Jordan – who in Scotland won and bagged a second – back into the game.
---
Related content
---
All of that led to the intense final round, which acted much like a microcosm of the year itself. Turkington looked home and dry in the first race, before the heavens opened and he struggled in the conditions, whereas Cammish thrived in the better-balanced Civic, surging to a win that put him right in contention. His team-mate Neal then teed things up nicely for a Cammish upset when he nerfed Turkington round early in race two, as Cammish streaked to his 12th podium of the year to snatch the points lead.
Turkington was convinced it was all over, berating Neal over social media before the final race and cutting a solemn figure before the finale, which he would start back in 25th. But the BTCC has a habit of serving up a surprise, and this time it was a big one. Cammish's brakes failed into Hawthorn on the penultimate lap, sending the Civic into the barriers and out of a title-winning position. Turkington fought through to sixth, passing Cammish as he climbed from his stricken car and trudged to the sidelines, forced to watch the only racing lap of the season he failed to complete. To rub salt into the wounds, Jordan's fourth place in the last race tied him on points with Cammish, leaving Jordan to make it a WSR one-two in the championship courtesy of his six wins to Cammish's two, demoting the former points leader to third in the standings.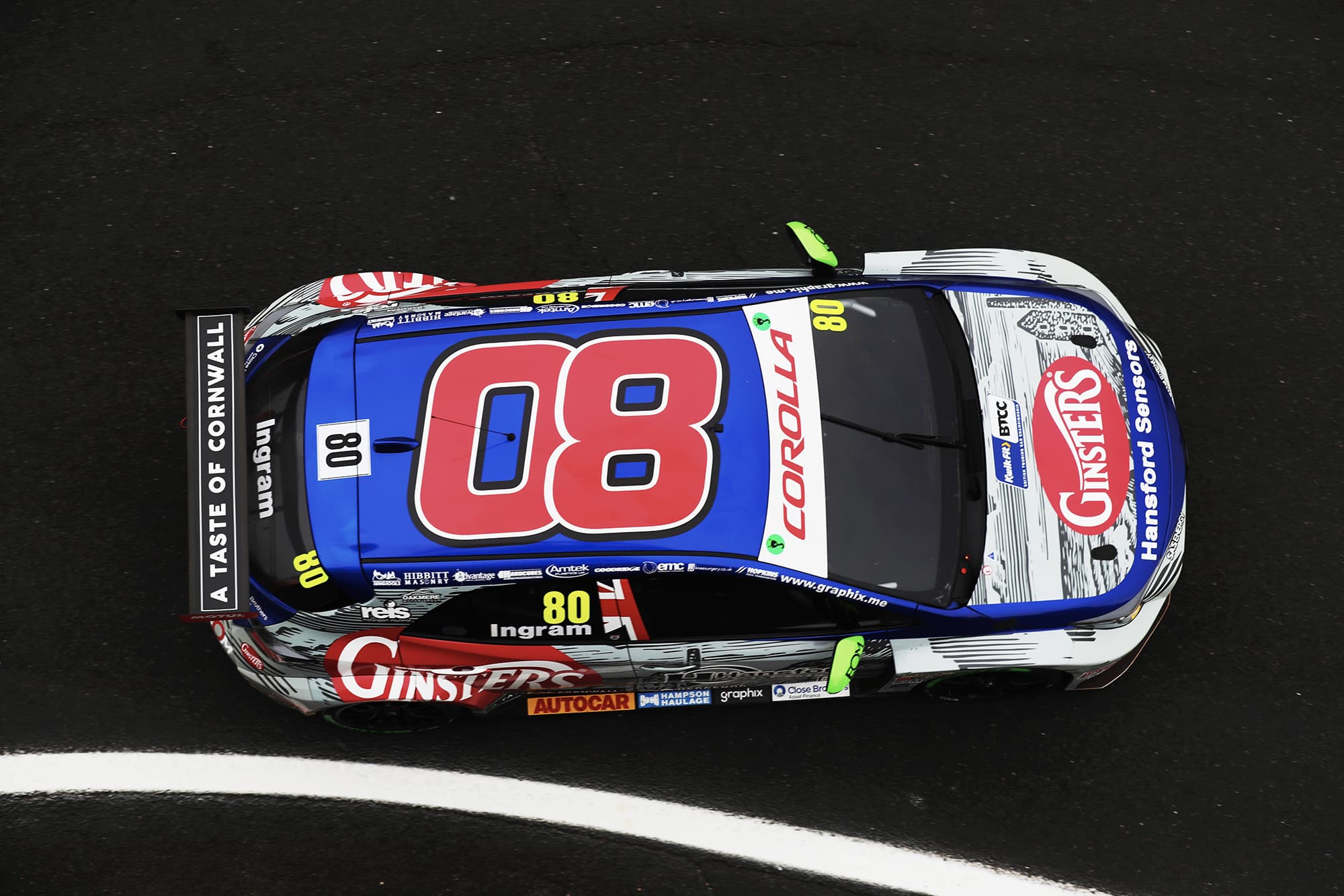 Tom Ingram and the Toyota Corolla should be a force to be reckoned with in 2020 Photo: Motorsport Images
It was heartbreaking for the 30-year-old, but, with a two-year extension to his Dynamics contract, you have to think that Cammish's time will come. His efforts, combined with five podiums for Neal, helped Dynamics sneak past WSR for the teams' title.
Of those not in the direct title picture, Tom Ingram impressed with some determined drives in the ever-developing Team Toyota GB Corolla – run by the hard-working Speedworks team. Ingram has repeatedly proven to be one of the finest tin-top drivers out there and will be one to watch for next season when the Toyota will be a more rounded, more reliable and more dialled-in proposition.
Rory Butcher enjoyed a stellar year, leading the line for Shaun Hollamby's ever-improving AmDTuning team in the older-generation of Civic. Butcher took three race wins on his way to landing the Independents' Trophy by two points over BTC Racing's Josh Cook, who also had a superb year. In many ways, BTC got to grips with the FK8 Civic quicker than Dynamics did, with Cook taking two of his three outright wins within the first nine races. In his fifth BTCC season, Cook showed that he's now a solid shout for any of the top teams, often punching above his weight to finish fourth in the overall standings – his best return yet.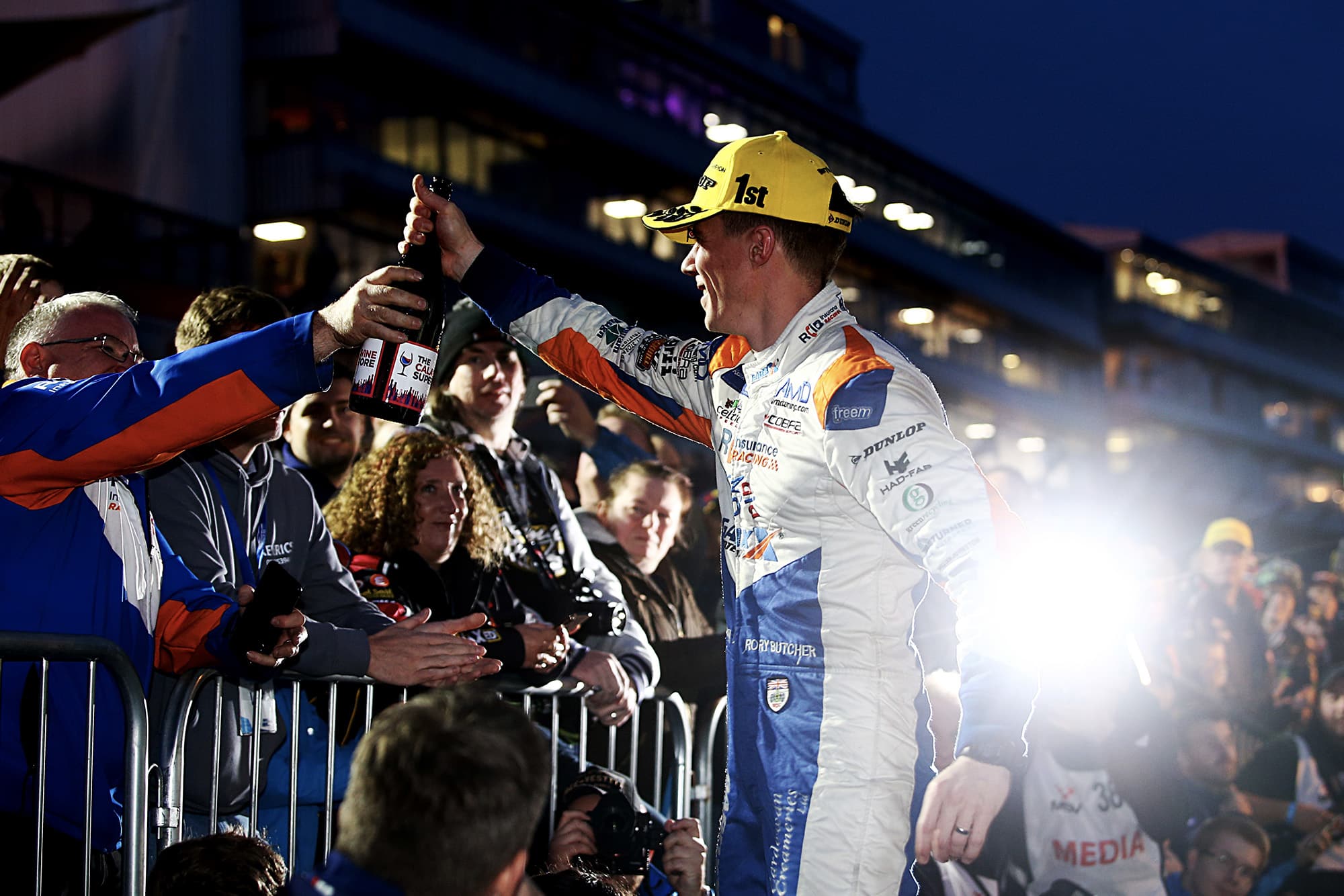 Rory Butcher took the Independents' Trophy by two points Photo: Motorsport Images
It was a tough campaign for 2017 champion Ash Sutton, whose Subaru Levorg was held back by restrictions to its flat-four 'Boxer' engine – a unique feature to the Subaru. The chassis performed well in the corners, meaning Sutton was still regularly impressive with late-braking, daring overtakes, but it couldn't make up for the lack of outright grunt on the straights. He would take only one win, the penultimate one of the year, before confirming a move to Laser Tools Racing for 2020, where he will run alongside Aidan Moffat in a pair of Infiniti Q50s.
Sutton's deal marks the first major driver move of the winter and, with the BTCC unveiling its 32-car entry list is already full, there will undoubtedly be a few more before the lights go out at Donington Park in March.