Mansell's speed secrets
- Last updated: September 19th 2019
Jim McGee is happily retired and living in California these days. McGee was one of the most successful Indycar crew chief/team managers. Over the years his cars won more than 90 USAC, CART and Champ Car races.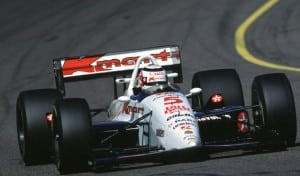 McGee made his name in the late '60s as Mario Andretti's chief mechanic with Clint Brawner's team, and for a few years in the '70s he ran Penske's Indycar team. But he spent most of his career running Pat Patrick's successful Indy-based team, winning the Indy 500 with Gordon Johncock in 1982 and Emerson Fittipaldi in '89. Patrick sold his team to Bobby Rahal and Carl Hogan in 1991 and McGee stayed on to manage the operation as Rahal's new team won the '92 CART championship.
In 1993 Carl Haas hired McGee to run Newman/Haas Racing and manage the arrival to the team of Formula 1 World Champion Nigel Mansell. Mansell had had a spat with Frank Williams and decided to accept Haas's offer to come and race Indycars in America. In turn, Haas decided that McGee was the perfect man to take care of the Briton and try to work some kind of peace between Mansell and Andretti. It was a tough job, but if anyone was up to it, it was McGee.
Mansell went on to win five races – four on ovals – and beat Penske team-mates Emerson Fittipaldi and Paul Tracy to the title. McGee recalls how impressed he was with Mansell's driving: "It was amazing how he adapted and how quick he was. He was extraordinary as far as catching on to the ovals. He was like Rick [Mears].
"It used to upset Mario a bit because Nigel was quicker down the straightaway. Mansell was always quicker on the straightaway, even when we gave him some of the worst engines, and it was because he was able to straighten the car out by doing a lot of turning down in the middle of a corner so the car would come off really straight and the rpm would naturally be up because you weren't scrubbing off any speed."
McGee says Mansell was a very adaptable driver: "His driving ability was such that he could compensate for the car. It used to be a little frustrating from the engineers' standpoint because they could do quite a few things to the car and he would still run the same speed. They would say they were trying to learn what the car wants so the driver has got to drive the car the same way all the time. But he had difficulty in doing that. It wasn't his style.
"If the car was loose, he'd change his style. If it were pushing, he'd change his style. In a race it was great because if you had a car that wasn't quite right he could get the most out of it."
Whatever your opinion may be about the man, Mansell most certainly could drive a racing car. I'm sure he's still totally capable today.