Remembering Greg Moore – the lost legend
- Last updated: December 4th 2019
On the day Champ Car star Greg Moore would have turned 44 years old, we reflect on the rising star taken away on the cusp of championship glory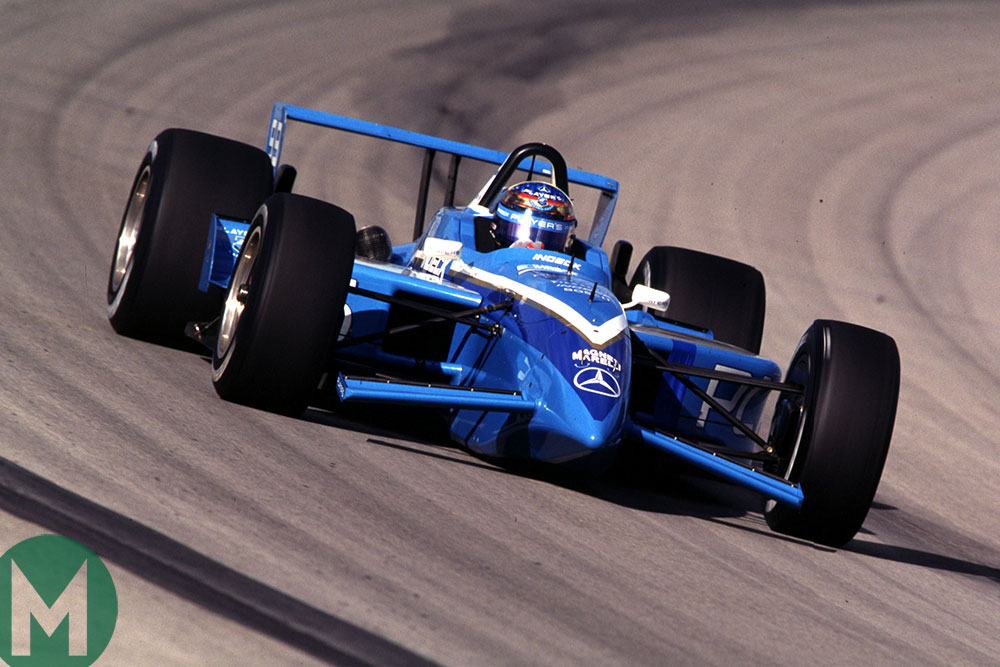 Greg Moore would have been 44 years old today. And one can only begin to imagine the sort of racing success the by-now veteran would have been able to look back on.
He was just 24 when he was taken away, almost 20 years ago in an accident near the start of Champ Cars' season-closing 500-miler at the Fontana California Speedway. He'd just made astonishing, yet typical, early-lap progress after starting at the back.
Those who witnessed Moore up close did not doubt that he would win multiple championships and achieve greatness. Even following in the footsteps of his compatriot Jacques Villeneuve and conquering Formula 1 looked entirely plausible for Moore.
He had that feel, for driving a Champ Car on the very edge, finding grip where others couldn't — or didn't dare
"Everyone knew it," said David Malsher for Motor Sport. "For 20 years Champ Car racing has been played on as level a playing field as you're ever likely to get in top-line single-seaters, and in an environment like that a talent like Moore's will always get noticed.
"Already an established star at 24 when he was snatched away, given the right career decisions he was going to be a legend."
CART championships would have been near-impossible for Moore to avoid, as at the time of his passing he'd already made one 'right career decision'. He had a Penske contract in his pocket for 2000.
The team at the time had endured a five-year CART title drought, and had gone two years without a race win. Yet Roger Penske was determined to correct that, reverting to the mainstream Reynard chassis after years of struggle with its own product. And indeed Gil de Ferran took the 2000 and '01 titles for 'The Captain'.
"There's no doubt in my mind that Greg would have won at least one of those two championships ahead of de Ferran," noted Moore's friend Dario Franchitti.
"If you had put him in one of Penske's Reynards in 2000 he would have had a great engine for road and street courses, and I reckon it would have been frankly embarrassing for the rest of us on ovals. The sky was the limit for what Greg could have achieved."
---
More: The Player's Player — Greg Moore
---
Franchitti's words indicate something in Moore's debit column, that most of his CART success had come on ovals. Yet Franchitti maintains that wasn't reflective of Moore's skills, rather of a Mercedes engine less suited to road and street tracks than rival units.
"Mercedes had built a new engine for 1998 and peak power wasn't bad — as good as Honda," Franchitti recalled. "But Hondas and Cosworths were much more driveable, far more suited to road circuits and street courses. The Mercedes was good when traction wasn't an issue, but it didn't really have much of a powerband: it was all top end. In the rain…, well, it was pretty useless."
This equally should not take away from Moore's ability on ovals, on which he was stunning.
"Max Papis and I were standing by the track in Homestead [Miami] watching Greg qualify," Franchitti added, "and he pretty much did the whole track flat out. We just stood there shaking our heads and knew that he would be on pole.
"He had that ability, that feel, for driving a Champ Car on the very edge, right on the oversteery side, but also finding grip where others couldn't — or didn't dare. Just following him, sure, you could learn a heck of a lot. If you could keep up."
Yet it wasn't only due to his driving talent that won so many Moore admirers, his personality was just as towering.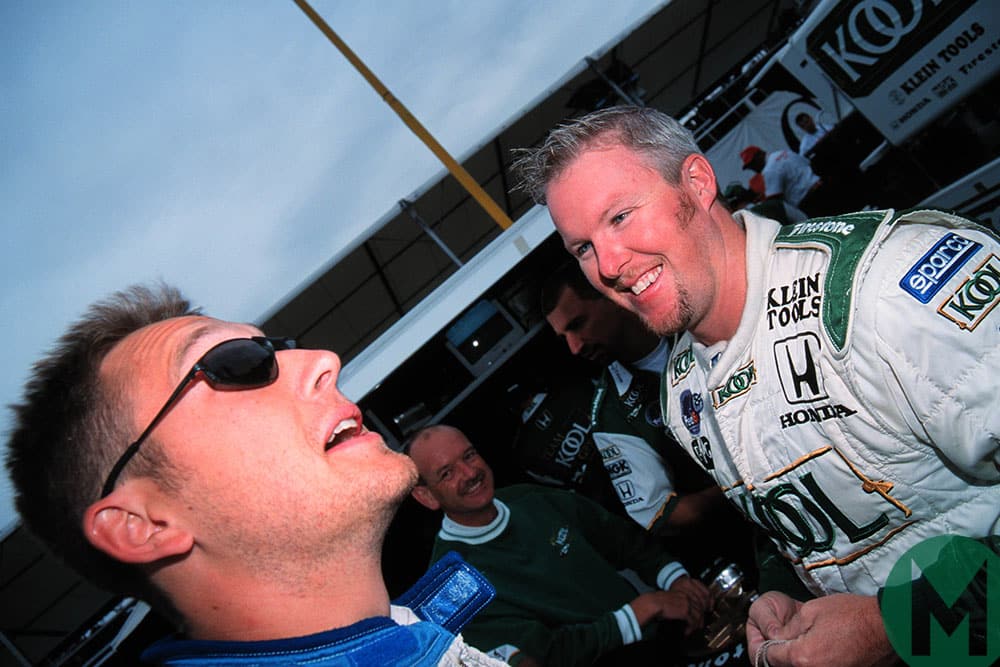 "He was known throughout the paddock for being approachable and the man at the centre of any party. But he was also modest," Malsher reflected for Motor Sport.
"Greg was confident of his own ability and hungry to win, of course, but he never gave the impression that he thought of himself as anything special," added team owner Gerry Forsythe, "so he became as popular within the team and among his peers as he was with the fans."
And on-track Moore's career progress was copybook. Picked up by Forsythe and backed by sponsorship from Player's which, just as it had done with Villeneuve, wanted to back the Canadian racing next big thing.
As a 19-year-old Moore had punched well above his weight in Indy Lights, then the following year dominated it having been picked up by Forsythe. He then qualified sixth for his first ever Champ Car race, and immediately was dicing determinedly with the biggest Champ Car stars; demonstrating both pace and nous.
The following year he won his first Champ Car race, at Milwaukee holding off Michael Andretti despite fuel starvation. It also was the Forsythe team's first win for three years.
As intimated his Mercedes engine threatened, by 1999, to create a plateau, but he was sorting that and then some with his impending Penske promotion. And the sky was the limit.
That was until it came to an abrupt end, that sunny day in Southern California.