Where it went wrong for Alonso at the 2019 Indy 500
- Last updated: December 5th 2019
McLaren was harshly bumped out of the Indianapolis 500 on Sunday as Fernando Alonso missed out in qualifying. Chris Medland witnessed it all at Indy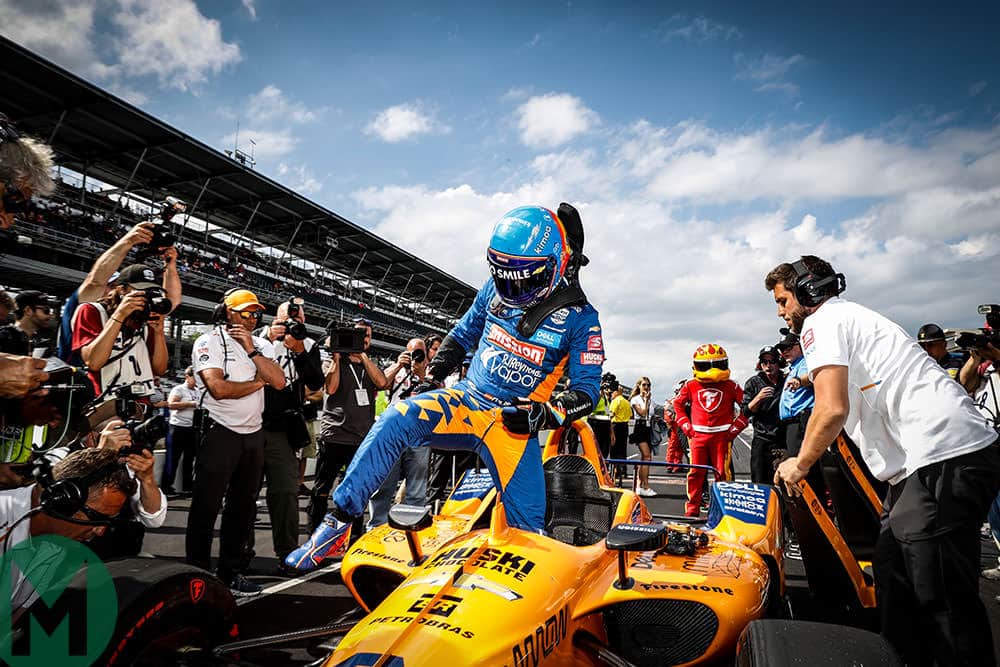 Alonso bows out of the 2019 Indy 500 Photos: Motorsport Images
Saturday May 18, 17:50: The gun goes off. Graham Rahal completes his run at 228.104mph and Fernando Alonso is bumped out of the 30 guaranteed starting spots for this year's Indianapolis 500.
There's still a second chance, but despite registering the 31st fastest time there's no guarantee Alonso will be one of the quickest three cars in the 'Last Row Shootout' taking place between the slowest six on Sunday. The car has not looked quick all week, and the team has been struggling to get it prepared properly and find the answers.
Sunday May 19, 16:58: Kyle Kaiser completes his run at 227.372mph, and Alonso is bumped out of the race completely.
The heady mix of drama and tension was incredible, but try telling that to McLaren. This was a team that had come to Indianapolis Motor Speedway for Alonso to challenge for the triple crown. Not to leave a week before the show. The atmosphere inside the team had been tense, the fear had been growing that Alonso might not qualify, but there was still a stunned realisation when it happened.
"This has been a very emotional and difficult experience, not only for me but for the whole team," sporting director Gil de Ferran admitted afterwards. "In my 35 years of racing, actually a few more, this is the most painful experience I've ever had.
If heads don't roll, the pain being felt in McLaren could prove to be added motivation to return in 2020
"There's a mixture of emotions going on inside of me, but we are racers. We respect this place. This is one of the toughest challenges in racing. I want to come back tomorrow. I want to fight. I want to come back tomorrow and fight. This is incredibly painful."
It had all started going wrong on Wednesday, when Alonso crashed heavily during practice. The first to do so that week, it was an understandable error as he learned about running in traffic with an aerokit that is vastly different from the one he ran in 2017.
"As Dario [Franchitti] said, there's those who have been in the fence and those who will be in the fence, so he's done that," Zak Brown said afterwards. "I think he actually felt kind of macho about the whole 'I hit an Indy wall'!"
The problem was, McLaren was not as prepared as it should have been with its back-up car, and the whole of Thursday's running was lost. By Friday morning, it was playing serious catch-up, and the team's lack of experience compared to those it was fighting with was beginning to show.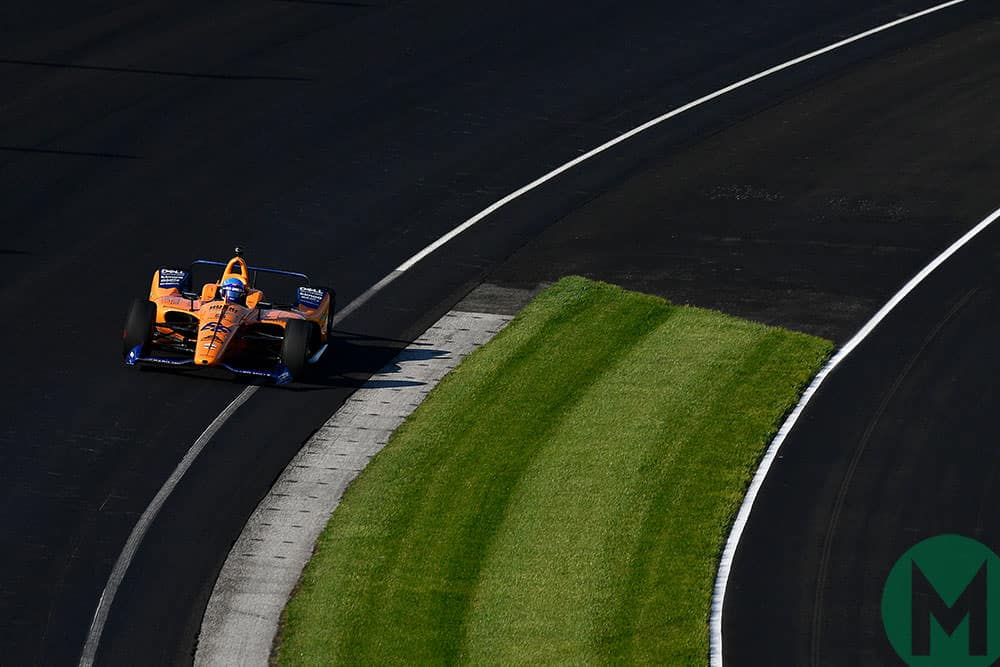 Then came the 36 hours of drama as Alonso suffered a puncture on his first qualifying attempt, and then tried four more times to get a guaranteed spot in the 30. McLaren chased set-up help overnight and was late out to practice on Sunday morning, and then rain hit.
The end result is a disaster, but the margins were so fine. Thirtieth-place on Saturday was just 000.020mph away. The final starting place on Sunday? 000.019mph off. It was the closest grid at Indianapolis in history.
"I want to also apologise to and thank our team," a clearly gutted de Ferran said. "The guys been have been working for several months, and particularly this last month or so have been a tremendous effort, and to try to come here and do the best we can, and they've worked all hours in the day, and I guess that was one of the main messages I had for the whole crew there.
"This is a very difficult sport. We certainly didn't underestimate the challenge. We knew this was going to be a tremendously hard challenge. I've been here before. I've seen some incredible people not make the race. So we were certainly very aware of how difficult this was going to be."
---
More
---
Alonso was gracious in the face of immense disappointment, even if behind the scenes he must be seething. His team has plenty to answer for but it was prepared to front up. When asked if McLaren would try and buy an entry into the race, de Ferran replied: "We will not do that. We want to earn our place in the field."
Indianapolis is an addictive place. You trim out some wing, tweak the ride-height and pin your right foot to the floor for four laps. Then if you're not quick enough, you fettle some more and try again. All at an average in excess of 227mph, and all just to try and start the race.
"We're very humble about everything that went on over here, and I think at this time I just want to say that we did learn a lot of lessons," de Ferran added. "We have to really look inwards and look at everything that we learned, cement those lessons and move forward. You know, and like I said, I consider myself a racer, a fighter. I want to apply those lessons starting tomorrow."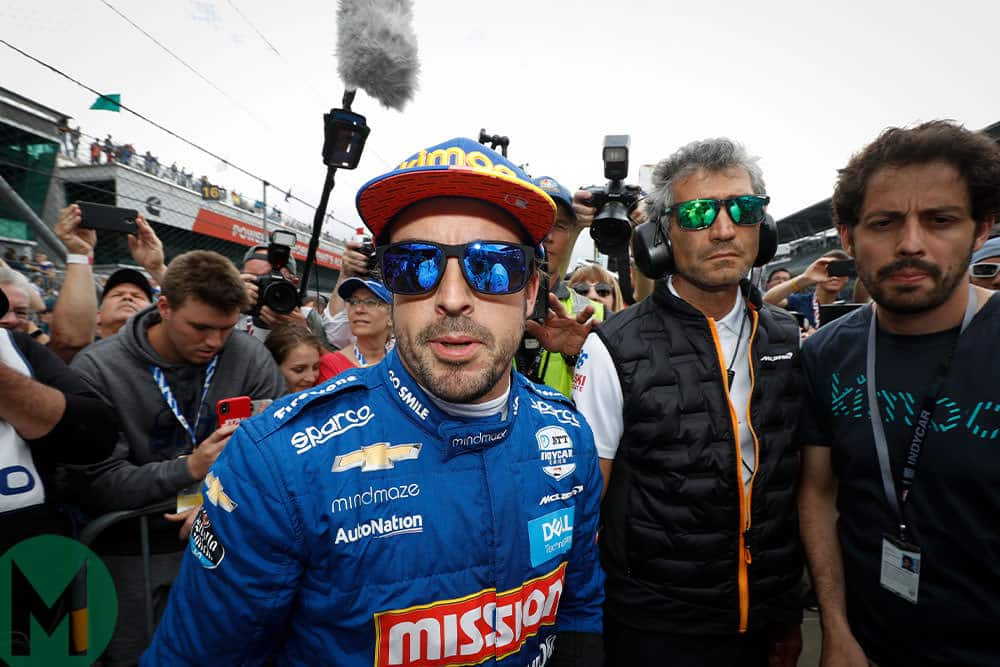 Alonso's quest for the triple crown will have to wait for another year. If heads don't roll, the pain being felt in McLaren could prove to be added motivation to return in 2020. Whether the two-time world champion will be behind the wheel remains to be seen, but the toys stayed firmly in the pram as he took his own lessons from the chastening experience.
"I think there are always things that you learn and things that you improve for next time you're here, for the next challenge – not only in the Indy 500 but as a driver. I still feel proud. Obviously I'm disappointed now because we will not be in the race, but even for McLaren… the next two days it will maybe be hard for the team. I feel it's a little bit unfair if things go on that way.
"We didn't do the job. We were not quick enough. Simple. The others, they did better. We congratulate them. But at the same time, I think McLaren is the only team in motor sport that won the Indy 500, won the Le Mans 24 Hours, won the Formula 1 championship. You can only do that if you try.
"If you stay only in one series and you concentrate there for all your history, or your organisation is only racing in one series, maybe you can succeed, you can have good seasons, bad seasons. But you are in that small world.
"But in terms of motor sport in general, to be here and at least try, it deserves some credit.
"Obviously we are all disappointed, and we will try to do better next time. But it's from those kinds of things that you learn. I prefer to be here, even 34th, than being at home like last year."