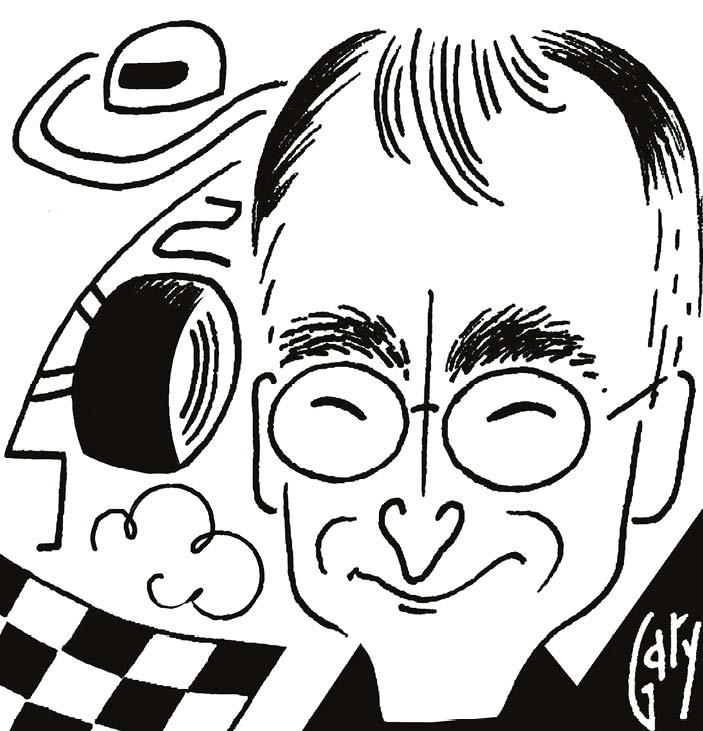 Yes, of course the Sebastian Vettel versus Charles Leclerc comparison at Ferrari is going to be fascinating to behold this season, and how might Pierre Gasly compare to the phenomenon that is Max Verstappen at Red Bull? But there is another match-up at least as intriguing: Renault's pairing of Daniel Ricciardo and Nico Hülkenberg. On paper, it's no contest; the prestigious, expensive multiple grand prix winner, against a guy who has yet to score one podium in eight years.
But it's more involved than that, in a sport so dependent on machinery, and Daniel has been in one of the three best cars on the grid for five years, during which time Nico – a junior category sensation – has been punting around with Williams, Sauber or Force India.
Those drives pretty much stalled his career, identified him as just a solid mid-grid performer as newer arrivals took the baton of fashionability in a sport where perception is all. When he signed up to Renault for 2017, it was a final throw of the career dice, getting in at the early stages of a factory programme years away from being a contender. For Renault, only 12 months on from buying the run-down shell Enstone had become in its Lotus guise, Hülkenberg was a perfect match.
As the team has expanded and progressed, so Hülkenberg has gone with it. Six times last year he was 'best of the rest' after the big three teams and he gained the upper hand over as accomplished a team-mate as Carlos Sainz. So you might imagine he'd be a little peeved that Renault chose to pay big bucks for a 'superstar' stature driver, someone that it has been able to attract partly thanks to Hülkenberg's personal performances. Well, if he is, he's not letting it show.
"For a driver with the most starts without a podium, time is of the essence"
"It's exciting with Danny coming into the team," he says – actually quite convincingly. "That will be interesting enough – to see if he kicks my arse or not! It will decide a lot about my future. It's really good to get a seven-time grand prix winner into this team. Obviously he brings his qualities as a driver, but also credibility and motivation for the team. He will push the team forward."
Just straight, objective realism. If the stature of Ricciardo is to be a catalyst for progress, then Hülkenberg will benefit from that. But you sense he's saying this with an underlying confidence that he will compare just fine. They are very different characters, Ricciardo bubbly, jokey and fizzing with energy. Witnessing his pre-season speech to factory employees was to see what star quality looks like close-up – and the effect it can have on people's motivation. Hülkenberg is on the surface more diffident, lower-key. But with helmets on, such things matter less.
"It's the first time that I've had a proven winner alongside me," he says. "Well, I had Rubens [Barrichello] but that was my first season. This is a much better comparison. I'm curious myself to see how it pans out."
If his on-track performances have shown a weakness, it's been an occasional inability to best manage the delicate Pirelli tyres, something that Ricciardo seemed to turn into an art form at times. But has the contrast between Hülkenberg's early charge/early stop/tumble-down-the-order fury and Ricciardo's early stealth/late stint magic been driven more by their machinery than their respective skills? The evidence suggests not, given how Sergio Pérez could very often get a more effective trade-off than Hulk when they were paired at Force India. It's impossible to be definitive, but Hülkenberg certainly wouldn't be hurt if the 2019 tyres were to stand up better to being raced hard and long. We've moved away from the drastic heat-deg tyres of 2011-14, but the growing performance of the cars last year brought this trait back onto the radar on some tracks. Is it a frustration to Hülkenberg?
"We drivers want tyres we can push. but the F1 commercial rights holder and Pirelli decide. I'm just happy to take the result. But it is more fun when you can push all the way. Last year this wasn't the most efficient way; you had to adapt. Hopefully it's changing."
How this pair pans out only means very much if the team continues to advance towards the front. The management insists the realistic 2019 target is just to cut the lap time deficit to the 'big three' while pulling away from the others. But for Hülkenberg, at 31 and with the unwanted distinction of being the driver with the most grand prix starts without a podium, time is of the essence.
"It's my third year here and every year has gone better and better. But this season should be the biggest step, given the new facilities and what's happening in [the engine department at] Viry. It has changed a lot here, modernised, better working environments. You can see the push Renault is making. It feels more professional, better, more serious. It's an all-round good feeling but the results need to match that."
Could Hülkenberg yet crawl out from the pavement cracks down which he seemed to have fallen and emerge delayed but unbowed, as the formidable force he once threatened to be? On that damp Brazil day in his rookie season when he stuck a Williams on pole, it seemed beyond imagination that he'd still be on the margins all this time later. If that sort of stuff is still there, it could thin the Honey Badger's grin.
---
Since he began covering Grand Prix racing in 2000, Mark Hughes has forged a reputation as the finest Formula 1 analyst of his generation
Follow Mark on Twitter @SportmphMark