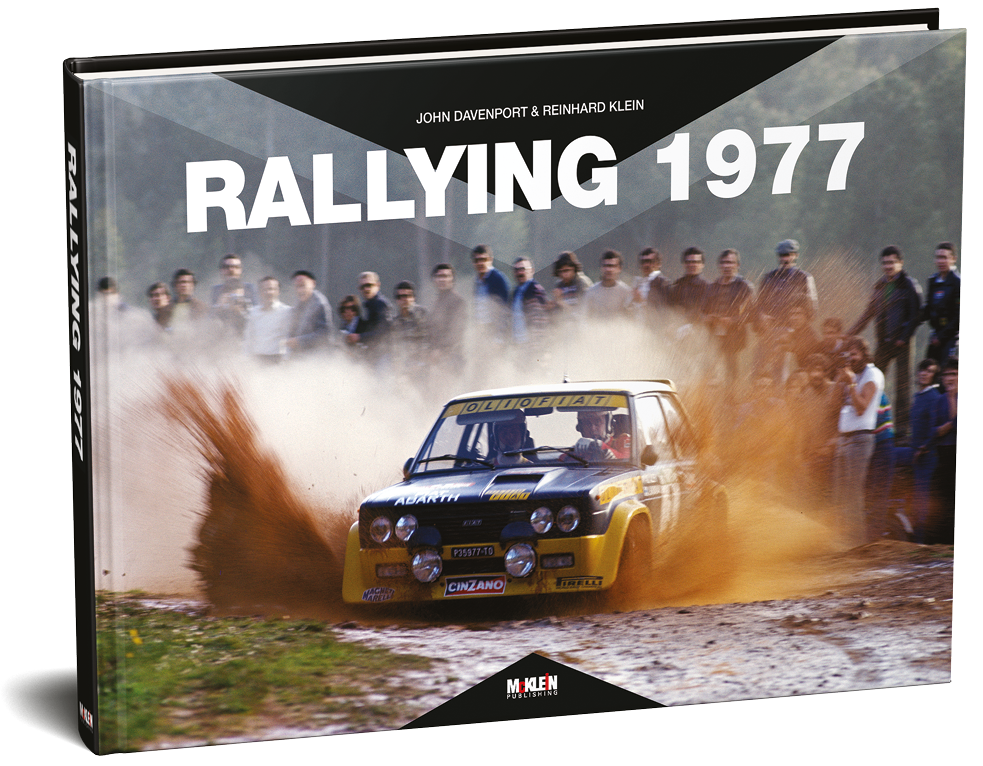 Rallying 1977
John Davenport & Reinhard Klein. Published by McKlein, €119.90 (£105.40). ISBN: 978-3-947156-10-8
It was the year in which Fleetwood Mac released Rumours, the LP which contained future BBC Formula 1 theme The Chain. Red Rum won his third Grand National, the first Star Wars film was released, Ford introduced its new small car, the Fiesta, EMI dropped The Sex Pistols from its roster and rallying sashayed to the balletic grace of Ford Escorts, Opel Kadett GTEs and Fiat 131 Mirafioris.
This work covering the 1977 season is the latest in a series of retrospective rally annuals from the publishing arm of McKlein, the respected photographic agency whose sumptuous archive provides the core of the magic herein. It is by no means a simple tour through the 1977 World Rally Championship, still at that stage a competition only manufacturers could win (there wasn't a world champion driver until '79). Author John Davenport — a regular contributor to Motor Sport in the past — covers a wide range of events from series around the globe, his prose embellished by the juxtaposition of route maps, official entry lists, programme covers and other peripherals.
It's the photographs, though, that make the whole thing sing – a mud-caked Jean Todt on the Safari, Michèle Mouton all smiles as she prepares to tackle the Monte in her Autobianchi A112, the Gerald Bartlett/Geoff Eldridge/George Harris Citroën CX2400 estate (seeded at 57 on the London-Sydney Marathon) and, perhaps finest of all, also from Portugal, a beautifully composed shot of Björn Waldegård in full flight, his Escort sideways and partially airborne with its inside-front wheel hovering above a deep ditch. The photographer's judgment is every bit as good as the Swede's.
There are some tightly cropped shots, used mostly to provide a car-by-car breakdown of event entries. But the overwhelming beauty of much of Reinhard Klein's work is his ability to convey a sense of location, with the crowd and the environment as much a part of the composition as the car.
There are some interesting technical shots, plus coverage of competing teams' workshops and some wonderfully atmospheric images of the utter chaos that used to pass for rally servicing, but the landscapes alone are enough to justify the not inconsiderable purchase price. Everything else is merely a bonus. SA
---
Keep the revs up
Alan 'Plum' Tyndall. Published by RPM, £14.99 plus p&p. ISBN: 978-1-5272-3141-2
There is a freshness about the way Ireland approaches its motor sport – a sense of boundless resourcefulness coupled to a cheerful, can-do attitude. And Alan Tyndall – known to all as 'Plum', a commentator, broadcaster and writer who also raced saloon cars successfully – epitomises that spirit.
This is a ramble through his life and times, not so much an autobiography as a series of short stories into which one can dip at leisure. Its foundation? A cast of colourful characters with a zest for adventure and a cheerful disregard for political correctness. SA
---
Alfa Romeo Tipo 33 / 1967
Patrick Dasse & Martin Ubelher. Published by Dingwort, €79 (£68.75). ISBN: 978-3-871166-116-7
Beautiful car, the Alfa Tipo 33, and this covers the first year of its development in great detail from prototype to race-winner, as well as the surprise arrival of a road version. Using previously unseen factory records and photos, it offers new insights into a variety of aerodynamic experimentation along the way to a raceable version.
The colour shots on the Targa Florio star; the trouble is the book seems to cram in every other photo they found. It becomes repetitive to see seven or eight pics of the same car on the same track. Informative, but no thriller. GC
---
Giugiaro: Masterpieces of style
Edited by Luciano Greggio. Published by Giorgio Nada, £49. ISBN: 978-88-7911-706-7
Masterpieces is right. From his first complete car, Alfa's 2000 Sprint, on there isn't a dud in master designer Giugiaro's portfolio. Even the humble hatches are handsome – Golf, Alfasud, Panda – while the supercars and concepts were constantly sensational. Founder of Ital design, he has been responsible for endless real-world projects. Though this is a full biography up to Giugiaro selling out to VW, it can be hard to find the text among the photos and hearty captions. But let's face it, it's the cars we want to see. GC