Buying guide: Aston Martin DB7
When Aston badly needed a saviour, the DB7 came to light
While the current spotlight is on Lawrence Stroll's investment in Aston Martin, the great British brand has required saving before. Back then, the DB7 model was seen as the rescuer.
In the early 1980s, Aston was in trouble. Annual production was thinning and down to a record low of just 30 cars in 1982. That time, it was the petroleum magnate Victor Gauntlett who was the saviour, putting together a consortium to buy Aston, reviving its partnership with both James Bond and Zagato, all while raising enough cash to fund the development of the hand-built Virage. But that's where the good news ended. Late in the decade, Aston's model range became stunted, and the costly Virage was never going to be a mass-market product, with just over 1000 made in total. Aston needed a brand new model with fresh appeal, so to raise an additional development pot Gauntlett planted the seed for the Ford Motor Company to eventually buy Aston out, which happily coincided with the firm's acquisition of Jaguar around the same time.
Much of Ford's attention then centred on Jaguar, leaving Aston to tick over its low-volume production. And then along came Tom Walkinshaw. Having raced various XJS variants in the European Touring Car Championship, Walkinshaw and his TWR firm knew the potential of the chassis and wanted to update the car to form a new prospect for Jaguar. Walkinshaw brought in designer Ian Callum to work on a new body for his reworked underpinnings – codenamed XJ1 – and presented it to Jaguar's board, which rejected it and insisted he focus on the forthcoming XJ220 project instead.
Walter Hayes – who had been Ford CEO before moving across to Aston – then had an idea. The development already done on XJ1 would provide a turn-key platform for a new Aston and, through Jaguar, Aston could access a supply of in-line six-cylinder engines, which it could then supercharge – the perfect low-cost platform. So Walkinshaw began work on what was known as the 'XX' project.
"By the time the DB9 arrived, the DB7 had put Aston back on the map"
Callum was again tasked with a redesign to give the car an Aston makeover, but using whatever he could lay his hands on. The first cars were somewhat hotch-potch and included rear lights from the Mazda 323 F, indicators from an MX-5 and Citroën CX door mirrors, while parts-bin Ford switchgear filled the interior.
What was now known as the DB7 was revealed at the Geneva Motor Show in 1993, and was a hit. A new, entry-level 'baby' Aston was born, even if it was built at Jaguar's factory at Bloxham rather than Aston's Newport Pagnell base. With the sales of the supercharged straight-six gradually increasing, a full-blooded V12 motor built with Cosworth came on-song from 1999, and gave the DB7 the shot in the arm of distinction it craved. In total over 7500 DB7s were built – making it at the time Aston's best-selling car ever – and 4000 of those had the V12 up front.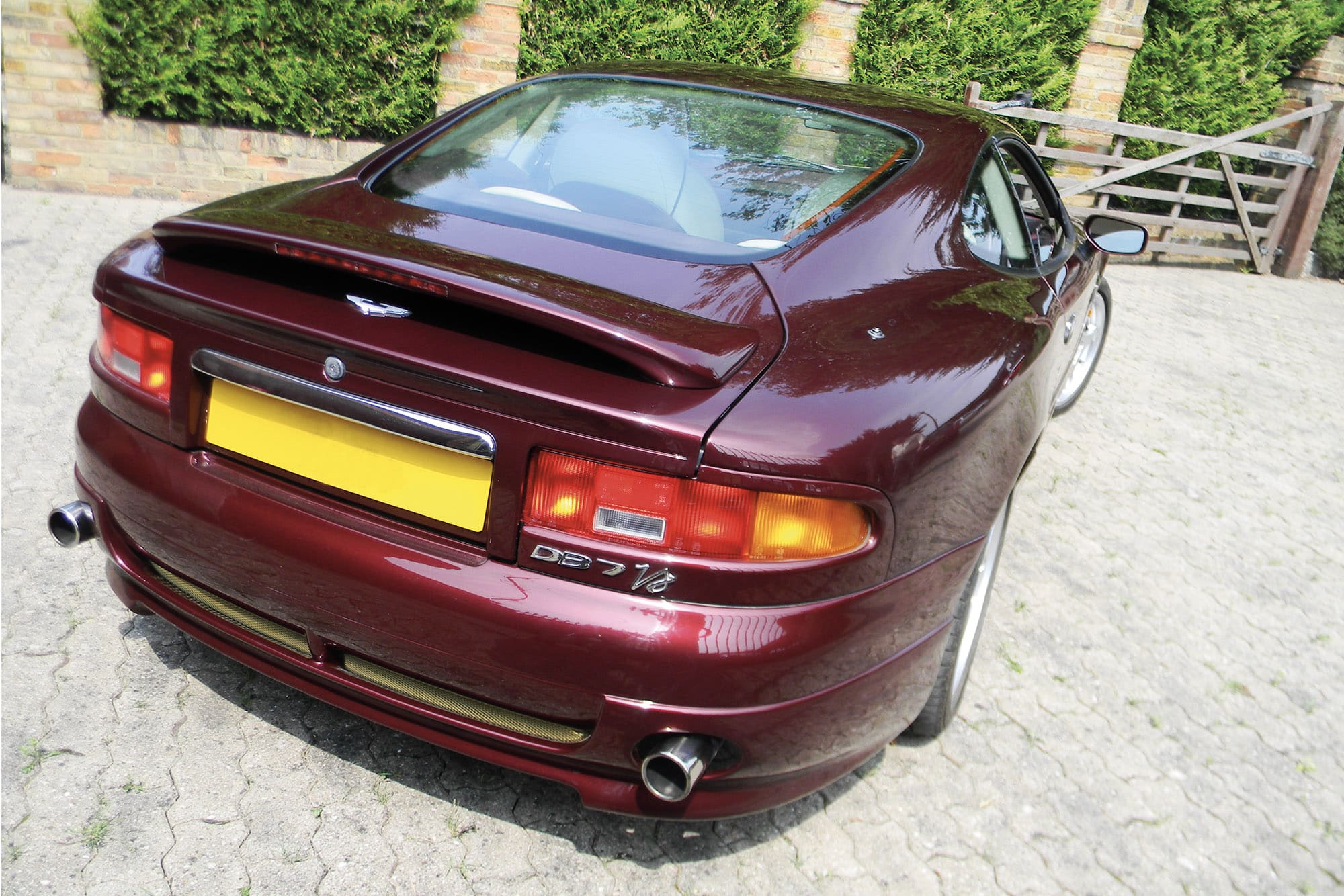 Some purists derided the 'Ford approach' of parts-sharing and mass-production at the core of DB7 production, as opposed to the hand-beaten and crafted techniques of old Astons, but there's no disguising the importance of Aston's first true mass-market product.
The cut-price platform gave Aston the chance to spawn multiple special editions across the DB7's 10-year life, including drop-top Volantes, more comfortable and automatic GTs and Zagato-bodied reboots now fetching well over £200,000. Even a few competition-bred coupés developed by Prodrive arrived in the mid-1990s, although Ford decided not to sanction a race series.
Regardless, by the time the DB9 arrived in 2004 the DB7 had put Aston back on the map and, for the intervening years at least, this particular model had kept the wolf from the door.
Aston Martin DB7
Price new £72,000 (i6), £113,000 (V12) Price now £25-50,000
Engine 3.2-litre inline six, supercharged; 5.9-litre V12 naturally aspirated
Power 340bhp (i6), 420bhp (V12)
0-60mph 5.7sec (i6), 5sec (V12)
Top speed 165mph (i6), 184mph (V12)
Rivals Porsche 911, Jaguar XK8/R
Verdict A timeless design that saved the famous company
---
On the forecourt: 1999 Aston Martin DB7
Dunhill The DB7 spawned a series of limited editions, and this collaboration with Dunhill is perhaps the most sought after
Automakers launching tie-ups with fashion brands is nothing new in modern times, but in the 1990s it was much rarer, and Aston's partnership with Dunhill hit the sweet spot.
Initially produced as a single six-cylinder prototype for Alfred Dunhill himself, the edition attracted so much attention that Aston eventually produced 150 of them. Each contained multiple interior and exterior design tweaks, such as special white dials and Dunhill clocks. It was even supplied in either smoking or non-smoking versions, with either a cigar humidor or a grooming kit installed. Aston Martin specialist Runnymede Motor Company currently has this non-smoking gem for sale. Having covered only 36,000 miles to date, this is number 60 of 150, and benefits from the full additional 'Dunhill package' and rather more.
"This car is understood to have been the most expensive Dunhill ever produced, with a large number of factory extras being fitted," says Runnymede's Martin Brewer. "Among the extras is a Chassis Dynamics package, which includes braking and suspension upgrades, additional front and side bodywork upgrades and special OZ alloy wheels, all of which boosted the price significantly.
"We anticipate that almost perfect examples of a DB7, such as this one, are bound to appreciate over time, and limited- edition cars are even more likely to rise in value." The asking price is a shade under £40,000.
Runnymede Motor Company, Slough, Berkshire Tel: 01753 644599, runnymedemotorcompany.com
In the workshop: 1994-2004 Aston Martin DB7
Usability was a DB7 strength, but looking after it properly is the only way to keep it running
The DB7 has arguably outlived Ford's predictions of its lifespan. The earliest and most frequently used examples are now requiring restoration, but not quite to the level of Aston's older hand-crafted classics. Nicholas Mee is a leading independent Aston specialist, and has worked on many DB7s.
The firm's commercial director Neal Garrard says: "The DB7 was the first Aston that you could use daily, and cars with around 70,000-plus miles do need some work.
"The most regular issue with the bodies is corrosion, especially underneath. If there's any perforation to the panels or the chassis then it needs to be repaired professionally, either by cutting away rotten sections and replacing them, or by welding.
"The drivetrains tend to be reliable, especially the V12 Vantage, which is easily good for 100,000 miles if the engine is looked after and serviced, and the gearboxes tend to be strong.
"A few common things we see are the ignition coils, which can be prone to failure. The parts are cheap, but the labour cost isn't due to the fact you have to remove the inlet manifold for access. Engine mounts can also expire in higher-mileage cars.
"The DB7 will go down as an all-time classic design and we're at a pricing point now where they can only go up. People say because Aston built 7000 of them they can never be a true classic, but split that number in half between six-cylinder and V12 cars, and further reduce that by the denominations of soft- or hard-top, manual or auto and right- or left-hand drive and it's small production numbers compared with something like Porsches."
Nicholas Mee, Herts. Tel: 0208 741 8822, nicholasmee.co.uk