GET SET... GO! 2020's BEST EVENTS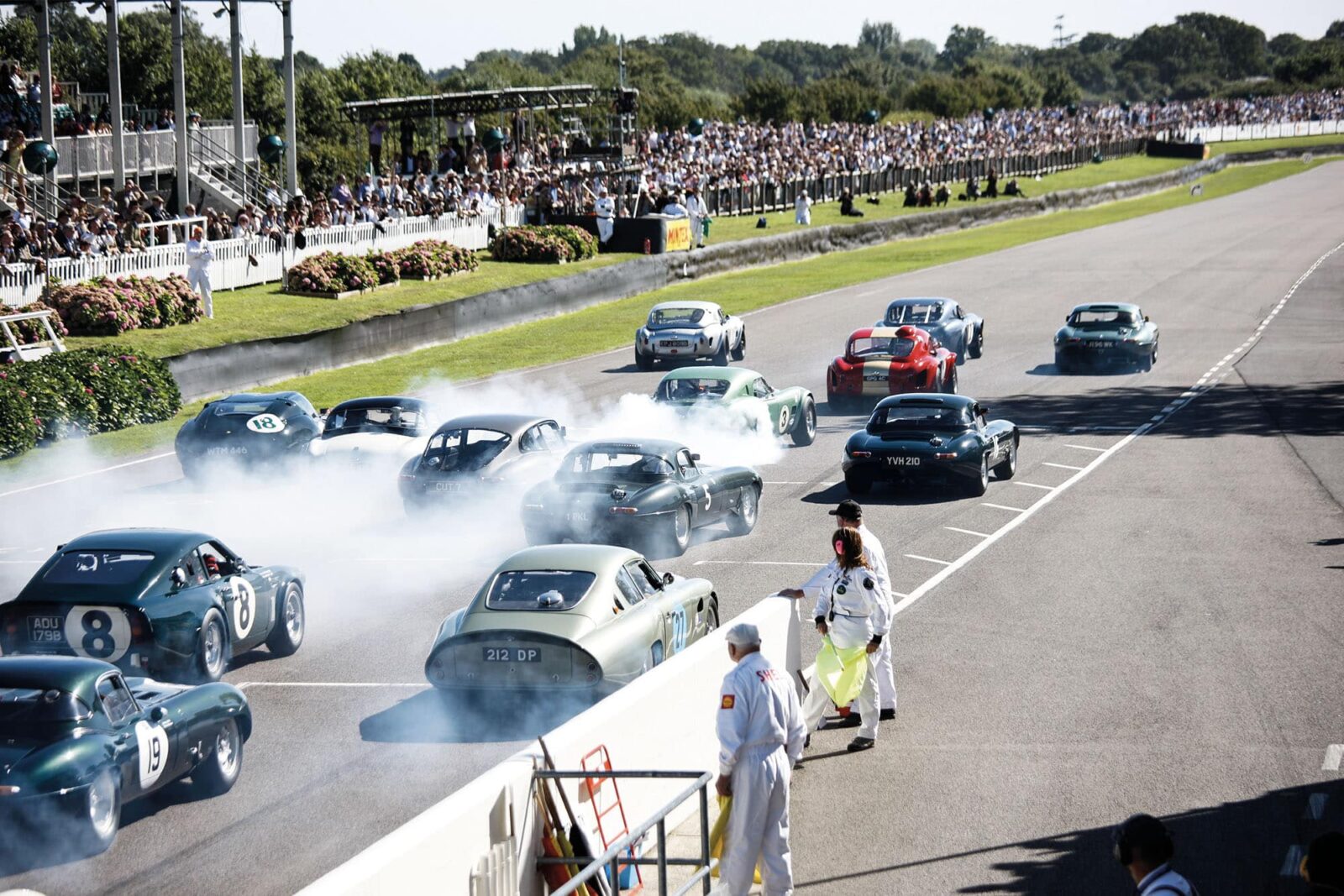 For some time now the historic calendar has been bursting at the seams. While congestion can create logistical headaches for teams, it presents an array of options for those watching. This year looks set to be a bumper one with biennial events such as the Le Mans Classic vying with more regular Blue Riband meetings. Here are Motor Sport's top picks…
---
MARCH
28-29th 78th Members' Meeting, Goodwood
The last time Goodwood ran its increasingly popular season-opener in March, it conjured the unusual spectacle of Formula 5000 cars being demonstrated in a snowstorm. Conditions were so cold that it proved tricky – if not impossible – to coax some older cars' methanol-fuelled engines into life. Oh, and the scheduled motorcycle race had to be cancelled due to icy conditions. Despite all of which, it was a wonderful event. It always is.
Revived in 2014, the GMM has a lower profile than Goodwood's other two headline meetings and is purposely run on a smaller scale, an attempt to recapture the ambience of the original Members' Meetings run several times per annum between 1948 and 1966. Smaller crowds create a greater sense of intimacy and it's a wonderful opportunity to watch Ford Capris and Chevrolet Camaros buck and slither through the circuit's brisk sweeps. Group 1 saloons might not be period-correct, but few other venues showcase their charms to such good effect.
---
APRIL
4-5th Historic Sports Car Club, Snetterton
The HSCC season gets underway with the Jim Russell Trophy Meeting, to honour the celebrated racing school founder who died last year just short of his 99th birthday. Russell cut his competitive teeth at Snetterton, his local track, and in the mid-1960s also played a significant role in the creation of Formula Ford – the enduring single-seater class whose popularity remains undimmed after more than half a century. This event will be infused with lashings of the Blue Oval: two Historic FF1600 races, a brace for Classic FF1600, a Heritage FF1600 event and a double-header for contemporary FF1600 drivers, who will be competing for the Champion of Snetterton title. FF2000 features, too. The downside? It is scheduled to take place on the full Snetterton '300' circuit, when the shorter '200' is better suited to club events populated by cars of relatively modest power. The racing should still be equal parts clean and ferocious.
4-5th Dix Mille Tours du Castellet, Paul Ricard
Traditionally the annual sign-off in the Peter Auto portfolio, the Dix Mille Tours has embraced a fresh role as curtain-raiser as it celebrates its 10th anniversary. The meeting takes place on two of Paul Ricard's assorted layouts and the promoter identifies it as a relatively risk-free way to commence a campaign, simply because – other cars apart – there isn't a great deal to hit. Featured categories include Classic Endurance, Group C, Endurance Legends and the Heritage Touring Cup. It's a good excuse to spend a few days in southern France – and such opportunities should never be spurned, unless, of course, you happen to be at Snetterton for the HSCC event…
17-19th Masters Historic Racing Weekend, Portimão
Classic Formula 1 machinery – and other sumptuous stuff – at one of European motor sport's best-kept secrets. In a world dominated by identikit modern Tilkedromes, the Algarve International Circuit stands apart. Rather than being 'designed' in the formal sense, it looks for all the world as though its creator simply poured asphalt over a section of the Portuguese countryside, allowed it to set and then erected some barriers around the perimeter. The reality is naturally more complex, but Portimão combines significant elevation changes with a challenging variety of corner profiles and magnificent views across the landscape. It also has the feature of a bathing pool within the paddock. All this and you can book a return flight from the UK to Faro (about an hour's drive away) for less than £80.
---
MAY
8-10th Grand Prix de Monaco Historique
The 12th running of an event that takes place every other year, a couple of weeks before the F1 race for which the principality is most famous. For amateur drivers, it's a chance to compete at one of international motor sport's heritage landmarks. For enthusiasts, it's an opportunity to watch cars that they might have been too young to savour here first time around. The organising Automobile Club de Monaco seems to have ingested some common sense pills by rationalising the entry; in 2016 it attempted to start 40-odd cars in both the Formula Junior final and one of the F1 fields, with the result that spectators were treated to endless red flags and safety cars, with precious little racing in between. Things were subsequently pruned for 2018 and a similar approach has been taken this time, with six races for different grand prix eras (pre-war & voiturette, 1946-1960, 1961-1965, 1966-1972, 1973-1976 and 1977-1980) and one for front-engined sports cars of 1952-1957. That leaves no space on the schedule for categories that have traditionally supported the Monaco GP, such as Formula Junior, F3 or F3000, the latter of which is surely long overdue for a revival movement. Motor Sport's tip: stay in Nice, or one of the villages along the Basse Corniche – it's better value and far more convivial. We would usually recommend travelling from the UK by train, but there are no return options from Nice on the Monday or Tuesday due to planned engineering works. Makes a change from the usual strikes…
22-24th Spa Classic
Today the Spa 24 Hours is acknowledged as one of the finest GT races in the world, but for much of its history it was a glorious saloon car endurance race – and until 1978 it continued to use the full 8.6-mile road circuit that had long been abandoned by F1. While the Spa Classic meeting features bygone GTs and sports-prototypes, in the manner of many Peter Auto fixtures, the thrust of its focus is tin-top pedigree, with a brace of Heritage Touring Cup races, one in daylight and the other under the cover of darkness. Ford Capris, assorted strains of BMW and chips laced with mayonnaise: is there a finer recipe in our sport?
---
JUNE
4-5th Grand Prix de l'Age d'Or, Dijon-Prenois
This event's roots can be traced back to a historic support race ahead of the 1964 French Grand Prix, at Rouen-les-Essarts. The circuit might sadly have been consigned to history, but the name lives on and the GP de l'Age d'Or has been an important element of the Peter Auto portfolio for more than 35 years. Home to the French GP five times from 1974-1984, and located in the heart of the Burgundy wine region, Dijon remains an unspoilt assembly of sweeps and dips, an old-school venue that complements cars of a certain age. Its most famous episode? Probably a duel for second place in 1979, when Gilles Villeneuve and René Arnoux famously banged wheels several times in their bid to finish as runner-up to runaway GP winner Jean-Pierre Jabouille. Will aficionados discuss Hamilton vs Bottas with the same reverential tones more than 40 years from now? You would say it's doubtful. The only pity is that there will be no F1 cars in action on this occasion, which features the usual Peter Auto blend of sports-prototypes, GTs and saloons – as well as the one-make series for the pre-1966 Porsche 911s.
20th VSCC Formula Vintage, Cadwell Park
The third of only four Formula Vintage circuit meetings this season – and arguably the most photogenic. Cadwell has been a motor sport hub since 1934 – the year of the Vintage Sports Car Club's inauguration – and has changed relatively little in the interim. It is a pity that shifting priorities have led many owners of one-time VSCC staples (notably ERAs and Maserati 250Fs) to eschew grass-roots events in order to hunt for prestige pots at Goodwood, Silverstone and elsewhere, but even without them there is still a great deal of joy to be taken from watching skeletal metal taunting the laws of physics through the undulating Lincolnshire Wolds.
26-28th Heveningham Hall Concours
Inaugurated in 2016, the Heveningham Concours brings a bit of Pebble Beach glamour to rural Suffolk, with 50 of the world's finest classic competition cars being displayed and judged in front of the glorious Grade I listed Georgian mansion. Cars are judged in several categories, including Best Pre-War, Post-War and Best Supercar. There's also a 50-mile drive around the scenic Suffolk countryside for the owners. But it's much more than just an expensive car show, with the event adding dynamic elements such as Horsepower Hill – a timed 1/8-mile drag race along the estate's main drive, 'Goodwood style'. The Hill became a part of the event in 2018, with Nick Mason and his stunning Ferrari 250 GTO being the first car ever to tackle it. So you can expect to see and hear some of the finest automotive exotica at close-to-full-tilt.
---
JULY
3-5th Le Mans Classic
For overseas visitors looking to indulge in a singular annual treat, it's perhaps a pity that Monaco and Le Mans host their biennial retrospectives in the same calendar year – though they are at least a couple of months apart. This is every bit as engaging as its coastal counterpart, with cars separated into age groups (1923-1939, 1949-1956, 1947-1961, 1962-1965, 1966-1971 and 1972-1981), plus separate races for Group C and the relatively modern (up to 2013) GTs and prototypes that compete in Peter Auto's Endurance Racing Legends series. Racing takes place over 24 hours, with the main six groups appearing three times apiece for separate 43-minute races and overall results being taken on aggregate. It's a formula that works and it's wonderful to behold. The event doesn't quite have the ambience of the modern 24 Hours in June, but it draws a decent, cosmopolitan crowd, the parking areas are rammed with classic car displays and special themes this time around include the 50th anniversary of Porsche's first outright win… and the 25th of McLaren's success with the F1 GTR. How is it possible that a full quarter-century has passed since?
10-12th Dragstalgia, Santa Pod
If ever there were a weekend to divide loyalties… You could choose the HSCC's Superprix, high-class club racing within the woodland surroundings of the Brands Hatch GP circuit, the Goodwood Festival of Speed (lots of fabulous cars, though relatively few are driven competitively) or this. Opened in 1966, Santa Pod is the UK's only active drag strip and this is its annual trip down memory lane: a fusion of scent, sound and sensory overload. People can question the appeal of watching folk 'driving in a straight line', but you'll need to attend only once to become a convert. Santa Pod hosts two rounds of the European Drag Racing Championship every year, and attendance at either or both is advised, but this is a splendid way to discover drag racing.
---
AUGUST
1-2nd Silverstone Classic
Two days of racing follow wall-to-wall practice (July 31) at the world's busiest historic meeting – and the latter is not just a shallow PR claim. Track action features everything from FIA Masters Historic F1 down to Minis and a significant number of the grids will feature more than 50 cars. The ticket price includes access to fairground rides/evening concerts and there are usually about 10,000 classic cars on display within themed areas all around the site. Paddock admission is also included, although the flipside is the fact that both paddocks will be in use – the original is in Northants, the other in Bucks – and whoever you are trying to find will almost always be in the other one. Complimentary shuttle buses are available, but to get the most from your weekend we recommend packing a bicycle.
1-2nd VSCC Prescott
Silverstone and Prescott lie about 50 miles distant – and while these two clashing events might be different in nature, there will definitely be a significant crossover in terms of the target demographic. Another illustration, then, of the way in which the UK's historic calendar requires more thoughtful structure. Back on topic, Prescott complements VSCC machinery every bit as well as Shelsley Walsh – and has the advantage of being easier to climb if you happen to be on foot. If you stand at the top on a clear day, you can follow a significant percentage of competitors' progress (particularly on the short course, used only nowadays by the VSCC) while admiring wonderful views across the Cotswolds and appreciating the call of green woodpeckers in the trees just behind.
29-31st Oulton Park Gold Cup
The name resonates still, but for too many years the main prize has been awarded somewhat randomly. At times in the recent past this has simply been an extended HSCC clubbie. Nothing wrong with that (and there are some intriguing new championships this season, for cars of the 1980s), but a Gold Cup meeting requires a signature race commensurate with its bygone status. The burgeoning Historic Formula 2 series would suit, but Oulton did not feature on the seven-race calendar that was released back in December.
---
SEPTEMBER
4-6th Historic Grand Prix, Zandvoort
Dutch hospitality, seaside location, within easy reach of other countries in northern Europe – Zandvoort has long been popular for a multitude of reasons. It remains to be seen whether it will retain its cuddly charms once the excavators have finished adapting it for Max Verstappen and his supporting cast, but it's a wonderful location even when there isn't any motor racing in town.
11-13th Goodwood Revival
The jewel in Britain's historic racing crown returns for its 22nd year. It seems remarkable that the event that started as a relatively modest gathering, aimed at bringing motor racing back to the Sussex circuit for the first time since 1966, has grown to become one of the largest collections of vintage machinery anywhere in the world. Details of entrants is still to be confirmed but highlights will be the Kinrara Trophy, which runs spectacularly into the night on the Friday and has a tradition of boasting some of the most valuable cars in the world, Saturday's Barry Sheene Memorial race (the only motorcycle race of the weekend) and Sunday's RAC TT Celebration. Don't forget the tweed caps and nylon tights.
---
OCTOBER
16-18th Classic Sports Car Club, Le Mans Bugatti
The CSCC's motif has long been 'racing for cars of all ages', the success of which is reflected by invariably full grids and boundless diversity. It runs excellent meetings through the season at venues around the UK – and this year includes two trips abroad, the first to Spa (June 25-28) and a maiden voyage to the shorter version of Le Mans, home to the 1967 French GP and now ripe for exploration by one of the UK's most progressive race promoters. All but two of the CSCC's regular series will be present; only Special Saloons/Modsports and the new Slicks Series miss out.
---
Also running…
April 20-25 Tour Auto, Paris-Marseille via much of France
April 25 British Historic Championship, Pirelli Carlisle Rally
May 1-3 Historic Festival, Donington Park
May 23-24 Masters Historic Festival, Brands Hatch
May 30 VSCC Formula Vintage, Oulton Park
May 30-June 1 Pau Historic GP
June 6-7 Thruxton Historic
June 27-28 Masters Historic Race Weekend, Donington Park
June 27-28 HSCC race meeting, Pembrey
July 5 VSCC hillclimb, Shelsley Walsh
July 11-12 HSCC Legends Superprix, Brands Hatch
August 15-16 Mondello Park Festival
August 21-22 British Historic Championship, Ulster Rally
August 23 VSCC Formula Vintage, Mallory Park
September 12-13 VSCC hillclimb, Loton Park
September 18-20 Monza Historic Festival
September 19-20 HSCC Wolds Trophy, Cadwell Park
September 25-27 Spa Six Hours
October 3-4 Autumn Classic Historic Festival, Castle Combe
November 4-8 Daytona 24 Hour Classic
* The popular Château Impney hillclimb, revived in 2015 and originally scheduled for July 18-19, will not now take place. Its unexpected cancellation was confirmed in January by the venue management.