As seen on TV
Goodwood's revival of the rally sprint at its Members' Meeting triggered memories of Saturday afternoons on BBC Grandstand. Damien Smith goes surfing for TV gold…
Hats off to Goodwood. Just when you think they've done it all, the team at the Sussex circuit come up with something fresh to add a new flavour to their benchmark racing events. Take the latest ingredient for the 78th Members' Meeting, on March 28/29. For the first time, the retro 'clubbie' will include a rally sprint, featuring evocative cars driven by a host of familiar names on a one-at-a-time course incorporating the access tunnel into the track, the start/finish straight and even the pitlane. It'll run into darkness on the Saturday and during the day on Sunday.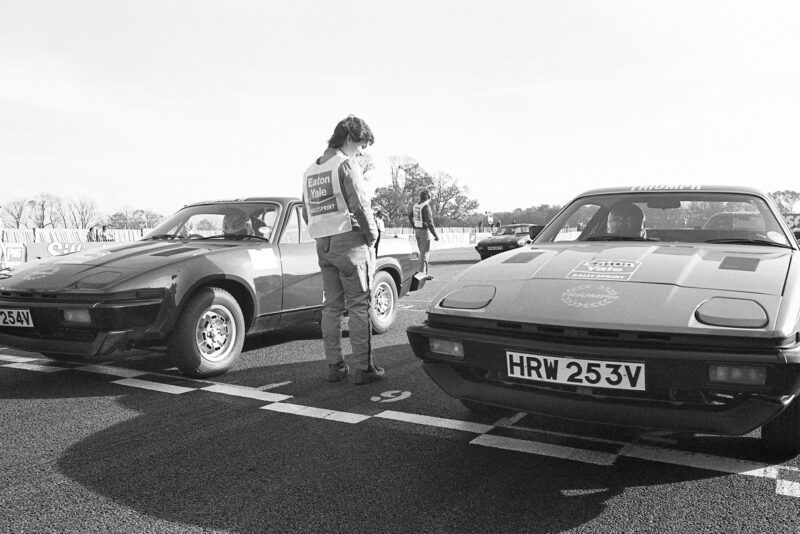 A rally sprint? Of course. You only wonder why no one has thought of it before.
The against-the-clock rally sprint format was always an afternoon's slice of bite-sized genius. Essentially a microcosm of rallying over a single special stage, it was made for TV and became a staple component of wintry Saturday afternoons via BBC Grandstand. Established in the latter half of the 1970s, it at first featured star rally drivers of the day in their regular competition cars, offering sponsors some great TV exposure and even a chance for young drivers to make their name – not always in the best possible way (see Malcolm Wilson's memories, page 94)… But into the 1980s, the BBC's rally sprint developed into something much more novel. With support from Austin Rover, it now pitched rally drivers against Formula 1 aces, first on a rally stage, but then on an auto test and finally a circuit race, all with dear old Murray Walker calling the action.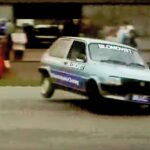 Here at Motor Sport, Goodwood's revival plan immediately set us rushing to YouTube and we found a treasure trove of grainy videos giving a hit of Saturday afternoon nostalgia. You can do it yourself. Search 'BBC Rally Sprint' and the first thing that pops up is the 1983 edition held at a chilly Donington Park. As we said at the top, bite-sized made-for-TV genius. First up is the rally stage, in which rally stars Tony Pond, Stig Blomqvist, Jimmy McRae and Pentti Airikkala take on Nigel Mansell, John Watson, Derek Warwick… and Tyrrell's suave American Danny Sullivan (introduced by David Coleman back in the studio as 'Danny O'Sullivan' – he must have been thinking of horse racing commentary legend Peter…). And what are they driving? Heavy-duty, tail-happy Rover SD1 V8s, of course. Comedy TV gold ensues.
"We say it again, and without apology… it's genius and comedy gold"
Pond was something of the 'king of rally sprints', having won the BBC's previous three – including beating a young Henri Toivonen, Vauxhall Chevette vs Talbot Sunbeam, on the fabulously daunting Esgair Dafydd stage in 1981. Here, he isn't about to be upstaged by a bunch of F1 upstarts, and sure enough tops the times on a course made up by part-race circuit (including the old Melbourne loop) and part-muddy track. Future Indianapolis 500 winner Sullivan is fastest of the F1 lot. Next it's the autotest on Donington's start/finish straight. Mansell hand-brake twirling an MG Metro between cones, anyone? 'Our Nige' proves quite handy and is third fastest to that man Pond and Blomqvist, who incidentally, heads the list of stars who will sprint against the clock at Goodwood this March.
Finally, there's a 10-lapper around Donington… in MG Maestros. We say it again, without apology. It's genius.
Even before the rally stage, Pond had been concerned about this: "The big problem all the rally guys find on the circuit is the traffic, and these hooligans who try to have you off all the time." Prescient words, Mr Pond. The race comes down to a three-way ding-dong between Mansell, Wattie and Pond (Wattie's late-on-the brakes move at the chicane, which he cuts as if it isn't there, will leave you giggling). A stoved-in passenger door is the tell-tale of Pond's fate and he slips down the order, while Maestro Mansell – in this case literally – pulls off a typically heroic move on Wattie into Redgate and makes it stick down the Craners. Shades of the TOCA shoot-out 10 years later – without Tiff Needell to punt him into the bridge buttress at the Old Hairpin…
Sensationally, Mansell's victory topples Pond from the pinnacle of the standings and crowns him 'Rally Sprint Champion of 1983'. We're only surprised it isn't listed more often in his roll call of honours beside his F1 and Indycar titles.
There's more, of course. Much more. The 1985 Rally Sprint is another cracker, this time featuring Clubman Metro 6R4s… and Thierry Boutsen, then of Arrows. Who else would you expect?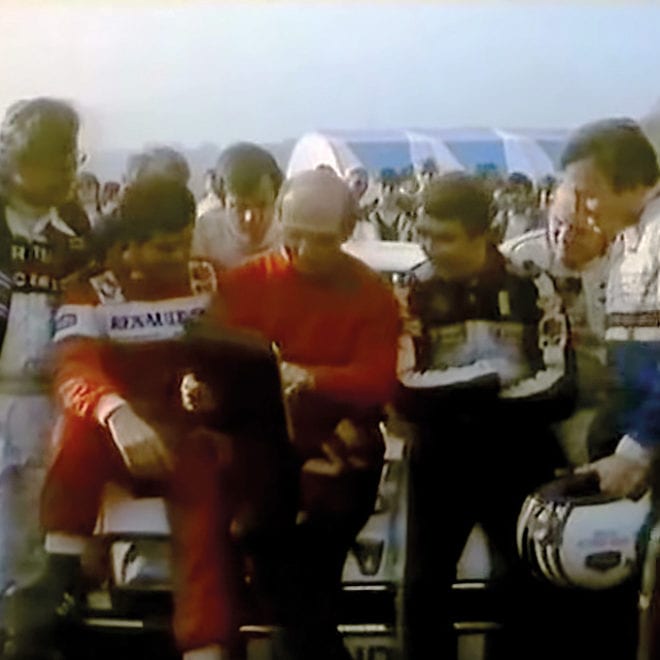 Murray's interview with Mansell starts as you'd expect. Modern TV people, take note: "Nigel, you were a lot slower than I expected you to go, what happened?" 'Red Five' blithely ignores the jibe and explains how he came inches away from hitting a spectator in the woods: "I just hope he's more frightened than I am." To which Tony Pond replies: "You just have to switch your mind off." Spoken like a true rally driver.
And while Malcolm Wilson has told us about his 1979 roll, he says he can't remember much about 1985. Really, Malcolm? You got lost on the special stage and took a wrong turn… "I'm lost without my navigator," he sheepishly tells Murray. "I just completely forgot. That's bad news, isn't it?" You could say that, Malcolm.
Goodwood's Members' Meeting rally sprint will be ripe for such shenanigans. Just a shame there isn't an autotest and 10-lap race to make it a real competition. Now there's an idea… Now watch these…
1983 part 1 rally stage
https://www.youtube.com/watch?v=VO2VX_tDmaU
Autotest
https://www.youtube.com/watch?v=Vkt50iKuHN4
Race
https://www.youtube.com/watch?v=tXlMbP-uQt4
1985 rally sprint
https://www.youtube.com/watch?v=rcyvknlWE3E
---

Rally sprint memories
Some of the stars of the stages share their recollections with Simon Arron
Damon Hill "It was quite early in my career [1986, his third season of car racing, his first in F3] and, after I'd won, I remember making some crass comment on TV. I was asked about my long-term ambitions, looked over at Martin Brundle and Derek Warwick and said, 'I want their jobs'. I meant I wanted to get to F1, but it came out a bit wrong and I could see them giving me daggers.
"I suppose it was a bit like the Race of Champions today. I enjoyed the rally bit, which reminded me of how it felt to go off the track in a single-seater, but mostly I was just baffled and bemused. I suppose I was a bit embarrassed too. I mean, I ended up beating legends like Stig Blomqvist, which surely wasn't supposed to happen? It was great fun, but I have a suspicion that I must have had a particularly good Toyota MR2…"
Malcolm Wilson "I think I know why you're asking me! My 'Murray Walker moment' [he rolled his Ford Escort in front of the cameras in 1979] earned me lots of publicity, albeit for the wrong reasons. The early ones I did were just a straight fight between rally drivers on a special stage, no autotests or racing. I don't think I took it as seriously as I did the conventional rallies, but it was flattering to be invited – and Esgair Dafydd was such a great challenge. I wasn't ideally prepared in the year that I crashed, mind, I'd only finished building the car the previous day and would have driven down to Wales through the night…
"I did one of the Austin Rover events at Donington [1985], when race and rally drivers came together. There was an element of us wanting to do better than them, and vice versa, but apart from the fact we did a race in Montegos I don't recall much. I'd doubtless remember more if I'd won…"
John Watson "They were just a bit of fun – nothing that was going to make or break anybody's reputation. I think it was much easier for the rally drivers to adapt to a track than it was for some of us to adapt to the stage, partly because they were so used to mixed-surface events. If I'm honest my natural style probably didn't suit rallying, because you needed to make the car move around. In 1985, we used Metro 6R4s on the rally stage and I was beginning to think I was getting a handle on things. Watching rallies, I'd noticed how drivers liked to cut corners, so I thought I'd try it. The difference was that they'd have somebody alongside them, letting them know it was OK to cut. I was unaware that there had been a tree at the apex or that its stump remained, but was now covered by grass, so I smacked into it and it acted like a launch ramp. I can't recall how many times I went over, but it was the only time in my career I rolled a car…"
Martin Brundle "I always felt it was geared slightly towards the racers. The rally guys could smash us on the special stage, but that tended not to be very long. The racers were surprisingly good at autotesting too, but I remember some of the rally guys getting to the top of Paddock Hill Bend and getting into a 45-degree drift, simply because that's how they drove. I do remember pulling the handbrake in a Metro 6R4 at Donington, in an effort to make it turn, but all that did was lock all four wheels and I went straight on. The 6R4 was an angry little beast, pretty much as wide as it was long – equally happy going in any direction.
"Back then we had only around 16 grands prix per season, without the social media machine that now surrounds the drivers. That's why I admired Michael Schumacher – and now Sebastian Vettel – for doing the Race of Champions at the end of the year. I'd think, 'You've just done a full GP season. D'you really need to go to Mexico to do that?' But I've probably answered my own question, because I'd be there at Donington or Brands on a freezing November morning, thinking it was a really good idea."