Days to remember
Driving a classic car is a pleasure and a privilege, but steering one on the right track is simply glorious. Here are some of the best
Owning the right car can open doors to competing at some of the world's greatest events, and bring about the huge range of travel options that go with that. But on the other side of the coin, there are few finer feelings than rocking up to a famous circuit with your pride and joy gleaming and ready for a day of on-track action.
Track days may be largely considered a modern pastime, for cars far more steeped in technology. But that's not true. The combination of a classic car and a circuit steeped in history can be unbeatable. Here are a few great options to get to know your time-tested machinery in some rather special settings.
Spa-Francorchamps
If it's not already definitively the world's greatest race track, it's certainly up there.
The ribbon of asphalt through the Belgian Ardennes is 4.3 miles of God's own race track, snaking around woodland and the natural contours of the land.
While it's not quite the same as it once was – when it ran as an incredibly fast 9.4-mile blast between the villages of Francorchamps, Malmedy and Stavelot – the modern GP circuit still offers a bit of everything. The tight La Source hairpin opens the lap ahead of the famous climb up Eau Rouge, before the tricky sector two with the high-speed changes of direction around Pouhon-Campus-Stavelot.
Top tip: Ron Simons, owner of RSRSpa track days: "Spa is a beautiful circuit, and very good to learn to drive on. It's wide, flowing, fast and is also a very controlled environment, with modern safety and run-off. Eau Rouge/Raidillon is still perhaps the most famous and feared corner in the world. It's blind at the top and very fast with the change of direction in the middle, but it's amazing. Spa itself can be quite heavy on your car's brakes, but you do have the long straights to help cool them. Plus the old track is still there on the local roads, including the original banking at Stavelot. You can visit all the sections of it. It's like a time capsule."
Availability: RSRSpa has 10  track days at Spa-Francorchamps, running from May through to November. Entry starts from €695, but there are membership schemes that offer discounts.
---
Thruxton
Not the most obvious choice, but easily one of the most enjoyable circuits to drive, and it has a growing historic following, too.
The Hampshire track is Britain's fastest, with average lap speeds regularly exceeding 110mph in modern machinery, and many classics often worry three figures.
You don't have to thrash your car quite that hard and you're unlikely to reach those average speeds during a regular track day, but it shows the full-blooded potential the circuit has. Church corner, which follows the flowing Noble/Goodwood sequence is often taken flat-out in most things and is one of the most exhilarating turns in the UK.
The re-branded Thruxton Historic race event – formerly the track's 50th anniversary celebration, has been gaining momentum and will enter its third year this season.
Top tip: Ben Norton, multiple Formula Ford winner and circuit instructor: "Start slow and build the speed up. Because Thruxton is very fast and flows beautifully, you need to build up both a feel for it and some track knowledge. The areas surrounding the circuit are all very green, so there aren't a lot of landmarks to spot braking points and distinguish corners. It's all about corner sighting. To get the best from it, you don't want a car that's too stiff, but something that rides the bumps nicely, and doesn't rebound too much. Get that balance and you'll smile all the way around."
Availability: Thruxton runs 13 track days up until October. Prices start at £149, and there's also a host of driving experiences, such as supercar drives and skid pan.
---
Brands Hatch
As steeped in history as it is pretty, Brands Hatch is both one of the most recognisable racing locations in the country and one of the most challenging. A track of two halves, the Indy Circuit offers a short, sharp test – it may only consist of five corners, but nailing the ideal lap can be an endless pursuit of perfection. The longer Grand Prix loop offers a totally different high-speed experience, running through the woods with blind corners, crests and elevation changes aplenty. It can only be used for a limited number of events per year due to local noise restrictions, so a track day on the GP loop always has a special feel to it.
Top tip: Pete Alexander, Brands Hatch chief instructor: "The two layouts at Brands are very different. The Indy is a technical layout, and there's very little time where nothing is going on, which makes it a busy lap that's difficult to perfect. The GP is stunning, and it's easy to forget you're at the same track! Historic cars tend to move around a lot on the GP section, which makes it hugely exciting. It's about carrying speed and being smooth. There's also a lot of grip out the back, as the racing line is less polished. The Indy can be quite rough on the left-hand tyres due to the long, fast corners, so rotating tyres can help extend your running."
Availability: Brands Hatch is one of the most popular venues in the country for track days, running a vast amount of events from January to December. Prices start at £85 for a half day session on the Indy Circuit. There are only three 2020 track days on the GP loop, with prices starting at £399.
---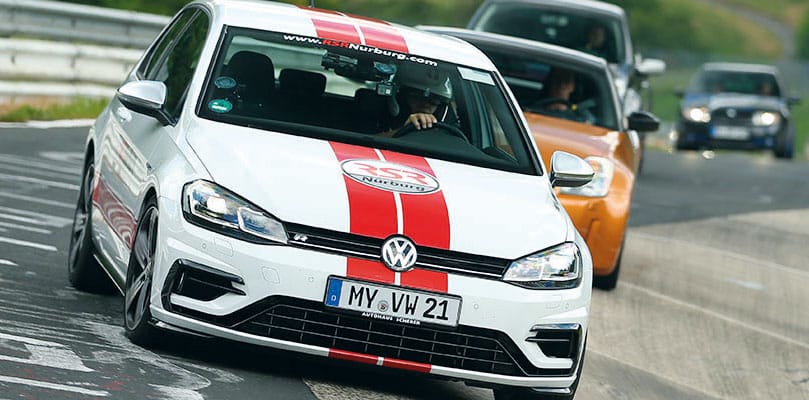 NÜrburgring
Perhaps the world's best-known circuit, and once again, a track of two halves – or perhaps seven eighths – considering the mammoth difference between the somewhat neutered GP loop and the expansive Nordschleife.
At 12.9 miles, the Nordschleife is an extreme test for a car of any age, but it's also magical. It can transport you to a different era as you thread the needle through 170 corners, winding through acres of stunning woodland. It brings back memories of classic road races, and there's nothing like it.
Top tip: Ron Simons, owner of RSRNurburg track days: "The Nordschleife operates differently to pretty much any other circuit, and we'd suggest people stick to the organised track day events, rather than the 'tourist day' laps, which aren't covered by many insurance policies. The circuit itself is stunning, but you must respect it. Go in with the right mentality, not aiming for lap records and relying on virtual knowledge gained on the PlayStation. And get tuition, it's probably more important at the Nordschleife than anywhere else."
Availability: RSRNurburg has exclusive use of the Nordschleife on July 20, with prices starting from €895. It also offers rental and tuition on the track's public days.
---
Goodwood
The West Sussex track is perhaps the most storied in the country, playing host to legendary drivers and cars throughout its 72-year history. It's also the resting place of sporting giants such as Bruce McLaren and Jack Brabham, so there are few venues more spiritually linked to the sport's golden years.
Track-wise, the circuit hasn't changed much since its 1948 opening, retaining the fast sweeps and little run-off that test both a driver's and a car's capabilities to the limit.
Top tip: Sam Hancock, professional driver coach: "There are two keys to Goodwood. First, you have to build up your speed because the same thing that makes Goodwood great is the thing that makes it challenging. It's an old-school, unadulterated circuit, so it doesn't have the modern safety and run-off areas. Build confidence and understanding and go for the time later in the day. It's also about momentum. A lot of the corners are more like kinks and are faster than they appear. Most brake too hard for Turns 1-4, it's better to brake less and trail a bit in to help rotation. It's only really Lavant and Woodcote where you have to kill the speed to make lap time."
Availability: Goodwood offers track and test days from February through to October, with prices generally starting at £250.