Driving Colin Chapman's Lotus Esprit
Colin Chapman's final company car was by no means a regular fleet vehicle. Andrew Frankel takes the Lotus boss' Esprit Turbo on the track to experience the original factory modifications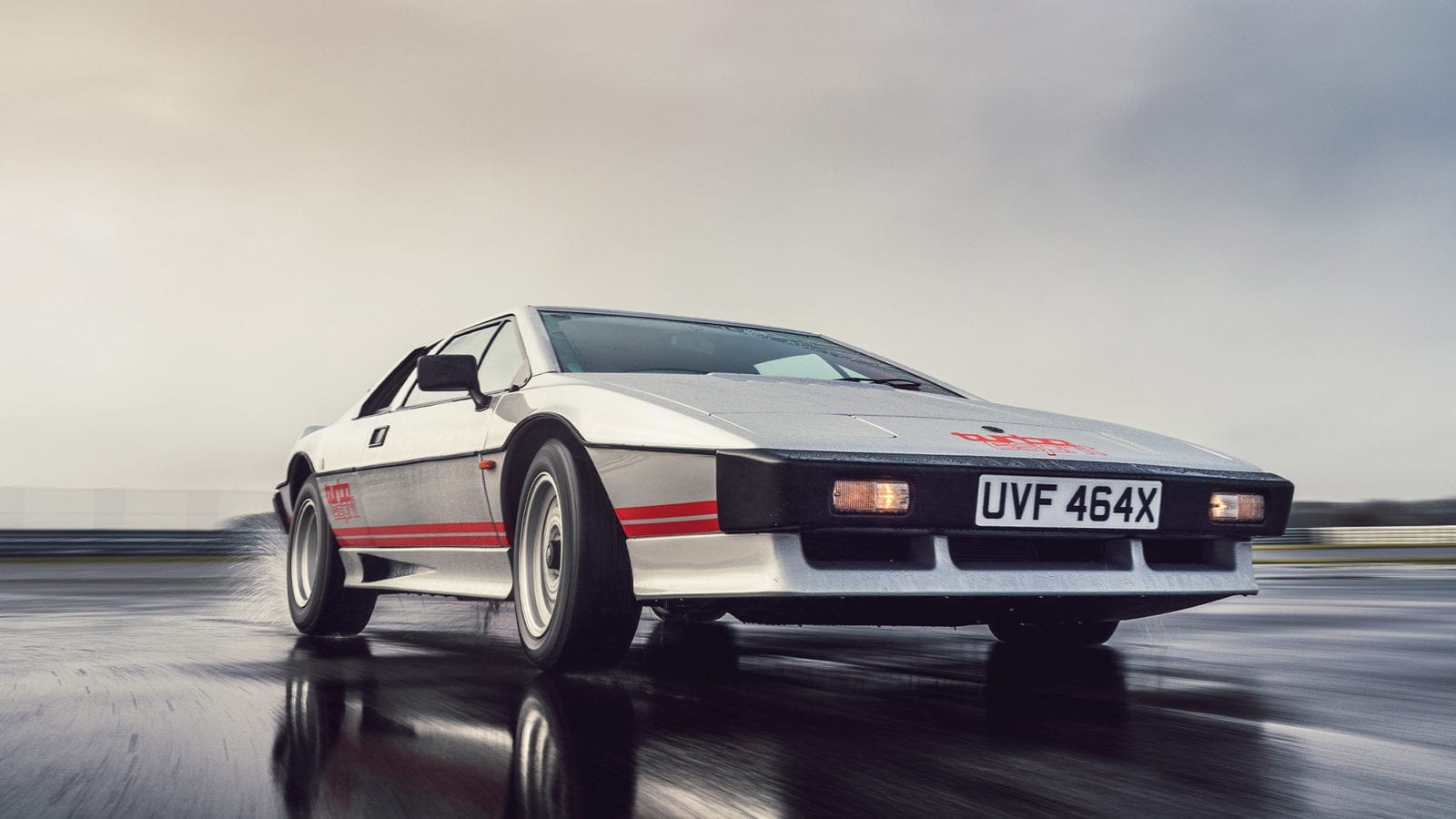 It would be hard to underestimate just how bad things must have been at Lotus the day Margaret Thatcher came to visit on August 5, 1981. The original plan had been for her to come to the factory at Hethel, but a prime minister's schedule is a busy one, so in the end it boiled down to a photo op at Norwich Airport a dozen miles away.
For props to represent its racing and road divisions, Lotus had brought a Formula 1 car and Lotus Esprit, the latter of which Thatcher drove and was reported in the local press to have said, "I was tempted to drive away in it." The Formula 1 machine was the Lotus 88, perhaps the most revolutionary grand prix car in F1 history, boasting not only its famed twin chassis, but also a carbon-fibre monocoque that predated that of the McLaren MP4/1 (which usually takes the credit for being the first of its kind) and which was Lotus' own work rather than farmed out.
What Chapman may not have mentioned was that the 88 had never actually raced and now, having been slung out of the British Grand Prix little more than a fortnight earlier (as it already had at Long Beach and Rio earlier that season), it never would. His last transformative F1 car, the 79, had won Lotus its seventh constructors championship in 1978, but Team Lotus had been winless ever since and the 88, the car that could have changed the racing world, was already a museum piece.
If that was bad, over in the road car world things were more depressing. Global recession had decimated demand for expensive trinketry like a Lotus. The previous year the company had sold fewer than 400 cars, less than one third of what it had shifted just two years earlier. And 1981 was looking even worse – which, indeed, it turned out to be.
And then, as Chapman gripped and grinned with the PM, he would have known that the DeLorean project, in which he and his company were so intricately involved, was on its knees, and that public scandal and who knows what else would be the likely outcome. He would have been a man with the weight of the world on his shoulders that Wednesday afternoon at Norwich Airport.
But perhaps some comfort would at least have been derived from his company car, the very same Esprit that Mrs Thatcher had driven around some private airfield roads. It had been registered just four days earlier and even by Esprit Turbo standards was a special car. According to Lotus, Chapman had ordered it with lowered suspension and modified brakes, optional air conditioning and a roof-mounted Panasonic stereo and, most significantly of all, a prototype power-steering system.
"He would have been very happy that day," says his son and Classic Team Lotus boss Clive Chapman as we stand outside Ketteringham Hall, where Team Lotus had been based from 1967 until it folded in 1995, and which remains owned by the Chapman family. We're here because it was in its chapel and not at the Hethel factory that the early design work on the Esprit had been done. "Dad was a huge fan of the PM and would have been delighted to have got her there with the 88, which was his absolute passion at the time."
According to Lotus, the Esprit was also Chapman's final company car, though Clive also makes clear he had other machines at his disposal, such as a vast 450SEL 6.9-litre Mercedes-Benz which he used in winter because even then it had four-channel electronic antilock brakes. As for the Esprit, Chapman drove it fast. "It was around this time," recalls Clive, "that the doorbell rang at home, and Dad was confronted by a rather angry man from the village. He was furious because Dad hadn't slowed going down Catbridge Lane, which is very narrow. Dad had just managed to squeeze through the gap but the man said, 'Mr Chapman, you should have slowed down,' to which Dad replied, 'The width of the gap does not vary with speed…' Then again there were plenty of gaps he thought he could get through and didn't."
The car was sold after Chapman's death in December 1982 and was in private hands until last year, racking up just 11,000 miles in nearly 40 years of life. The car has only just been persuaded to run and I am the first outside the factory to drive it, and one of the last too before it goes into the workshop to be completely recommissioned.
Gallery
Colin Chapman's 1981 Lotus Esprit
It was found by Lotus UK sales manager Scott Walker and will become part of a heritage collection Lotus will keep on site and in running condition. "We want clean examples of the most important road cars. The racing cars we leave to Clive and Classic Team Lotus, and while there are some concepts and prototypes, we want people to be able to come, see and if possible use representative Lotus product." The list is more than 20 cars long, starting with a Mk6 and will extend up to the present day.
Scott is nervous about me driving the Esprit. He's just watched as I sent a couple of Elises as sideways as I could make them go for another story, including his immaculate, original 1998 Series 1 car, and fears I am about to dispense the same treatment to the Esprit. I don't know what he paid for it but it was plenty, and paintwork and possibly tyres aside, it is as it was the last time Colin Chapman drove it, or Margaret Thatcher for that matter. I suppose I'd be nervous too.
But I have no intention of flinging around this old, unrestored car. The track barriers are close in places, the weather is filthy and I have no better idea than anyone else what state the suspension or structure is in. When Lotus has been through it I'll come back and try to drive as Chapman probably did all the time, but for now it is  more than enough to gently stretch its legs on the same circuit on which it was developed over 40 years ago. In fact thanks to Lotus' new Certificate of Provenance scheme, which for £170 provides in a presentation box all the details the factory holds on any particular car, I discover I would be driving it 40 years to the day after it came off the line in Hethel.
The car comes in what should be metallic Silver Diamond paint but it has been poorly resprayed in something that is merely quite close, so that will have to change. But there are two other things I notice far more: first and most obviously that blood orange interior, which I can only presume was Colin's own choice. Second, the panel fit is absolutely superb for a Lotus of this era, and that is suspicious. I once owned an Esprit of precisely this vintage and could insert digits past the first knuckle in some of the gaps. Apparently cars used for press, marketing and other important purposes were built extra carefully, and it clearly shows.
You sink down and down into the car, marvelling at the Morris Marina door handles, Series III Land Rover switchgear, off-the-peg Smiths instruments and, most of all, how on earth Lotus got away with it. But it did. Turbocharging the Esprit turbocharged Esprit sales too: 1981 may have been a disastrous year for overall Lotus purchases, but in its first full year on sale the Turbo helped Esprit sales rise by over 200 per cent. The following year Lotus sold more Esprits than it had Esprits, Elites and Eclats the year before.
And that was simply because, though flawed, it was a good car. Easily the fastest and most powerful Lotus road car to date, it would eat Ferrari's potent but heavier, less grippy, more expensive 308 GTBi.
Colin's car has one of the early dry- sump engines producing 215bhp in theory, but it feels nothing like that today. It's only boosting to around 0.4bar, which I suspect is distinctly below par, but it still provides a pleasant surge, there's less lag than I expect and the gearshift finds its way easily enough around its gate.
The power steering is less successful. There's a story that it was only fitted through fears that Mrs Thatcher would find the unassisted helm too heavy but it may not be true. What is true is that it robs the Esprit of some of the feel for which the breed is rightly renowned. Even so, it's fun to splash around the track and, on what are probably mummified tyres, there's still enough shove at the exit to cancel the understeer and let it slide just enough to allow you to straighten the wheel.
Driving any Lotus Esprit is always a memorable experience, but driving this one in original, unrestored condition was something else. I am bothered neither one way nor the other that it was driven by Margaret Thatcher but to think of Colin Chapman gunning it down Catbridge Lane and winding up the locals does make me reflect. What was his mindset at that time? Could he see a way forward for himself, his company, his race team? On these, we will never know. I hope that if nothing else, his Esprit Turbo with that extraordinary interior did at least afford him a few moments of pleasure and light relief. That would be something we would now both have in common.
---
Colin Chapman's 1981 Lotus Esprit statistics
Price £70,000 (today for exceptional condition example)
Power 210bhp
Torque 200lb ft
Engine 2.2-litre turbocharged four-cylinder
Gearbox Five-speed manual
Weight 1148kg
Max speed 152mph