Mercedes voyages into the unknown with 2022 F1 rules
Since 2014, Mercedes-AMG has been the benchmark for Formula 1's V6 Hybrid era. But, as Damien Smith discovers, that doesn't mean the grand prix powerhouse is slowing down in its quest for a record-extending ninth constructors' championship this season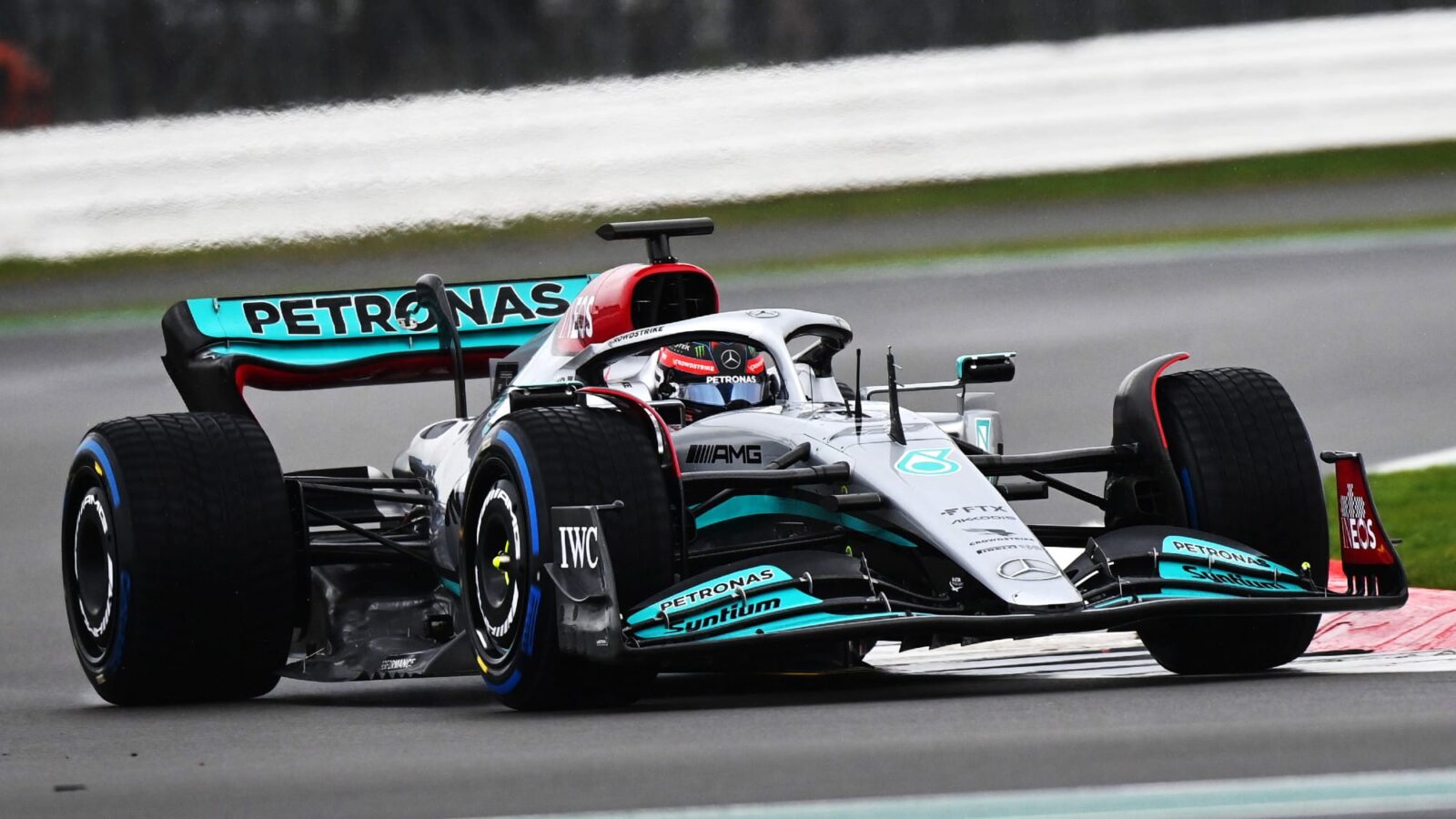 So will these new Formula 1 regulations deliver what they're supposed to and improve the ability of grand prix cars to actually race each other in 2022?
"Good question," says Mike Elliott, the man charged by Mercedes-AMG to lead its technical team towards a target of a record-extending ninth straight constructors' title, while also powering Lewis Hamilton to what he missed by a race director's whimsy last term: a record eighth drivers' crown. "My gut feeling is the regulations will improve the racing," says the technical director (right). "Aerodynamically, there will be some benefits, but I don't think they will be as big as we hope for. There may be some signs in the [new 18-inch Pirelli] tyres that they will also help with the racing. We just need to wait and see."
We will, because Elliott doesn't know for sure. No one does, in the wake of the biggest F1 chassis rules reset that he or just about anyone can remember. 'We just don't know' has been a running theme this pre-season. Testing will give some clue, but the teams, drivers and the rest of us will only know the true shape of F1 when the lights go out on the Bahrain Grand Prix on March 20.
For Mercedes, motivation won't be lacking in the wake of how last term concluded. "The end of the season was disappointing," says Elliott. "From my personal point of view, I'd love to have seen Lewis win that eighth championship. For me it would have meant more than winning the constructors'." That speaks volumes about this team's dedication to Hamilton, in what was Elliott's first season F1newerain the big chair following his accession early last year when James Allison was promoted to a new management role of chief technical officer. "It was stressful last year, but it was also highly enjoyable," says Elliott, before adding that perhaps the second bit was mostly in hindsight… "I spoke to Shov [Andrew Shovlin, trackside engineering director] at the end of the season and he said he'd really enjoyed the last few races, just because it was an opportunity to be tested and see how you coped under that pressure. From my point of view, the team coped really well. It was good to see, as is how we've reacted to what happened at the end of the season, how we've pulled together and got on with developing this year's car. That's really pleasing for me."
In one sense, you'd assume some within what is arguably the greatest team in F1 history – certainly statistically – won't care too much about the quality of the racing if most of it plays out far in the wake of Hamilton and his new team-mate George Russell. That's how it's been for Mercedes during much of the hybrid era, until Red Bull and Honda started firing properly last year. But as Elliott's admission highlights, F1's clever engineers are also hardcore racers – and they love a proper scrap. That's why they relish the challenge of this new rulebook.
"This is the first time I can remember in my career that you can't just carry over a chunk of what you already had," Elliott explains. "It's all starting from new. What we were presented with was a CAD model of the car that F1 had developed to improve overtaking. So all the teams started from thesame place. That hasn't happened before. To work from there has been a challenge. But as engineers that's what you want."
'Levelling up' is much in the news these days, but it has real meaning in F1. Sure, Mercedes and more recently Red Bull have been the best teams of this hybrid era by far – but there's a genuine belief that cannot be taken for granted this time. "The playing field has changed," insists Elliott. "You've got the budget cap, which you can look at as a leveller. We've also got the aero testing restrictions, which depending on where you finish in the championship gives you a different amount of [wind tunnel] runs. So we're all starting from the same model in the aero world, but we've got fewer runs than anybody to deal with that. Us and Red Bull, we're probably pretty similar in that regard, but the likes of Ferrari probably have more than 10% [more running allowed] and at the back of the grid you're talking 20%." How significant might that be? You guessed it: we'll have to wait and see.
Still, this is Mercedes. It's hard to imagine the team, split across the chassis department in Brackley and the HPP powertrain division in Brixworth, is about to drop the ball. It's up to the midfield teams to step up and reach its level. Can that really happen? Is there still a possibility for someone to 'do a Brawn GP' and come out of the traps with an edge? Let's not forget it last occurred when the team that would soon morph into Mercedes-AMG ran its infamous double-deck rear diffuser at the dawn of the big rules change season of 2009 (above).
"The chance of someone finding a loophole is always there," says Elliott. "The way the regulations are constructed is different to what we've had before and so the risk of there being loopholes and people spotting avenues is much higher. That's a concern for everybody."
Although of course, there's every chance it will be Mercedes that finds the loophole…
"Again, my way and the team's way of thinking is we just keep our feet on the ground and keep looking for all the opportunities we can find. In terms of innovation, one of the things about the rules is in trying to set a shape into the cars that will have a decent wake for the cars following. It has meant the cars will visually look quite similar. There will be interpretations, but the fact you're given the base shape [means] there isn't scope for the complexities we've seen in the past. In my position having gone through the rules over the past two years, it's really difficult to know what the outcome will be, and we just have to react to what we find."
The teams are existing in the second year of the cost cap, which has tightened to a baseline figure of $140m (with an asterisk against that regarding the cost attached to the three sprint races that will run this year). So is Mercedes, one of the few teams now being forced to spend much less on F1, beginning to feel the pinch? "All the teams are," says Elliott. "We've been lucky to be a well-funded team and be able to buy into technologies we won't be able to now. But the reality is engineering is all about constraints, whether it be mass, packaging, how you balance aero and vehicle dynamics, what the drivers want. That's always existed and so has the cost balance. We wouldn't have done something that was hundreds of millions of pounds for a hundredth of a second. It just wouldn't have existed. So that trade has always been there, it's just a bit more to the front of the mind than it was.
"Engineering is all about constraints, be they mass, aero or budget"
We're having to make difficult decisions over whether something is worthwhile or not."
Pirelli's new lower-profile 18-inch tyres, up from 13 inches in a reflection of the larger tyres car manufacturers increasingly prefer for the road, are a big unknown quantity – despite the wealth of data that passes from the Italian manufacturer to the teams. What has Elliott seen so far, before the new W13 has turned a wheel? "Difficult to say. We tested them with mule cars in winter testing, but that's very different to how they will run on the real cars. What we have seen so far would suggest it is going to be a good tyre, probably a step in the right direction for the ability to follow each other."
The other challenge that is enhanced during a rules transition period is balancing how much resource is committed to maximising what one has for the current season without compromising work on preparations for an all-new rulebook. Elliott is quite open that it was a big challenge for his team last year in the midst of that fantastically intense battle with Red Bull. "Firstly, while the 2021 car was a carryover from the 2020 car there was quite a big aerodynamic reset to drop the aero loads, and all the teams had to focus on that," he points out. "You couldn't not focus on it. There was also a period when we were not allowed to work on this year's car either. We took some fairly difficult decisions early on to say we wanted to win the eighth title, but at the same time if you start on the back foot with a brand-new set of regulations that could be baked in for some time. So we were pretty aggressive trying to move resources into the 2022 car. The perfect outcome would have been to win both championships by the tiniest of margins because then you would maximise what you put in to the following year's car while delivering in 2021 – but for lots of reasons that wasn't quite how it panned out."
For Elliott personally, but for everyone at this high-achieving team, you sense a ninth crown (and the missing eighth for Hamilton) might well top everything achieved in the past, not only because of the 'redemption' angle following the Abu Dhabi blow, but more because of what it would mean in the context of such a big rules change. There's excitement tinged with obvious nerves as the team prepares to step into the unknown.
"My fundamental belief is you control what you can control and the rest of it is just stress, so there's no point thinking about it," says Elliott. "There's also a sense within the team that this is a brand-new opportunity to show what we can do and that's really exciting. On the flipside we've had a period of unprecedented success and there's a feeling that our risk of carrying that on is higher than if we hadn't had this reset. The feeling is it's a new challenge and it's exciting. Hopefully we'll come out in a good position and if we don't we'll try and push ourselves up again. That's the nature of the game."
"Lewis is the benchmark: he's been there and done it all before"
Finally, the drivers. Will the incoming George Russell benefit from stepping up in a year of a rules reset? Is it an advantage or disadvantage being team-mate to a man like Hamilton? (Elliott doesn't flicker at that.) "Lewis is obviously the benchmark, he's been there and done it all before. That's how you know where the car's at. We've seen what George did in the junior formulae and when he got his go with our car in Bahrain in 2020, and we expect and hope for big things for him. I'm sure he will deliver. I look at the driver line-up we've got and think there's no weakness there. We just need to give them the car to put underneath them."
Mike Elliott has worked in F1 for more than 20 years, having started at McLaren, then moved to Renault before joining Mercedes-AMG in 2012 as the head of aerodynamics. For all the science, such engineers imbued in racing also listen to their gut feeling. Right now, when so much is unknown, does he feel there might be more than two teams fighting week in, week out at the sharp end this time? "The answer comes back to the loopholes," he says. "If someone has found a strong one they will jump to the front and then it will be a question of whether it's easy to copy or not. Traditionally when you look at regulation changes they tend to spread the field out, not close them up. But it is different now. In the past you could argue that better funded or more capable teams have been able to get more out of a set of regulations that others. But with the cost cap and aero testing restrictions they might stop that. It's just so difficult to say. Let's see."