New Porsche 911 Dakar — off-road supercar dusts off the past
Almost 40 years ago Porsche set its sights on winning the Paris-Dakar Rally – and succeeded. Now a tribute to the go-anywhere 953, the 911 Dakar, has been launched, and as Andrew Frankel finds in the Saharan sands, it's so much more than an off-road toy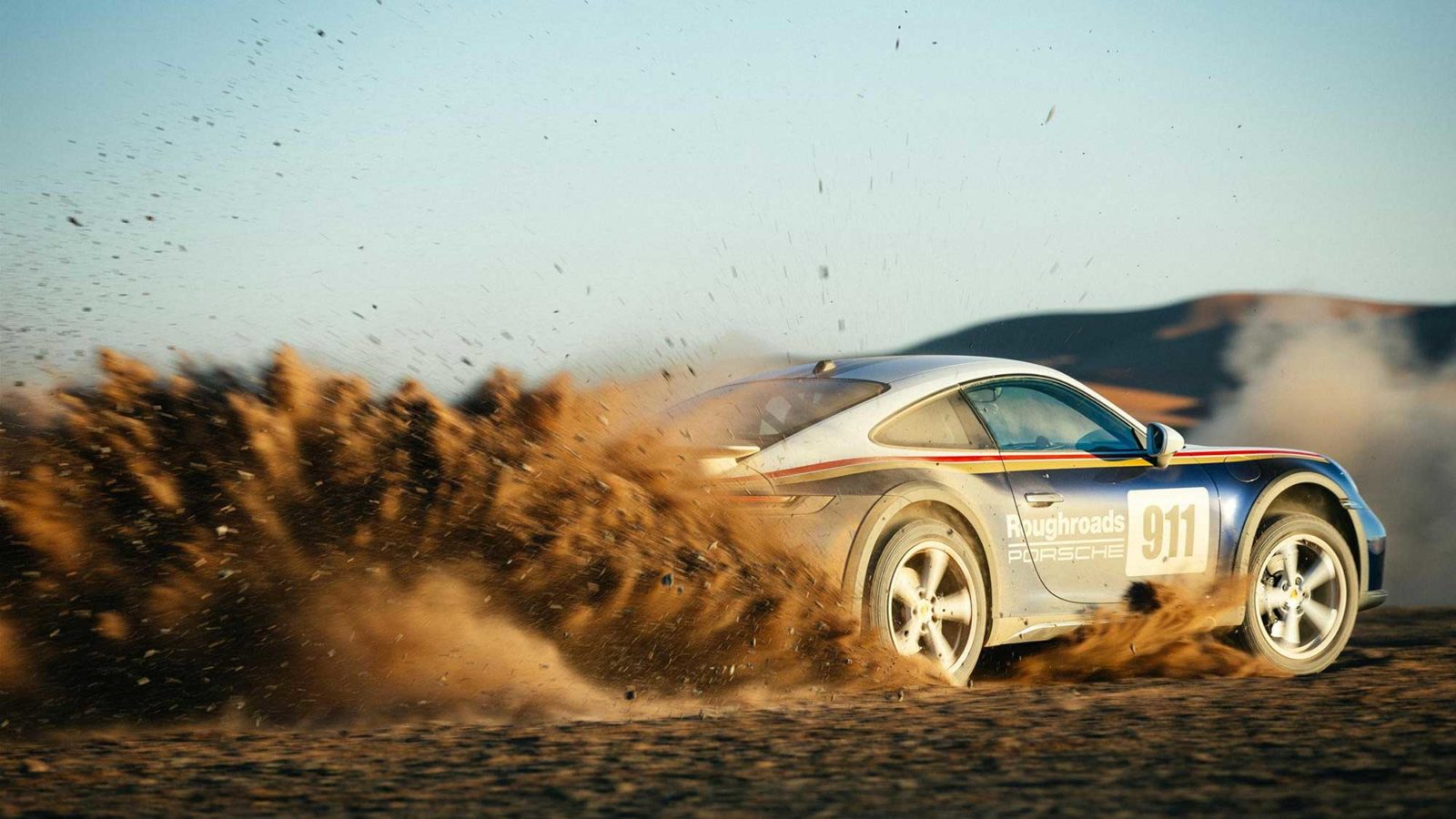 It's funny how history finds a way to pay dividends decades after it was made. To this day Jaguar continues to dine out on its rich history at Le Mans despite it being 30 years since it last raced there, not least by charging millions for recreations of its old race cars. Until recently, Aston Martin did the same. Ferrari has just used the word 'Daytona' in a car's name for the very first time to recall its 1967 two-fingered response to the GT40 on Ford home turf at the famed Florida race track. And had Jacky Ickx not been very forceful – and had he not carried an immense amount of clout in Stuttgart in the mid-1980s, you'd never be reading this story and Porsche wouldn't have come up with yet another take on the 911 theme from which it will undoubtedly make countless bazillions of quid.
I'll explain. In 1979 Ickx was looking for a third act, after his multitudinous successes first in single-seaters, then in sports cars, and it was upon the then still new Paris-Dakar Rally that his gaze soon settled. Thanks to an ongoing relationship with Citroën and the thought that its hydropneumatic system might do quite well in the desert, he was able to line up for the start of the 1981 event. The Citroën lasted almost all three weeks in some the most punishing environments on earth, only to crash out almost within sight of the Senegalese capital; but by then Ickx was hooked, not just by the rally, saying "over the course of the event we discovered a new world, one which broadened our horizons and opened up our minds", but by the people he met along the way. When I met up with him in Saudi Arabia this January (where the Dakar has now relocated), he told me that not only was this 'third career' the one whose memory he cherishes most, but also that it changed him into someone he describes as "a less bad man". He would end up competing in the Dakar rally 14 times.
He won it outright in 1983 in a Mercedes-Benz Geländewagen and used that momentum and all his authority to convince Porsche that winning the most gruelling and therefore most prestigious rally of them all would be a major feather in the corporate cap, and catapult the company back to the forefront of this branch of the sport, a position it has not occupied since the 911's trio of victories in the Monte Carlo Rally from 1968-70.
The car intended to do that job was, of course, the 959 which had been unveiled in 1983 to coincide with the new Group B regulations but which was clearly not going to be ready to take on such an event the following year. So Ickx proposed a deal, lubricated by Rothmans money, to turn the 911 into a viable Dakar competitor. Three were prepared for the 1984 rally, entered on paper by 'Rothmans Team Jacky Ickx' but in reality as full works cars.
The result looked quite standard but was, in fact, anything but. Most notably it had four-wheel drive, a first for a 911 or, indeed, any Porsche based on a production passenger car. Its torque split was fixed at 31:69 front to rear and it had a manually locking centre differential. Double wishbone suspension replaced struts at the front (a 911 road car would not be so equipped until the current series GT3 was launched in 2021) while coils replaced torsion bars at the back.
An enormous 270mm of wheel travel was achieved. It came with a plastic roof, side windows, doors and rear screen while the rear seats were replaced by a 150-litre fuel tank to complement the already pretty vast 120-litre item in the nose. Such were the extent of its modifications it was even granted a new name: the Porsche 953.
The drivers were Ickx, legendary Porsche navigator, engineer and 953 chief development driver Roland Kussmaul and French professional rally driver René Metge. For Ickx the rally didn't start well, the electrics burning themselves out on day two in the desert. The car was repaired in situ but by the time he rejoined, there were 138 competitors ahead, many of them by several hours. So it tells you something of the will to win that burned within Ickx that he still came home in sixth place, winning more stages than anyone else including four on the trot, one of 380 miles at an average of over 110mph. And while Porsche would probably have rather Jacky won, they'd not have been too upset because Metge did the honours instead, as he would again in 1986 behind the wheel of the much delayed 959.
"Forget Nissan Qashqais, an off-roading 911 is much more my thing"
Why all this now? Because only all of the above explains what I'm doing, also driving a modified Porsche 911 through the Sahara desert, the best part of 40 years later. When I had seen Jacky in Saudi Arabia's highly convincing answer to the Sahara I'd naturally assumed Porsche would have wheeled him out for the launch of what it calls the 911 Dakar, but which I call the ultimate crossover: forget your Nissan Qashqais, an off-roading 911 is much more my kind of thing. But Jacky told me he wasn't going, grew coy when I asked why, and when I put the same question to someone at Porsche they said, "Ask Jacky," not knowing that I already had.
No matter: he may not be here but the car he inspired, this 911 Dakar, most certainly is. Some rally nuts at Porsche actually had the idea a decade ago and went as far as presenting it to board-level cheeses at the time, but proving the business case for a kind of 911 that had never been put into production proved a bridge too far. Only today, with Porsche able seemingly to do no wrong, were they prepared to take a punt on a limited-production run of 2500 units, all selling before a single review had been posted save China's allocation as its order books have yet to open.
"It feels unlike any other all-wheel-drive off-roader I've driven"
Costing £173,000 – almost twice as much as a standard 911 Carrera – the 911 Dakar may look like it's merely apeing the appearance of the original 953, but in fact it's deadly serious about the business of going off-road in general and crossing deserts in particular, even if it's a sentiment unlikely to be shared by customers.
Everything you might need for such a venture is either standard or optional. On the former list count the 473bhp motor from the Carrera 4 GTS, its double clutch gearbox and all-wheel-drive system. So far so not very remarkable. Add however a 50mm rise in ride height which can become 80mm at the press of a button or turn of a dial. Fully extended, it can still do 110mph off road. Its suspension has been softened and given far more travel while near indestructible bespoke twin carcass Pirelli Scorpion off-road tyres have been developed for it. It comes with the rear steer, engine mounts, lightweight battery and bonnet from the GT3 and braking system from the lowly Carrera S, partly because those tyres limit top speed to 149mph, but also because they're an inch smaller in diameter at either end so standard GTS discs, let alone carbon ceramics, won't fit.
Options include the £17,000 rally design kit where you get to deck yours out in Rothmans (called Roughroads for tobacco advertising reasons) or the Martini livery in which a works team entered the 1978 Safari Rally using a rear-drive 911. Porsche will also sell you a roof tent, sand ladders, a water canteen, mudguards and, for when a 30mm height rise is not enough, a carbon-fibre spade.
Specification
| | |
| --- | --- |
| PRICE: From £173,000 | POWER: 473bhp |
| 0-60mph: 3.2sec | ENGINE: 3 litres |
| WEIGHT: 1605kg | MAX SPEED: 149mph |
Despite all this it still feels odd to the point of incongruity to be turning into a desert in a 911. A fortnight earlier chasing the real Dakar in Saudi I'd done the same in an enormous Toyota SUV and it felt just fine.
What mode should I select? Porsche engineers spent 60,000 miles perfecting two new driving profiles, one to maximise traction during extreme off-roading, the other called Rallye to allow maximum freedom of artistic expression for those who regard pointing in the intended direction of travel in such conditions as entirely optional.
So Rallye it is, which makes the Dakar 911 overwhelmingly rear-wheel drive until you really, really need some torque at the other end to pull you out of the sandy hole you've just dug yourself. And at once it feels unlike any other all-wheel drive off-roader I've driven. Because it's so much lighter, so much lower and with such a vastly superior power-to-weight ratio to all but the most potent SUVs, it seems closer in feel to an Ariel Nomad than a conventional off-roader.
Right now we're on gravel which means that in Rallye mode oversteer is never more than a twitch of a foot away. You can do it by creating a corner – because you could be in Algeria before you found an actual one, or in a straight line. Indeed you can accelerate from zero to as fast as you dare in one balletic, sweeping slide from side to side. You can experiment with yaw angles to your heart's content and so long as you have enough revs left to provide a stab of power to straighten you out I can't imagine how you might lose control. The 911 is 60 later this year – it has indeed come a long way from its reputedly treacherous early days.
The dunes are trickier because if driving a street 911 on gravel with stones pinging out of the wheel arches like machine gun fire feels strange, aiming one at the summit of a yellow Mount Olympus feels little short of just plain wrong. But if I'm to get to camp tonight, there doesn't seem much choice. And even I can sense when it's time to stop messing about, so its off-road mode for the engine, gearbox, stability control and torque distribution and a handful of brave pills for me.
"Out here momentum is your only ally, and a fickle friend it is too"
Driving on sand is as different a discipline to driving on mud as it is to driving on a road. You'd never park pointing down a steep muddy slope for fear of your car sliding away; out here that's the only place to park. Stop even on a level surface and when you try to set off again, the 911 will move, but only straight towards the centre of the earth until its belly hits the sand. And if you've already extended the suspension so you can't raise it and try to crawl out on stilts, you're going to need Porsche's ladders, spades, a great deal of sweat and probably another vehicle with a tow rope to get going again.
Out here momentum is your only ally, and a fickle friend it is too. Extend the principle too far, carry too much speed over the top of a dune, and you'll nose in and write the car off. I know this, having done precisely that 15 years ago in a Land Rover in the same desert, resulting in egg all over my face and a headache that didn't quit for three days straight.
But the 911 is so much easier to drive. The combination of its relatively light weight, considerable power, ultra-low (by SUV standards) centre of gravity and purpose-built tyres means you take on things you'd not look at in the kind of car more usually found out here. The Porsche just goes further, faster. And when it comes to turning through the arcing bank of a dune, a traverse that might send a taller, narrower off-roader toppling all the way to bottom, you just attack it and power through, sending up a wall of sand.
Do this for two days and, because it is a world to which the 911 Dakar is so wonderfully adapted, it's easy to forget it's also a world almost none of them will ever visit. And the inconvenient truth is that on the public road there's no question those tyres stiffen the ride, raise noise levels and rob it of the kind of grip you might normally expect any 911 to provide.
But here's the thing: you don't have to have them. For while Pirelli was developing the Scorpion, so too did it make unique summer and winter tyres for the 911 Dakar. And if like me you live at the end of a rutted track, where the snow can get so deep we all keep old Land Rovers in our sheds just to keep moving, I find the idea of a truly all-season 911 with proper ground clearance, debadged and without all those look-at-me decals truly compelling.
Out here, frolicking in the Saharan sand it looks like a toy, and it is. But it's so much more, or at least has that potential. Indeed it looks likely to expand further on the strength that has kept the 911 in production for six decades: as it enters its seventh, the world's most versatile sports car has just found a whole new dimension in which to operate.