1965 French Grand Prix race report: A hat-trick of wins for Clark
Jim Clark leads unchallenged from flag to flag in a scintillating performance; BRM's Jackie Stewart finished 2nd with John Surtees 3rd for Ferrari
The French, like the British, seem unable to decide on a real home for their classic Grand Prix event, and after fluctuating between Reims and Rouen for some years, this year it was taken down into central France to the Circuit of Charade, near Clermont Ferrand. This is a circuit constructed by the Automobile Club d'Auvergne in the hills near the village of Charade above Clermont Ferrand, using some of the existing public roads and sonic stretches of new road.
To anyone who has never seen an Italian mountain circuit, the Clermont Ferrand circuit would appear to be mountainous, but in fact it is only in the foothills of real mountains, though it does plunge up and down in an exciting manner, and is almost devoid of straights, putting a premium on driving and road-holding as well as acceleration up to 100mph.
As is usual by mid-season, the Grand Prix "circus" had settled down, as regards cars and drivers and the picture was very much like that at Spa, except for the Brabham team. Gurney had a 32-valve Coventry-Climax V8 in his car and Denis Hulme took Brabham's own car, with old-type Climax engine. The reason for this was that Hulme was due for another Grand Prix drive, and he knew the Clermont Ferrand circuit
well, having raced on it previously with F2 cars, whereas Brabham would have had to learn from scratch. Clark also had a 32-valve Coventry-Climax V8 in a Lotus 33, and Spence had a 16-valve flat-crank Climax V8 in another Lotus 33. The spare Lotus was Clark's 1963 car, brought up to Type 33 specification as regards suspension and steering and fitted with an early Climax V8 with cross-over exhaust system. All three cars were still fitted with pin-location wheels and knock-off hub caps.
The Ferrari team were unchanged, with Surtees haying the choice of two V8 Ferraris and Bandini having the flat 12-cylinder car, while the BRM team were the same as at Spa, Graham Hill having the use of the development car as well as his regular car and Stewart in his usual car, with tartan upholstered seat. McLaren and Rindt had the two works Cooper-Climax V8 cars and Ginther and Bucknum were in the Japanese Honda cars, Ginther having the use of a spare car as well as his own car. All three Hondas were fitted with new drive-shafts to the rear wheels, these being solid steel shafts with forged universal joint yokes on each end, the universals being needle-roller mechanical type.
Shaft length differences due to suspension movement was taken up by a spline-and-ball sliding shaft within the hub carrier. To make up the field after the works cars were the Parnell and Walker teams, the former having Ireland and Amon to drive the Lotus 25-BRM V8 cars, as Hailwood was away motorcycle racing and Attwood was not yet recovered from his Spa crash. The latter team had the usual pair, Bonnier and Siffert in Brabhams, with Climax V8 and BRM V8 engines, respectively, these two cars still using Colotti gearboxes with complete satisfaction.
At the last moment Anderson was invited to join the field with his Brabham-Climax V8 to replace the Willment team entry of Gardner. It had been hoped to get Jo Schlesser into the French Grand Prix by borrowing a car from Willment, but all they could offer was a car with 4-cylinder Lotus-Ford engine, so the idea was dropped.
Qualifying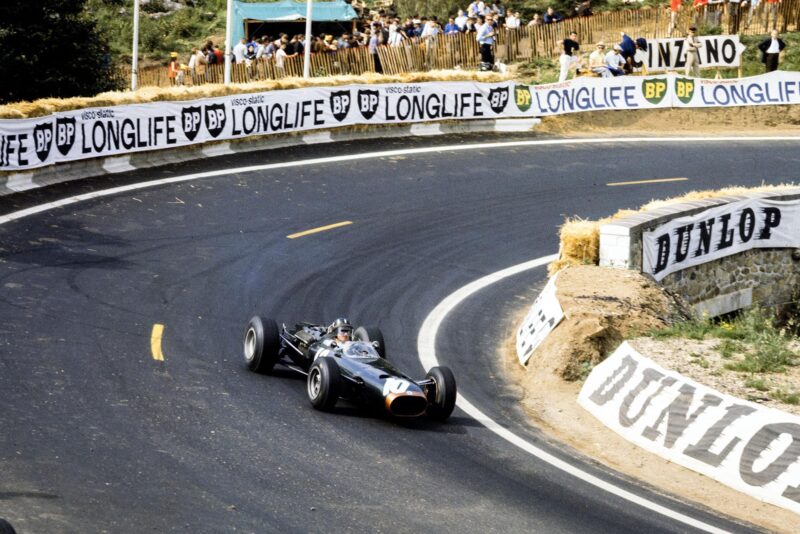 Practice began on Friday and there was a two-hour session in which a lot of drivers had to learn their way round this circuit which was new to Grand Prix racing, this being the first Formula One event held at Clermont Ferrand. For a change the weather was fantastically hot and as the standard for a lap time was from last year's F2 race it did not mean much, and it was a question of who knew the way round the 8.055-kilometre circuit, with its innumerable corners. For any driver having trouble out on the circuit the only way back to the pits was by the circuit itself, there being no internal roads and very few external ones.
Consequently there was a lot of hitch-hiking going on and when the rear suspension on Clark's Lotus collapsed on him he "thumbed" a lift on the back of Surtees' Ferrari. Graham Hill had a tense moment when the throttles on the spare BRM did not shut properly and he arrived much too fast at a corner, spun and struck a rock face, damaging the car badly and giving his neck another nasty jar and this incident seemed to put him off for the rest of the meeting. It was significant that of the six fastest laps recorded in this first practice period, five of the drivers had raced on the Circuit of Charade previously, the exception being Jim Clark, who was fifth fastest.
"There was a lot of hitch-hiking going on and when the rear suspension on Clark's Lotus collapsed on him he "thumbed" a lift on the back of Surtees' Ferrari"
Brabham's decision to let Hulme take his place was more than justified when, at the end of practice, the quiet New Zealander had scored FTD with 3min 22.0sec, against Stewart's 3min 22.1sec, a time which Surtees equalled with one of the V8 Ferraris. Just before the end of practice Ireland broke the Hewland gearbox on his Parnell Lotus-BRM and "thumbed" a lift with Bonnier, but they had not gone far, when the Swede's Brabham-Climax ran out of petrol! Shortly before, he had been in at the pits to have a tank mounting strap repaired. As practice finished they both "thumbed" a lift with Ginther, sitting on the back of the Honda, which caused someone to remark that they always thought the Honda was much too big for Ginther.
The results of the first day of practice were not at all according to the normal order of things for Surtees was third, Clark fifth, Gurney seventh and Hill fifteenth. On Saturday morning heavy cloud obliterated all the hills around Clermont Ferrand and gave no sign of lifting so that it looked as though the starting grid would depend on Friday's times, which would produce a very interesting handicap race. However, after lunch the clouds lifted just enough for visibility round the circuit to become reasonable and the road surface dried so that serious practice got under way.
While taking the BRMs back to the garage the previous day the mechanics crumpled the nose of Stewart's car so it now appeared with the cowling cut back shorter and having a larger opening. It soon became evident that this was being beneficial to engine temperature so it was decided to modify Hill's car as well for race day. Poor Graham Hill was right off form and had a lurid spin, without any damage fortunately, but it did nothing to boost his morale.
Meanwhile, Stewart was upholding the BRM banner magnificently and setting the pace, though Gurney was learning his way round and beginning to challenge. It soon became apparent that a lap time of 3 min. 20 sec. was going to be a respectable time and as the afternoon cleared up and dried, the lap times of the faster drivers got below this figure, Stewart and Gurney battling for honours, until Bandini joined them with the flat-12-cylinder Ferrari.
Surtees managed to equal Bandini's time, but could not beat it, which once again gave rise to speculation as to the time he could do if he had taken the 12-cylinder car, instead of preferring the V8 cars. Clark was just beginning to join the top group, with a lap in 3min 20.1sec, when the 32-valve Coventry-Climax engine broke rather disastrously. He got back to the pits slightly niggled about the fact that his car had let him down two days running, and went out in the old spare car. In no time at all he was below 3min 20sec, and then in quick succession he beat Gurney, Surtees, Bandini and Stewart, and recorded ftd with 3min 18.3sec against Stewart's best of 3min 18.8sec.
The Team Lotus troubles were not over for Spence was going a bit too quickly on new tyres and got into a big slide which ended with a bent suspension when he hit the bank. The Brabham team were not at all happy with their 32-valve Climax engine for it did not seem to be performing as well as the earlier engine in Hulme's car, the faster lap times being due to Gurney's superior driving.
Race
Race day was another gloomy scene, with low cloud over all the hills and frequent spells of heavy rain, but fortunately the Grand Prix was not due to start until 3pm on Sunday afternoon and there was hope that conditions might change. This proved true and while not warm, the weather was quite good by the time the cars set off for a lap of reconnaissance before lining up on the starting grid.
Clark was driving the spare Lotus, with early V8 engine, Spence had had his Lotus 33 repaired, Gurney had had his 32-valve engine replaced by a 16-valve Climax V8 engine, Surtees had chosen the earlier of the two V8 Ferraris, the 12-cylinder Ferrari was using the aluminium abbreviated nose cowling as at Monaco, in place of the normal fibreglass one, and Hill's BRM nose cowling had been shortened and the hole enlarged as on Stewart's car.
Ginther's Honda was using unequal length air intakes, tall ones in the centre, short ones at the ends of the V12 layout, while Bucknum's engine was using equal length intakes. The theory of the different length intake trumpets on Climber's engine was to try and spread the torque range of the engine.
"It almost goes without saving that Clark took the lead on the first corner and ran a way from everyone"
The starting grid was, unusual in having two Number 2 drivers on the front row, alongside Clark, while Graham Hill was back in the fifth row. After the warm-up lap Hill's car was having clutch trouble, and Stewart's throttles were sticking, and while they were cured, the clutch bother was not completely eradicated. As the cars moved up onto the grid proper the two Parnell cars had to be push-started to clear rich mixtures, and only just joined in, in time as the flag fell and the seventeen cars rushed for the first left-hand corner to start the 40-lap race.
It almost goes without saving that Clark took the lead on the first corner and ran a way from everyone, while Bandini took every advantage of his front now position to dive in behind Clark and hold second place for the opening lap, much to the annoyance of many drivers behind him. Stewart got by during the second lap and Gurney and Surtees during the third lap, but by this time Clark had pulled out a 6sec lead and was drawing away all the time, even though he was nursing the old Climax engine, dropping as low as 6,000rpm out of some corners. Ginther was holding sixth position, followed by Spence, McLaren and Hulme, but the second Honda died at the pits, having arrived with a very erratically running engine, indicating electrical or ignition trouble.
The Cooper team were in a poor way, for Rindt got too enthusiastic, hit the back of Amon's car, and spun himself off the road, and McLaren's car was handling in an odd way and he was losing ground on the leaders all the time. After only six laps it became very obvious that there were two "natural" drivers out in front followed by a lot of "worker" drivers, some, like Surtees and Gurney, working really hard. While Stewart could not keep up with Clark, he was leaving everyone else behind, but Gurney's car did not sound as if it was really on all eight cylinders, and down at the back of the field Graham Hill was driving without a clutch.
Ginther's Honda did not last long, a small electrical bonfire behind the instrument panel bringing him into the pits, to retire two laps later. Gurney's rough sounding engine had let Surtees take third place and everyone was beginning to "elbow" Bandini back down the field, both Spence and Hulme getting by him. At quarter distance, with the weather still dull and cool, Clark was well out on his own, outdriving everyone, while this year's phenomena Stewart was firmly in second place, driving with the ease and confidence of Clark. Surtees, was third, followed by Gurney, Spence, Hulme and Banditti. Then came Bonnier leading all the private owners as well as McLaren and Hill and Amon was a lap behind, having had a short pit stop.
On lap 13 Gurney shot into the pits to have a duff plug changed and get the engine on all eight cylinders again and on the next lap Surtees went by with his Ferrari V8 engine "blubbering" at peak rpm. Spence had his injection pump cut-out in the middle of a series of bends and the sudden cessation of power caused him to spin, luckily without any damage. He got going again, but had dropped to eighth place and was plagued by intermittent cutting-out for the rest of the race. Gurney rejoined the race a lap behind the leader, started motoring really hard, set a new lap record and then blew the engine up, so that was that.
Meanwhile Hulme was driving a nice tidy race and was securely in fourth place, though a long way behind Surtees. The Ferrari was not happy, for the rectifier had broken away from its mounting down by the alternator and it was dangling from its wires. On lap 16 Surtees made a quick pit stop while the rectifier was cut off and he went on his way with the alternator pushing ac current into the battery, instead of d.c. and the "blubbering" and misfiring got worse. Surtees was driving very hard round the corner and in spite of the handicap of a sick engine he kept ahead of Hulme's Brabham-Climax.
By half distance Clark had a comfortable 15sec lead over Stewart, though he was still nursing his engine and Stewart's BRM engine did not sound as crisp as when he started. Surtees with the sick Ferrari was still third, a long way back, followed by Hulme, Bandini, Graham Hill, Siffert, Spence and McLaren, the only other runner left being Anderson, who had been lapped by the leader.
Bonnier had had the toothed-belt drive to the alternator break and his battery had gone flat, Ireland had retired with his gearbox stuck-in one gear and Amon was out with fuel feed troubles. After Clark had lapped him McLaren gave up the unequal struggle with the poor handling of his Cooper and retired, and by 30 laps it looked as if Hulme might win the race for the first three cars all seemed a bit fragile, the third place Ferrari sounding awful and it was only the determination of Surtees that was keeping it in third position.
"Hill must have felt at an all-time low, for he should have been at the front of the field, but it had not been his meeting right from the start"
When one looked back on some of the stirring French Grand Prix races witnessed at Reims in the past, this 51st edition of the classic of all Grand Prix races was a dreary procession of mediocre and sick cars. The only enjoyment being the driving prowess of Clark and Stewart, and the determination of Surtees. On lap 34 Clark lapped Hill setting a new lap record as he did so, and the BRM driver must have felt at an all-time low, for he should have been at the front of the field, but it had not been his meeting right from the start of practice.
With only three laps to go Bandini had a big slide, struck an earth bank, and before he finished the lap a rear wheel broke off and he skated down the road in a shower of suspension parts, to come to rest unscathed but shaken. After what Colin Chapman describes as a "typical Clark race," leading from starting flag to finishing flag, the 51st French Grand Prix finished with the feeling that something had hit Grand Prix racing very forcibly and made it crumble. Clark and Stewart finished almost 30sec apart, after another Scottish demonstration and Surtess brought the sick Ferrari into third place, followed by a lucky Hulme, for the oil pressure had disappeared from his Climax engine during his last lap.
Trophées d'Auvergne—Formula Three—10 laps—80.55 kilometres
Before lunch a Formula Three race was held in which a large entry of French cars took part as most of the serious British exponents were at a race in Italy. American Tommy Hitchcock did a good drive by winning the race in spite of losing the lead at one point when he spun on the slippery surface.