1983 British Grand Prix - Rather dull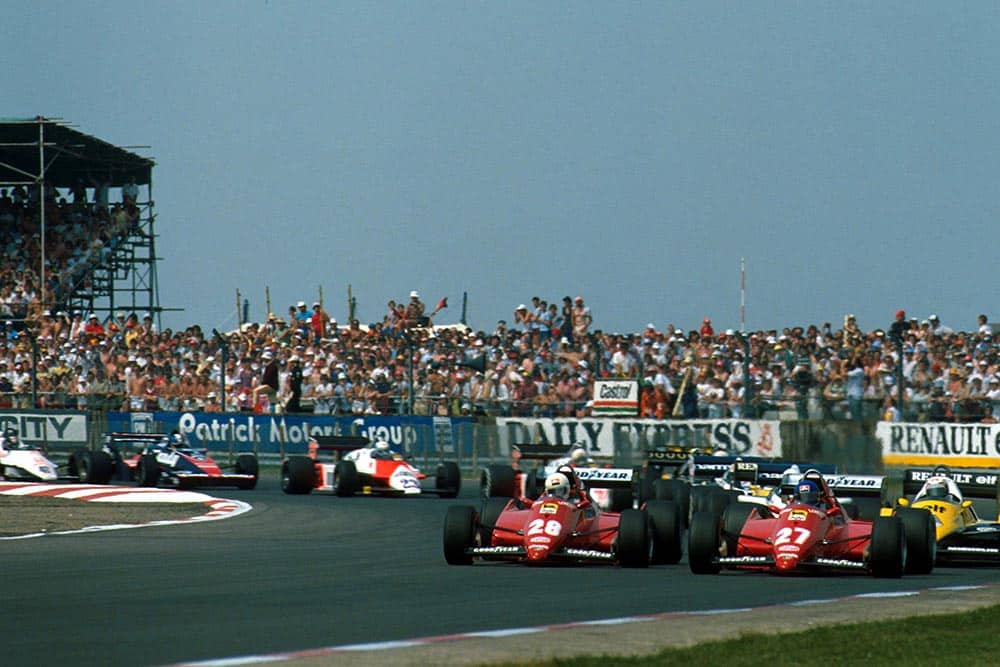 Rather dull,  Silverstone, July 16th
The last Formula One race was on June 12th, a gap of five weeks in mid-season being an eternity for the enthusiast to wait, but for the teams it was a welcome break to get stuck in and catch up on the build and design programmes. Apart from continual tyre-testing sessions, new cars were built, new cars designed and the new McLaren-Porsche project saw the first experimental car doing some trials on the Porsche research test-track. When practice for the British Grand Prix began on Thursday morning there were new cars from Brabham, ATS, Lotus, Renault, Ferrari, Arrows, Osella and Toleman, while the Spirit-Honda was making its first appearance in a Grand Prix, after its tentative run in the Race of Champions.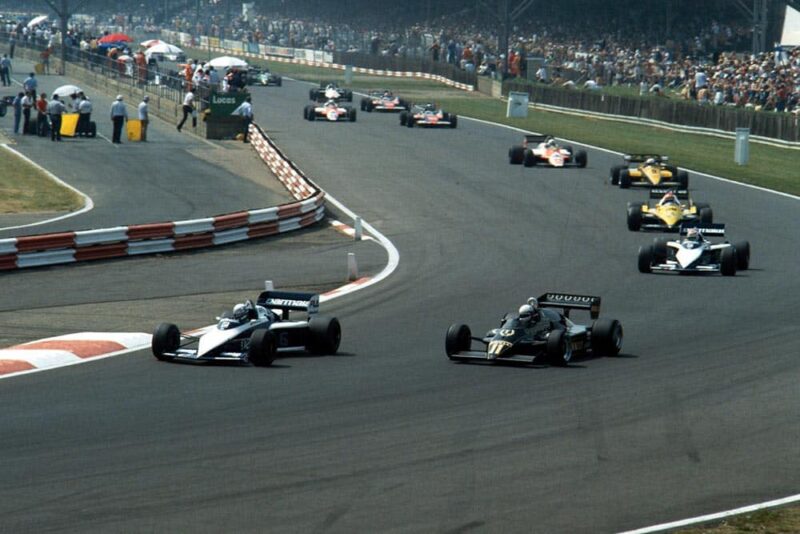 The July heat-wave was still at its height and while it was splendid for the spectators and the party-goers, it was hell for the team personnel, the drivers and the mechanics and worse still for tyres, engines, turbochargers, oil and water systems. On a racing car everything runs very hot anyway, for horsepower is work and work develops heat, and on a high-speed track like Silverstone horsepower is the name of the game. During the first hour and a half, which is for test and practice purposes in readiness for the hour of qualification timing in the afternoon, there were all the usual troubles of engine electrics failing (Tambay-Ferrari), turbo-chargers failing (Winkelhock-ATS), constant misfiring due to a fault somewhere in the electrical system (Mansell-Lotus-Renault), engine failure (Giacomelli-Toleman-Hart), and (Watson-McLaren), a petrol fire in the engine compartment (Alboreto-Tyrrell), while others went through all the fiddling-about processes involving changing springs, anti-roll bars, brake pads, aerofoils, damper settings and no on as well as continual juggling with tyres, whether they be Goodyear, Michelin or Pirelli. When all the "testing" was done there was a new name at the top of the list. E de Angelis (Lotus-Renault V6 t/c), for the new 94T Lotus was proving very successful, easy and light to drive and more adaptable to the Pirelli tyres than the 93T had been. At the front with the Lotus were the Ferraris, the Renaults and the Brabham-BMWs, the Alfa Romeos and Warwick's Toleman-Hart. It was a good start to proceedings but it was only a test-session suit was not important, though it could be significant. It was the hour between 1 pm and 2 pm that was going to count.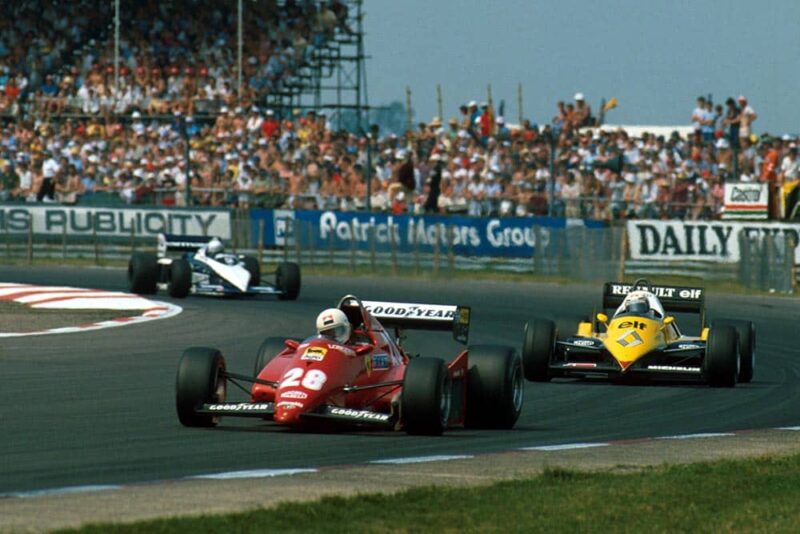 Having made their choice as to tyres, each driver had two sets marked with his number and we were off into the lap times that counted for the grid. Not only for the kudos of being on pole-position but also for the large sums of money that FOCA pay out from their £450,000 they get from the race organisers, for the higher up the grid you are the more qualifying money you get. With 29 drivers entered the last three were going to be unlucky as only 26 are allowed to start the race. The results of the qualifying hour did not provide anything startling, apart from de Angelis and the new Lotus still being up near the top, in third place, which was heartening for Team Lotus followers. While everyone was messing about during the morning a time of 1 min 11 sec was considered good, but in the afternoon when things got serious you had to be under 1 min 11 sec to be in the running. The first four were Prost (Renault), Arnoux (Ferrari), de Angelis (Lotus-Renault) and Tambay (Ferrari) all in the 1 min 10 sec bracket with Prost fastest in 1 min 10.170 sec. This was a staggering average of 150.423 mph. While the Brits all fell about in disbelief at an average of 150 mph round the Silverstone airfield the Europeans looked on slightly bemused for in their book the average was 242.082 kph which was no sort of historic landmark!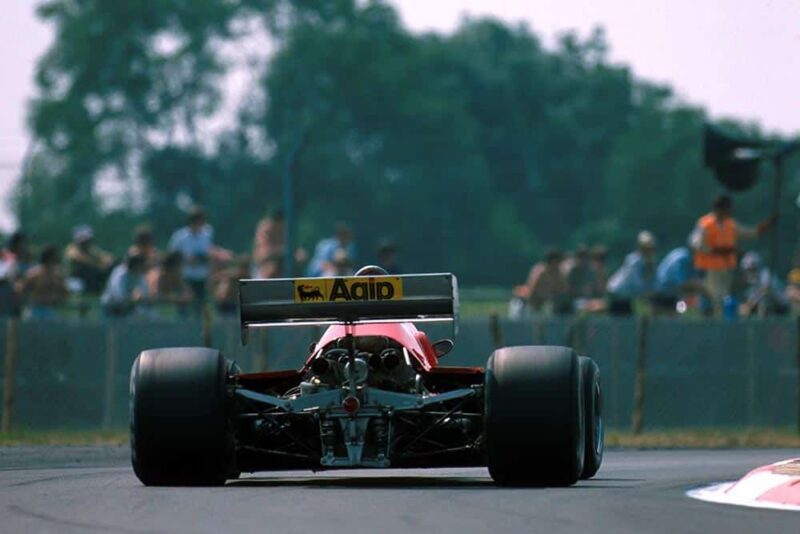 Noteworthy among the Thursday afternoon times were those of Warwick with the new Toleman in eighth place and Rosberg in eleventh place with the first of the obsolete Cosworth-engined cars. The Spirit-Honda qualified quietly in 23rd position, while Mansell was lucky to scrape in with his misfiring new Lotus-Renault t/c. When it was all over Jarier's times were scrubbed as he had failed to obey the red light on entering the pit-road, which requests that his car should be checked for weight.
On Friday morning the action started up again with all the usual problems and while de Angelis was right up at the front with the new Lotus his team-mate Mansell was in despair as the misfire was still there in his Renault turbocharged engine and although he kept going out to try it he never managed a full flying lap so he never recorded a lap time. While there was elation in the garage of car number 11, there was gloom in that of number 12. It was indeed testing-time. The Renault team were quietly confident, the Ferrari team were more than happy with their new cars but the Brabham team were not as fast as they felt they should be. In amongst all these big teams was the singleton ATS-BMW of Manfred Winkelhock, so Gunther Schmidt's little team was more than happy, while Warwick's Toleman was at the tail end of all these turbo-powered teams, So Brian Hart wasn't too depressed with the way his twin-plug 4-cylinder engine was going.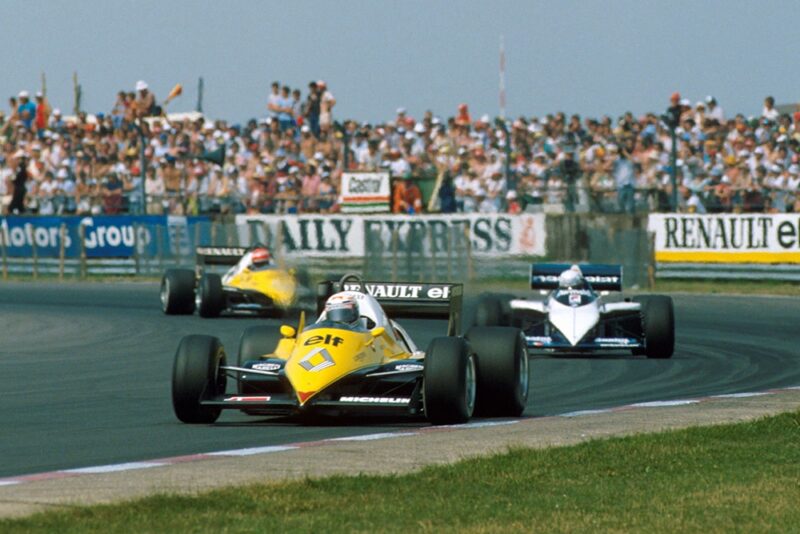 On a circuit with a 150 mph average lap speed potential there was little hope for anyone using a 3-litre Cosworth V8 engine to do more than collect some mid-field starting money and even then they needed the smoothness of a Niki Lauda or the flair of a Rosberg. The Longines timing people issued some interesting figures from a speed trap situated at the start. finish line which is not far from the exit of the Woodcote chicane, in fact, about at the point where the drivers have everything straight and lined up for the burst of acceleration past the pits. The speeds of the turbocharged cars varied from Patrese's Brabham at 146 mph to Warwick's Toleman at 142 mph, with the Renaults, Ferraris, ATS and Alfa Romeos in between.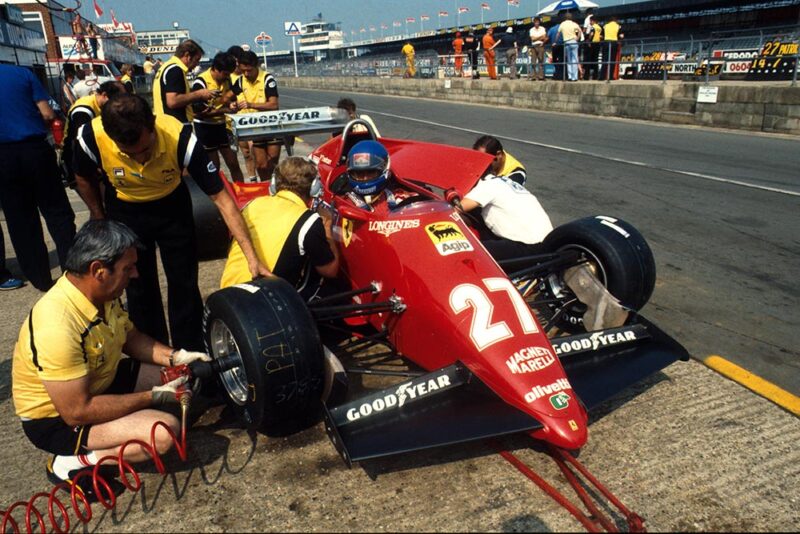 Fastest Cosworth user was Lauda at 139 mph with Laffite and Alboreto down at 133 mph. While this in itself was significant enough, the important thing was the acceleration from that point onwards. Leaving the chicane at 145 mph would mean passing under the Motor bridge at something like 165 mph and nudging 170 mph before standing on the brakes before Copse corner. Watching the cars eating the chicane with my colleague Alan Henry (AH) he remarked "Ronnie Peterson wasn't as quick as that through Woodcote in a Lotus 72 when there was no chicane, and we were very impressed then." To which I replied "Right, and I'm more impressed now." In a quiet contemplative mood AH and DSJ tried to visualise Woodcote Corner in 1983 without the chicane. It was difficult.
The heat of the day was fantastic, almost reminiscent of those races at Reims, Albi, Avignon and Angouleme in the 1950s when summers used to be really hot. But the heat of the day faded fast when the big boys turned on the heat (bhp) for the final qualifying hour. The target was 1 min 10.170 sec set by Prost the previous day. It was not a question of the big bag of money you got for being on pole-position, nor was it a question of pole-position being vital as at Monte Carlo, it was a question of national pride; it was Italian engineering against French engineering against German engineering from Munich. At the far end of the pits the Japanese were watching closely, and more than one German engineer from Stuttgart was paying close attention, for in a one-lap sprint such as was about to happen you could put everything you had on the line, nobody was going to hold back. In a 67 lap race there were all sorts of variables that could upset things which were out of your control.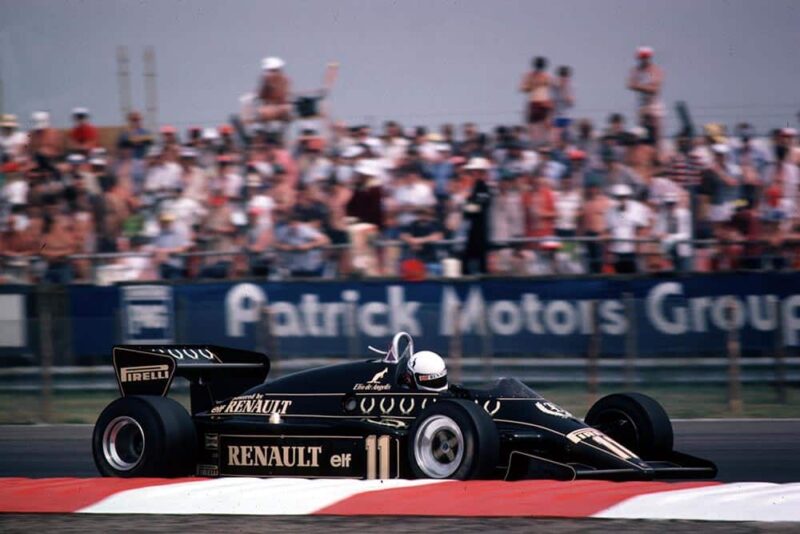 Renault had set the scene with 1 min 10.170 sec. Any lap worth considering had to be well under 1 min 11 sec.  As the average lap among the also-rans was around 1 min 14 sec you can see how serious it is up at the front. Cheever had a go but could not break 1 min 11 sec, Patrese had a go and scored 1 min 10.881 sec, Piquet could only do 1 min 10.933 sec. Tambay went out and did 1 min 10.588 sec, fastest so far, but not fast enough, Prost went out and did 1 min 10.808 sec and the feeling was that the track was slower than yesterday. Then Tambay went out on his second set of marked tyres and did 1 min 10.145 sec and there was joy in the Ferrari pit, they were on pole position. Prost went out again, but didn't break 1 min 11 sec. It was all over. Or was it?
Tambay was back in the pits and the Ferrari team took the tyres off the left side and replaced them with those from the right side used on the first run, and were craftily going to get three runs out of two sets of Goodyears. Cold air was blown through the intercoolers, water was poured over the aluminium radiators, and over the tyres and everything else that looked hot so that you began to think we had just had a rainstorm! Out went Tambay again, with enough rubber left for one flying lap, and he flew — 1 min 10.104 sec. We all fell about gasping and the debonair Frenchman was applauded loudly when he came back into the pits. But Arnoux, we'd forgotten about Arnoux. He had gone out early and done a leisurely 1 min 12 sec and then Mauro Forghieri had hidden him away in the shadows of one of the garages.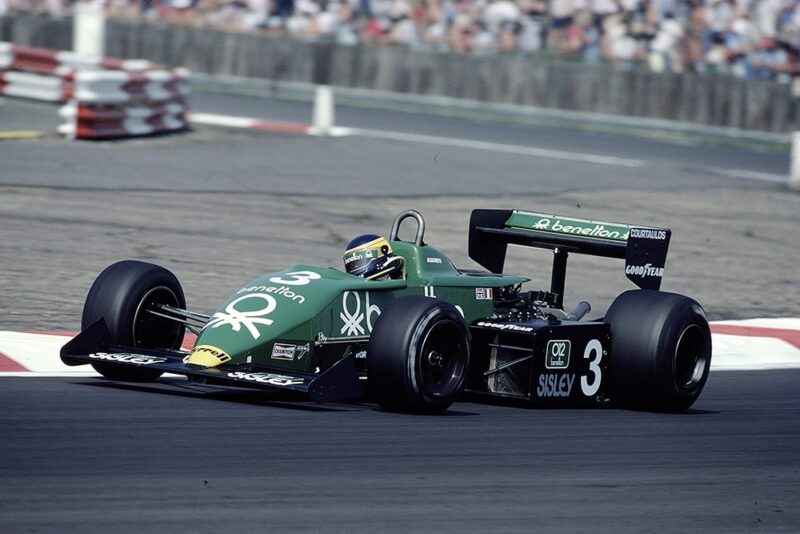 We were all smiling contentedly at Tambay's performance when we became aware of another red car being wheeled out onto the pit apron with little Rend Arnoux sitting in the cockpit quite unmoved. There were eight minutes of qualifying time left to run as he set off down the pit lane. Round he went on his warm-up lap and then he gave it his all, not smooth and elegant like Tambay or Lauda, but "harry flatters and devil take the hindmost." He crossed the line at 147 mph on his exit from the chicane and the Longines timer recorded 1 m 09.462 sec an average of 151.956 mph. We all fell about in paroxysms of joy, despair, amazement, bewilderment, or disbelief depending on whose side you were on, and little Rene climbed out of the new Ferrari 126C3 grinning from ear-to-ear and looking almost embarassed about the whole affair. The Regie Renault people had a pretty steely look in their eyes, the Munich men were looking on coldly, the Japanese were inscrutable, Brian Hart was looking on in admiration, and the Porsche people . . .
Those people who are not engineers or who are stuck with old Cosworth engines smiled indulgently and talked about "screw driver tuning" and "any w—-r could do that by just turning up the boost" to which I can only reply "Oh, really!" After that anything else was going to be an anti-climax and so it proved to be.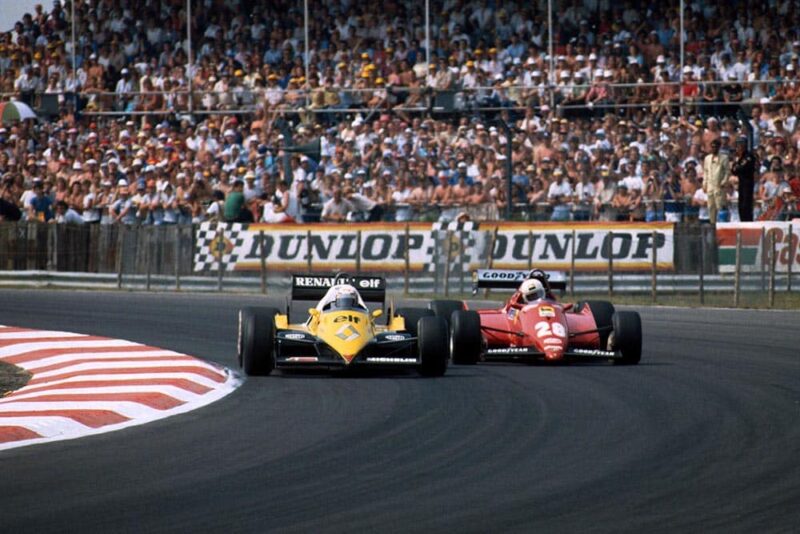 We should record that Acheson (March), Fabi (Osella-Alfa Romeo V12) and Cecotto (Theodore), failed to qualify. Ghinzani scraped his Osella-Alfa V12 onto the back of the grid with 1 min 17.162 sec, seven and a half seconds slower than the Ferrari, while Rosberg's Williams was the fastest Cosworth powered car with 1 min 13.755 sec nearly four and half seconds down on the Ferrari on one lap, and he had been really trying. In passing it must be mentioned that Frank Williams had withdrawn Rosberg from the official timing in this final session, in order to carry out some Goodyear testing with unmarked tyres. He was quite content with his Thursday time which gave him fastest Cosworth time, for what it was worth, and while the big guns were firing off their one-lap specials, Rosberg put in 19 flying laps with a best in the region of 1 min 12 unofficially.
All that was left now was to run the 67 lap British Grand Prix, one lap shorter than the last one held at Silverstone, but it wasn't as simple as that. There were races for Formula 3 cars, Saloon cars, Historic cars, MG Metros, and flying displays, circuit rides, parades of old cars and new cars. tributes to Colin Chapman, tributes to Tony Vandervell and his cars, parades of flags, music and chat over the loud-speakers, Royal visits to the pits, helicopters, and all the fun of the fair and Hampstead Heath. It wasn't until 2 pm on Saturday afternoon that signs of the British Grand Prix became apparent, though there had been a 30 minute warm up session at 11.30 am which caused quite a bit of havoc. Between 12 noon and 2 pm Ferrari changed the engine in Tambay's 126C3, its brand new one fitted overnight having shown signs of failing. Williams changed the Cosworth V8 in Laffite's car and Brabham changed the BMW engine in Patrese's car, none of which was on schedule. Overnight Lotus had fitted a complete new wiring loom to Mansell's Lotus 94T and the misfire disappeared instantly and the amount of work being done in the two hours before the track was due to open was enough to keep a small factory running for a month.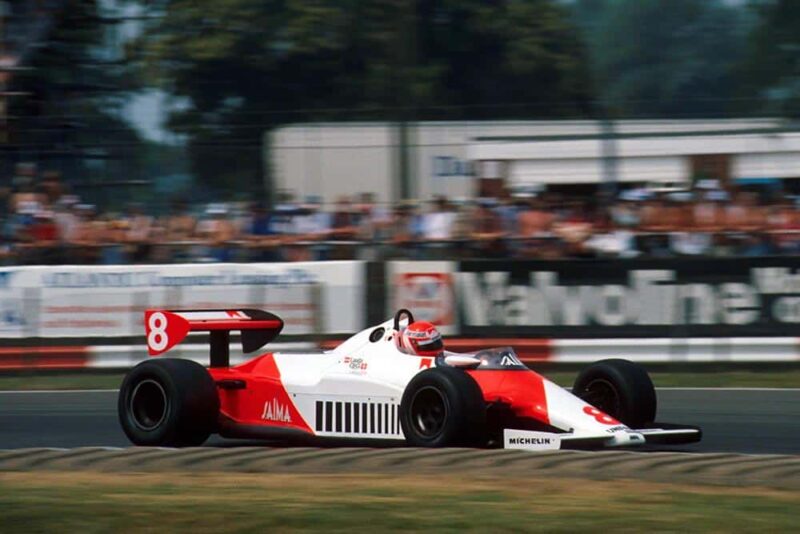 At 2 prn the timekeepers gave a prolonged blast on the Lucas horns, which must produce the most vulgar and nauseating noise in motor racing, to indicate that all was ready for the count-down to the 2.30 pm start. This vast multi-million pound extravaganza was at last about to begin, to run for every bit of one hour and 25 minutes. Only 25 cars assembled on the grid as Ghinzani's Alfa Romeo V12 engine died on him on the warm-up lap and he had to take the start from the pit lane. The two red Ferraris led the field round on the parade-lap, they all paused back on the grid and then they were off, scrabbling into Copse Corner in what looked like a multiple pile-up from behind, but which proved to be clean and concise and away they streamed on the opening lap led by Tambay's Ferrari. It was Ferrari all the way, or so it seemed. with Tambay comfortably ahead of Arnoux, followed by Prost, Patrese, Cheever, de Angelis, Piquet, de Cesaris, Winkelhock, Warwick, Johansson, Mansell and Baldi, all turbo powered, with Lauda leading the Cosworth brigade in 14th place, hotly pursued by Rosberg.
That was lap 1. On lap 2 de Angelis stopped in a cloud of smoke as his Renault power unit expired, and Giacomelli was into the pits with turbo trouble and one more lap and Cheever was into the pits with his Renault engine failing fast. The Honda quietly disappeared on lap 5 and on lap 9 Patrese came into the pits with enough white smoke coming out of the exhaust to proclaim finis.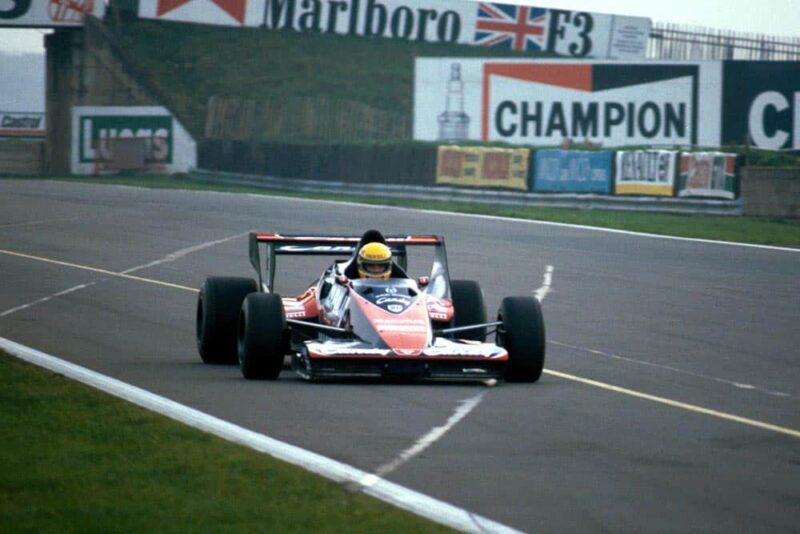 Those two red Ferraris were beginning to look majestic out in front but by 12 laps it was obvious that Arnoux was slowing, and in doing so he was holding up Prost who was in third place. In any activity but Formula One this could have been seen as "team-tactics" allowing Tambay to get away to a commanding lead, but Formula One isn't like that. Arnoux was in tyre trouble, and Prost wore him down and took second place on lap 14 and began closing on Tambay. At the same time Piquet in fourth place began to close up on Arnoux and as the Renault (Prost) and the Brabham (Piquet), were on Michelin tyres and the Ferraris were on Goodyears, it was pretty obvious that the French tyres were adapting to the conditions better than the American ones. These four cars were out on their own, with de Cesaris leading the mid-field pack which comprised Winkelhock, Mansell, Warwick, Lauda, Baldi, Watson, Rosberg and Jarier, with Laffite leading the tail-enders.
One thing that Tambay can do, that Arnoux cannot do, is to adapt his driving to the conditions prevailing, so when he found that the Michelin-shod cars were getting better traction than the Goodyear ones, he didn't panic, but played it cool. Arnoux is much less sensitive to such race subtleties and tends to make a had situation worse, rather than nursing it so while Tambay bowed to the inevitable and relinquished his place first to Prost and then to Piquet, he hung on in third, while Arnoux fell right away. Everyone of importance was planning on making a pit stop for new tyres and another half a tank of fuel. even the McLaren team joining in. When Warwick appeared in the pit lane after 27 laps it was assumed he was stopping early from his eighth place, but not so, his stop was terminal with gearbox trouble. Winkelhock started the refuelling stops, followed by Watson who lost time through being in neutral instead of first gear when they dropped him off the jacks, and then the leaders began to come in. Arnoux was in and out quickly, as were Prost and Tambay, the Renault pit work being very good, though naturally Piquet had gone by into the lead until it was his turn to stop. Alfa Romeo lost a lot of time for de Cesaris, and on lap 41 Piquet was into the pits. The Brabham team were superb and had the wheels changed and the air jacks up in 10 sec, while 21/4 more were needed to complete the refuelling. Piquet was stationary for 12.26 sec according to Longines and the Brabham lads received a well-deserved round of applause, but what a pity that none of the 85,000 paying customers could see it happen, for the pits are holy ground now. Two laps later the Lotus team did a superb job on Mansell, refuelling and changing wheels in 13 sec exactly and then we were all back to square one, apart from de Cesaris. Before the stops the order had been Prost (Renault), Piquet (Brabharn), Tambay (Ferrari), Arnoux (Ferrari), de Cesaris (Alfa Romeo), Winkelhock (ATS), Mansell (Lotus), Lauda (McLaren, and now it was Prost, Piquet, Tambay, Arnoux, Mansell, Winkelhock, Lauda. Apart fronm Mansell passing the dispirited Arnoux, much to the joy of the partisan crowd who overlooked the French engine in the British Lotus driven by the British driver, nothing changed through to the end of the 67 laps.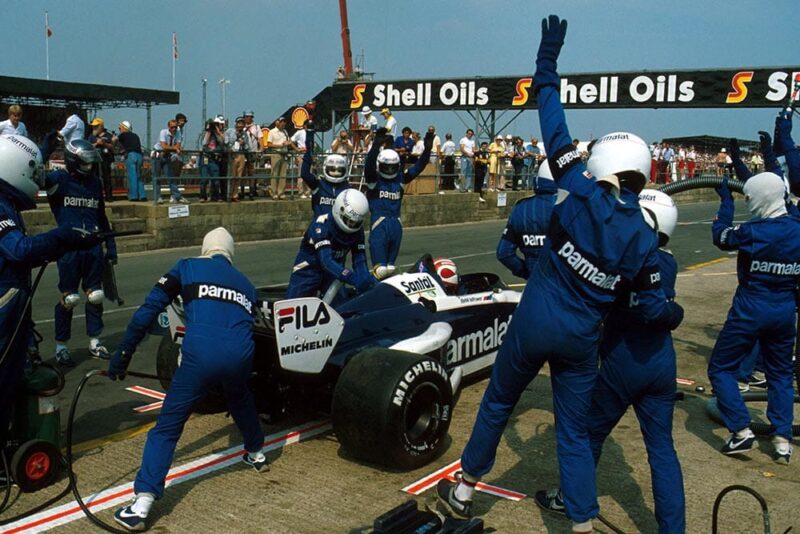 The quiet, shy Alain Prost cruised round in his usual unimpressive fashion, his Renault never missing a beat, followed by the sleek BMW-powered Brabham of Piquet and the red Ferrari of Tambay. From his starting position in 18th place Nigel Mansell had made full use of his new Renault-powered Lotus 94T to come steadily up to a well-deserved fourth place. As he said last year, when he was struggling along with a Cosworth-powered Lotus, and before Colin Chapman had done the deal with Renault. "It's not fair. we the Cosworth brigade drive our hearts out and all they, the turbo-powered brigade, do is swan around and just turn up the boost". He obviously found the right knob in the Lotus cockpit this time.
It had not been an exciting race, or even an enthralling one, and I'm not sure it was worth spending three days on the Silverstone airfield as far as the British Grand Prix was concerned. The pleasant grass and garden party atmosphere has gone from Silverstone, to be replaced by a mixture of industrial estate. housing estate and prison camp, not unlike Brands Hatch. I would not have missed the qualifying hour on Friday for anything.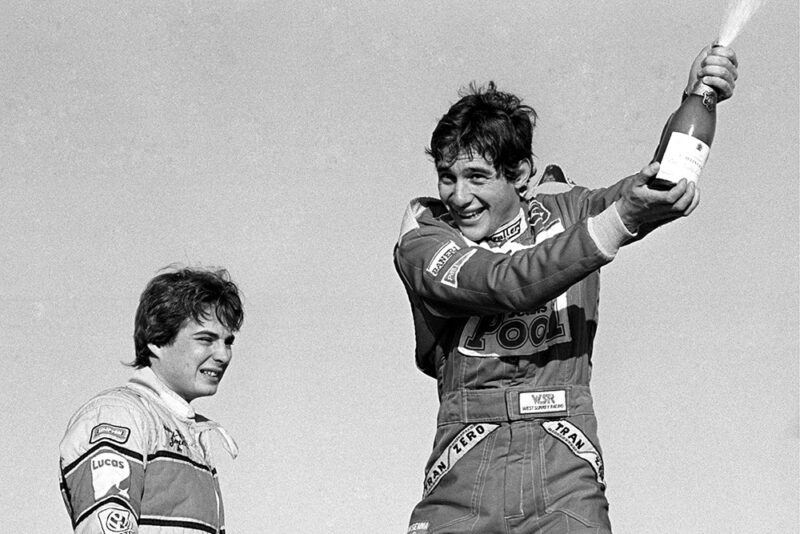 The whole thing was completely spoilt by that British sportsman Ken Tyrrell lodging an official protest about the petrol being used by the Renault and the two Ferraris, in respect of the water-injection on their engines. Strangely, the Lotus was not protested, even though it has the same water-iniection system as the works Renault and runs on the same ELF petrol. Tyrrell would appear to be challenging the mighty Agip concern of Italy and the ELF concern of France. which seems a very brave thing for a Surrey ex-timber-merchant to do. The Stewards had to deliberate over Tyrrell's protest, and finally they threw the protest out and pocketed his fee and we all went home.  DSJ