1990 French Grand Prix: A Touch of the Sun
Once you get south of somewhere like Avignon it can start getting very hot and the sun can get insidious, especially if it is tempered by a warm breeze and the suspicion of a haze in the sky. It is not the blazing heat that turns English people pink that is the danger, for blisters and sunburn are all too easy to see, but it is the gentle continuous heat that gets through to the brain without you realizing it. You suddenly become aware something is wrong with your surroundings, or your eyes and your brain are not co-ordinating, and you may have halucinations.
My first suspicions were aroused when I arrived at the circuit on Friday morning to find that the normal pattern of prequalifying had changed. The two Lola-Lamborghinis of the Larrousse team had qualified to qualify (!) as is normal, but third and fourth were the AGS cars of Tarquini and Dalmas, this being the team's home territory as the village of Gonfaron is only a few kilometres away from the Paul Ricard circuit. This meant that Roberto Moreno and Olivier Grouillard were out before anything serious begun. When I looked across the wide expanse of the pit lane and the starting grid and saw lush green grass (or so it seemed) all along the front of the open grandstands I began to wonder. The Paul Ricard circuit is built on one of the most barren and arid pieces of flat country in the south of France, even though it is in the midst of some spectacularly hilly and mountainous country; and there was lush green grass opposite the pits! A year or two ago the gravel and rock areas that surround the circuit were bright blue and I never believed it was the reflection from the sun because you could see signs of a paint spray having been used.
The circuit itself was in splendid condition, having been resurfaced and unlike some circuit organisers who have dramas when they resurface their circuits, the Paul Ricard people did a superb job; so superb that there was not a murmur from any of the drivers or teams about 'bumps'. A very pleasing barometer of the conditions was quickly evident on Friday morning when the two turquoise Leyton House cars were up in the thick of the running. Ivan CapeIli and Mauricio Gugelmin beaming with delight for at last the Adrian Newey designed car was responding correctly to aerodynamic adjustments and the drivers were not slow to profit. All along everyone knew that the team's problem was not 'driver trouble' and the narrow angle Judd V8 engines were never suspect, so the apparent slowness at previous meetings had to be something connected with aerodynamic or suspension adjustments, the sensitivity of the overall package being more critical than anyone was prepared to believe.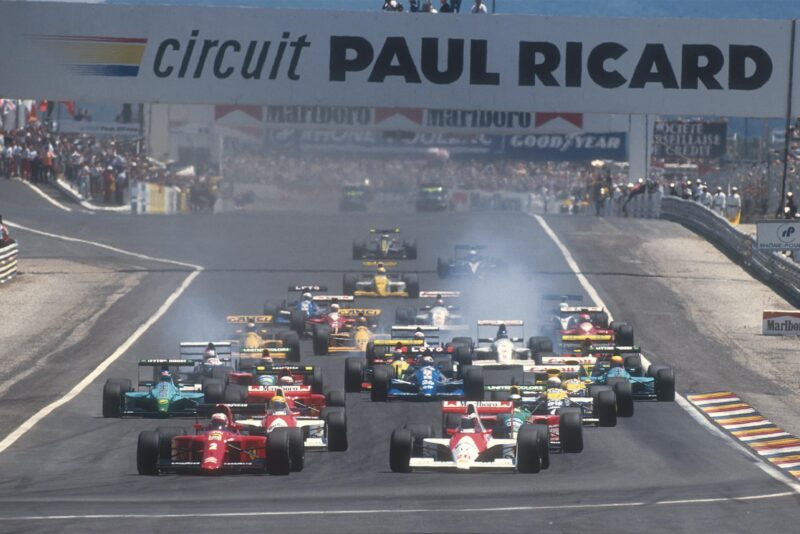 Another performance that caused an eyebrow or two to be raised was the consistently fast lapping of Eric Bernard in one of Gerard Larrousse's Lola-Lamborghinis, this relatively new young French driver overshadowing last year's French bright star, Jean Alesi, now considered to be a seasoned veteran of a full 12 months of Formula One driving. The second Lola-Lamborghini driven by Aguri Suzuki was not exactly slow either, being a bare half a second behind Bernard, but such is the pace up near the front of Formula One, that in that half second separating the two Larousse team cars were Nelson Piquet, Alessandro Nannini and Thierry Boutsen, front runners all.
In the short break between the Mexican GP and the French GP there had been interesting and busy activity at Silverstone, in a three day test session prior to the British GP, due to be run one week after the race at Paul Ricard. One often hears complaints about the Formula One drivers of today not doing other types of racing, or the teams being unable to support a non-championship event, but when you look at the season schedule of racing, tyre testing, circuit testing, experimental testing or just simply bedding-in new cars, it is not surprising that there is little time for anything else.
At Silverstone the Honda V12 engine for next year made a brief appearance, doing some initial running in the rear of a current McLaren chassis. Shake-down running was done by Alan McNish, though Senna had a short run and seemed more than satisfied with the basic feel of the new engine. So compact is this new Honda V12 that it is only fractionally longer than the existing V10 and with all the bodywork on the McLaren it was difficult to tell a V10 from the V12-engined car. Ferrari were going quickly with a new version of their V12, but it destroyed itself rather spectacularly and other teams were trying new bits and pieces, some of which could be seen in the Paul Ricard paddock. There is no slowing down in the technical pace of Formula One at the moment, and there is much in store for the future. The Brabham team had made their first contact with Yamaha engines, running a test chassis with the V8 Yamaha engine from last year installed, succinctly designating the car as a BT59Y, and at Paul Ricard their T-car had the completely new rear end fitted, designed around the new transverse gearbox unit which is mounted ahead of the final drive. In this package is a completely re-designed rear suspension and accoutrements. Stefano Modena used the T-car during practice, but relied on the conventional BT59 for the race, as did David Brabham.
Similarly, Williams used a new front suspension during practice, but reverted to the standard layout for the race. The new arrangement replaced the pair of coil-spring/shock-absorber units, operated individually, by a single unit mounted transversely above the pedal box with the suspension linkage from each wheel operating on one end of the spring unit, so that if both wheels rose the unit was compressed from each end. If only one rose then the force was transmitted to the opposite wheel through the floating spring unit; all to do with Newton's first law of motion.
The Mistral wind which always seems to be blowing at Paul Ricard was in a fractious mood, not desperately high but inconsistent as to strength and direction. At times it was a following wind down the back straight (which is these days only half its original length) and was enough to increase speed, but made the entry into the long right-hand sweep of the Signes corner a bit of a `tippy-toe' situation. Speeds before this corner were nudging 200 mph, with Alesi's Tyrrell just ahead of the McLaren-Hondas. Running into the wind along the pits straight the Tyrrell was well down the speed list, the 'grunt' of the Ferrari, Honda, Renault and Cosworth works engines making itself felt against the head-wind.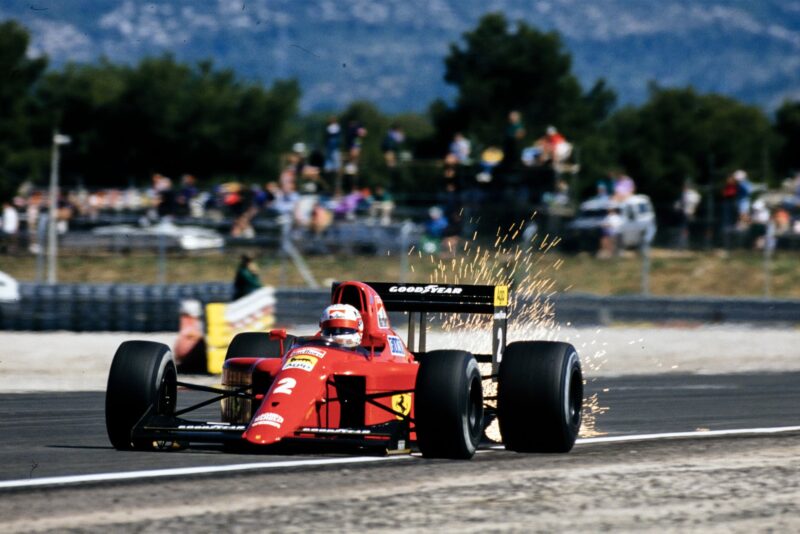 The first morning of practice ended with the situation suitably normal at the front, with Senna (McLaren-Honda) just ahead of Prost (Ferrari) and Mansell hard on their heels. In Friday afternoon qualifying the scene changed dramatically as Mansell put his Ferrari on pole position, ahead of Senna and Prost. With the number one McLaren sandwiched between the two Ferraris there was a tense air around the Woking team's pits, and more so when you looked down the order at the end of qualifying to find Gerhard Berger in the second McLaren-Honda in fifth place, sandwiched between the two Williams-Renaults of Patrese and Boutsen. It was beginning to look as though the opposition had got the McLaren team 'on the run' in spite of Honda using what they called their more powerful low-friction' engines, whatever that meant. As every engine designer endeavours to make his engine more efficient by reducing friction and thus not wasting power, one can only speculate on what Honda might be doing that others are not doing.
With Gugelmin a strong ninth and Capelli 14th things were taking on a pleasant disposition, but it was ironic that designer Newey had left the team a week prior to this performance. Similarly the Larrousse team were on a 'high' with Bernard 10th and Suzuki 13th only a week after Chris Murphy (the resident Lola engineer with the team) had left for pastures new.
On Saturday the wind was playing more tricks than usual and it was beginning to look as if there would not be much improvement over Friday's lap times. The normal thing for Saturday morning is to work at making decisions about what was needed for Sunday's race, checking fuel consumption, tyre wear, and long term consistent handling from carrying a full load of fuel to running light with worn tyres and a minimum of fuel as one would be in the closing stages of a race. If all goes well with this sort of practice programme then it is usual for the front runners to put in a quick lap near the end of the morning, using qualifying tyres, low fuel load and aerodynamic settings for a single quick lap rather than 80 consistent laps. The variations in lap times between these two extremes can be around 5 seconds on a short lap like the mini-Paul Ricard circuit (half its original length). With Berger 5th and Senna 10th it was beginning to look as though McLaren and Honda were still searching for the optimum as far as the actual race was concerned.
From the morning times, and the fluctuations in wind direction it seemed very unlikely that Mansell's 1.04.402 of Friday would be beaten and Senna decided to opt out of qualifying and use the hour for more race preparation. Running in full race trim he was running consistently around lmin 9 seconds a lap, a performance that he obviously intended to keep up for the 80 lap race. Berger was far from happy about his ultimate performance and was still working away at improving his grid position. This he did to such good effect that he took second place away from his team leader and Prost very nearly usurped third place. While Mansell did not improve his time, his pole position was safe so the number two drivers were going to line up ahead of the number one drivers, as far as Ferrari and McLaren were concerned.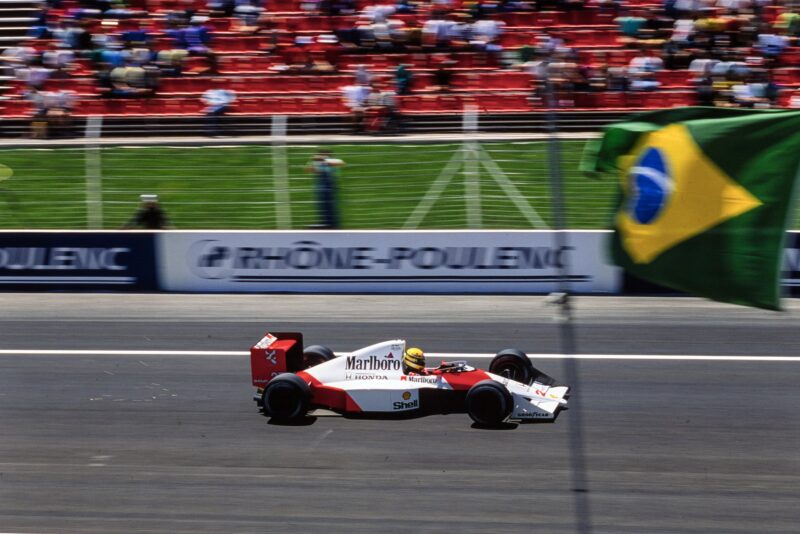 Ivan Capelli ended up in a fine 5th place on Saturday, behind fellow Italian Nannini, out ahead of Patrese, Piquet and Bernard, the Frenchman being consistently 'there or there about' and team-mate Suzuki was just behind, as far as the Saturday times were concerned. It was when I looked down the list of times for the afternoon that I suspected sunstroke, for while Berger topped the list, Senna was at the bottom, in thirtieth place!
A McLaren-Honda first and a McLaren-Honda last; it was unreal. But one had to bear in mind that the other 20 contestants had been running as hard as they could go for one blinding lap, whereas Senna was into 'race-mode' and could lap all day at his comparatively lowly 1.08.8 time.
Race morning was as sunny as ever but the wind has eased and what little there was remained as a headwind on the pits straight and a tailwind on the back straight. In the half-hour warm-up period on Sunday morning the McLaren imperturbability took a severe knock as both their cars had excursions off the road. Berger's car had a front wheel come lose causing a bit of a moment, and Senna 'went over a kerb' so severely that the right front suspension took all the punishment and the steering track rod on that side was badly bent, all of which called for some pretty close scrutiny and checking before the race.
Prost and Mansell in the Ferraris were in cracking form and very confident and it looked as though Senna's preparation pace of lapping in 1 min 09 secs was not going to be quick enough, apart from one important factor and that was TYRES. Both Goodyear and Pirelli were predicting at least one tyre change during the race, and any driver who did not pay attention was probably going to have to make two changes even using the hard compound 'race tyre'.
The grid line-up was a healthy sight, in the order Mansell (Ferrari), Berger (McLaren), Senna (McLaren), Prost (Ferrari), Nannini (Benetton), Patrese (Williams), Capelli (Leyton House), Boutsen (Williams), Piquet (Benetton) and Gugelmin (Leyton House) filling the first five rows. Then came Bernard (Lola), Alliot (Ligier), Alesi (Tyrell) and Suzuki (Lola), the two Larrousse cars being ahead of the Lotus pair of Warwick and Donnelly, all four using the same type of Lamborghini V12 engine
After some 'pomp and circumstance' to herald the start of the most important event of the day (there had been other types of racing and demonstrations going on since qualifying ended on Saturday afternoon), the twenty-six cars lined up on the grid and then set off on the parade lap led by a very proud Nigel Mansell.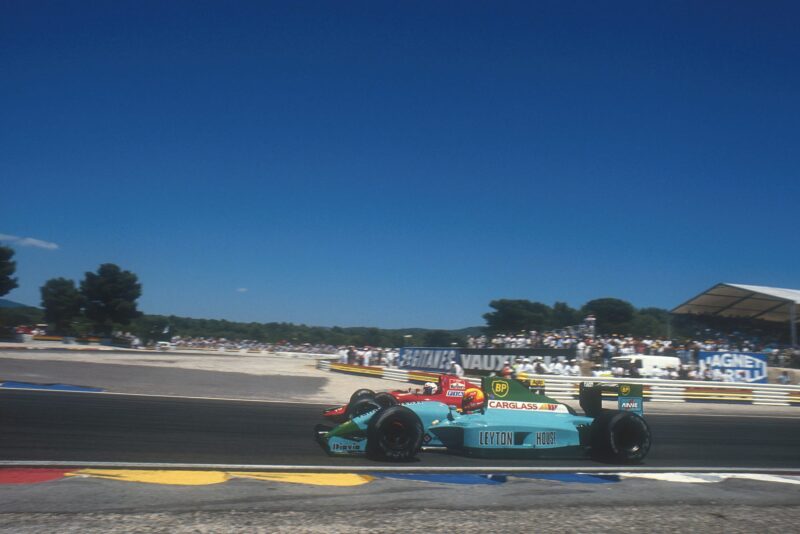 The start was faultless, though Berger got a bit too much wheelspin, and Nannini made a meteoric start from the third row and everyone got round the first corner and the race was under way. Berger powered past Mansell on the opening lap, and Senna did likewise on lap 2, so after all the alarms and excursions of testing, qualifying and warm-up the dust of the start had hardly settled before everything was in the order that is normally expected; McLaren-Honda running first and second. Mansell held third, Nannini a joyous fourth, then Patrese with Prost pushing him a little, followed by Boutsen, Piquet, Alesi and Capelli.
It was pretty clear that no-one was going to go mad, all being conscious of tyre wear, though Berger was not going quite quick enough for Senna's liking, but too quick to justify trying to overtake at this early juncture in the race. By 10 laps we had got a bit of a 'stalemate' with eight cars more or less nose-to-tail following Berger, though Senna would occasionally drop back to get out of the leader's wind, but never far enough for Mansell to challenge. At the end of this leading bunch Alesi and Capelli were keeping station, but the rest were not keeping up and were led by Eric Bernard, but by lap 19 Gugelmin had passed the Lola. Already Pirro had disappeared and Boutsen's Renault engine had expired, the Williams coming along the pit lane to retire leaving a trail of oil behind it.
Prost was beginning to show signs of agitation at being stuck behind Patrese but there was no easy way by, so he stayed in sixth place. The pace of this leading crocodile of nine cars was a bit slow at 1 min 10 sec to the lap, but there seemed no way that it was going to change. The mini-Paul Ricard circuit not being conducive to 'deeds of daring-do' or inspired bravery the whole affair had turned into a rather dull procession, or was it the effect of the sun?
As the front half of the field started lap 21 Piquet peeled off into the pit lane to stop for new tyres, rejoining the race in 15th place, then Alesi was in for a tyre change and at the start of lap 28 Prost swooped into the Ferrari pits. All four wheels were changed in an unbelievably quick time and Prost was back in the race in 8th place. Berger came in, relinquishing the lead to Senna for a brief two laps and then the Brazilian was in, handing the lead to Mansell. The McLaren pit stops were relative disasters compared to those of Ferrari and the time lost is best seen on the lap time sheets. Prost dropped from lapping at 1.10 to 1.26.712 on the lap in which he stopped, and was then back on 1.09, whereas Berger dropped from 1.10 to 1.35.188 before getting back to 1.10. A rear wheel baulked on Senna's car and his pace dropped from 1.10 to 1.37.672 and then resumed at 1.09, a pace Prost was already into.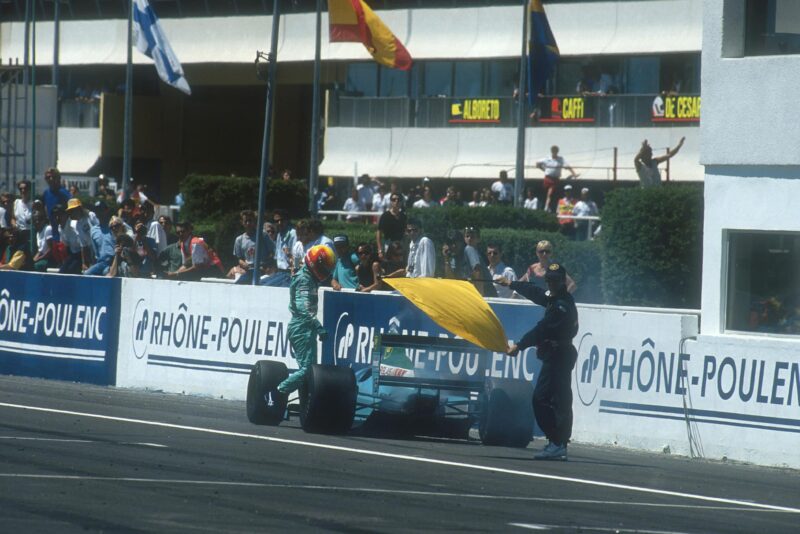 Mansell gave the lead to Patrese when he went into the pits for tyres, the stop dropping him five seconds on Prost, and after one lap in the lead Patrese came in for tyres and it was Capelli's turn to lead. Now we knew the sun must be having its effect, for only last month Ivan Capelli and the turquoise Leyton House had failed to qualify and here it was leading the French Grand Prix, and not only that but teammate Mauricio Gugelmin was in second place! Nobody minded the situation for two more likeable drivers are hard to find and the Japanese owned team that used to be the works March Engineering team are a happy and uncomplicated bunch. So let them have their moment of glory, while all the 'big wheels' sort themselves out after their pit stops for tyres, and anyway very soon the two turquoise coloured cars will be in for tyre changes and then all will be normal again, or so I thought.
But they did not come in for tyres, and the 'big wheels' did not get themselves sorted out, and Capelli and Gugelmin continued to run first and second. In a menacing third place was Prost, but either he was biding his time before he moved ahead of the Leyton House cars, or the scene was real and not a temporary halucination. Following this trio came Nannini, Mansell, Senna, Berger and Patrese, their positions being very much a reflection of their pit stops and we had the 'stalemate' of earlier, but in a different order. Leading the rest was Eric Bernard, while Alesi was watching from the pit wall. He had shot out of the pit lane after his tyre change and the final drive had failed as he was accelerating away up through the gears.
The race went on and on, and still the Leyton House cars stayed in front and still they stayed out on the same tyres, when some drivers came in for a second change of tyres. Nobody begrudged the Leyton House team its moment of glory, but it couldn't be true and couldn't really be happening. After all, Prost, Nannini, Mansell, Senna, Piquet and Berger were all lined up behind and there are three World Champions among that lot, but obviously Capelli and Gugelmin were unimpressed and continued to hold the first two places. It could not really go on like this to the end of the race, or could it?
On lap 54 the leaders came up to lap a bunch of slower cars and Capelli got through alright, but Gugelmin got a bit boxed-in and Prost saw his opportunity and fumbled his way through the melée to come out of it in second place. Sadly, a few laps later the oil pressure light on the Judd V8 in Gugelmin's car shone brightly, and by then it is too late for a racing engine will not run long without oil pressure.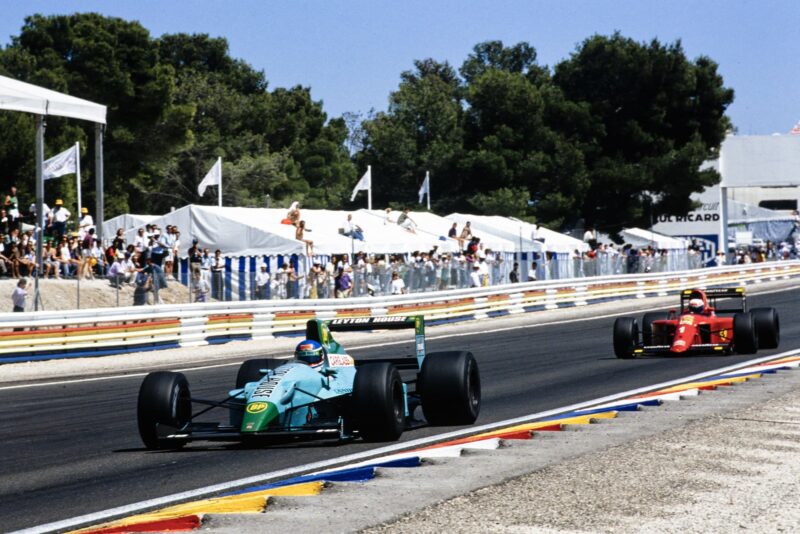 As Prost closed up on Capelli it was pretty obvious that the crafty little Frenchman was running a race of tactics and had everything in hand. The Ferrari team's pit stop had given him a distinct advantage, aided by the poor McLaren pit stops, and the World Champion was making the most of it. Capella was doing a lovely job out front, completely unruffled and looking as though he might hold on until the end of the 80 laps, but you can never underestimate Prost and after spending a number of laps large in Capelli's mirrors, he saw his opportunity on lap 78. The Judd V8 engine was beginning to hesitate on initial pick-up out of the slower corners and Prost was quick to profit from it and led the last three laps, the last one being the most important. But Capelli had thoroughly enjoyed his moment of glory and after the race Prost was almost apologetic about taking the lead from the young Italian, saying ". . it was really his race, but. . ."
A frustrated Nigel Mansell made a second stop for tyres, but it did him no good and before the race finished he pulled off the track with clouds of smoke coming from the Ferrari engine. Nannini lost a sure third place when Benetton's Cosworth engine failed, and Senna finished an uncharacteristic lucky third, followed by Piquet, Berger and Patrese. Amazingly all four Lamborghini V12 powered cars finished the race, the two Lola-Larrousse cars heading the yellow Lotus cars the whole weekend, which must mean something. The sun was indeed strong.
All weekend there was an undercurrent of feeling that this was going to be the last French Grand Prix to be held at Paul Ricard, that next year it would be held at the rebuilt Magny-Cours circuit. When someone asked 'Where on earth is Magny-Cours?' the only possible answer was 'That is a very good question'. Monsieur Jean-Marie Balestre was loud in his praise of the efforts made this year by the Paul Ricard circuit owners, and complimented them on their 20 years of existence, he also praised the work put in to the Magny-Cours circuit to bring it up to first class Formula One standards, and though he did not say as much, one felt that he visualised France having two Grand Prix races a year, one on each of these magnificent Formula One facilities. After all, Italy has two Grand Prix races each year, one at Monza and one at Imola, and everybody is very happy about it. Fortunately the little Republic of San Marino qualifies for a Grand Prix, and having no circuit of their own they use the nearby Imola circuit.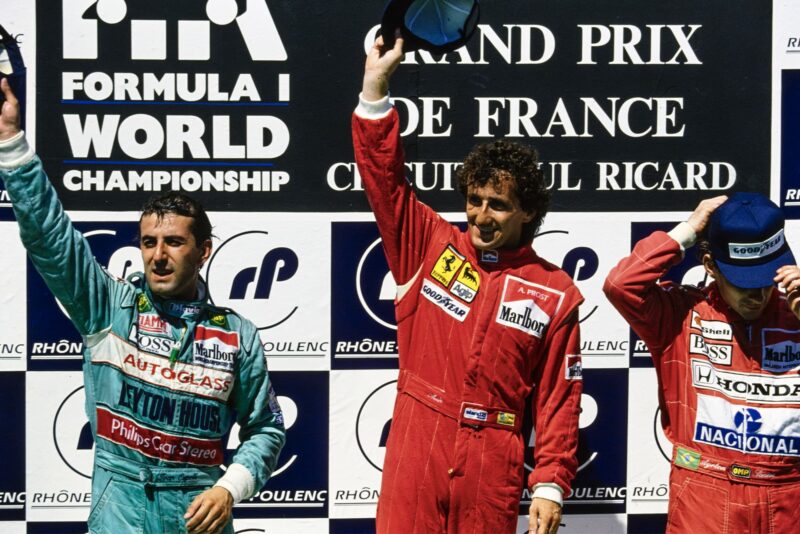 Now one of the motor racing anomolies of today is the continued existence of the Monaco Grand Prix round the streets of the Principality, surrounded as it is by France, in the way Italy surrounds San Marino. If the French Grand Prix is moved to Magny-Cours next year, then surely the sensible thing to do is to move the Monaco Grand Prix to Paul Ricard. That way everybody would be happy, wouldn't they? The Mediterranean sun can be very insidious in its effect, or is it the wicked Mistrel wind? DSJ