Fordissimo! Le Mans '66 and the march of the GT40
Ferrari had won Le Mans nine times since the Second World War. For Ford, 1966 would be very different
You always remember your first time, they say, even a big boy like Ford Motor Company. Four straight wins at Le Mans, yes; but the opener, 1966, was special. Slapping Ferrari's face after the Scuderia's buyout rebuff in '63 and the Blue Oval washout of '65 added spice to its revenge.
Ferrari supporters will always claim that Maranello didn't send a serious team to Le Mans that year. But to the wider audience, Ford's 1-2-3 in the world's most prestigious (to European eyes) race looked like a crushing demonstration of motorsporting might. And it was. Racing people, however, know that even an 'easy win' only comes with immense effort, a hefty budget, plenty of talent and utter commitment.
The way-in seemed simple: a tough, mid-engined coupé with an uncomplicated engine – tugboat torque over wailing revs. GT40, which arrived in early 1964, looked perfect – as long as you didn't know about its scary aerodynamics, delicate Colotti transmission and head gasket weakness. That first season brought a 100 per cent record – of failure.
Project director Roy Lunn took action. Cars would continue to be constructed at Ford Advanced Vehicles (FAV) in Slough, but they would then be finished at a new Ford facility, Kar Kraft in Detroit. And they would be run by Shelby American, experienced hands at racing Cobras, allowing FAV to concentrate on the build programme. In 1965, after aero tweaks, gearbox mods and handling fixes, a GT40 finally won: the 2000km Daytona Continental on February 28. The Le Mans test weekend in April, however, would prick this balloon: the P2 Ferrari was substantially quicker, and the FAV GT40, fitted with a five-speed ZF, was faster than Shelby's. Now was time to rush Dearborn's big gun – all seven litres of it – into action.
The job fell to the Galaxie unit. It was a lumbering iron pushrod affair, a simpler engine compared to the sophisticated quad-cams it faced from Italy. But it was broad-shouldered, muscular and liked hard work.
Plans to fit a big-block motor went right back to 1964. Ford had tried various V8s in the GT40, though the race-proved 4.7-litre Cobra unit kept finding its way back in due to its winning credentials. Of the bigger engines in Ford's arsenal, the SOHC was too bulky, so the job fell to the Galaxie unit. Successful in stock cars, it was a lumbering iron pushrod affair, a simpler engine compared to the sophisticated quad-cams it faced from Italy. But it was broad-shouldered, muscular and liked hard work.
To carry it the MkII GT40 received a stiffened chassis, bigger tanks and huge new quick-change brake discs (under pressure they would only last six hours). Externally, vertical luggage boxes (required by new rules) each side of the exhausts plus rear brake air-scoops gave it a humpback look, with a new square-cut chin for a bigger radiator.
The first 7-litre proved fast on test in May 1965 – it lapped the five-mile oval at Romeo, Michigan, at over 200mph – and this triggered a corporate decision: Le Mans has a very long straight, so the highest top speed must win, no? Despite only weeks to go, Detroit declared that two 427ci-engined cars would head its attempt, with four smaller-engined GT40s in support.
Practice brought the perfect PR result: a record 220mph down the Mulsanne, eclipsing the Ferraris. And come race-day, the two long-nosed MkIIs led the field – for about four hours. Then the brute force of the 427 proved itself, by demolishing Kar Kraft's specially designed and built gearboxes. Embarrassing, but no surprise, as Shelby driver Chris Amon agrees: "We felt the chances of a finish were slim, but the performance superiority was so great that we thought we might do it if we drove gently." But Amon's car dropped out of contention after a long pitstop, while Bruce McLaren gradually lost all gears except top. He still led, until top failed too. What of the back-up 289s? They all failed too. Corporate impatience had overridden the skills of the people involved, and the corporate displeasure was plain.
The consensus was that the heavy 427 had the guts to do the job, but it would need an even tougher car built round it. Executive director Leo Beebe received the firm's blessing to do whatever he needed to do – partly because in 1965, in contrast to the Le Mans debacle, Jim Clark and Colin Chapman had brought Ford its long-desired Indianapolis victory. Now the company could concentrate on France.
Whitmore remembers some needle: "I was second-fastest of all the cars on the first day of practice. However, minutes before the end, Dan Gurney went out in a Shelby car specifically to beat my time using, it's said, a lower gear ratio that could not be used in the race"
Ford race manager John Cowey argued that three cars was all one team could handle effectively, so Shelby American would prepare three MkIIs; Holman & Moody, who had a good record with Ford NASCAR saloons, would prepare another three; and the British-based Alan Mann outfit would run a pair of lightweight cars, with chassis built to its own modifications by FAV. On top, there would be six privateer GT40s, prepared either at FAV or with assistance from John Wyer's somewhat sidelined and peeved outfit. It was a wide net to cast, but a committee would keep all parties in touch and, theoretically, exchange development information. An optimistic view given this amalgam of several highly competitive race teams…
"There was more rivalry within those teams than with Ferrari!" Amon says. "Shelby and Holman were close; H&M were assembling cars for both teams [Kar Kraft was by this stage concentrating on Ford's glued-honeycomb J-car prototype], but they needed to learn from Shelby on race preparation. The Mann team were definitely outsiders."
Dan Gurney adds to the sense that the British were out of the loop: "I didn't even know the lightweight cars existed."
Sir John Whitmore, driving for Mann, remembers some needle once they got to the Sarthe: "I was second-fastest of all the cars on the first day of practice. However, minutes before the end, Dan Gurney went out [in a Shelby American car] specifically to beat my time using, it is said, a lower gear ratio that could not be used in the race. He did it by a fraction of a second, I believe."
At FAV, frustration reigned. Engineer John Horsman remembers: "We could not work on engine development; only E&F [Engine and Foundry] in the US were allowed to do that. Nor could we enter races on our own account unless it could be construed as part of the development of the production GT40, such as Le Mans. There was no exchange of info between FAV and Alan Mann, and a minimal amount between FAV and Shelby. They were 'the opposition'!"
So Ford's 1966 attack comprised three more-or-less works teams, build facilities on both sides of the Atlantic, a spread of customer entries, and three different models powered by two distinct engines. Only a company of Ford's immense size and with a desperate desire to win would sign such cheques: Chris Amon reckons he heard a figure of $20 million.
Extensive testing at Daytona, Riverside and Romeo steadily toughened the American MkIIs, while FAV used Monza to finalise the spec for what would become the 'production' GT40; if 50 were sold in time, it would qualify in the new Group 4 bracket, and the privateer entries at Le Mans would be a comforting backstop for Ford.
By February 1966 five of the 7-litre machines were ready to contest Daytona, extended this year to 24 hours. It would have been the perfect 'test' if the works Ferraris had been there. But the 1-2-3-5 finish proved that reliability now matched the MkII's speed.
Sebring in March, being 'only' 12 hours, wasn't on Ford's scope, until it saw the entry list: it included the latest Ferrari P3 and Alan Mann's alloy-bodied lightweight GT40s with the small-block 289. Not only was it a chance to see how Maranello was shaping up but it was a final opportunity to compare GT40 greyhound with pitbull MkII. And the pitbull, albeit the lightweight open-top version originally constructed for Group 7 sprint races by Bruce McLaren Racing, won hands down – after the leading P3 broke down. Ford's management was convinced: for LM, big was not just beautiful, it was essential.
Others, including Horsman, weren't so sure: "If we had been allowed to develop the 289 earlier, into a 302 or 351 engine, with better cylinder heads and the special small-block parts which Ford had made but held from us until after Le Mans '66, we could have been a threat. Perhaps not at Le Mans, but on other circuits we would have beaten the 427s. As it was, the iron-head 289 was no threat to the 427 cars in 1966, which is exactly how Ford wanted it."
Frank Gardner, Mann's regular driver, remembers "a fair amount" of co-operation between teams: "I guess they all wanted to get the job done." But he has huge respect for what his team principal achieved: "Alan pioneered a lot of stuff. He really stuck his neck out; a lot of the durability came from the Mann cars. And he had to be frugal; if there was any excess cash I think it went to the US."
Though favouritism over engines might seem likely, Mann discounts this: "Those motors were so detuned for reliability – down to around 450bhp – that it didn't arise."
Gardner concurs: "They were so basic that you couldn't change much. The exhaust system probably affected power more than the tuning. And there were Ford engine people wandering from team to team. It wasn't a closed shop."
American Jerry Grant, who co-drove with Gurney, feels the teams were matched too: "I don't think we had much of a car advantage, but I think we had a driver advantage. I drove by the seat of my pants, but Dan was a very thinking driver, always looking for an edge, any small improvement in the car, more than any driver except John Surtees."
With detuned motors and increased weight – while Mann's cars were lighter, the 1966 MkIIs averaged 350lb heavier than their '65 cousins and were almost 500lb heavier than the rival Ferraris – "the 1966 cars were, in fact, slower than the '65 cars", according to Amon. Ferrari, however, already seemed to have been spooked by Ford's massive effort: Enzo didn't send his cars to Le Mans' April test weekend. But even though the experimental J-car put in the fastest time, it was a not very fruitful couple of days for Ford, as it rained, and it proved a sad weekend, too: Walt Hansgen was killed when he crashed his MkII.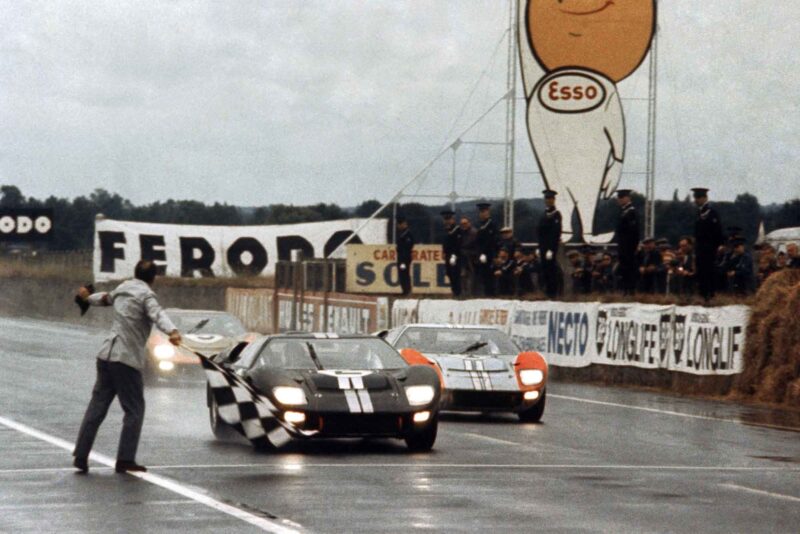 Having been switched by Ford to MkIIs, Mann needed more race time and sent a car to the Spa 1000Km where, hampered by Le Mans gearing, it tailed a works P3 in second.
It was in June that the size of Ford's Le Mans deal became apparent to the world. Ford rented a large garage from a Peugeot dealer for all eight MkIIs, plus two spares. Six privateer GT40s made it 14 Fords. While there were also 14 Ferraris, only two were works P3s, and the Italian presence simply wasn't on the same scale. There were busloads of Ford crew, management aplenty, and both Henry II and Edsel flew in.
They came to see a victory, preferably an all-American one, as Gardner relates: "The cost was way above the norm for the time. Yet in one way Ford was its own worst enemy: they wanted a Yank in most of the cars, and that made it hard to keep up the talent level. Some of them were only used to oval racing. And you know they brought their own cooks to avoid being poisoned by the French!"
"Ford was its own worst enemy: they wanted a Yank in most of the cars, and that made it hard to keep up the talent level. Some of them were only used to oval racing. And you know they brought their own cooks to avoid being poisoned by the French!"
Trouble arrived quickly, when Dick Thompson, in a Mann MkII collided during practice with a reserve GT40. Thompson was blamed, unfairly, and ACO officials disqualified both him and the car. It took Beebe's threat to withdraw the entire Ford pack to reinstate the car, though not the driver, so Mann flew Brian Muir in on race morning to partner Graham Hill. But as Mann relates, he nearly saved the airfare: "I saw John Surtees walk past with a face like thunder. He told me he'd just walked out of Ferrari. I said 'I've got a seat' – but then we decided it would be misunderstood." To avoid it looking as though he had dumped Ferrari for Ford, Surtees went home instead.
So come flag-fall it was especially satisfying for Mann to see Hill lead the field under the Dunlop Bridge, but he chuckles at the reason: "Graham wrong-footed everyone. As 4pm approached he wasn't on his spot [for the run-and-jump start], just walking calmly up the grid. He got there just on 4pm, but everyone was watching him to see if he'd make it, not watching the flag. He was the only one ready!"
It was soon pretty clear that the Fords had things under control, as the Shelby cars of Gurney/Grant and Ken Miles/Denny Hulme traded the lead with the P2/3 Ferrari of Richie Ginther/Pedro Rodriguez. During the night Ludovico Scarfiotti/Mike Parkes's P3 pushed through to the front as the MkIIs changed brakes, but when Scarfiotti crashed and the other Ferrari broke its transmission, the 7-litre Yanks steamed by 1-2-3-4 – three Shelbys and the Ronnie Bucknum/Dick Hutcherson H&M. GT40s lay fifth and sixth, until dawn when those last two 289s retired.
By now McLaren/Amon had clawed back from a troubled start, as Chris recalls: "We were contracted to Firestone. Bruce came in after 30 minutes with chunked tyres, and then again 30 minutes later. The third time he put me in, saying he'd sort it out. He brought me in, we put Goodyears on and he said, 'Let's go like hell! If it doesn't finish, it doesn't finish.' So we went for it – until the 'slow' orders came out."
With the opposition sidelined the pace eased, but around 9am the leading Gurney/Grant machine began to overheat, then retired. Grant explains: "Dan says he doesn't remember this, but this is what I remember. Near the end Fords were 1-2-3, us leading. Edsel wanted Dan to slow to close up, but he wouldn't, despite the signals. Eventually Edsel walked out with a wheelhammer to threaten him. Dan was so pissed off that he slowed right down, and that's when it overheated."
According to Dan, though, the cooling problem intervened long before the 'slow' orders came out.
Miles now led McLaren, with the remaining H&M crew, Bucknum/Hutcherson, third, but even 1-2-3 wasn't good enough: Ford wanted it line-astern, if not abreast. At the final pitstop, Miles was told to let McLaren close up…
"Ken took it very badly; after all, he'd had a better run than us. But there was no way Bruce was going to finish second. He said Ken backed off; well, maybe, or maybe it was that Bruce put on a little spurt…"
"We began to see 'slow down' signals," says Amon, "but Ken kept going and Bruce was pretty pissed off about that." As 4pm approached the three cars did close up – but across the line McLaren in car 2 was suddenly ahead. Ford had its victory against Ferrari, against French bureaucracy, and against racing's toughest 24 hours. But it wasn't over. There was no disputing which marque had won, but there was argy-bargy about which car – to the point that the victor was decided by exactly where on the grid each car had started. It puzzled many, including Whitmore, who following early clutch failure, was back in England by race's end: "I watched the finish on television, and to this day I've never understood the full story of Ken Miles not taking the win."
In fact, it wasn't the order at the line that mattered, but the positions at exactly 4pm, some way back round the circuit. As that could not be pinpointed exactly, the cars' theoretical positions were calculated using their positions and lap times at the completion of the penultimate lap. These, however, were both identical… and that is when the extra few metres down the grid that car 2 had started from came into play.
"Ken took it very badly; after all, he'd had a better run than us," says Amon. "But there was no way Bruce was going to finish second. He said Ken backed off; well, maybe, or maybe it was that Bruce put on a little spurt…"
"Morally, Ken and Denny should have had it," says Mann, "but Ken wasn't a team player – his driver discipline wasn't strong". Dan Gurney disapproves, too: "In my opinion it deprived Ken Miles of a well-deserved win. It was a PR strategy that did not pan out due to some creative rule interpretation after the fact".
Of the five privateer GT40s (the one Thompson hit did not start), all retired: one crash and four breakages. Which either proves Ford was right to back the 427s, or that FAV was right in complaining that Ford didn't try to solve the 289's gasket problems quickly enough.
Horsman is firm: "Despite the 'reasons for retirement' listed in various publications, it is my recollection that most were due to head gasket failures. Ford did manufacture greatly improved engine parts for the 289, but did not deliver them to us until after Le Mans! We received 50 sets of really good engine components in July 1966, which gave us the basis to go racing with Gulf Oil the following year, and to provide the private owners with good equipment."
That was important: when Ford's MkIV (née J-car) brought it a truly all-American victory in 1967, and a 5-litre limit arrived, mainly to kybosh the Americans, the Blue Oval stopped its Le Mans programme – but Wyer's Gulf GT40s would score two more wins for it in '68 and '69.
"It was brave to tackle Le Mans – even to get through scrutineering with the famously just and unprejudiced French!" says Gardner. "Still, to take on and beat Ferrari in the field it had dominated was a remarkable achievement – coupled with a bit of luck!"
It was certainly lucky for Amon: "It got Ferrari interested in me. Looking back, it was probably my most significant race win. And I was only 22!"