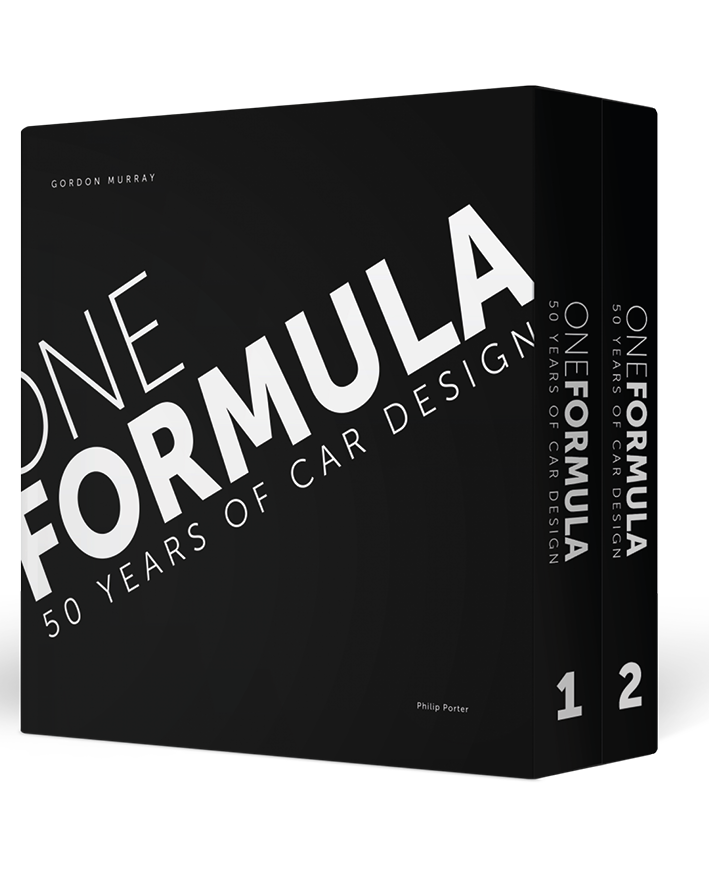 One Formula: 50 years of car design
Gordon Murray CBE and Philip Porter. Published by Porter Press, £225/£750/£2500. ISBN 978-1-907085-30-7
You'd be forgiven for thinking there's a mistake in the title of this massive two-volume production: that Gordon Murray, flowery-shirted cool dude of grand prix and supercar fame, can't possibly have been at his drawing board for 50 years. Yes, he has, and in that time he's designed over 70 different cars for track and road. So have I, but most of his have actually been built. And between them they have garnered multiple grand prix victories, Formula 1 titles and the accolade of 'greatest ever supercar'.
It's been 50 years of invention, ingenuity and ever-expanding horizons, and here every step is individually outlined car by car.
In his preface Murray points out that it isn't his life story but the story of his car designs, though an entertaining opener on early life in South Africa shows there was only going to be one path: tiring of karts and slot cars he designed a flat-12 engine from scratch – aged 15. Even the book's structure reflects Murray's urgent progress, eager to get that bit of background out of the way and get into the designs.
To compile it, Murray talked while Philip Porter wrote, so there's extensive first-hand explanation of each brief, his response and how well it worked, all backed with drawings and photos. Ranging from rough sketches to full blueprints, those drawings proved both blessing and curse – Murray has kept every single one over 50 years, making selection a trial (hence a book three times the planned size) but adding visual and technical depth to Murray's descriptions. There are also letters, cards, and even menus bring a generous flavour of the Murray character, as do his reflections of working with Piquet and Senna, among others.
Murray's career was meteoric – straight into Brabham with Bernie and no looking back through McLaren, the F1, Mercedes SLR, the Rocket light car and on into an entire new principle of production, with new cars on the way. Which means the book's already falling behind…
Handsomely produced (and equally well  reproduced), it's a book for those who appreciate engineering, ingenuity and rule-stretching from a design maverick. And if £225 puts you off, let alone the £2500 Unique Edition, remember it can only appreciate.
---
Sauber-Mercedes: The Group C Racecars 1985-1991, World Champions
John Starkey. Published by Veloce, £30. ISBN 978-1-787114-03-6
Sauber is an overlooked hero of the Group C era, so it rightly deserves to be in Veloce's latest run of reprinted Classic Series instalments.
First released in 2002, the book recounts the entire history of Sauber's Group C project, starting from the BMW-engined C5 of 1982, and tracks the story through the developing relationship with Mercedes and on to the full-blown factory efforts of the late 1980s and early '90s.
Starkey has done his homework, garnering insight from designer Leo Ress and drivers such as Jochen Mass and Kenny Acheson, plus engineering detail from Bob Bell and Dave Price.
The smaller format gives the book a bite-size feel, and the copy isn't hard-going. The image quality lets it down and it's such a shame that great shots from LAT and official archives often appear grainy or washed out. RL
---
Place to eat near the Motorways
Hugh Cantlie. Published by Cheviot, £14.95. ISBN 978-1-9996145-0-8
Not the most scintillating of titles, but if you spend your life hammering around the UK motorway network, or else zig-zagging between Thruxton and Croft via Knockhill, then this might be a practical companion.
All the eateries within are said to be no more than five minutes from a motorway/major A-road exit and offer a more characterful alternative to the homogenised Burger King/Greggs/Krispy Kreme fare that typifies the far end of many a sliproad. Tip: if you're heading to or from Oulton Park, it's definitely worth trying The Windmill or The Smoker, both close to M6 J19…
This is the 12th edition of a booklet first published 18 years ago and the evolving content reflects the sad truth that pubs nowadays tend to close down almost as frequently as they serve pints. SA