Lunch with Michele Mouton
The only woman to have won outright in the World Rally Championship, she is today dedicated to helping others follow the trail she blazed
Keeping up with Michèle Mouton has never been the work of a moment. More than 30 years after stepping down from top-line competition, at the end of rallying's Group B era, her dual commitments – as president of the FIA's Women in Motorsport Commission and safety delegate to the World Rally Championship – make it hard to find time for Lunch with Motor Sport.
In the end a compromise is struck: could we perhaps manage afternoon tea?
The only female driver to have won a world championship rally outright – four of them, to be precise, starting with Sanremo 1981 – she is presently dedicated to forging opportunities in all realms of the sport, so that others might be able to emulate her success.
To outline the Frenchwoman's vision and meander through the past we convene at the Hôtel d'Angleterre, by the shore of Lake Geneva, whose landmark fountain is barely perceptible in the prevailing drizzle.
Tea arrives in the form of two stacks of cakes and sandwiches (including cream cheese and cucumber, naturally), topped by scones for which our guest has a particular penchant. We are also presented with what appears to be a vase rammed with mini-Toblerones. Mouton orders a complementary cup of green tea and we rewind…
"I grew up in Grasse," she says, "surrounded by rose and jasmine fields that my father cultivated. During my teens I learned to drive on the family land, at the wheel of a Citroën 2CV that happened to be lying around, but I had absolutely no interest in motor sport. It was simply happenstance that I became friends with a chap named Jean Taibi. On one occasion, at a rock-and-roll concert, we were chatting and he explained that he took part in local rallies, but I had no idea what he was talking about, absolutely none at all. Subsequently he asked if I'd like to be his co-driver on the 1973 Monte Carlo – and as I was still young, and always on the lookout for interesting opportunities, I agreed."
Her competitive debut, then, was in the passenger seat of Taibi's Peugeot 304S on the opening round of the inaugural World Rally Championship, which was for manufacturers only back then (the equivalent for drivers would not formally be introduced for another six years). It was not the most auspicious of starts for the new venture – and Taibi/Mouton were among the victims.
Despite blizzard conditions that made the route barely passable, the organisers insisted that stage four – Burzet – should go ahead. When the inevitable happened and the road became blocked – partly because of the conditions, partly because a competing Ford Capri was sideways across the road, wedged between snow banks – no concession was made to those who had been unable to get through and a great many crews, Taibi/Mouton among them, were subsequently excluded for exceeding maximum lateness. Some of those affected, mainly German and Italian privateers, took matters into their own hands and attempted to block parts of the route to ensure that no car was able to reach the finish, at which point the police became involved.
Quite some welcome to the world of rallying, but Mouton wasn't deterred. "I really don't recall how many events I did with Jean," she says, "perhaps three or four, but my father then decided to take matters into his own hands. He said, 'Listen, I know you like driving and I'd prefer to see you doing that than navigating. I'm going to buy you a car and provide funds for you to do one year with good equipment and we'll see how you get on. If you do well you can continue, if you don't you must stop.' So he bought me an Alpine A110 and towards the end of 1973 I entered my first event. But I can't remember too much about that either, to be honest."
Thus Mouton made her competitive bow at the wheel of the most potent weapon in French rallying, taking eighth overall and third place in Group 3 on the Rallye de l'Île de Beauté, in Corsica. Didn't it feel a little odd to be starting out in an A110 when most in her position would have been scratching around in a Simca Rallye, or perhaps an Autobianchi? "Yes," she says, "but my father was something of a perfectionist. It was a case of, 'I'll support you for a season – and that's the deal.' My parents worked very hard but didn't have bottomless resources – I had to take it seriously for a year and if I didn't perform well, that was that. But I do enjoy a challenge – it is one of my defining characteristics."
Further good results accumulated swiftly. Partnered by a variety of female co-drivers, in 1974 she took second overall on the Critérium National du Rouergue, was a regular contender for Group 3 laurels and took a class-winning 12th overall in the Tour de Corse, final round of the WRC. "My dad didn't have to say anything at the end of that year," she says, "because I was on the pace quite quickly, which helped attract some sponsorship, so it was logical to carry on."
The following campaign was in much the same vein, culminating with another class win in Corsica – this time finishing seventh overall, almost 20 minutes clear of her closest adversary. How was she regarded by her peers? She laughs. "I regularly did very well in Group 3 and there were all kinds of rumours – 'Oh, Mouton's won again so her engine must be bent.' There were definitely some who thought that, but after the 1975 Tour de Corse my engine was stripped and checked at post-rally scrutineering and found to be perfectly OK. From that moment on, people started to accept that it was simply me that was quick. I never heard such accusations again."
She began 1976 by taking her A110 to 11th overall, second in class, on the Monte, before switching to a newer A310 and continuing to run strongly in French and European championship events. Elf then stepped in with significant backing for her to contest the 1977 European championship in a Porsche 911, Mouton winning the Rallye de España, taking a string of podium places and finishing second to Lancia Stratos driver Bernard Darniche in the final standings. Such performances led to a phone call from Fiat France – and the offer of a first fully professional contact. At what point had she started to believe that rallying might become her vocation? "I never thought about it," she says. "I did three full seasons with Alpines and considered myself semi-professional by 1977, because Elf paid for the whole season, but I was always lucky to have sponsorship proposals. And then Fiat contacted me, with the offer of a 131 Abarth for the 1978 French championship. That's why, today, when someone asks why there are so few women in motor sport, I always cite the example of my own career: I was given a proper chance, and that's the important thing. But I would have had to stop at the end of 1977 if Fiat hadn't approached me, no question. From this point I'd have the same equipment as the very best male drivers in France and it was down to me to prove my ability.
"It was the same subsequently with Audi, when I was pitched straight away against some of the finest drivers in the world. But I had access to the very best equipment and didn't have to slave away for years awaiting an opportunity – and that was my lucky break. I firmly believe this is why there aren't enough women competing at the top today, because they aren't given the chance to drive good cars for good teams.
"There are many women capable of doing what I did, but they aren't considered – and the FIA's Women in Motorsport Commission exists to change all that."
Mouton spent three seasons with Fiat, taking victory on the Tour de France and Lyon-Charbonnières, racking up countless podium finishes and finishing second to Bernard Béguin in the 1979 French championship. Is it true that she initially described her 131 as 'a truck'?
"It was always a truck!" she says. "An effective truck, perhaps, but in comparison a modern car is very easy to drive. The Fiat didn't have power steering, its engine was at the front, big fat wheels and tyres… It was a really difficult thing to drive – and the fact I managed to do well with it underlines that any woman can succeed in motor sport."
Audi certainly believed as much. The German firm was on the cusp of changing the face of rallying, with its new all-wheel-drive Quattro, and offered Mouton a place in its team alongside Hannu Mikkola for 1981.
"They phoned me and spoke in English, a language I barely knew at the time," she says. "I'd learned a bit at school, but nothing like enough to communicate properly. At first I didn't really understand what I was being offered, but after going to meet them in Germany I finally grasped that it was a world championship programme.
"The new technology was obviously interesting, and revolutionary, but I wasn't as bothered about that as I was the possibility of challenging for the WRC title. I remember how impressive the car felt during some early testing in the snow, when on standard rubber the Audi felt the same as other cars did on studded tyres."
The Quattro soon quashed rivals' beliefs that it would be too cumbersome and complex for rallying. It wasn't wholly reliable that year, but Mikkola won in Sweden and Britain, while Mouton scored her breakthrough WRC success in Sanremo, carving a place in motor sport history.
To this day, she remains the only female driver to have won at that level.
Reporting in the November 1981 edition of Motor Sport, Gerry Phillips wrote: "Mouton is never shown quarter by her male rivals, nor does she ask any, for she is a rally driver among rally drivers, not just a woman in a predominantly male sport, and her skill puts her up among the world's best.
"In Italy last month she and her co-driver Fabrizia Pons took their Audi Quattro to a convincing win on the Sanremo Rally. For most of the event things had by no means been close, but towards the end of the fourth leg Mouton had a front brake caliper jam and, when she arrived at her next service point with the wheel locked, the driveshaft broken and in clouds of rubber smoke and sparks, mechanics took more time to repair
the damage than she had available. Her two minutes lost on the road, plus her delay on stage time, reduced her advantage to 36sec."
By the end, she was more than three minutes clear of the Talbot Sunbeam Lotus of Henri Toivonen and Fred Gallagher.
"Not the kind of day you forget," she says, "and it gave me extra mental strength, because I realised that if I could score one victory then it was likely I could score more – so it was a significant launching pad. To know that I could win at that level… it mattered a great deal. Did it make a big difference? Yes in terms of recognition and [with a laugh] financially, but I don't think it altered attitudes at all. It wasn't in my nature to worry about what people thought. I always respected my rivals and felt the opposite was also true, so I suppose the biggest change was that more people wanted to interview me – but that was simply a result of wider recognition."
The following season would be her finest, Mouton winning in Portugal, Greece and Brazil to remain in title contention – against Opel Ascona driver Walter Röhrl – up until the penultimate event, the Ivory Coast Rally.
"Shortly before the start," she says, "I learned that my father had died, but I tried to do the event for him. I was leading quite comfortably, too, but…"
From Motor Sport, December 1982: "The gap between Mouton and Röhrl diminished when the French girl had to stop for a radiator change, a broken driveshaft to be replaced and a new gearbox. But at the start of the fourth leg there was great consternation when her Quattro refused to start, and even more time was lost when the fuel injection system was changed.
"By this time the difference was marginal, and interest in a somewhat indifferent event was fired up by the prospect of a close finish. But that didn't materialise, for Mouton overdid things a little and rolled the car. It was righted and repaired sufficiently to continue, but alas their vital pace notes had been lost in the confusion and Fabrizia Pons had only the roadbook to direct her driver – a very poor roadbook at that. Coupled with this was the added hazard of fog, and it became very difficult indeed for the girls to follow the correct road at a competitive speed. So the inevitable happened; they went off again, this time causing damage that couldn't be repaired. Although she has not become world champion, her determined fight will be talked about for years to come."
Mouton: "As I said to everybody at the time, I cared much more about losing my father than I did about losing the title…"
She would spend three more seasons with Audi, winning a few non-WRC events and placing fifth in the 1983 world championship, but her crowning achievement during that period was a successful conquest of Pikes Peak. She made her debut there with a Quattro in 1984, taking a class-winning second overall, then triumphed outright the following year.
She chuckles at the event's very mention. "It was a fabulous experience," she says. "The first year, I did it with Fabrizia because I didn't want to try to commit all 20 kilometres to my memory, then I went back to tackle it on my own.
"This time the organisers made life quite complicated. They accused me of having exceeded the speed limit by 5mph when making practice starts. I was fined and told I wouldn't be allowed to sit in the car at the start, that I would have to jump in and belt up before I could leave the line. I pointed out that it would be crazy to do that, and possibly unsafe if I didn't do up my belts properly, so they backed off and agreed to let me be in the car, but Audi's mechanics had to push me to the line and I wasn't allowed to select a gear until after the clock had started. To be honest, all they succeeded in doing was increasing my motivation…"
Her winning time of 11min 25.390sec was a new hill record.
For 1985 she stepped away from the WRC to focus on the British Rally Championship, still with Audi, but the campaign wasn't a success, second place on the Welsh Rally the lone highlight in a programme peppered with mechanical retirements. "It was simply an opportunity to get more experience of rallying conditions in the UK," she says, "because at that time you had to tackle the RAC without pace notes and all those who'd done the British championship knew the stages better than I did. It was a good way to broaden my knowledge."
Ironically, though, she had already contested her final RAC. In 1986 she accepted an offer to drive a Peugeot 205 T16 in the German Rally Championship, with WRC outings in Monte Carlo and Corsica. "That was a nice balance," she says. "It was my call to leave Audi. I think I'd become a little fatigued. Prior to '85 I'd done four busy WRC seasons, on the move for about 300 days a year, and wanted to cut back a little on my commitments. There were also four drivers in the team by then, with Hannu Mikkola, Walter Röhrl and Stig Blomqvist, and the atmosphere was no longer the way it had been with just two of us at the start."
She dominated in Germany, winning six rallies and the title, but that would be it for her mainstream career.
"Henri Toivonen had his fatal accident on that year's Tour de Corse," she says, "and the FIA announced soon afterwards that Group B would be axed at the end of the year. When I heard that I said, 'OK, it's the right time for me to stop, too.' In my mind I had a clear idea that I wanted to start a family and the timing seemed right."
Her daughter Jessica was born in 1987, but Mouton remained actively engaged with the sport that forged her celebrity. One year later she co-founded the Race of Champions, which continues to this day as a multi-discipline contest between some of the world's best drivers. She also entered a few rally-raids, as part of Peugeot's support team carrying spare parts for its lead drivers – and despite this being her primary role, she still finished sixth on the 1988 Rally of Tunisia. It wasn't, though, a branch of the sport she wanted to tackle seriously. "In my era it was all done without GPS, more of a job for the navigator and the compass, so I'd have felt like a high-speed taxi driver. I don't like adventures that are full of uncertainties, shovelling sand, getting lost… that's not really my thing. I love driving, but it has to be enjoyable. It's not that I couldn't have done Dakar, but I never wanted to. I contested a few rally-raids and finished reasonably well, but it was a means of helping the team, not having any pressure, and that was fine."
She has dabbled with driving since – contesting the Trophée Andros ice-racing series once, finishing second to former team-mate Blomqvist on the 2000 London-Sydney Marathon and reuniting with Pons to drive an Escort on the 2008 Rally of Otago – but she says competing on historic events holds little real interest. "Why would I want to revisit stages I've known for years?" she says. "I want fresh challenges."
Foremost among those is heading up the FIA Women in Motorsport Commission.
"It's difficult for anyone to succeed in this sport, male or female," she says. "Maybe it's harder now than it was in my time, but it's not that I was some kind of superwoman. I would love to see more people getting the kind of opportunities I had and that's what we are striving for now. This year we have a properly competitive all-female team in the European Le Mans Series [Kessel Racing is running a Ferrari 488 GT3 for Manuela Gostner, Rahel Frey and Michelle Gatting], and we also have a very strong female team in IMSA, with Simona de Silvestro, Katherine Legge and Christina Nielsen. This is exactly what we want to see. We must make everybody aware that motor sport is inclusive, open to all.
"We need opportunities, equal opportunities, and very often the ones who cannot progress stumble because of budget, although it's the same for men of course. Of those who make it to F1, quite a few have to bring a suitcase of cash…"
Where does she sit on the new all-female W Series. A shrug. "It's a good platform for women to race," she says, "and if they can do so for free, why not? For me, though, anyone who wants to succeed needs to show they are the best – not just the best female. If they want to get to the top, at some point they are going to have to fight with men, so why segregate?
"I'm convinced that it's best to focus at the grass-roots level, to work with young girls to educate them about motor sport, to increase our base – and if we don't do that there will never be many at the top. Our most ambitious programme is the Girls on Track karting challenge, started last year. We have pooled resources with Susie Wolff's Dare to be Different project, have been given some EU funding and the idea is to get girls to try a kart. We have already worked with more than 1000, now have two training camps and are hoping that many of them will continue in motor sport. If we can catch them at a young age we can encourage and inspire them."
They couldn't hope for a much better role model. "You know," she says, "I've had a fantastic career. Rallying gave me a chance to learn all about the world, visiting and exploring many countries. We were sometimes practising for 10-15 days before events, which gave you time to get a real feel for the local culture.
"My life philosophy? Yesterday is history, tomorrow is a mystery – and today is a gift, so it's today that I want to live. Nothing can change what happened in the past, tomorrow perhaps I'll be dead, so I just want to enjoy every day."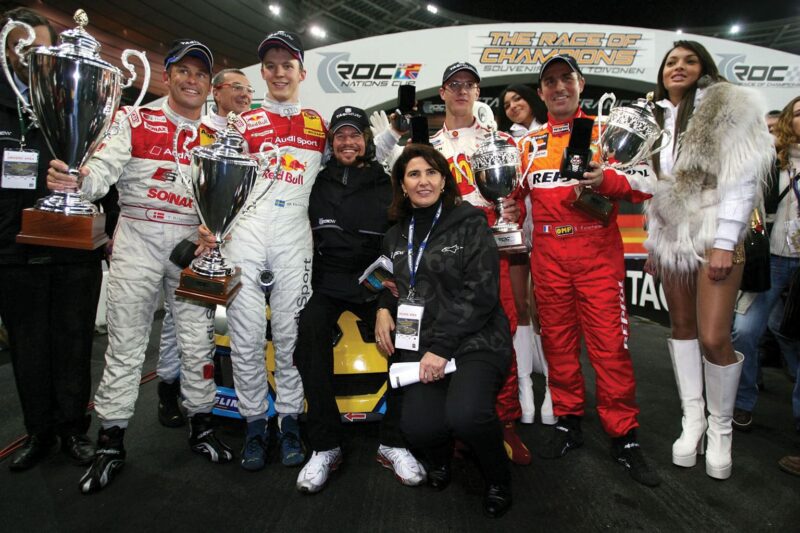 ---
CV
Born: 23/6/51, Grasse, France
1973 Rally debut as co-driver in Monte Carlo, Peugeot 304S; switched to driving late in the season,
in Alpine A110
1974-76 National rallies in Alpine A110 and A310
1975 Class winner, Le Mans 24 Hours, Moynet LM75
1977 2nd in European Rally Championship, Porsche 911
1978-80 French Rally Championship, Fiat 131; 2nd in 1979
1981-84 World Rally Championship, Audi Quattro; four wins; 2nd in 1982; 5th in 1983
1985 British Rally Championship, Audi Quattro
1986 German Rally Championship, Peugeot 205 T16; champion, with six wins from eight starts. Retires from mainstream competition at the year's end
1988 Co-founds Race of Champions with fellow former driver Fredrik Johnsson; the event remains an annual showpiece
1988-89 Selected rally-raids with Peugeot
Currently FIA safety delegate, World Rally Championship; president, FIA Women in Motorsport Commission
---
DIGITAL EXTRA