This is quite something: the first time that cars from all three eras of Bentley's racing history have been driven together. Each has their claim to fame: the GT3 is Bentley's latest competition car, a state of the art racer in the most competitive category of sports car racing. The old Blower is not merely Sir Henry Birkin's own car, not only the one in which he led Le Mans in 1930, but the one that exists today as the most original of all racing vintage Bentleys. And the one that sits in the middle chronologically? It's the 2003 Le Mans winner – not one of a type of car that won that race but the actual winner.
They have come together at Silverstone to celebrate Bentley's centenary. It's not true that Bentley has always been a racing brand – for 71 of those 100 years Bentley did not race at all. But racing was there from the start – indeed Bentley raced long before it got around to delivering a car to a paying customer in September 1921. Over the decade that followed, Bentley put Britain on the racing map. True, Bugatti and Alfa Romeo dominated grand prix racing, but Bentley's five wins at Le Mans between 1924-30 announced Britain's presence on the global racing stage, a position from where the country has rarely looked back.
It was Rolls-Royce which denied Bentley the opportunity to race after it hoovered up the bankrupt company in 1931. Had it been Napier as originally intended, Bentley might not have had to wait a lifetime before returning to the track. But when it did under Volkswagen ownership in 2001, the results were swift, culminating in that 2003 Le Mans win, breaking the records for both the greatest distance covered in the 24 hours and the shortest time spent in the pits. Fast and reliable: WO would have been buzzing with pride.
"Bentley's early wins at Le Mans announced Britain's presence on the global racing stage"
Many still regard the decision not to defend the title in 2004 as a mistake, as the car would certainly have still been favourite to win. But by then VW had spent hundreds of millions designing a new Bentley road car, transforming the factory and putting Bentley back on the top step of Le Mans. It was time for the outbound flow of money to be reversed.
How then to regard the GT3? In some respects it's Bentley's most successful race car yet. It's the first to be sold as a racing car to private customers – although in the 1920s plenty raced their Bentleys, including John Duff who took Bentley's first victory at Le Mans in his – and across five seasons the first-generation GT3 car won 45 races and earned over 120 visits to the podium. And this all-new second-generation car is quicker still.
If there is one thing that links them it is Bentley's claim that as a factory team it never entered a race it did not have a chance of winning outright. So, glossing over Bentley's first international race – the 1922 Indy 500 in which it finished stone last – we'll move swiftly forward eight years to the other end of the original Bentley company's racing endeavours.
---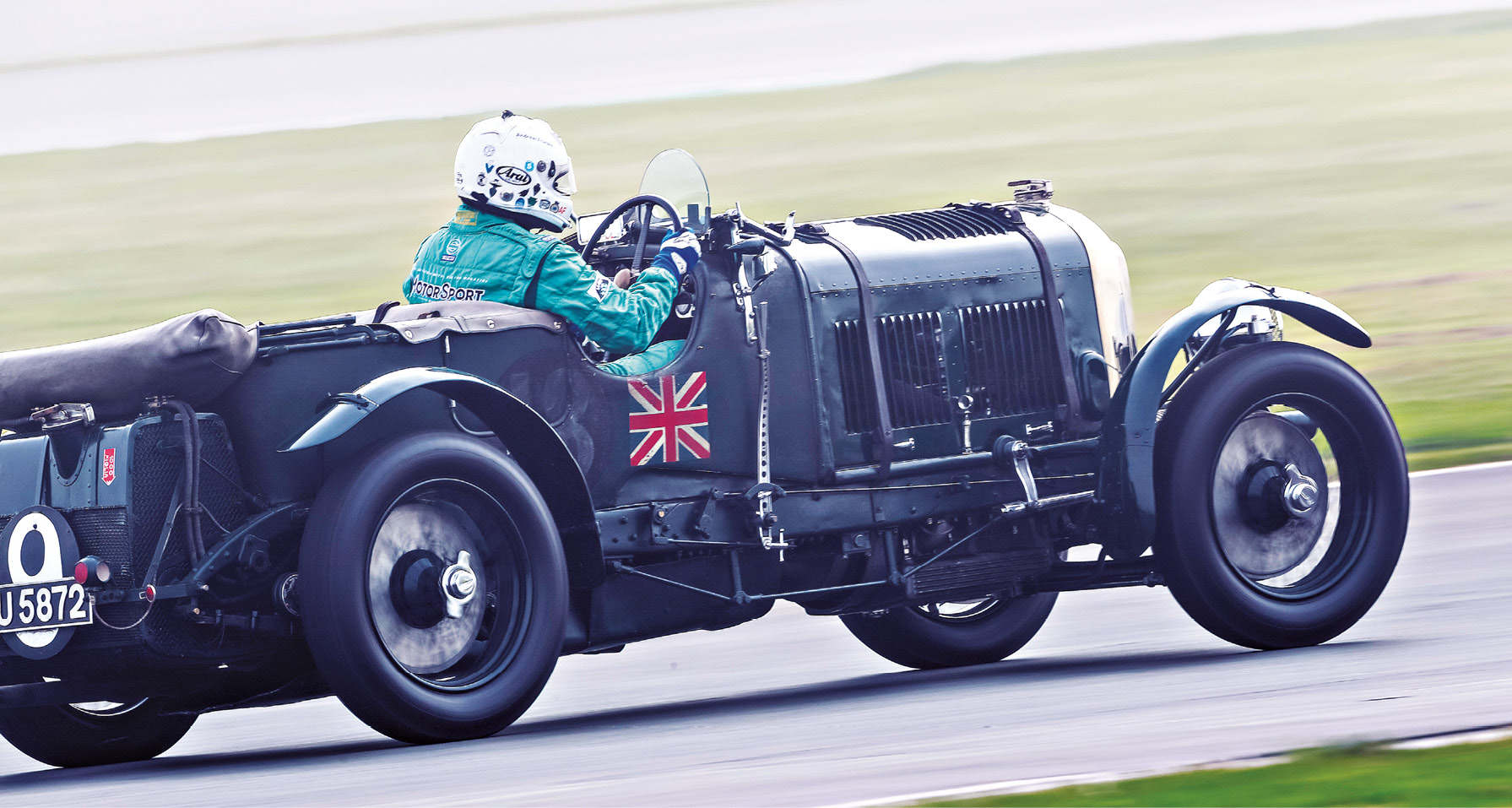 It is Le Mans 1930 and you are Sir Henry 'Tim' Birkin. With the money of a wealthy lady called Dorothy Paget, you have taken the 4 1/2-litre Bentley and fitted an Amherst Villiers supercharger. WO Bentley is livid and can be heard muttering, 'to supercharge a Bentley is to pervert its design and corrupt its performance'. It doesn't matter – WO lost control of his company years ago and chairman Woolf Barnato is delighted.
So you are happy for your two-car private entry to unite with the three works Speed Six Bentleys against a common foe the like of which has never been seen at Le Mans. A Mercedes-Benz SSK whose 7-litre engine is not only larger than that in the 6 1/2-litre Speed Sixes, it's supercharged too. Worse, at its wheel is Rudi Caracciola, Germany's finest driver. Your job is to break it.
So you go haring after it. Unlike your supercharger, the Mercedes' is summoned by clutch according to need. Its engine is designed to tolerate the stress only briefly. So the game is make Caracciola use his blower all the time. Within three laps you've caught the huge Benz on the Mulsanne Straight. The road is narrow and the SSK is in the middle. But you're doing 125mph and gaining. But then a rear tyre throws its tread mangling your wing as it exits the scene. What should you do? Limp back to the pits, obviously. Obvious unless you're Birkin: what you actually do is sail past the Mercedes, half on the grass. You do not stop at the pits; instead you break the lap record.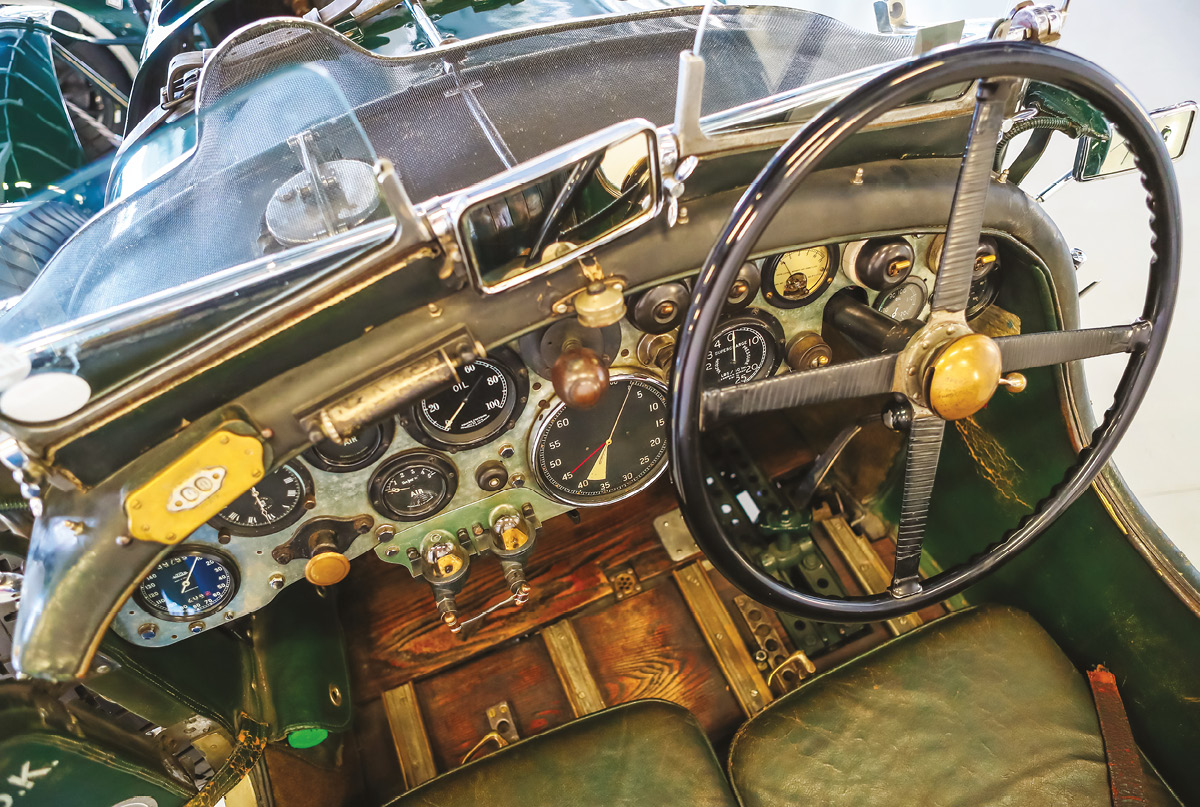 Birkin didn't win this or any other race in a Blower, nor did anyone else. But as a child, that story more than any other lit my imagination, and in some small but significant way started me on a path that led to Silverstone and that very car.
Unlike the car that did win that race, Old Number One, whose identity required a court case to settle so 'evolved' had it become, there's never been any doubt concerning the number two team Blower, UU5872. It's only had one significant accident, and that was before that fateful Le Mans, for which it was rebuilt in the form seen here. For most of its life it belonged to the Sears family – Stanley, Jack and David whose credentials speak for themselves. It was bought back by Bentley with VW's money and has since been maintained, but not restored. In its imperfect and oily state, it is perfect. There are the pedals pressed by Birkin, and there is the splat of instruments that, knowing what I do of him, he would have in all probability ignored.
"It starts instantly with what is know as 'that bloody thump' "
Magnetos on, ignition retarded, thumb the button and it starts instantly with the noise referred to in Bentley circles as 'that bloody thump'. Like most vintage Bentleys, its accelerator is the middle pedal. The gearbox contains massive cogs that require precision timing if they are to mesh without protest. You just have to learn the ratios – a big pause between first and second, as fast as your hands can move between second and third and something between the two for selecting top, remembering to double-declutch always and apply the appropriate rev-match throttle blip on the way down.
You can see why it was quick at Le Mans: the Silverstone International Circuit has a good blend of fast and slow corners and the quicker you're going the happier it is. In the slowest turns it feels cumbersome, not just because of its age and tyres, but because that huge blower slung out ahead of the front wheels adds considerable mass to an already extremely nose-heavy car. Relative to its performance the drum brakes aren't great either, and would need management if they were to last.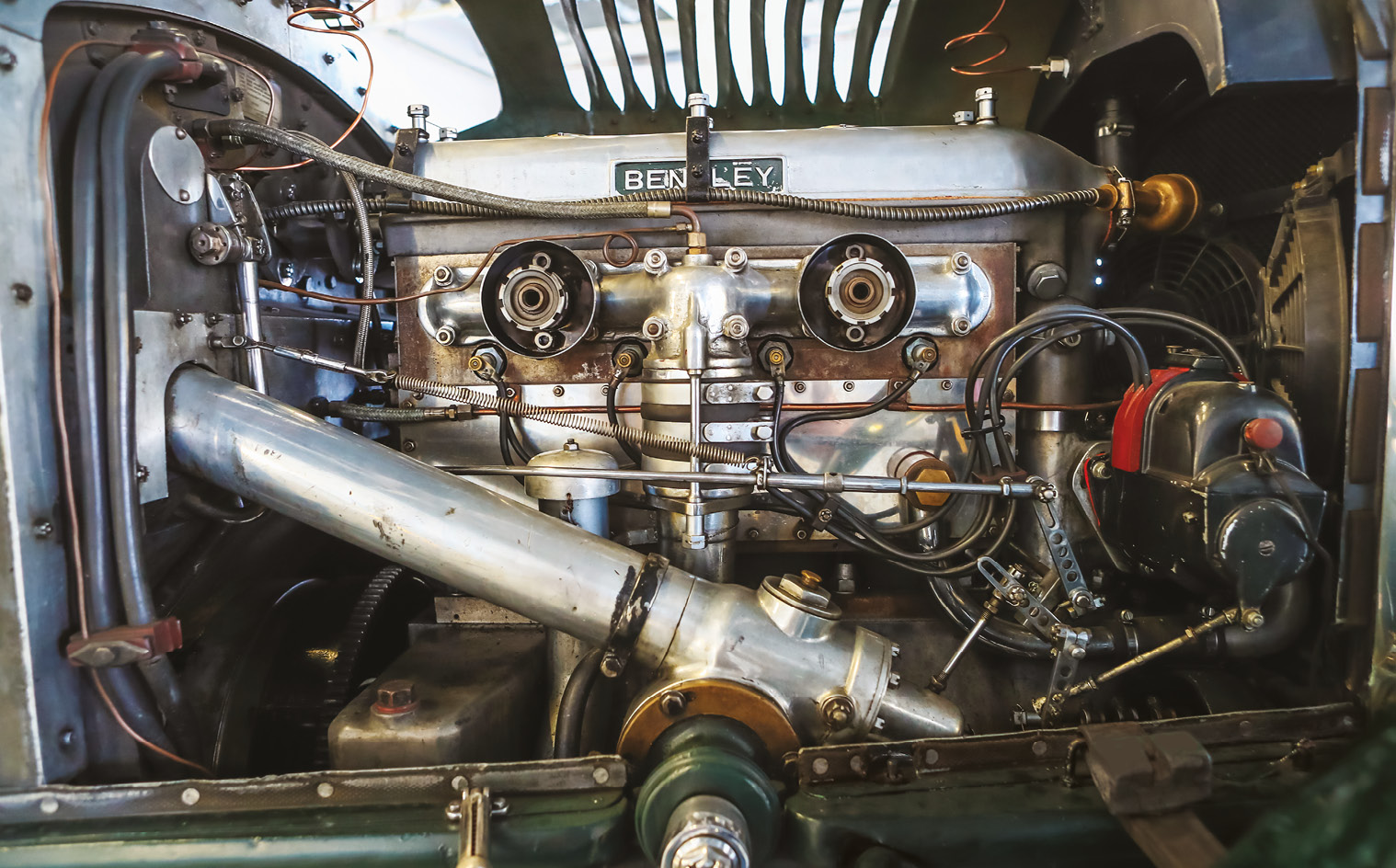 But get it percolating in third and top gear and the old Bentley is magnificent. It has around 240bhp, over double what a standard unsupercharged 4 1/2-litre generates, and it will get to around 90mph down the Hangar Straight, despite a slower entry and lengthy braking zone. What you want is a mile or three of Mulsanne so you can watch that gorgeous chronometric Jaeger speedometer flick into three figures and beyond, engine bellowing, steering shaking, hunched down below the aero screens, hoping the tyres can take the punishment, reeling in that damn Mercedes ahead…
It's hard to drive this car and not get an attack of the Birkins.
---
Not so the GT3. If the Blower is a car you drive with your heart, the GT3 requires a diametrically opposed approach. If challenged to drive the old Blower as fast as I could, I reckon it would need three or four laps to do a time I could not significantly improve. I doubt I'd be able to say the same of the GT3 after an entire day.
It's not that the intervening 90 years have somehow made racing cars more difficult to drive, on the contrary: driving a modern GT3 car almost as fast as it can go is simplicity itself. And the only downside to that is that come race day you'll come nowhere.
This second generation of Bentley Continental was a far easier car to turn into a competitive GT3 machine than the first, because it's based on the same aluminium-intensive platform as the Porsche Panamera. It is a fundamentally lighter car whose primary components are more easily sited for racing. Most importantly. a greater rear weight bias has been achieved because the old car was significantly limited for traction. It's more efficient through the air too, and easier for gentlemen drivers to manage in tough conditions. It's also so light it will carry ballast everywhere it races, a strange thing to say about a Bentley. But some nice touches from Crewe remain, such as leather door pulls and paddle shifters from the Mulsanne limousine.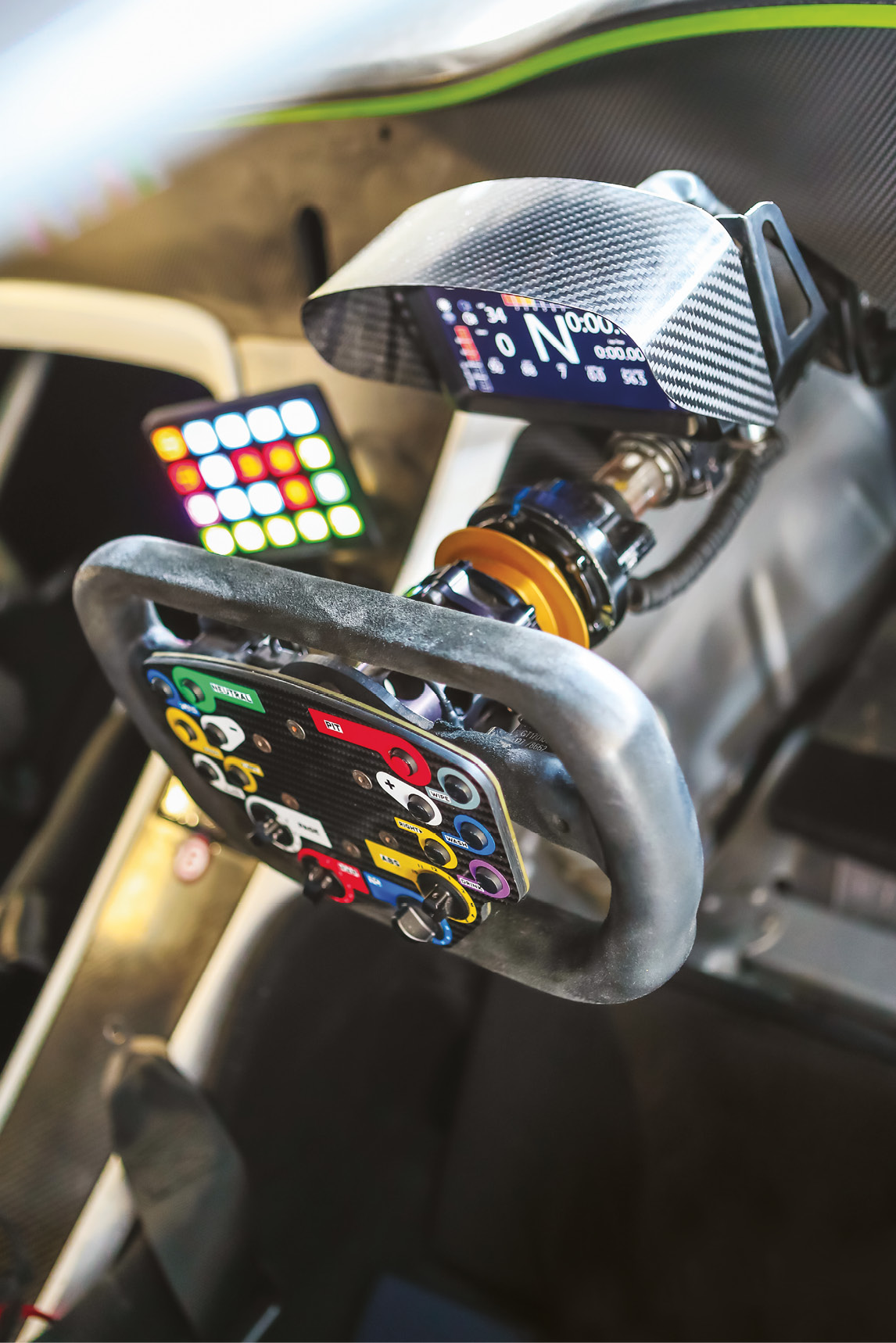 The cockpit is sparse and less space-age in appearance than some rivals, but there's still a vast array of knobs and switches, few of which I will need today. The seating position is fixed both to aid ingress and exit and also to centralise one of the car's heavier components – the driver. Instead the wheel and pedals now come to you.
I'm told the engine has been made quieter, but when it starts the 4-litre twin turbo V8 still sounds like the charges going off under a high-rise building rigged for demolition. But you can't just pull away. The clutch is on the steering wheel and is, in effect, a large switch. There's no skill in what happens next: you engage launch mode with your hand gripping the clutch against the circumference of the wheel, put your foot hard on the accelerator and let go. But there is just a little courage needed because if you lift for an instant, the car stalls. So you keep your foot down and slither up the pit lane with smoke pouring out of your wheel arches. There appears to be no other way.
It's strange, then, that it doesn't feel that quick in a straight line. A supercar like a McLaren 720S would stay with it once the wheels stopped spinning and come past as the drag of the Bentley's wings started to tell. You thunder down the straight, feeding it gear after gear, but there's nothing other- worldly here, not yet at least.
"It's on the brakes that this modern GT3 feels most alien"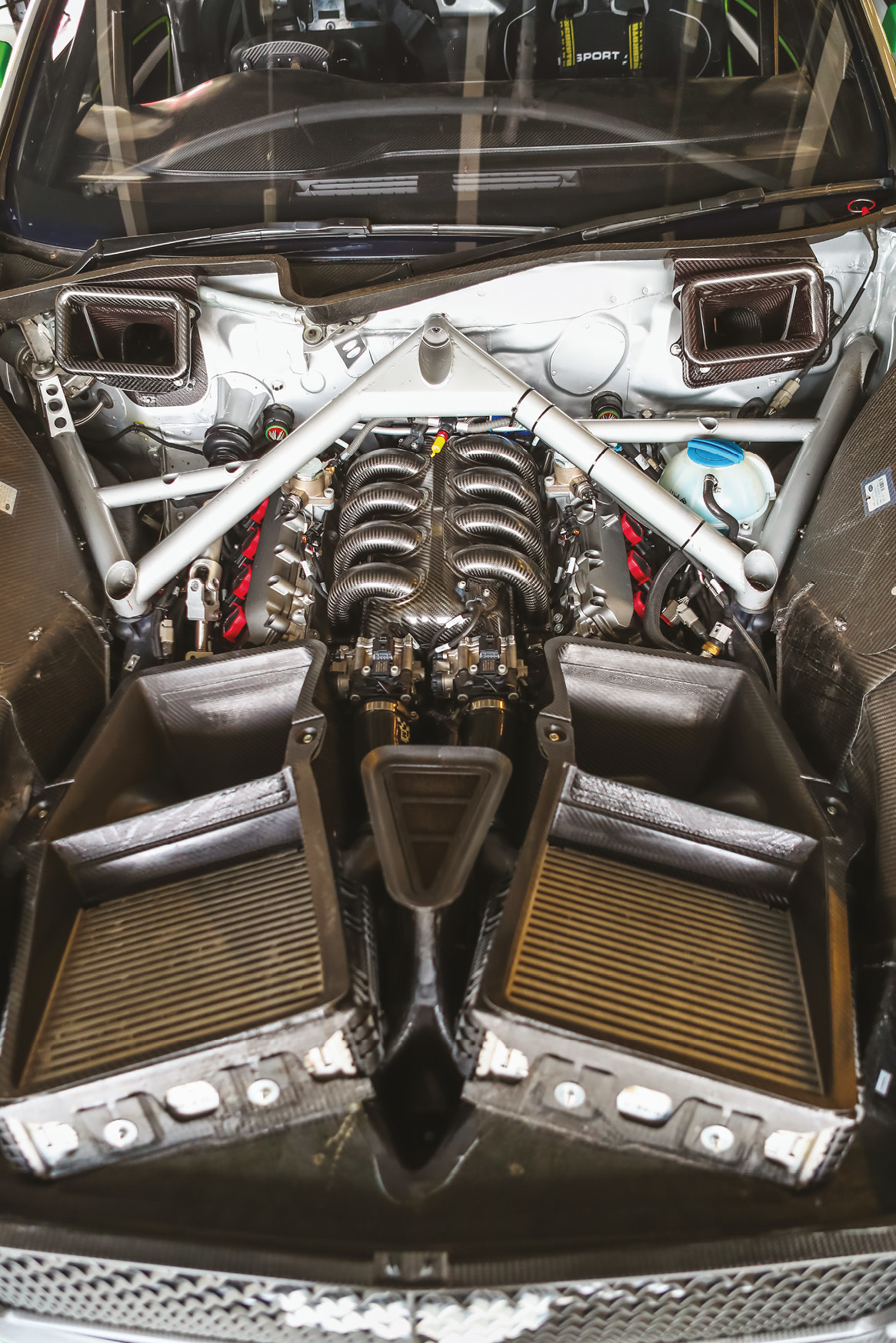 That all comes in the braking where it doesn't matter how hard you hit the pedal because you're not going to trigger the ABS at high speed. To anyone used to road cars, or even old racing cars, this is where a modern GT3 car feels most alien. For a corner like Stowe you brake barely before the turning point, staying on the pedal all the way to the apex, but bleeding off the pressure as the downforce washes away.
Then it's just a question of how hard do you dare get back on the throttle, and how soon? So long as you've not dialled up too much traction control (which cleverly lets you control not only the level of intervention but the point of activation too), the car will slide amiably enough, but without time to talk to the engineers, study the data and learn how the tyre behaves over a stint,
I don't have a feel for the best way to get
the most from it.
Before I'd even think about racing it I'd want a stack of tuition, not in how to control it on the limit because it's an entirely forgiving car, but how to extract the best possible lap time from it. That's a subtly but significantly different thing.
---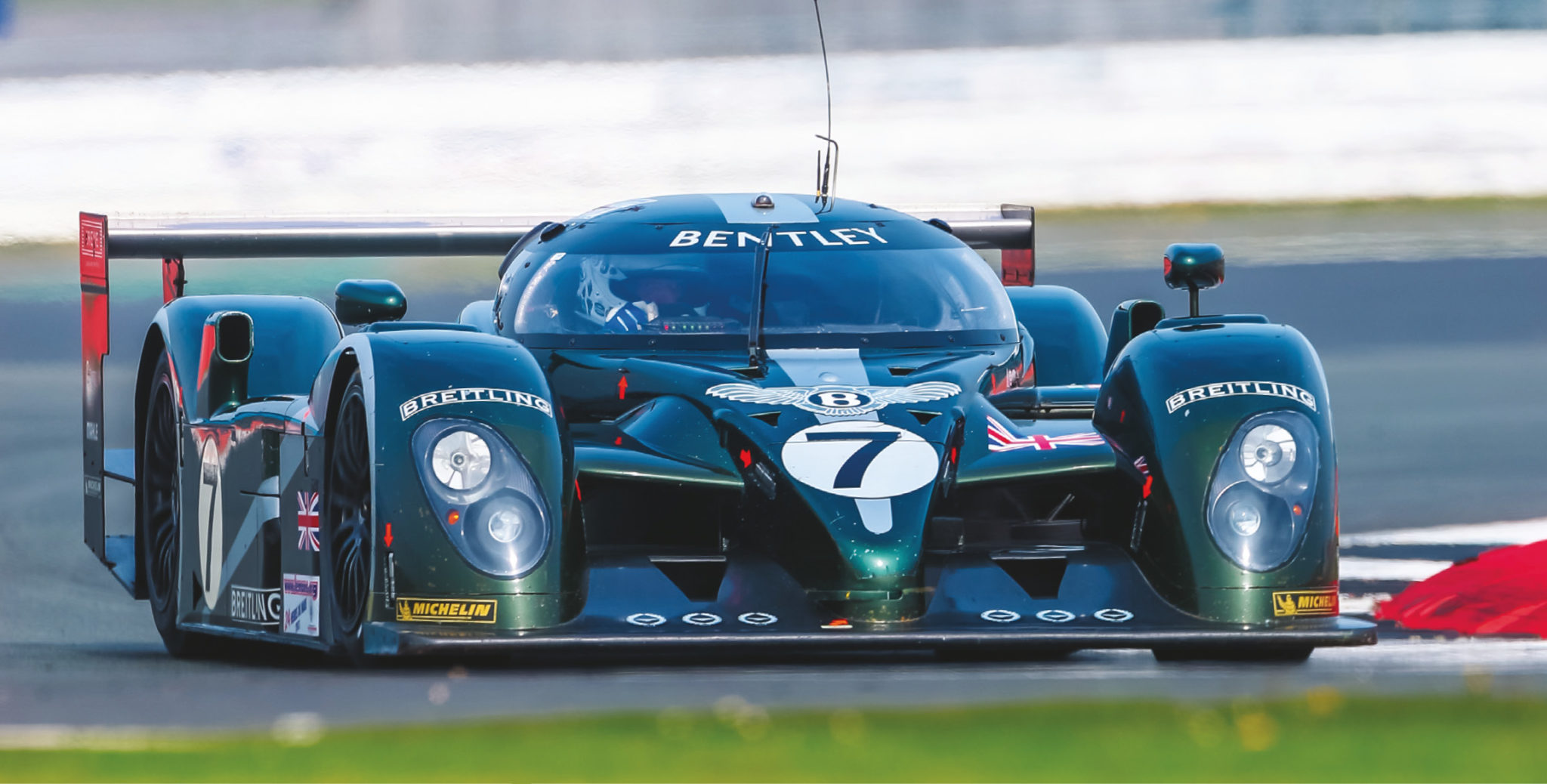 And then there is the Speed 8. I've loved the other two, but I know vintage Bentleys well and I must have driven a dozen GT3 cars over the years. But the actual Le Mans-winning Speed 8, the car in whose pit I camped for the entire race, whose drivers I interviewed and whose mechanics I annoyed? This is something else.
The car was designed from scratch for the 2003 season, its rather more conservative EXP Speed 8 predecessor having been raced in 2001 and 2002. And yet there are still those who'll blithely tell you any Speed 8 is 'just an Audi R8 with the roof'. It's not and never was, not even in 2001.
"It's just sheer bloody ignorance," its designer Peter Elleray told me. He had designed the R8C that raced without success in 1999, and people made far too great a mental leap. So I got him to put it in words anyone can understand: "Yes, we had that knowledge [from the Audi project]. But engine aside, there was not a single thing on the Bentley that had anything to do with the R8C or any other Audi."
It's a ridiculously hard car to get into, and once in there's a whole new level of intimidation. I can remember in 2003 peering at its LCD screens and steering wheel buttons and thinking it looked space-age, but compared to a modern LMP1 car it's seriously starting to show its age. But at least it has three pedals in its footwell.
A modern Le Mans prototype requires dozens of people to run it, but this one fires up angrily but easily at the push of the button. Its voice is metal-on-metal ugly, the harsh bark of its flat-plane crank sitting in stark contrast to the fabulous growl and howl of the cross-plane GT3 motor. The clutch strategy could barely be more different either: a tiny bit of throttle until you feel it bite, then just roll gently off the pedal before touching the gas.
Guy Smith, the only man to have raced both a Speed 8 and a GT3 Bentley, has been full of reassurance: "It's a lovely car; the harder you go, the better it gets. You have nothing to worry about – just trust it and you'll be fine." But it's scary in here. It's incredibly claustrophobic, the extremities of the car are hard to judge and every time I touch the accelerator it goes nuts – 600bhp tends to do that to 900kg of car.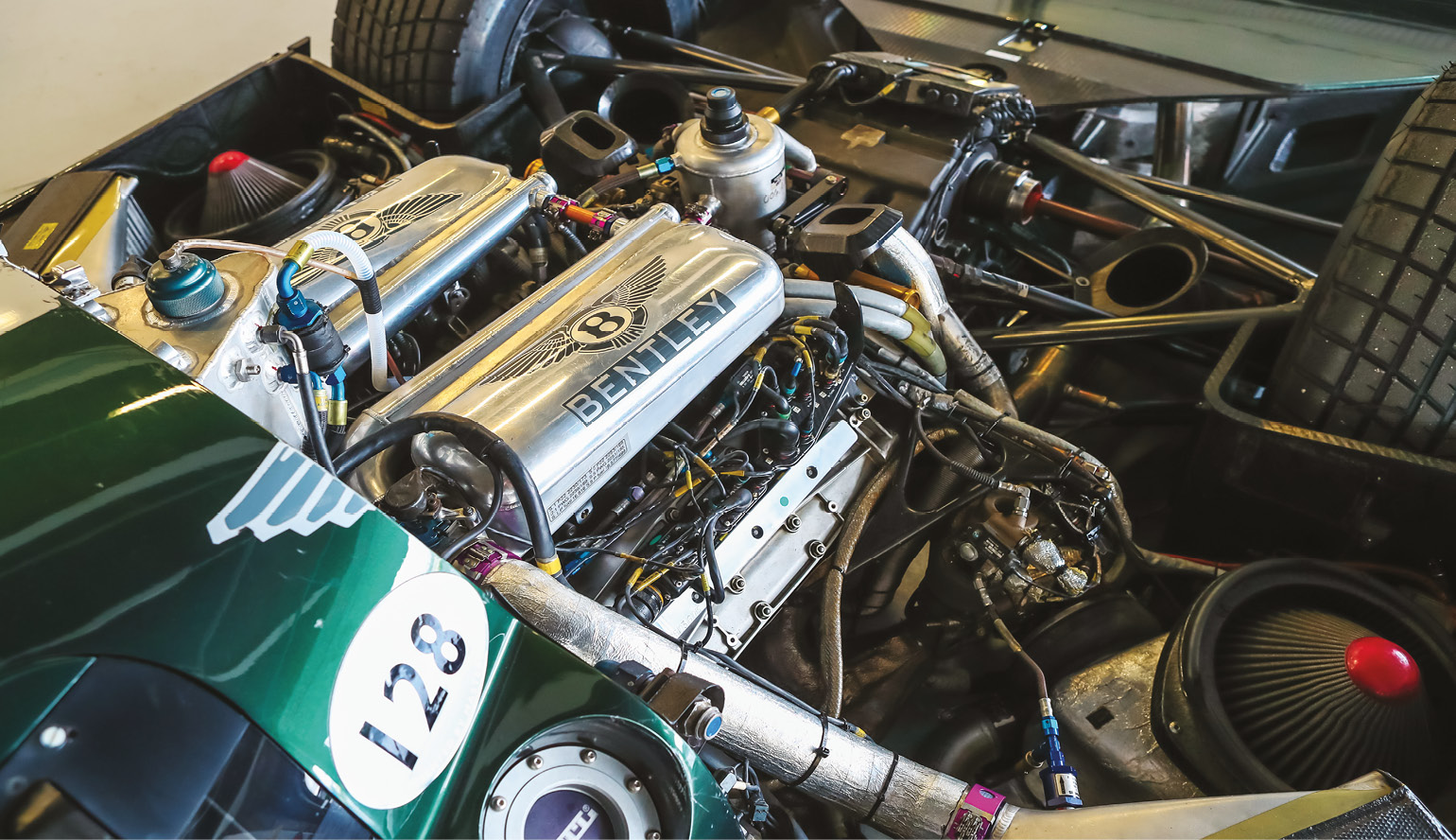 The steering feels kart-like in its directness. It's lighter to handle than I expected and despite Guy's calming words I don't feel at home in here. But nor should it be reassuring for those who drive it slowly: a GT3 might tolerate being handled like it's a bomb waiting to explode, because ultimately it's based on a street car and comes with a street engine. The Speed 8 is not. If you're to find out anything other than how to scare yourself, you have to drive it.
So I do. I forget its value, its history and instead just go as hard and fast as I dare: in a car like this it is the only way. And here's the truth: this now quite old racing car is on another level to anything else I've driven, including Group C cars. The straight-line speed normalises quite rapidly and I've driven plenty that accelerate more quickly, but the brakes and grip are barely believable.
I'm told it will corner faster on wets than the GT3 does on slicks, and I believe it. It's probably doing 170mph at the end of the Hangar Straight, yet even ignoring what seems to be a sensible braking point, counting a bit, counting a bit more and only then braking and turning in, it still hits its marks every time.
And I can start to see what Guy means: above all the car is surreally stable: while the GT3 likes a big, physical fight, the Speed 8 is best at doing what it's told. Because it's so fast and intimidating and develops such enormous downforce, you just presume it's going to be impossibly hard to drive. But it's not. Smith says that even when you're extracting a time from it, it's always on your side.
I'd love to have learned more, more about its quick corner apex speed, how best to manage the brakes and how it behaves when it really starts to slide, but beyond a touch of understeer in the slowest corners, it just went where I pointed it.
---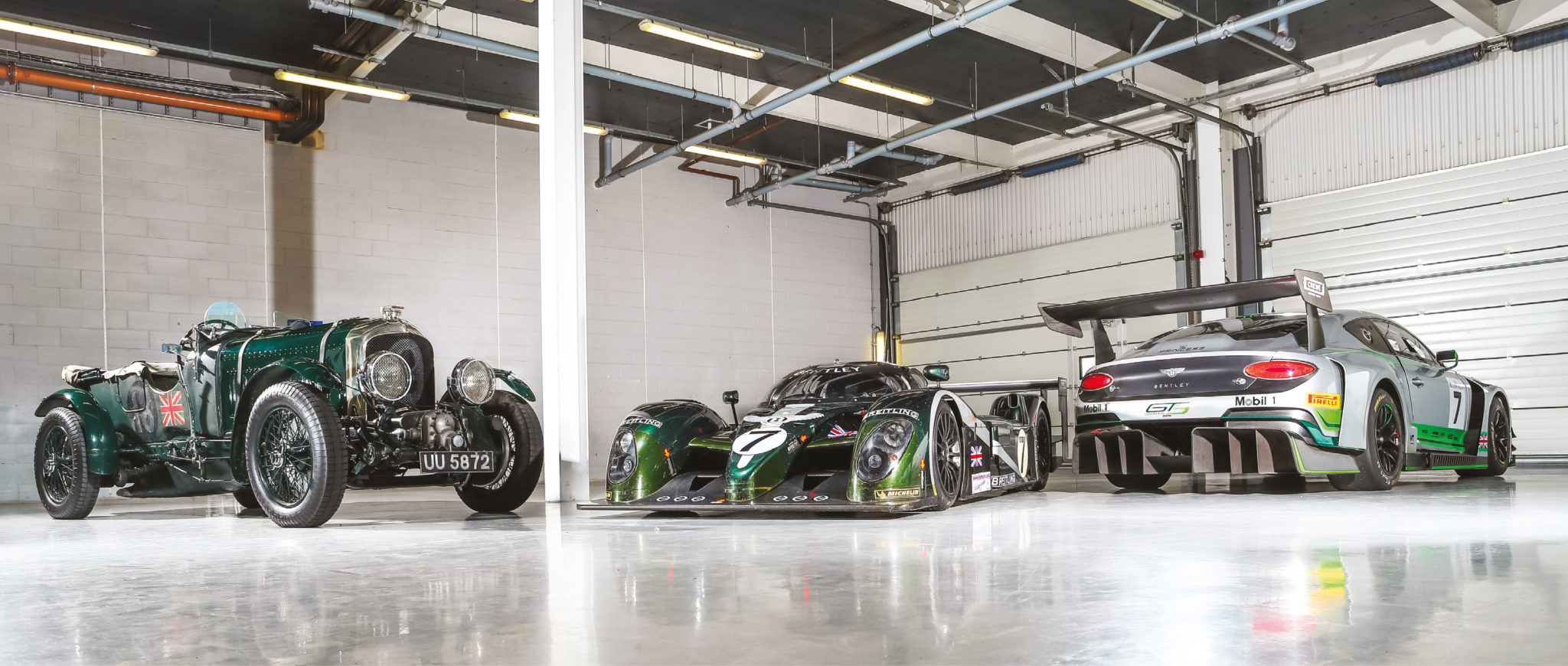 Driving home, letting the day wash over me, I wondered which of these Bentleys spanning 90 years of competition I'd drive again. Would it be the GT3 car, but in a real race? It's mighty tempting and with some tuition I know how much I'd enjoy the experience. Or the old Blower, just for the sense of occasion, knowing what it is, and who once sat in that seat?
But no, it's the Speed 8, and not just because it's the one about which I still have the most to learn. Racing cars that were never designed to be anything else are just different; wonderful though they are, the road-based origins of both the Blower and the GT3 are clear. The Speed 8 is a car of simply exquisite purity and focus. It's also a card-carrying Le Mans winner. To me that fact alone makes it one of the most special cars anyone could hope to drive.