"D'you know Tivoli Gardens, in the centre of Copenhagen?" Tom Kristensen casts a quizzical glance across the table and perceives a slight shortfall in Motor Sport's grasp of Danish culture. "It's almost as old as the city itself," he continues, "a park with amusement rides and restaurants, fully pedestrianised. I never thought anybody would be allowed to take a car in there, not even our royal family, until we were waved through the gate in a vintage Bentley…"
That was August 2003, part of a promotional tour to celebrate Bentley's sixth outright Le Mans victory and its first for 73 years. It was also the fifth of nine such conquests for Kristensen, a man who won Formula 3 titles, challenged to do likewise in F3000 and tested several F1 cars, yet never graced a grand prix grid. Instead, a chance to contest the 1997 Le Mans 24 Hours – a winning debut alongside Stefan Johansson and Michele Alboreto in a Joest-run TWR Porsche – defined the shape of his future career. Seven of his subsequent victories came in assorted Audi prototypes, while the other added him to a roster that includes Barnato, Birkin and Benjafield: he became a Bentley Boy of the modern age.
Kristensen has joined us to connect past with present. It's the Silverstone Classic media day and he's here to take a stint at the wheel of a 4½-litre Bentley, not an original Le Mans car but one with an interesting competition pedigree. First registered in January 1930, it was owned for a time by Archie Butterworth – designer of the flat-four engine that powered the Aston Butterworth F2 car, which appeared occasionally in world championship grands prix during 1952. Butterworth raced the Bentley extensively in the late 1940s – taking part in Britain's first post-war race meeting, the one and only fixture staged at Gransden Lodge. Current owner Eddie McGuire acquired the car in 2007, had it fully restored and added a supercharger that hadn't been there originally. It still carries the British Racing Drivers' Club and Bentley DC badges that once belonged to Butterworth.
"It is geared for 100mph at 2700rpm – and will do that all day long," McGuire says. "It has 180bhp and huge torque, 250lb ft from 1000-3000rpm. It's an absolute joy to drive. It has a 180-litre (39.5-gallon) tank and a 400-mile range. In each of the past two years I've driven it from the Nürburgring to Calais in about 4hrs 15min, non-stop. It's brilliant, as good as a modern car, though it does require a mortgage to refuel it…"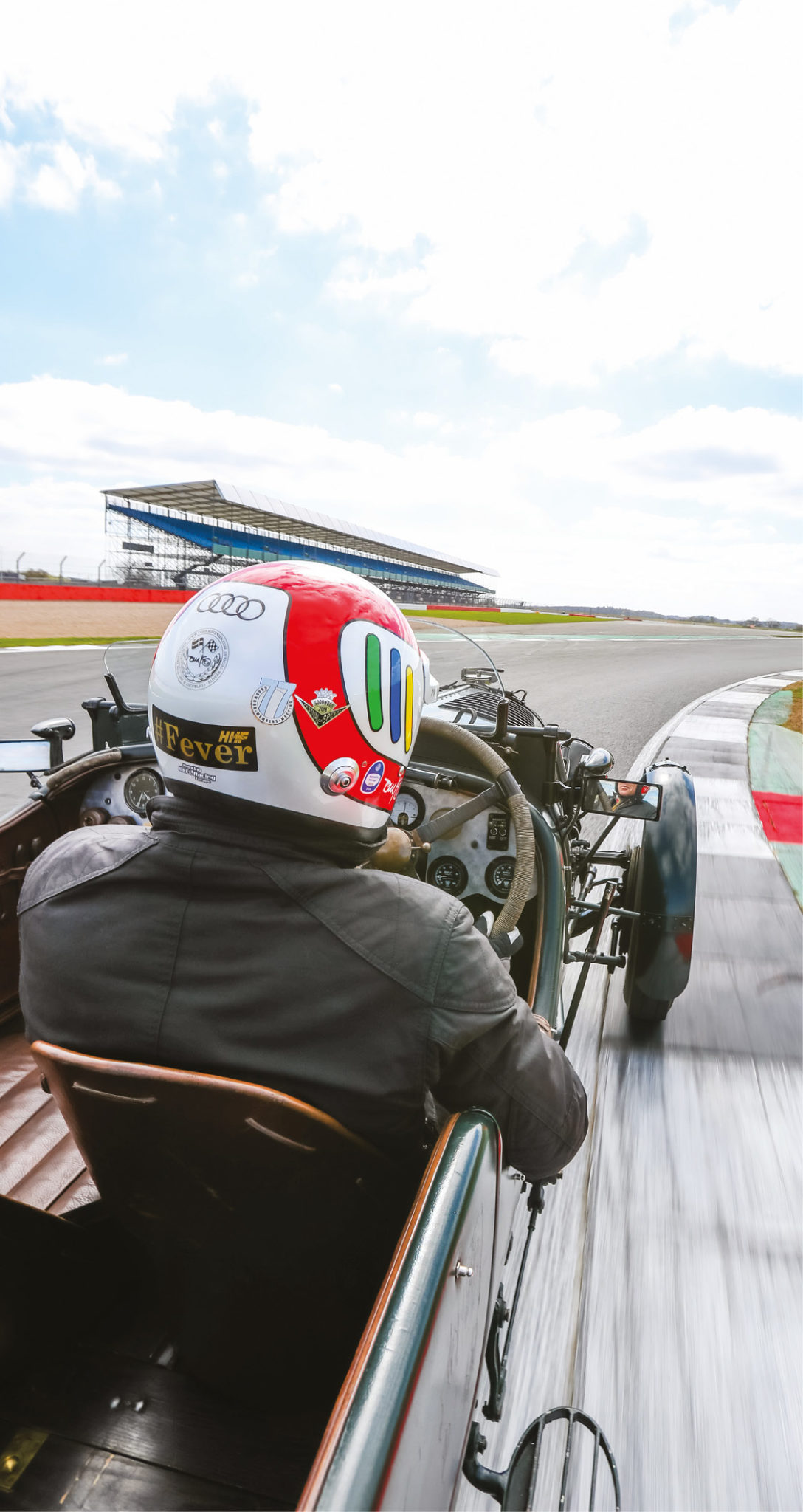 Kristensen has driven vintage Bentleys before – "but not very often" – and first ventures out alongside McGuire, to observe and reacclimatise. "I've driven a 3.0-litre Bentley, a 1924 Le Mans car," he says. "I've tested a 1949 Ferrari 166, the Chinetti/Lord Selsdon car. I've driven a Ford GT40 from 1967, the year of my birth, and an early '70s Matra. For Audi I've driven the Auto Union Typ C, but none of this has been in anger – it has been a great privilege to experience these cars in a way that approaches the limit but in no way reaches the limit.
"I always enjoy driving older machinery, but it's very hard to align it with my competitive mindset. If I were to race something like this Bentley, I'd definitely be too late on the brakes, carrying too much speed into the corners, sliding around, running out of road… When it steps out a bit everything kind of flexes, so you're not sure how much you can do. I don't really want to know – I'm happy being respectful, keeping it well within the limit."
After a couple of gentle laps, he's set loose on his own. As he leaves the pits, his open-face helmet showcases a grin that has become broader still by the time he returns.
"The throttle is very responsive and there is huge torque from almost anywhere in the rev range," he says, "plus the sound is incredibly distinctive. You have to double declutch going up the gears, but it didn't take too long to get the hang of that. Today you're looking at microseconds to make sure the gears have engaged. Back then it was all about listening and timing – boom, up the box we go. Changing down, I'm not sure I ever got it completely right during the few laps I did – and sometimes I stayed in third when I could perhaps have used second, but I felt staying in third and fourth was probably wise.
"I tried to keep an eye on the gauges, but with all the steering inputs and the strong winds – another Silverstone speciality – you are constantly concentrating on slight adjustments if you try to stay anywhere near the ideal line. You get into a corner and start to think, 'Yeah that feels good, good, good…' then suddenly it's a case of, 'Whoa!' The car starts pushing a little bit to the side, so you're not completely sorted. In the same situation with a modern car you'd be thinking, 'OK, that's done, move on.' With the Bentley it seems there's always a little bit more to do."
He looks across at the car's owner, "Is it OK if I say that the brakes are rubbish?" McGuire nods and concedes that they are due a few adjustments. "I remember them being better than this, once you've found them, that is, because the throttle of course is in the centre. When you hit the pedal you have to pump it a bit – and if you were travelling at 120mph or whatever, it would force you to think ahead if you just wanted to make the corner, never mind being on the correct line, because the car's so heavy."
Although he raced for Bentley only once at Le Mans, sharing the winning car with Guy Smith and Rinaldo Capello, the Dane is something of a student of the company's competitive pedigree. "I'm aware that I don't have the same kind of association with the company as Henry Birkin, Woolf Barnato or the original Bentley Boys," he says, "but I believe what Bentley did in the 1920s is at least partly responsible for the way the Le Mans 24 Hours evolved internationally. If Bentley hadn't gone there in 1923, there would have been a couple of Belgian entries and the rest would all have been French. In those days Bentley was there every year with its flamboyant cast of drivers and the development going into these leviathans was well ahead of its time, because the cars were able to run for 24 hours at speeds that were remarkable by contemporary standards. The numbers might not look all that impressive today, but goddammit they were. And they were running with only two drivers back then.
"During the final phase of my career, an LMP1 prototype felt like my natural environment. It was a professional vocation that involved a lot of determination and passion, the same as it did for everybody else out there. But in the 1920s it was all very much an adventure; they were undertaking things that had not been done before – or at least had very rarely been done. Records were constantly being established, or broken. For the Bentley drivers I'd imagine the whole thing was akin to conquering mountains, or reaching the North Pole. The whole concept of racing cars like this for 24 hours was completely crazy – but simultaneously fascinating and wonderful.
"WO Bentley clearly wanted to prove his cars were reliable and that is very much an engineer's mentality. During that period there were debates about what you could or couldn't do to a car – stuff like adding a supercharger, and whether or not you could make it reliable. There was a lot of innovation and some of the spin-offs can still be seen on the cars we drive today."
Does he feel pampered, having done much of his racing in the carbon age? A quick smile. "Remember," he says, "that I raced at Le Mans in three separate decades. Before that I drove a tubular chassis in Formula Ford 2000, then an aluminium honeycomb Ralt in German F3. And even when I was racing F3000 in Japan we had steel brakes, so I'd say I grew into the carbon era…"
He'd started out by saying that he was happier driving an old Bentley than he would be racing one. Has anything he experienced at Silverstone altered his feelings?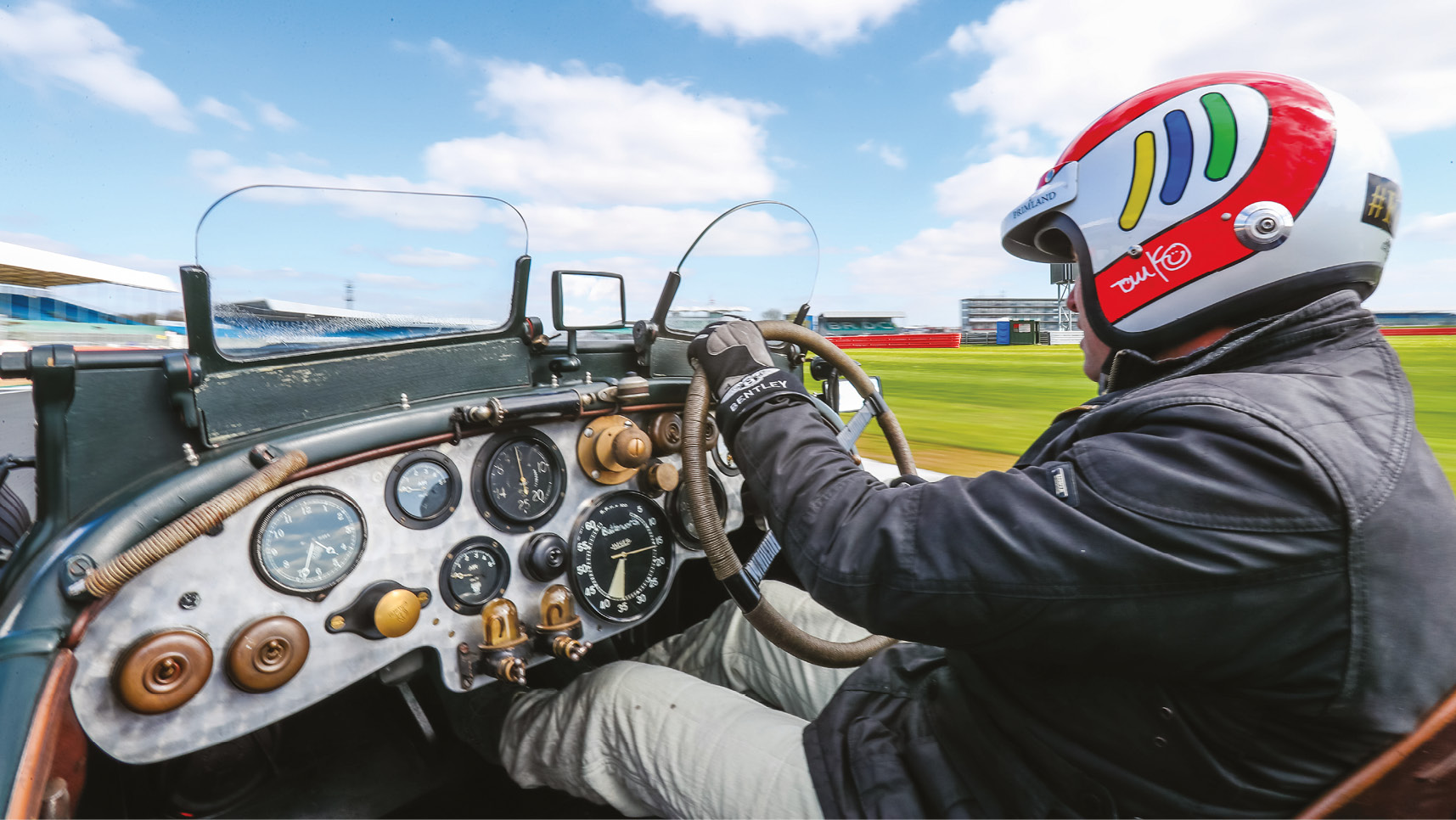 "In short, no!" he says. "I wouldn't want to race a car from this period unless I owned it… and unfortunately I don't. I always respect cars I get asked to drive, but you cannot allow yourself to get into full race-driver mode. You're trying to settle into a rhythm and go as quickly as possible without endangering anybody or anything. I'm quite happy in cars from the 1950s or 1960s, because I like to slide them around and you can do that on the old-style Dunlop tyres. The Bentley is probably a little too before my time, so it would be hard to get into my comfort zone. I don't like over-driving – and the temptation to do that might be too great.
"You can't help but look for the limit and any modern driver will tell you the same – you enter any corner faster than should be possible, just a little bit, then deal with it. Then on the next lap you want to go a little faster – you're doing that constantly. If you were to do the same thing with a pioneering car such as this, without understanding what feedback you were going to get…"
He shakes his head gently, but that familiar grin remains.