The show must go on
As real-world motor sport returns, Tom Errington picks out some of the star turns which left a mark on lockdown racing
Emanuele Pirro
Committing to virtual racing with a full sim rig is a costly business, but there are ways around it, as five-time Le Mans winner Pirro demonstrated. Sitting in a camping chair at his desk, steering wheel and gearstick in front of him, Pirro has become an undisputed star of lockdown racing. In a sentence that could only come from esports, Pirro lost out in a title fight with Jenson Button in The Race Legends Trophy. Openly admitting his esports toe in the water has changed his perspective, don't be surprised to see Pirro racing on.
F1's young guns: Norris, Leclerc, Russell and Albon
The biggest winner of lockdown is Formula 1's new generation, grabbing most of the headlines. If it wasn't Lando Norris's IndyCar cameo, including Simon Pagenaud's deliberate crash, it was Norris joining Charles Leclerc and George Russell as they tried their hand at long-distance truck driving, or Leclerc's girlfriend, Charlotte Sine, having to buy a subscription to his Twitch stream to get his attention to be let into their apartment… The lockdown has exposed F1 fans to the genuine and fun personalities each driver has. There's been exciting racing between the likes of Norris, Leclerc, Russell and Alex Albon in F1's series to keep fans hooked, as Russell became the unofficial Virtual GP Series champion.
Jenson Button
At the end of 2019, one of the talking points in motor sport was – what next for Button? Most suggested the World Endurance Championship or the DTM, but the answer was winning the Legends Trophy, including memorable dicing with former McLaren team-mate Fernando Alonso. On top of that, he's also raced in SRO's competition, as well as F1's official series and made an iRacing cameo. When one Twitter account asked how Button's F1 career should be remembered: the 2009 F1 champion joked it should be "for his esports racing"…
The Le Mans 24 Hours Virtual
Of all the events to take place in lockdown, few can claim to have attracted the star names, the quality broadcast and gripping racing as Virtual Le Mans. Yes, a 24-hour race strained rFactor, as a sweary Max Verstappen can attest to. But he was joined by the likes of Fernando Alonso and a variety of IndyCar and sportscar drivers, while effective race control helped a thrilling race, won by Rebellion. With France's COVID-19 restrictions lifting, can the real Le Mans in September live up to the virtual?
---
Plotting a new course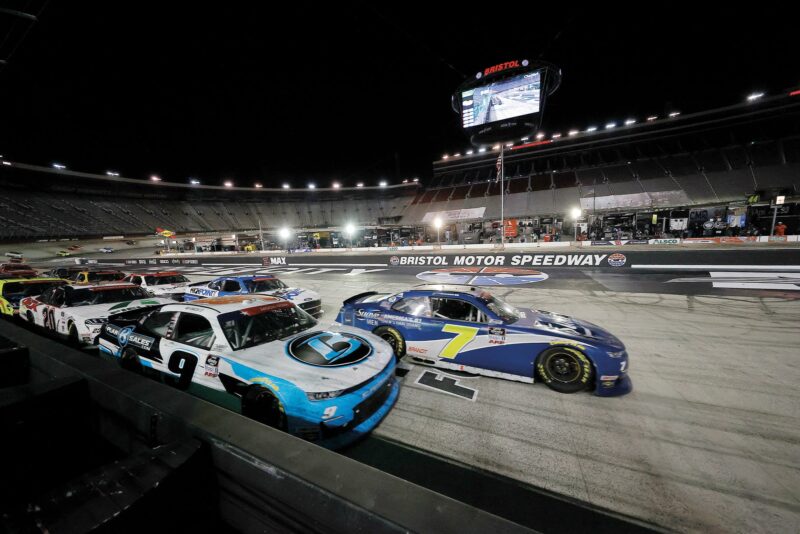 As the coronavirus pandemic evolved, it became standard fare to see a championship issue a revised calendar only for it to be rendered redundant within days. But there's growing confidence that July will be the month in which motor sport truly returns.
The US has already run several NASCAR races, and an IndyCar round, all adhering to safe practice, and the UK looks set to follow. Motorsport UK has outlined July 4 as a starting point for national championships, with British GT and BTCC framing new calendars.
Formula 1 has announced a preliminary eight-race calendar to start with, while MotoGP revised its comeback plan recently. Formula E continues to evaluate its options.
Formula 1
Austria July 5
Austria July 12
Hungary July 19
Great Britain August 2
Great Britain August 9
Spain August 16
Belgium August 30
Italy September 6
Formula E
Berlin August (TBC)
MotoGP
Jerez July 19
Jerez July 26
IndyCar
Indianapolis July 4
Road America July 11-12
Iowa July 17-18
Mid-Ohio August 9