2021 Monaco & Azerbaijan GPs: Advantage Max... for now
Victory in Monaco and a slice of luck both ways in Baku leaves Red Bull out front, but only by a fine margin, says Mark Hughes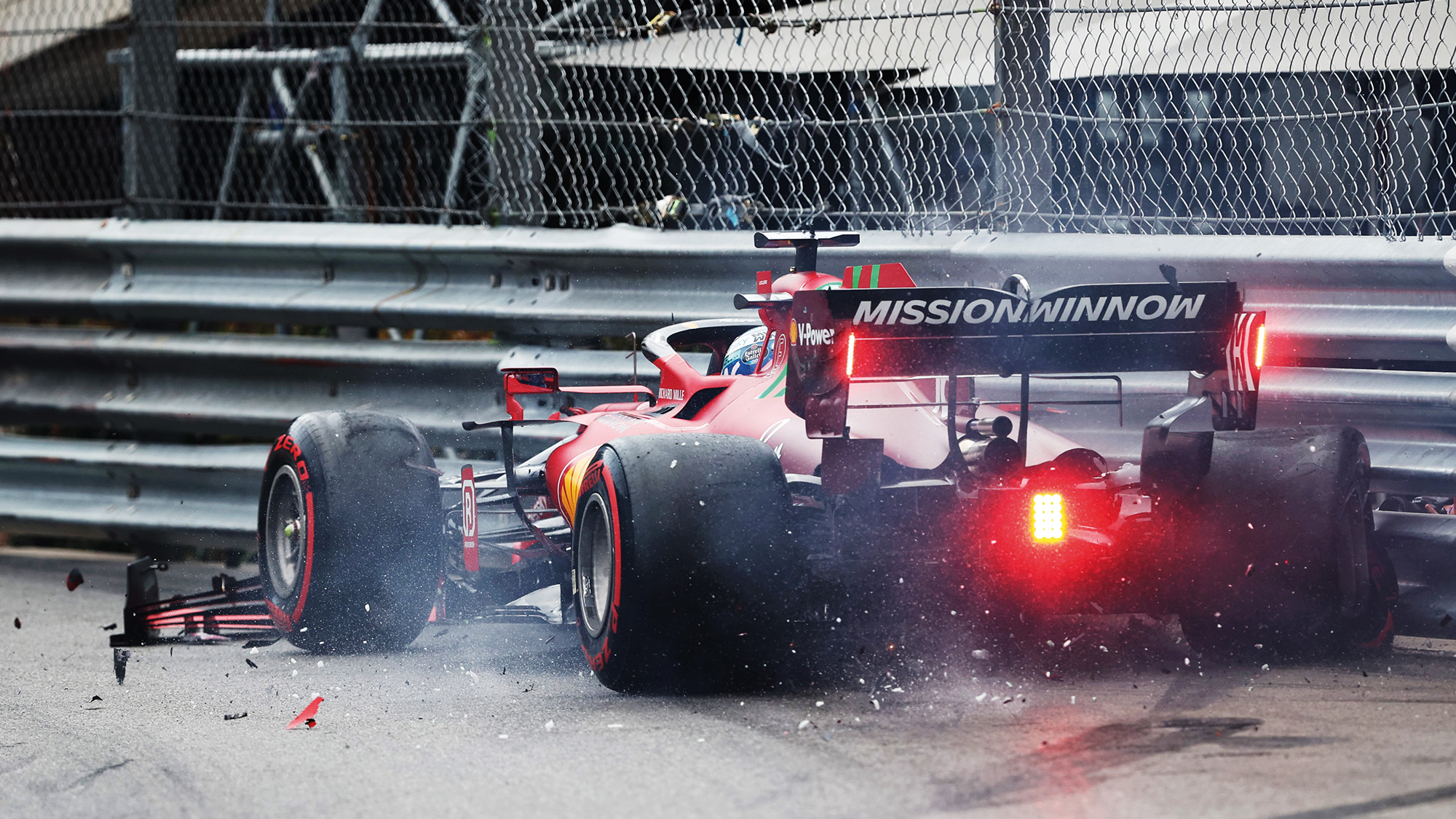 Monaco GP | Azerbaijan GP
This is where the competitive shape of the season changed again, where the narrative of the fight up front between Mercedes and Red Bull took a further twist.
Up until Monaco the storyline had Mercedes gradually overhauling Red Bull's initial advantage, starting behind in Bahrain and Imola, drawing level in Portugal and pulling away at Barcelona. Monaco was never likely to continue that sequence. Drag and tyre deg – the two crucial areas of Mercedes' advantage – are close to irrelevant at the race around the streets where it becomes all about how much downforce can be loaded onto the car and aero efficiency be damned. That's Red Bull territory.
Baku was less certain going in; like Monaco it has a low-grip street surface and its picturesque old town middle sector is very Monaco-like in its low-speed downforce demands. But there is that super-long Caspian stretch which forms the final sector, 1.4 miles of flat-out running where aero efficiency is very important, a combination which presents some difficult wing level choices (see F1 tech panel).
What was unexpected about Monaco wasn't that Mercedes fell back in the pecking order, struggling to generate instant tyre temperatures in qualifying, but that both Mercedes and Red Bull would be overshadowed by – Ferrari. Up until Monaco the Italian car had averaged around 0.5sec slower than the frontrunners and was typically in contention with McLaren for the status of best of the rest. It didn't have the raw horsepower of the Mercedes and Honda engines, nor the high-speed aero performance of the others, but it was very good in slow corners. Monaco revealed just how good: better even than Red Bull, good enough for Charles Leclerc to put it on pole.
It was a pole with question marks against it because no-one got to do their second Q3 runs. Because Leclerc had crashed on the exit of the swimming pool section, ripping off the right-hand side of the car. Others in contention for pole – Carlos Sainz in the other Ferrari, Verstappen's Red Bull, even Valtteri Bottas' Mercedes – were behind him on track and thus denied their laps. Leclerc had not been set to improve on the lap on which he'd crashed, but the others all were. The Ferrari reigned supreme through the middle sector (from the exit of Mirabeau to Tabac) which comprises almost half of the lap. Sainz was particularly disappointed with the way things had played out, as his first run included a run-wide moment at Tabac which left him only fourth. "On Thursday I felt for the first time in my career I had a car in my hands in which I could set pole and win the race," he said afterwards. He'd been nip-and-tuck as quick as Leclerc throughout and visibly less on the ragged edge. Verstappen had just gone fastest in sector 1 and would definitely have been in contention. Bottas had done a great job just getting the Merc into some sort of shape, finding that tyre temperature threshold which remained elusive to Lewis Hamilton, who could do no better than seventh fastest.
Ferrari was concerned about whether Leclerc's gearbox had been damaged in the accident as a replacement unit would cost a five-place grid drop. Turned out the gearbox was fine but the impact shock had transferred through the drivetrain to the left-hand side and cracked the wheelhub. This went undetected until Leclerc made his first lap out the garage on Sunday in the repaired car. As he got onto the power out of the hairpin, the hub broke, and the driveshaft was no longer able to give drive to the wheel. The pole position car wouldn't be starting the race.
With the pole slot vacant, Verstappen from the less grippy outside line had to get smartly across to the right to prevent Bottas from the gripper inside line getting in front. That accomplished, Verstappen took control of the Monaco Grand Prix and was never under any threat. Bottas kept up for the first 10 laps but such was the extreme set up on the Mercedes needed to generate tyre temperatures in qualifying that it wore both front and rears out very quickly, almost unheard of at Monaco. Hamilton was suffering similarly further back, running behind Pierre Gasly's fifth-place AlphaTauri. Sainz ran an easy third, well clear of Lando Norris' McLaren, and looking to put pressure on the struggling Bottas at the pit stop window.
"Leclerc's pole was one with question marks against it"
Bottas was pitted on the 30th of the 78 laps – and was never seen again. The frontright wheel nut was machined onto the stub axle and had been rounded-off by the air gun. No amount of coaxing was going to dislodge it. Hence Sainz inherited second and Norris third. After the stops Sainz occasionally put pressure on Verstappen, but the Red Bull driver had plenty in hand and took victory for the first time around these streets. It also put him into the lead of the world championship for the first time in his career.
Merc's unusual tyre wear problem created opportunity behind Hamilton. He made an undercut attempt on Gasly, which failed as the AlphaTauri had more pace on the in-lap than Hamilton could conjure on the reluctant-to-warm hard tyres on his out-lap. Sebastian Vettel's Aston Martin managed to overcut both of them, impressively grinding ahead of Gasly with inches to spare going up the hill out of Ste Devote. Sergio Perez overcut all three of them by stopping even later, the Red Bull's tyres still in great shape. He thus claimed fourth place and Hamilton was a deeply disgruntled seventh.
There were realistic hopes that it wasn't going to be like that for Mercedes in Baku. But the omens weren't good in Friday practice when neither Hamilton nor Bottas could get the tyres switched on quickly enough for good single-lap pace. Into Saturday morning Bottas tried a bigger wing, Hamilton stayed with the smaller one. That and 'about 50 other changes' (according to the team) finally got Hamilton's tyres working into qualifying, though Bottas remained nowhere. But Merc's struggles weren't quite the biggest surprise here. Leclerc, in the Ferrari that excels in slow corners but struggles on the straight, set pole again! Also like Monaco, no-one got to complete their second Q3 laps because of a red flag (for a Yuki Tsunoda accident), thus securing Leclerc the position.
It was the product of a great lap from Leclerc around a track at which he's always devastatingly fast, a good tow (from Hamilton, ironically) and a super-skinny rear wing, which was sure to kill the rear tyres in the race. Hamilton too got a good tow (from Bottas) and lined up second, leaving Verstappen (tow-less on his first run), a frustrated third after having comfortably dominated up to that point.
Leclerc was easy meat for Hamilton at the end of the first lap with Verstappen and Perez following him through to leave the tyre-degrading Ferrari far behind and fending off Gasly's AlphaTauri. But the bigger wings chosen by Red Bull meant they couldn't put a pass on Hamilton even with the help of DRS. That wasn't really a drama, as the Red Bulls were hanging onto their tyre performance much better because of that wing. Either the Merc would struggle to get its power down out of the final turn as its tyres faded, making it passable down the straight – or Red Bull could spring Verstappen past at the stops.
"Max was travelling at over 200mph when the tyre blew"
Mercedes made the call early, on lap 11, as Hamilton's tyres were already fading, fitting him onto hards. There was a delay of a couple of seconds at the stop so as not to impede Gasly. That and Verstappen's much faster in-lap leapfrogged Verstappen past after he pitted next lap. The lap after that and Perez's in-lap was even better, but he lost time at the stop by running past his marks. It was still enough to spring him past Hamilton though. The cars were now in their correct performance order and as Verstappen escaped unchallenged, just taking care of his tyres and fuel allocation (the team had light-fuelled in expectation of safety cars), so Hamilton was left trying to apply occasional pressure to Perez but failing to make it past. Gasly had overcut past Leclerc for fourth as Ferrari paid for that pole-aiding wing and Sainz had gone up an escape road after locking up his cold tyres on his out-lap. Vettel had got his Aston Martin's softs to run long enough that he was able to lead for a time and in doing so overcut himself up to sixth, not far off Leclerc.
Essentially the race order now looked set. Lance Stroll had crashed in qualifying without setting a time and so had started his Aston Martin from the back row on a set of hard tyres. He was running in fourth place, having not yet pitted, by the 30th lap. He looked set to emerge in the lower reaches of the top 10 after he stopped. But he never got to do so because his left-rear Pirelli let go explosively as he was travelling at 196mph down the pit straight. It turned him hard into the wall, the car briefly rearing up before continuing to bounce off the scenery. Thankfully he was unharmed but the race came under the safety car as the mess was cleared. The pitlane was closed because Stroll's wrecked car had stopped on the entry lane to it and so the field was bunched up behind the safety car by the time it was opened again, meaning no-one up front was able to pit for fresh tyres.
Verstappen and Perez worked as a team on the restart to thwart Hamilton. Verstappen eased out his lead all over again as Perez kept Hamilton off his back. Vettel, on much newer tyres than anyone else, was able to use them to pass Leclerc and Gasly on the restart, moving him up to fourth.
With five laps to go Verstappen had everything under control after a perfect demonstration of superiority. That's when his left-rear tyre blew in exactly the same way as Stroll's, just a little further down the straight. He was travelling in excess of 200mph when it happened. He hit the right-hand wall a few times before coming harmlessly to a standstill. There was a safety car for a couple of laps, then a red flag.
It was subsequently announced the remaining two laps of the race would happen, and from a standing start. So Perez and Hamilton lined up on the front row from Vettel and Gasly on row two, Leclerc and Tsunoda on row three, Norris and Sainz on row four, Daniel Ricciardo and Fernando Alonso on row five. Everyone was on fresh soft tyres. The stage was set for what some considered to be a preview of the forthcoming sprint qualifying race format, set to be trialled at Silverstone. And if this particular two-lapper is anything to go by, we could well be in for some drama.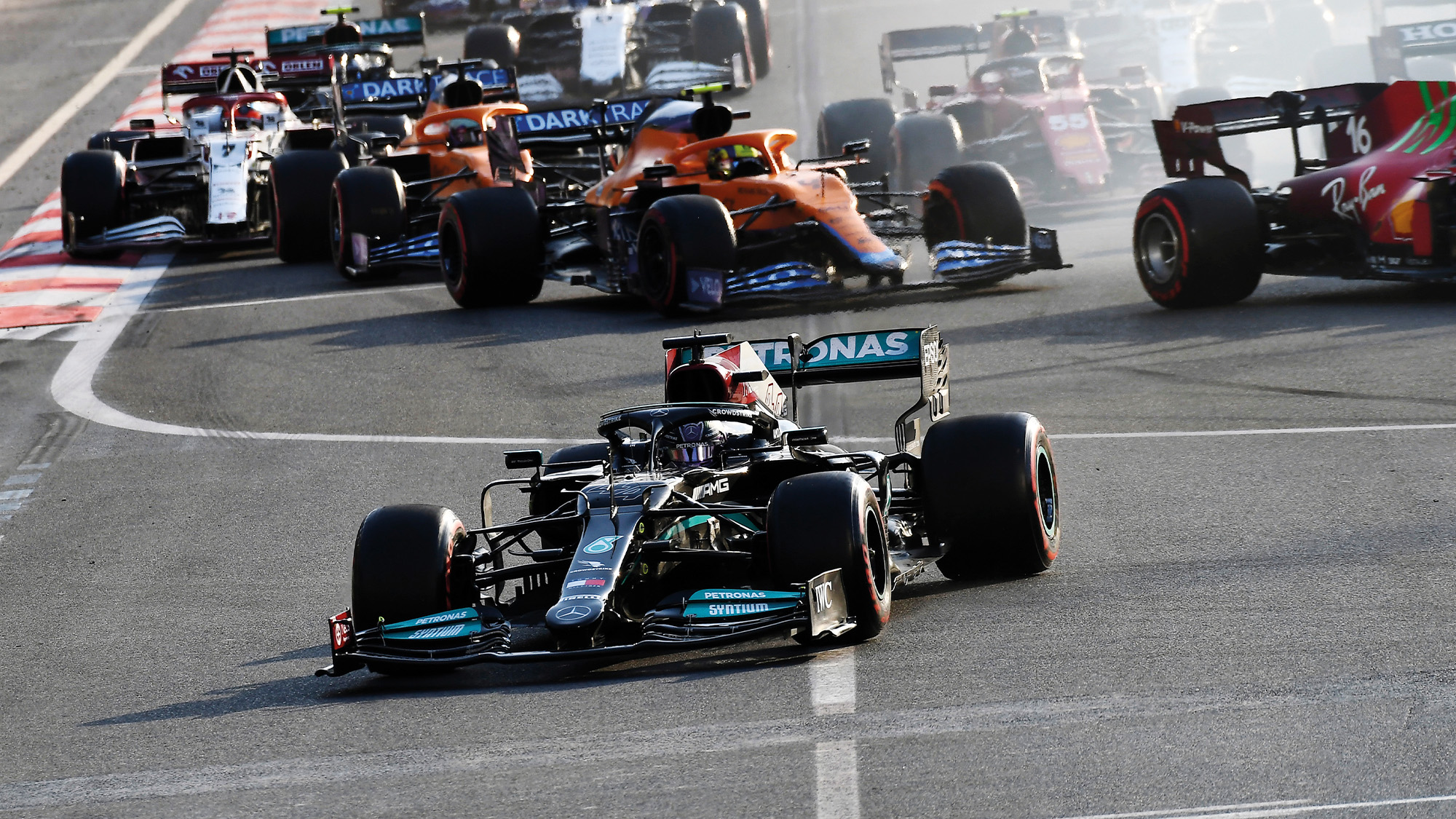 Hamilton, having vowed to play the start conservatively, made a better launch than Perez and got down the inside into Turn 1. Perez swooped aggressively towards him, Hamilton moved hard left in avoidance and in so doing inadvertently knocked his 'brake magic' button on the back of the steering wheel. This is a device used to instantly switch the braking bias to almost full-front as an aid to putting heat into the tyres on the warm-up or safety car laps. It's not a race setting. As soon as he touched the brakes, the fronts locked, taking Hamilton straight up the escape road as the whole pack sped by, thereby neutralising Verstappen's ill-luck.
Perez was on his way to his first victory with Red Bull, and second of his career. So long as his hydraulics held out, that was. The system had been leaking pressure from very early in the race and was threatening to stop the car at any moment. It made the two laps to the chequer and was then switched off. Vettel took a great second place, with Gasly third from Leclerc and Norris. Alonso vaulted from 10th to sixth, his final pass being a beautiful around-the-outside bit of opportunism on Tsunoda.
Verstappen could count himself extremely hard done by not to have extended his points lead to 15, had the race stayed as it was before the tyre failure. But he might also have gone 21 down but for Hamilton's mishap. Instead, he remained four ahead. But with the two novelty tracks now done and the return to more conventional circuits, the worry for him was the picture of Mercedes superiority seen at Barcelona. This fascinating contest has surely many twists and turns to come.