The record-breaking £115m Mercedes 300 SLR Coupé auction: Sale of the century
At almost double the previous record for the highest price ever paid for a car, the Mercedes-Benz 300 SLR Coupé continues to make history. But can any car truly be worth £115m? Doug Nye recalls how we got here
When the news broke that Mercedes-Benz had actually sold what had been, for over 60 years, one of its prized treasures, general reaction bordered upon amazement. While the public was left staggered by the price paid – €135m, £115m Sterling – most of the old car world found it infinitely more startling that Mercedes-Benz had consented to selling it at all.
Several previous attempts had been made to buy one of its two 300 SLR Coupés. These are the roofed-in versions of the truly fabulous factory team cars which in open-cockpit form dominated the 1955 Sports Car World Championship, adding that title to the team's Formula 1 Drivers' World Championship success and simply reaffirming Mercedes' 'best in the world' credentials. Their brief 18 months of racing between 1954-55 rubbed in the legend of their initial Mercedes 'Silver Arrow' Grand Prix years, 1934-39. The argument that Mercedes should sell one of the two Coupés was that only one of them has really significant contemporary history – so why not sell its sister? Over long years, some offers were seriously considered. Some advanced quite far through Mercedes management tiers. But ultimately, all were politely refused.
Now that has changed, and amenable current management – offered a vaguely-plausible green-tinted reason for consent – has let the lesser-history car go. And it has achieved that enormous price. Is it worth it?
A considered conclusion depends upon whose opinion one asks. The anonymous end purchaser plainly thinks so, if only (heaven forbid) as a safe haven in which to park money. Mercedes-Benz's brand polishers plainly think so since it punches the three-pointed star's image into the stratosphere. It almost doubles the highest previous price publicly paid for any car – a Ferrari 250 GTO.
To put Ferrari's brand in perspective must have raised a few smiles on the faces of what Enzo Ferrari dubbed the 'TransAlpini' – the German industry's personnel who were destroying first his Scuderia's racing finances by scooping all the Grand Prix prize money from 1935-39, and then repeating the hurt upon his postwar marque in 1954-55.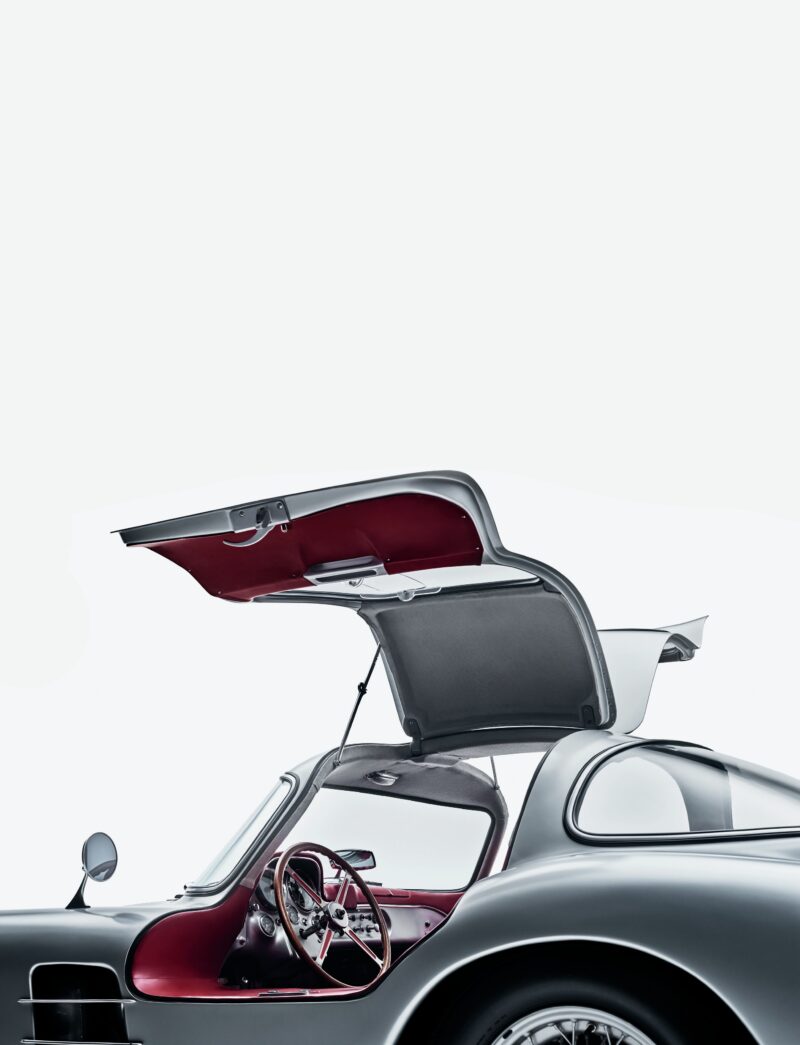 But there are some points to make clear.
One of these two Coupés had been used so extensively by Mercedes' chief engineer that it was nicknamed after him 'The Uhlenhaut Coupé'. That car and its only sister were almost, but not quite, identical. The earlier car '0007/55' had a blue interior, its slightly younger sister '0008/55' red. Mercedes personnel differentiated the pair by naming them simply 'Blue' and 'Red'.
The car which Rudi Uhlenhaut used most often was 'Blue', this being in effect the true 'Uhlenhaut Coupé', while 'Red' – the car which has now been sold – is its lesser-history sister. Uhlenhaut had driven it too, just not as much. Of course, a manufacturer can absolutely choose any model name it likes.
But whatever the manufacturer's current PR blurb might be, for pedantic enthusiasts the true 'Uhlenhaut Coupé' is not the one which has now been sold.
Back in 1954 the German company began building a proposed batch of enduranceracing cars to attack the 1955 Sports Car World Championship series. Both open and closed-cockpit bodies were considered. Team driver opinion favoured open. So the first six W196S or 300 SLR cars emerged with open sports-racing bodywork, as thinly-disguised Grand Prix cars. Their rounded yet soberlystyled bodies clothed a spaceframe chassis and mechanicals very similar to the Formula 1 W196R's design.
Both Formula 1 and sports cars used straight-eight desmodromic-valved fuelinjected engines. But while the F1 unit displaced 2.5 litres and had welded-steel cylinder construction, the endurance engine was a 3-litre with two cast silumin-gamma alloy four-cylinder blocks in tandem.
The 2.5-litre F1 cars finished 1-2 on their debut in the 1954 French Grand Prix. The sports cars then finished 1-2 on debut in the 1955 Mille Miglia.
Three late 300 SLR chassis were intended to wear closed-cockpit coupé bodywork. It was notably more attractive than the open roadster's. While the stylist behind the Ferrari 250 GTO was the uncredited Edmondo Casoli, that behind the voluptuous 300 SLR Coupé was Friedrich Geiger. But only two Coupés would be completed.
Mercedes missed the first two rounds of that 1955 Championship series. The opencockpit cars (and crews) were painstakingly preparing for the first European round – the Mille Miglia. Le Mans, the non-title Swedish 1000Kms at Kristianstad, RAC Tourist Trophy and Targa Florio would follow.
The Coupés had been considered for Le Mans, where the roofed-in form might pay off along the three-mile Mulsanne Straight. But the roadsters were preferred, while the Coupés seemed more likely to contest Mexico's potentially Championshipdeciding Carrera Panamericana road race due to end the season. In 1952, Mercedes- Benz had finished 1-2 in that five-day pointto-point. To repeat such success with a stunning new-generation 3-litre Gullwing Coupé lookalike (now with eight cylinders instead of six) could offer immense US market spin-off. And the Mulsanne was titchy compared to the Carrera's Panamerican Highway straights of 15-20 miles and more.
"The two Coupés were named simply 'Blue' and 'Red' by Mercedes"
But while the 300 SLRs dominated the Mille Miglia, then led into the night at Le Mans – the immediate political impact of the ghastly disaster which had befallen one of the team cars there, killing driver 'Pierre Levegh' and over 80 spectators – caused the team to abandon the race.
Mercedes bounced back by dominating Kristianstad, the TT, and the Targa Florio, clinching the sports car title to match its Drivers' Championship success with Fangio.
An entire programme had been planned for the 300SLRs, including the Coupés, for 1956. But in October '55 – influenced partly by the aftershock of Le Mans but more so by the need to concentrate resources upon production projects – Mercedes-Benz withdrew from mainstream racing "having proved its point". In any case the Mexican Carrera had been abandoned in the aftermath of Le Mans. Mille Miglia winners Stirling Moss and navigator Denis Jenkinson, who would probably have crewed a Coupé in Mexico, were bitterly disappointed. And so the two Coupés were all dressed up, but with nowhere to go.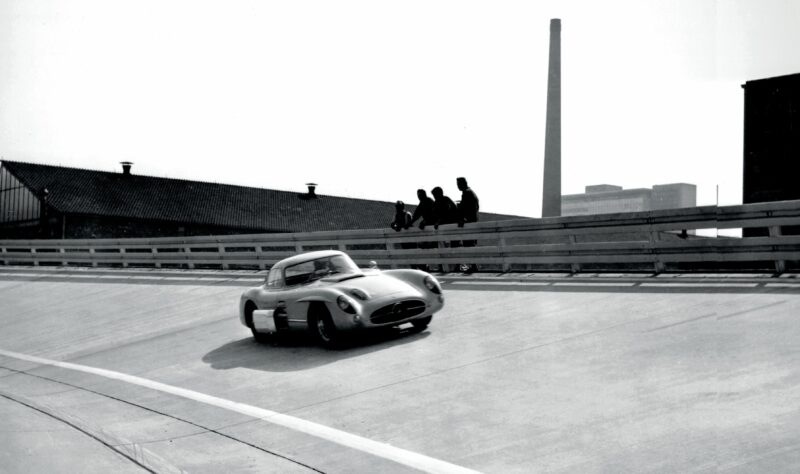 Rudi Uhlenhaut had previously driven 'Blue' to Kristianstad, then to Monza, Italy. Team cadet driver 'Taffy' von Trips took it to Dundrod and practised it before the TT. The car was also used pre-race in Sicily, until Moss crashed it badly enough for factory repair. Uhlenhaut then really etched his own name into the history of 'Blue' – which Mercedes has retained. The early-term career use of both cars is appended here.
Most significantly, 'Blue' was loaned to Swiss and British journalists Robert Braunschweig and Gordon Wilkins for serious road test. The former's report was published in his Automobil Revue magazine, Gordon's in Motor Racing monthly.
I count myself really lucky to have driven veteran, vintage, post-vintage, classic, sportsracing, sports-prototype, Brooklands, Grand Prix, Formula 1 and Land-Speed Record cars. But amongst them all I most remember being entrusted with 'Red' on a Mille Miglia Retro. Of course car performance is all relative to its age and era. Some of history's most revered competition cars today perform pathetically compared to modern road cars. So one always has to consider a driving experience in perspective, to compare car performance to most things then current, not how they are now.
By the mid-1950s fine high-performance cars were generally impressive. But I can absolutely assure you that the Mercedes 300 SLR Uhlenhaut Coupé would have been absolutely shatteringly so.
"For its time, the Uhlenhaut Coupé was shatteringly impressive"
The sheer in-cockpit noise of that laydown straight-eight – revving to 8000rpm – seemed worth at least several seconds in apparent acceleration, at least another 25-30mph in sheer speed. The Automobil Revue 0-100mph time of 21secs must have felt like 10-12, 120mph in fourth gear like their 174 in fifth. To them that must surely have felt like 200mph? It was all dazzlingly impressive. And the car wore that silver livery which both pre- and post-war generations of fans had grown to revere. Here was a synthesis of outstanding design, breathtaking, no-expense-spared engineering and – dammit – the most sexy, lithe, flowing, feline, sinuous shape. Woahh, matron, indeed.
Wilkins and Braunschweig speed-tested 'Blue' on a closed stretch of German autobahn after the works had tried 'Red' first, followed by acceleration tests at Monza in Italy. Gordon wrote that the test series covered over 2000 miles "and included every kind of weather and road condition that can be found in western Europe". They drove it over the Susten Pass, to Monza. "We spent a hot day recording the acceleration and braking figures, and averaged 120mph from Milan to Como in a dawn reconnaissance… then back over the St Gotthard and over to Locarno and Ascona, through the heaviest of the summer holiday traffic" – logged by Mercedes as taking 'Blue' – chassis '0007' – from 11,750 kilometres (7302 miles) to 14,523 kilometres (9026 miles).
Gordon wrote [in 1956]: "Remember that this car is not for sale, and in this form never will be; it is a racing car adapted for road use with certain experimental objectives in view; it is neither quiet nor docile in city streets, especially in view of the prohibition on slipping the clutch. It has to be mastered like a mettlesome horse…
"The really amazing thing is the confidence the car gives the driver, so that after a relatively brief acquaintance one is really using its unique performance, and throwing it into corners in a way one would hesitate to employ with lesser machines. It points the way toward vast improvements in performance, controllability and safety, which will render existing conceptions obsolete."
"The most sexy, lithe, flowing, feline, sinuous shape. Woahh, matron, indeed"
He concluded: "To have driven it has eclipsed all previous experiences in 20 years of test driving on the world's finest cars, and I do not expect to find its match for a long time to come". So can that nine-figure sale price possibly be justified? To the world at large of course it cannot. To 'us' here it might be arguable.
But to anyone with their heart in what I'd consider to be the right place, in that it reflects the experiential qualities of such a simply splendid artefact, yes – in spades – of course it can. But if that's the case, then just how much more should the 'real' Uhlenhaut Coupé be worth?