1964 Mexican Grand Prix race report: Surtees champion amidst high drama
Jim Clark's Lotus suffers last lap heartbreak thus allowing John Surtees to be crowned F1 world champion for the first time
Twice since the World Drivers' Championship was started, the last race has been the deciding factor between two drivers: in 1958 at Casablanca it was between Moss and Hawthorn, while in 1962 at East London, South Africa, it was between Clark and G Hill. Both these races were exciting due to the added anticipation of deciding the Championship. Also on both occasions it was between two British drivers in rival teams. This year's Mexican GP, the last Grand Epreuve for 1964, has gone one better. The Championship was open to three British drivers in three rival teams, the 1962 pair Clark and G Hill in Lotus and BRM, plus Surtees in a Ferrari.
The race here in Mexico City is over the artificial 5-kilometre circuit situated in a 600-acre sports park on the outskirts of the city. One of the major problems of the Mexican race is the altitude; the 7,400 feet above sea level gives a barometric pressure reading of 23.09 as against a normal reading of 29.90 at sea level. The effect of the rarefied air means a 20% weakening of mixture, which gives a drop in power of approximately 25bhp at peak revs (195bhp to 170bhp for Ferrari and Climax). Also affected by the lower pressure are the tyres; to get the same or similar handling characteristics it is necessary to lower the tyre pressures by 3 to 5lb. Drivers and mechanics are affected by the altitude, too, but the human system acclimatises itself fairly rapidly to its new environment.
"The effect of the rarefied air means a drop in power of approximately 25bhp at peak revs"
The cars arrived from Watkins Glen on three huge open transporters, each car wrapped like a Christmas present in polythene wrappers. After unpacking on the Wednesday before practice, mechanics set about changing engines and mixture cams, and putting right damage done during the American Grand Prix.
The entry, which was basically the same as at Watkins Glen, consisted of Team Lotus, with three cars for Clark, Spence and Moises Solana; a local driver who drove a Centro-Sud BRM here last year. The Lotuses were two 33s and Clark's old 25B. The 25 was numbered for Clark to drive as it was the car he won here with last year and in which he led the American Grand Prix. The Lotus 33 for Spence was fitted with a flat crank engine and a new exhaust system, the four-into-one pipe on each side now passing through the rear suspension and being supported by struts from the back of the gearbox. The other 33 was as driven by Hansgen at Watkins Glen.
BRM were running three cars for G Hill and Ginther, a new car for Hill with the same engine he used at Watkins Glen, plus the old car for spares and stand-by. Ginther's car, which had been adapted for the new engine, was now back with an old engine, as there were no spare high-exhaust engines. Hill's new car had some front suspension modification which consisted of slight angle changes on the front wishbones.
The Cooper cars for McLaren and P Hill were virtually unchanged. McLaren's car had an engine change but as Hill broke down after only four laps at Watkins Glen, his engine was as good as new. The fault which dogged him throughout practice and the US GP was found to be a broken earth lead. The wire had broken inside the insulation and when touched connected itself and worked perfectly for a time. The two Brabham cars for Brabham and Gurney were unchanged, and the engines which had given trouble in the USA had both been changed.
Team Ferrari, their cars still painted blue and white, consisted of four cars, two V8s for Surtees to choose from, a flat-12 for Bandini, and the V6 for Pedro Rodriguez. On Surtees' V8s, one had a new engine, and the other was the Watkins Glen practice car.
This completed the works teams, the rest of the field being made up of BRP's two cars for Ireland and Taylor, the former's not needing any attention other than replacing the gear-lever Ireland broke in the first three laps at Watkins Glen. Parnell's cars for Amon and Hailwood were unchanged, while the enlarged Walker Team with Bonnier, Siffert and Hap Sharp were unaltered. Siffert now seems a probable Walker driver for next year, as these two end-of-season races have run very smoothly for the three-car team.
Qualifying
The weather during the first of the two practices from 1pm until 5pm on Friday was dry and sunny. Clark was first out, his last year's fastest lap a 1min 58.1sec (a speed of 152.413kph) represented the target to be aimed at Spence was next away in Solana's car which he was trying out. Ginther, Siffert and the whole Ferrari team were soon rushing around, to be followed within the first half-hour by everyone else. Ginther was first back and mechanics were soon trying to weaken the mixture a little more.
Hailwood came in complaining of lack of gears in his Lotus-BRM, and found a split pin had broken in the gearbox. Ireland found his ratios not quite right and had them changed. Clark brought his car in after getting down to 2min 2.16sec and took out Spence's car with the new exhaust system. Straight away he began getting better times, until halfway through practice he had fastest time with 1min 59.19 sec.
"Surtees was trying very hard but his V8 cars were not behaving properly"
Surtees was trying very hard but his V8 cars were not behaving properly; the first one had an internal breakage which necessitated an engine change, while the other car was not going very well. Bonnier's Brabham-Climax had the metering cam break. The peg that fixes its position broke when being altered to weaken off the mixture a bit more. McLaren's Cooper was rich and also the engine was covered with oil which had come from the rocker box. Several cars were overheating, some more badly than others. Taylor's BRP was boiling merrily, as was Hailwood's. The former was also losing oil pressure.
All along the pits plugs were being examined carefully to ascertain whether the mixture control was getting better and hardly a car was not having some trouble due to the rarefied air. Phil Hill was last on the first 2-hour time sheet. His engine was misfiring, especially at the top end, and it was not until the amplifier damaged by the earth short was replaced that he began to get going properly. Graham Hill went out in his old car when he found he wasn't making a lot of headway with the new one.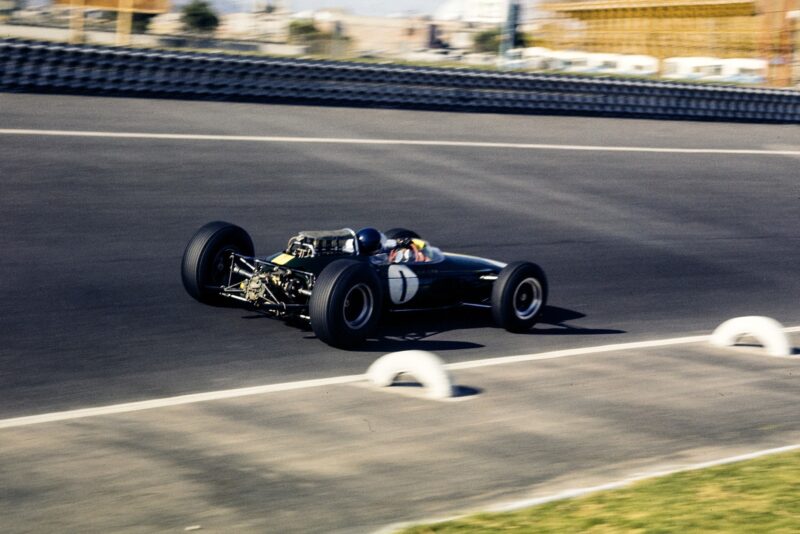 Clark was having some unusual trouble with his 25B. The fuel pressure was too high. Lucas boffins had no sooner started to sort things out than Brabham stopped suddenly with the same trouble. After clearing dirt from the system it was expected to work perfectly all right but then it was found that the pump was taking too much current from the battery for the amount of fuel being pumped. Brabham was soon out again, his trouble having been rectified, but the Lotus was still not right.
After two hours Bandini was second fastest to Clark with 0.04 of a second over the 2min mark. The number of laps done straight off was well down, as little troubles kept stopping the cars. Bandini, who kept his lead over Surtees, changed the inlet pipes on his engine for new ones flown in from Modena. The new inlets had a much shorter distance from the injectors to the inlet ports than the previous ones. This proved a success, as the car opened up a lot easier from the hairpins.
As practice wore on Gurney began to get his car going well, and although Clark's and Bandini's times improved very slowly, he quite suddenly started getting under 2 min., finishing up with a time of 1min 55.5sec, a tenth of a second faster than Bandini and 0.2sec ahead of Surtees, but still 0.9 of a second behind Clark in the 33 and 0.3 behind the 25B. With the end of practice no-one except perhaps Clark seemed very happy, and a lot of work was needed to clip off those last few tenths that make so much difference on the grid. When the final time Sheet was issued, it was found that five drivers had been given 1min 57sec, including G. Hill, who knew he had only managed one lap under 2min, and that about 1min 59.8sec in the old car. These electric times were scrapped as the battery had gone flat, and hand times were substituted, which were nearer the mark.
Saturday's practice weather was again hot and sunny but with more cloud over the distant hills and it was not possible to see snow-capped El Popocatepaetl, the volcano that dominates the southern horizon. Team Louis had switched car numbers on Clark's and Spence's cars. The reigning World Champion was to drive the 33 with new exhaust system, while Spence was to have the 25B that won here last year. Surtees had a new engine in the chassis from which the broken engine was taken.
Once again Clark led out and did two laps before being joined by Surtees and Spence. G. Hill was next away in the new car, which still had not been under 2 min. In these first few minutes of practice a dog suddenly appeared and ran across the track in front of Amon's car, which didn't help his concentration. It was some time before the dog was caught, although further excursions across the track didn't inconvenience drivers. Both Parnell's cars were having gear trouble, which was keeping their times down.
Surtees was out in both cars but was unable to improve on his previous day's time, in either car. Bandini's flat-12 was also slower than the previous day. G Hill was in and out changing tyre pressures, but to no avail – he just could not get below 2min. Then as practice was drawing to an end he brought the new BRM in with a broken valve, went out in the spare car, and brought that in with falling oil pressure. After this Graham became quite happy, as did Surtees, for after trying all they could they were nowhere near Clark's time and it was no use being despondent indefinitely.
McLaren improved his time but P Hill was having slight troubles which kept him from bettering his first day's time. BRP wheeled Taylor's car away to change the engine, which had deteriorated due to continual overheating. Ireland's car was going quite well and he improved on his previous time. Spence, who had got under 2min in the Lotus 25, was still in difficulty with his fuel pump, which was using more amps than it should, and after practice the whole lot was once again stripped down.
Siffert and Bonnier both improved their times, the latter's Climax engine making him faster than Siffert's BRM. This seemed general, for both BRM and Ferrari seemed to be losing more power due to the height than the Climax-engined car. The two Mexican drivers, Rodriguez and Solana were both going quite well and were ahead of a lot of Formula One veterans such as P Hill, Ireland and Taylor. Hap Sharp, in the spare Walker car, was the slowest with a first day's time of  2min 6.9sec.
With practice finished, BRM mechanics were hard at work on replacing Hill's engine with an untried unit, still cased, from England. BRP were changing Taylor's engine, while throughout the pit lock-ups consultations and preparation work were going ahead.
Race
Race day was hot and sunny. After a race for local drivers the cars were brought out to the dummy grid. Clark's pole position represented a speed of 154.243kph. For the race Clark's Lotus had reverted back to the rubber drive,-shaft couplings instead of the Mercedes splines used in practice. The cars were on the dummy grid for an hour while the drivers were presented to the President of Mexico. As the presentation finished, thousands of gas-filled balloons were released in singles and clusters, with doves flying in and out of them. As the balloons floated higher, right in the path of big jets approaching the airport, we were assured that nothing would be approaching for some time. Two small planes held the interest of the crowd as they flew amongst the balloons, bursting them with their wings and propellers.
As the cars had stood for so long they were allowed one warming up lap. As Clark led the pack round, a stray dog, one that had escaped the Army sweep in the early hours, trotted round the track, to the disgust of the drivers. Ginther's BRM had difficulty starting and the other cars were back before he set off for his lap. When the last car was in position the flag was dropped and the 3rd Grand Prix of Mexico was under way.
"Hill had the elastic on his goggles go just as the flag was about to drop and before he could get them on, the cars around him were moving off and he wasn't even in gear"
Clark made his usual brilliant start, with Gurney just behind. G Hill had the elastic on his goggles go just as the flag was about to drop and before he could get them on properly after a quick adjustment, the cars around him were moving off and he wasn't even in gear. McLaren and Bonnier both made very good starts, moving up some places before the cars were out of sight. Surtees got off the line all right but the car was missing badly on the first lap, but fortunately it cleared by the end of lap one.
As they swept past the pits the order of the 19 cars was Clark, already 2sec in the lead, then Gurney, Bandini, Spence, Bonnier, Brabham, Rodriguez, McLaren, Ginther, G Hill, Siffert, P Hill, Surtees, Amon; Ireland, Solana, Taylor, Hailwood and Sharp. On the next lap, G Hill and Surtees started to make up for their bad start, the BRM driver passing team-mate Ginther, while the Ferrari driver passed Ginther, Siffert and P Hill to close up on G Hill's tail.
Siffert was in trouble almost from the drop of the flag. Although lull at the end of the first lap, he dropped to 16th in seven laps with overheating of the fuel pump. He came into the pits on lap seven, went out again for four laps, and then retired. Taylor's race came to an end before this, alter running three from the end for six laps, he retired with chronic overheating, the trouble that dogged him in practice.
In front, Clark was lengthening his had with every lap. The 2.5sec lead over Gurney on lap three was opened to 7.5sec by lap six, while the gap between Gurney and Bandini went from 4sec to 5sec over the same period. On lap six, Spence, Brabham and G Hill were locked together in a tight bunch for fourth place, with Surtees a short way behind. At this stage Bonnier's Brabham-Climax was getting some violent front-wheel vibration, and on his 10th lap, just alter being passed by Rodriguez and McLaren, his front wishbone broke in the hairpin, putting him out. On lap 12 Hailwood retired with overheating. He had kept going this long by cutting his engine on the straight and coasting for some way.
On the eighth lap G Hill passed Brabham, and two laps later he got past Spence, and two laps later still he was past Bandini into third position. Brabham slipped ahead of Spence on lap it and Surtees passed the Lotus on the next lap. Surtees wanted to get his V8 up behind the flat-12 of his team-mate but Brabham was difficult to pass, and it wasn't until the 18th lap that the field settled into a groove for nine laps, with Clark 9.5sec ahead of Gurney, who in turn was 12sec ahead of the next bunch of five cars, consisting of G Hill, Bandini, Surtees, Brabham and Spence. Eighth came Rodriguez, a short way ahead of McLaren, while behind him were Ginther and Phil Hill, involved in a tussle for loth place. The last four places were held by Amon, Ireland, Solana and Sharp.
The first position to change after the lull was that of Spence, who spun on lap 29, losing one place to Rodriguez' V6 Ferrari. On laps 28, 29 and 30, Bandini had been very close to G Hill, and at the hairpin the Englishman had shaken his fist at the Italian for getting dangerously close. On the 31st lap neither driver would give way at the hairpin, which resulted in one of Bandini's wheels hitting Hill's exhaust pipes and folding them over, which spun the BRM and also spun the Ferrari. This let Surtees through into third place, and Bandini recovered quickly, but Hill's car, with damaged exhausts, was very woolly and he was forced into the pits to have the ends of the two exhaust pipes cut off. Any chance of holding third place, and so the Championship, if Clark should win, seemed to fade completely.
On lap 33 Brabham, who was fifth after Hill's pit stop, also made a pit stop; his engine had cut dead on lap two but restarted, and it was starting to miss again, so he made a long pit stop which put him back to last place, behind Sharp. Nothing obvious was found to be wrong and he went out again, only stopping finally it laps later when the trouble was diagnosed to be an amplifier failure. Also into the pits came Ireland. He said he thought something was falling off the car as it was handling in a peculiar way on certain corners. A quick look round showed nothing wrong and he went out again in 15th and last place, where he remained until he caught Sharp on lap 56.
After the Bandini-Hill mix-up Surtees slipped through into third place, but three laps later, Bandini, in the faster 12-cylinder car, was past him. Things were settling down now for the last half of the race, Spence fighting back alter his spin, caught anti passed Rodriguez. Amon, who had driven a very steady race in 11th place, retired on lap 46 with no gears left. For the whole race he had no 1st or 2nd gear, and this was costing him 2sec a lap. One more pit-stop before the end was to replace Hill's throttle spring which had levered off due to the broken exhaust, and this dropped the BRM to 11th place.
"The Lotus driver realised that a Spa 1964-type drama could be approaching: seven or eight laps from the end Clark saw an oil-streak at the hairpin"
Even as the press, mechanics and spectators waited for the chequered flag to give Clark the World Championship and winner of the 1964 Mexican Grand Prix, the Lotus driver realised that a Spa 1964-type drama could be approaching: seven or eight laps from the end Clark saw an oil-streak at the hairpin. He went wide and on the next lap a second oil streak on his last lap's line had appeared, and he realised the oil was his own. Easing back slightly was of no avail, for a rubber oil pipe had split and it was a matter of how long he could last. In the pits this drama was unknown until the start of the last lap when Clark came slowly past with both hands in the air. Gurney went into the lead, with Surtees second, Bandini dropping back, as had been planned previously.
Speculation as to who would get the World Championship was rife. If Clark could limp in before Surtees, Hill would gain his second Championship. If Surtees came in second ahead of the faster Bandini, the ex-Motorcycle World Champion would gain the World Drivers' Championship, therefore giving him the first double. Everyone were on the rails watching the chequered flag.
Gurney came past almost in silence, a great shame, for he had driven brilliantly, then after what seemed an interminable time, Surtees came in for his second place and his World Championship. Clark's car had seized solid on the last lap. Half the crowd and Mexican officials were still trying to understand why there was more fuss being made of the second man than the first, as the third and fourth cars of Bandini and Spence finished their 65 laps.
"After what seemed an interminable time, Surtees came in for his second place and his World Championship"
Clark was given fifth place although he didn't take the chequered flag, with Rodriguez, McLaren and Ginther each completing 64 laps. P Hill, who had been dicing with Ginther for lap after lap, dropped back in the last three laps as his engine went sick. He crossed the line completing 64 laps, 25 sec. ahead of Gurney, then went into the pits with a hole in his piston, so he never received the chequered flag.
Clark won the Belgian Grand Prix by a stroke of unusual luck, and it seems that these things balance themselves out at the cost, in this case, of a Championship. Dan Gurney drove a steady race, and well deserved his win. The race was well organised by pleasant and enthusiastic officials who made the whole GP circus most welcome.