Riccardo Patrese finally scores his first win of the season
If the wind hadn't changed direction on Sunday morning, the outcome might have been rather different. Gerhard Berger would most likely have won his second Japanese GP on the trot and McLaren and Honda would have produced just the result the latter sought on its home ground and in its penultimate appearance for the time being.
It was thus fortuitous to Williams-Renault, that change of wind direction, but indirectly it settled the fates of both Nigel Mansell and Senna in what might well also have been their penultimate GPs. Chez McLaren, it was said to have been enough to have over-revved Ayrton Senna's engine, thus obliging the Woking team to install a fresh RA122E before the race.
Williams, too, wanted to change its top gear ratios. When his crew pulled down the undertray to do the job on Riccardo Patrese's car, they were greeted by a smear of oil which immediately sounded alarm bells. Further investigation revealed that the sump had cracked, and what was simply going to be a gearbox job turned into a full engine change. It would prove the key to the veteran Italian's first triumph of a disheartening season.
Less than three laps into the race, in which he was already trailing the Williams duo by seconds, Senna knew he had a serious problem, and pulled off coming up the hill behind the pits. A bung had fallen out of the pneumatic valvegear on his replacement engine, and he was through for the day. Honda's hopes now lay solely with Berger.
Predictably, he was outpaced easily by the two Williams-Renaults, just as he in turn was able to power away from Michael Schumacher's Benetton-Ford. The German was having real trouble staying ahead of the hungry LotusFords of Johnny Herbert and Mika Hakkinen, which snapped restlessly at its tail.
In the early going it was, as usual, Mansell all the way, and by lap 35 he had constructed an apparently unassailable lead of 16s over Patrese, who in turn was so far ahead of Berger that McLaren could not possibly have entertained serious thoughts of victory unless its rivals broke down. Berger had pushed as hard as he could, just as he did in 1991, and consumed his first set of tyres by the 11th lap. After dropping to sixth behind Schumacher, and the persistent Herbert and Hakkinen, he was back up to third again by the 29th when he came in again for fresh Goodyears. Then, as he came through the ridiculously tight chicane before the pits on lap 36, Mansell slowed, apparently fighting for gears. For a while it looked as if he was in trouble, but it was all a ruse. He slowed enough to lose all 16s before he reached the start/finish line, and that lap the lead was accredited to Riccardo. Mansell had, he said, "thought a little about the championship situation". Indeed, he and race engineer Dave Brown had a long discussion on the radio as they worked out how they might elevate Riccardo to second place again in the points standings. By the time they were charging back up the hill behind the pits, it was obvious that Mansell's car was in fine form, and that he was again up to speed.
"I had a bit of fun following him," admitted Mansell afterwards with a huge grin. And as an indication of the depth of that fun, their lap times plummeted. Mansell, of course, knew what he was doing. Riccardo did not. "I have been carrying a big weight in the last few races and I have been feeling low," he confessed candidly, and Portugal can have done nothing for his morale. "We had an agreement for me to win at Monza, and we had discussed him helping me today in the championship. He slowed down, but I didn't know if he was fighting me or not…
Whatever Mansell had given away, he was going to make sure that Patrese worked for every inch of it. To many it had been an incongruous way for him to hand over the lead; like Senna giving it to Berger in 1991 there had been nothing subtle in the manner in which he slowed going by the pits. But then again, there had been nothing delicate about the way in which Riccardo had chosen the pit straight to wave him ostentatiously by at Magny-Cours back in July. Some said that Mansell might have done it out the back of the circuit, where perhaps it would have been less obvious, more dignifying for the recipient, but that is not his way.
Whatever, the two FW14Bs continued in their own world, pounding round at record speed and increasing their advantage by the lap. Mansell might have given away a possible 10th win of the season, but those spectators who had not figured out what was going on must have gone away happy that they'd seen a gripping encounter.
During it, Mansell's FW14B wore a novel component in one sidepod, for he had been the first on the scene where Mauricio Gugelmin had departed the fray on lap 23 when he got a wheel in the dirt and found his Jordan snapping sharp right and hitting the barriers head on. It was a particularly nasty accident but, as Andrea de Cesaris discovered at Silverstone last year, Gary Anderson does design exceedingly strong cars. The Jordan withstood the impact very well, and the Brazilian was able to walk away.
"I actually went over his timing box and badly damaged the pod," said Mansell, but worse was the come. As he came up the hill on his 45th lap he felt his engine break, and where Senna had pulled out he did the same, except that he carried on through the short-cut back to the pits where a fire in the engine bay was extinguished. Later, Andrea de Cesaris would criticise him roundly for coating at least four corners with Elf lubricant.
"Nigel's engine broke for no obvious reason," said Renault's design chief 'Bernard Dudot in the immediate aftermath, but later in transpired that the sump had cracked. Just as Riccardo's had, except that the Italian's had cracked when it mattered and they had been able to install the fresh engine. Had Mansell's cracked at the same time, both cars might have finished. Such is the way of racing, but yet again Williams' troubles had gone two-by-two, just as they had with the ignition problems at Spa and the drive belt problems in Monza…
By the time Mansell departed much of the interest had already gone from the race. Schumacher had gamely held on in front of the Benettons, even helping himself to open a small gap when he leaked oil at the chicane on lap 12. Herbert was the first to find it and slid wide enough to have to exit over the outside, in the dirt, but he was at least smart enough not to try dirt, but he was at least smart enough not to try to pitch the Lotus in but to let it run where it wanted to. Inadvertently, he prevented Hakkinen exploiting his problem because Mika had to brake in his dust cloud while he tried to work out where his team-mate might end up, and they recovered in the same order but some lengths behind the Benetton.
Clearly, on this swooping circuit, the 107s were a match for the B192, despite the latter's horsepower advantage, but though he could get close Herbert couldn't initially get close enough where it mattered. He and Hakkinen had thus settled into a rhythm to wear down Schumacher, when the German quit on lap 13 with a defective transmission. He'd lost third, then fourth, then fifth, and the game was over.
Herbert thus advanced confidently to third place in his best run of the season, and one which was much needed after his recent run of ill-fortune, and Hakkinen went with him. Johnny stayed there from lap 13 to 15, but the speed at which he trickled into the pits at the end of the 15th was clear indication that this was not simply a tyre stop. He, too, had suffered a broken gearbox.
Thereafter Hakkinen took up the cudgels for Lotus, now firmly rehearsed in the role of impressor and as usual making a convincing job of it. Yet he, too, was not destined to take home any points. Berger repassed him for third on lap 2 I when Mika made his tyre stop, but the Finn briefly regained the position with Mansell's demise, only to spin off on lap 45 when his engine broke and locked up the rear wheels. He, like Herbert, had been experiencing selection problems, and they had eventually taken their toll on the Ford HB. The seven points lost with both retirements would have taken the financially troubled team comfortably past Ferrari in the constructors' championship…
As it was, who should come through to take two more for the Prancing Horse but Alesi? The Frenchman, however, did not have the machinery to challenge either of the cars that separated him from Berger: Martin Brundle's Benetton and Andrea de Cesaris' Tyrrell. For the Briton, Suzuka proved a battle of mind over matter, for he had been so cramped with food poisoning on Friday night that he stayed in his hotel room all through Saturday. He felt marginally less sick on Sunday, and after a good start had taken him into battle for seventh place with Erik Comas' Ligier (which he passed and left behind on lap nine), he pulled away to run his own race. "It was tough and I really had to pace myself," he admitted. "It was the right thing to spend 24 hours in bed yesterday because at least I had some energy left. That, and adrenalin. That's wonderful stuff!" As others retired he moved smoothly through to third, to maintain his impressive second-half-of-season tally of eight finishes in the last eight races. It was a marked contrast to the shaky start to his season, and salvaged for Benetton its enviable record of points from every 1992 race to date.
For de Cesaris, too, Suzuka brought a nice little reward in the form of his and Tyrrell's best result of the season. He and Comas had a spirited encounter until the Ligier's Renault engine broke, and Alesi was a long way behind him by the finish. The frustration of driving so hard just for fifth was etched all over the Ferrari pilot's features afterwards, but his was a fine effort. As an indication of the trouble Ferrari was in, his F92AT was 30 km/h slower in a straightline than the unloved 643 had been the previous year, and throughout Jean had his hands full with an impressive Christian Fittipaldi and a motivated Stefano Modena. Indeed, the Ferrari only moved ahead of the Minardi-Lamborghini during its tyre stop (one of the few things Ferrari currently seems to do well), and thereafter Alesi's ability kept it narrowly ahead. For the Brazilian it was a sparkling return to the form he displayed before his neck-stressing accident at Magny Cours in July, and a convincing indication that he now has his confidence back in full measure. The two of them took the battle for the last points right down to the line, but Modena's chances were damned by the Jordan-Yamaha's thirst. As usual it went to the line brimful of enough Sasol fuel to keep the V12 cool, but even that wasn't enough. Modena had to ease back in the closing stages to conserve it, and promptly ran out on his slowing down lap. Fittingly, he finished seventh ahead of local hero Suzuki, the reliable Dallaras of Lehto and Martini, and other local boy Ukyo Katayama's Larrousse which had somehow survived chicane attack by its sister car driven (up until then with great panache) by Bertrand Gachot. Nicola Larini, back to take Capelli's seat at Ferrari, limped the active F92A home 12th, its hydraulic lifeblood seeping all over its rear end and only its conventional springs and dampers assisting it by the finish.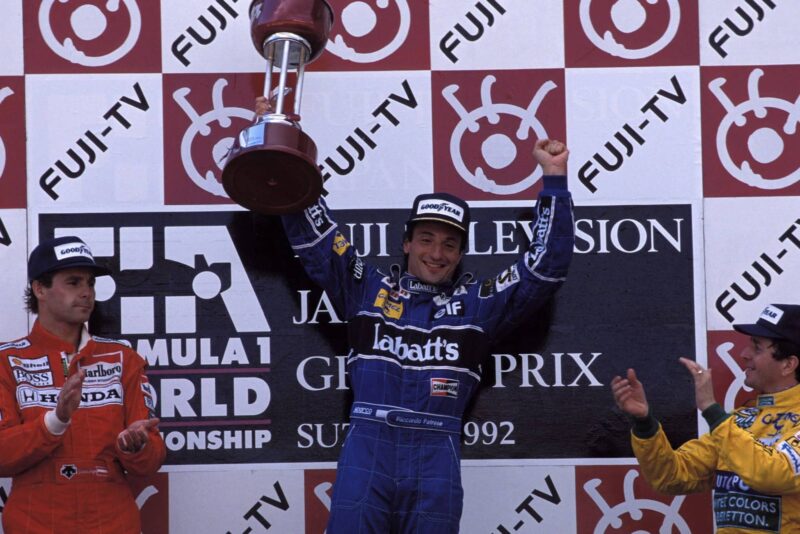 So ended the first Japanese GP since 1977 not to have decided the outcome of the World Championship, a race, like Monza, in which we had again seen sportsmanship. But it was not sportsmanship on a subtle scale. Perhaps Mansell might have made it look less stage managed before his demise, left one wondering, as Fangio and Moss did at Aintree in 1955, if the result really was as intended. Stirling himself remains uncertain whether Fangio let him win that day or whether he really did hold him off, and the Argentinian has never let on one way or the other. Sadly, it seems that there is no place for a little mystery on today's F1 scene.
Japanse Grand Prix, Suzuka, October 25
53 laps pf 3.644-mile (5.864 km) circuit (193.117 miles; 310.815 km)
1. Riccardo Patrese – Williams FW14B-Renault V10 – 1h 33m 09.552s
2. Gerhard Berger – McLaren MP4/7A-Honda V12 – 1h 33m 23.282s
3. Martin Brundle – Benetton B192-Ford-HB V8 – 1h 34m 25.056s
4. Andrea de Cesaris – Tyrrell 020B-Ilmor V10 – 52 laps
5. Jean Alesi – Ferrari F92AT-Ferrari V12 – 52 laps
6. Christian Fittipaldi – Minardi M192-Lamborghini V12 – 52 laps