1994 Australian Grand Prix report: Game, set and crash
Game, set and crash.
After going off the road on his own, Michael Schumacher ensured his first World Championship in controversial style.
AII sorts of emotions must have been running through Damon Hill's head as he crept back to the pits on the 36th lap of a scintillating Australian Grand Prix, few of them printable. After driving his heart out he had challenged Michael Schumacher every inch of the way in their World Championship fight, only for both to collide in the East Terrace. As the world waited, Hill already knew from the suspension damage he could see and feel that, though he was mobile and Schumacher no longer was, the dream was over. The German, the cause of the incident, was already World Champion.
It was a tragic shame that the great confrontation had to end the way it did, because up until then the Australian GP was one of those rare F1 races that grabs you by the throat. In qualifying there had been Nigel Mansell's 32nd pole position, followed immediately by only the third big shunt of Schumacher's career as he overdid things in the Senna Chicane trying to beat the Briton's time. In their wake. Hill had struggled to third place, unhappy with his Williams' set-up on Friday and unable to have a second crack because of rain on Saturday.
With everything at stake the atmosphere was already electric as the grid formed, and when at the start Mansell was slow away, the two Championship protagonists were left with clear road for their fight. Mansell moved to the middle of the road to try and block Schumacher as the German got off the line with minimal wheelspin. As he went to Mansell's right, clearing the Williams sufficiently to grab the lead going into the first corner, Hill was also getting underway well and slipping into second place to Mansell's left. A little further round the course, on East Terrace, Mansell went off the road temporarily, dropping from third to fifth behind Hakkinen and Barrichello.
At the end of the lap Alesi was sixth, with Irvine, Brundle, Herbert, Frentzen, Berger, Panis, Blundell, Katayama, Zanardi, Lehto, Alboreto, Martini, Fittipaldi, Morbidelli, Lagorce, Salo, Noda, Brabham, Schiattarella and Deletraz fanning out behind. ,
Already this was one of those events where the backmarkers were ignored instantly, for it was clear that, his qualifying problems behind him, Hill was determined to carry the fight to Schumacher. Both had opted for three-stop refuelling strategies, to most others' two (which was one reason why Mansell couldn't match their starts) and with their lighter cars they repeated Jerez and Suzuka to blast away from their pursuit in the early laps. Revealing his ability to go hard right from the outset Michael was 2.13s ahead after the opening lap, but after five, as Hakkinen, Barrichello, Mansell, Alesi, Irvine, Brundle and Herbert formed a crocodile in their wake, Schumacher and Hill were separated by just over a second and a half. On the second lap Mansell squeezed ahead of Barrichello going into the hairpin at the end of Brabham Straight, only to run wide and be repassed on the exit.
From the sixth lap on Hill stabilised the gap to Schumacher at 1.5s, setting fastest laps and sending out clear messages that this one was going to be down to the wire. For once, all the pre-race anticipation was being justified.
Herbert had passed Alesi after the first corner but then lost time in a shoving match with Irvine before his unhappy time with Benetton ended with gearbox failure. Irvine lasted little longer, spinning at the end of the straight on lap 16 after getting his left-hand wheels on the kerbing, while Blundell spun at Brewery Bend on lap 13 and continued and Katayama spun on lap 20 and didn't. It was another bad weekend for Tyrrell.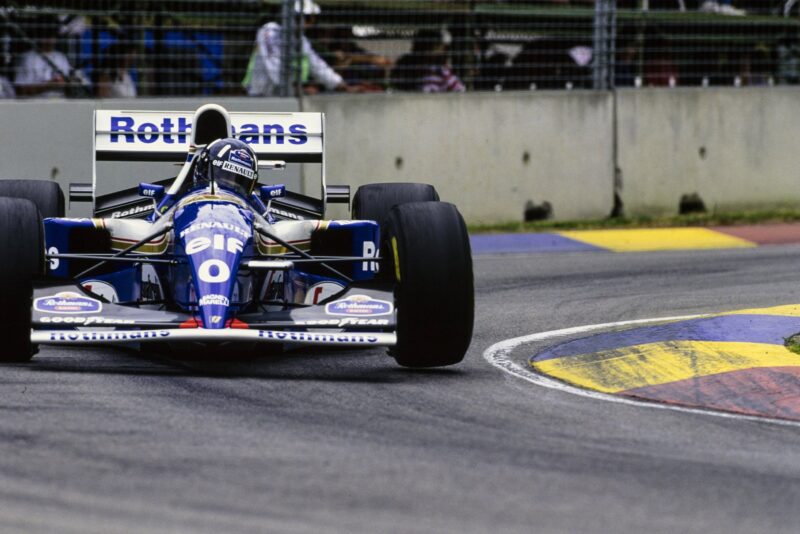 Alesi was the first front runner to stop for fuel, on lap 17, dropping to 10th, and then there was great excitement as both Schumacher and Hill came in on the next lap. Both Benetton and Williams turned their men round very quickly, but Michael still just had the advantage as they rejoined without losing their lead over Hakkinen. This was turning into a quite remarkable clash, especially as the gap was now down to half a second and Hill was obviously going to be a challenger throughout.
On lap 20 they came up to lap Lagorce on the straight, but as Hill sensed an opportunity Schumacher calmly moved over on him to discourage any manoeuvre. Meanwhile, the previous lap, Mansell had been in trouble again. He'd overtaken Barrichello on the 15th lap, but after grabbing third from Hakkinen at the end of the straight he ran wide and was repassed in a repeat of the Barrichello situation on lap two. The race was really living up to its Sensational Adelaide billing.
Mansell finally got third place for good when Hakkinen went off at the end of the straight in a mirror image of Mansell's previous lap.
Damon was keeping the gap at half a second until he ran wide going on to the main straight on lap 23 and then locked a brake at the end of it, and after that it increased to 1.3s. However, it was noticeable that he was being as aggressive with the backmarkers as Schumacher. A lap later he got a really good run at Michael as the latter came up behind Blundell at the end of the straight, and the gap was only 0.4s. Schumacher certainly knew he was in a race. Further back, Alesi slewed off the road at East Terrace, keeping his Ferrari's V12 screaming and rejoining without losing a place.
There was another flurry of fuel stops around this time, and as Schumacher picked his way by Fittipaldi, Martini and a noticeably polite Zanardi, Hill followed suit, shadowing his every move.
Hakkinen surrendered third place and Barrichello fourth when both stopped on lap 28, Mansell having come in two laps earlier, but the Jordan driver got back out quicker so that by lap 30, the order read Schumacher, Hill (now 1.5s adrift after traffic), Berger (at this stage believed to be planning only one stop), Mansell, Alesi, Hakkinen and Barrichello, with Brundle a comfortable eighth from Panis and Frentzen, and Zanardi 11th a lap down. Alesi in particular had been in spectacular form. As Barrichello lost his advantage over Hakkinen by going very wide turning into Brewery Bend, Mika dived by along Brabham Straight only to have Jean pile past both in the braking area in a breathtaking lunge.
Then came the unhappy climax to the championship fight. On lap 32 Schumacher had the gap out to 2.3s, the largest it had been all race, but Hill wasn't finished by a long way. When Frentzen held up Michael going down Jones Straight, Damon sliced the deficit to 1.6s, only to suffer a similar fate with the Sauber so that it was up to 2.8s by lap 34. But then Damon stole back almost a second on the next lap. Sadly, that was when it all went wrong as they collided on lap 36.
The incident occurred in the East Terrace left/right section as Michael nursed a 1.9s lead. He simply lost his Benetton, over a bump going into the left-hander which had claimed Senna in 1989 and Alesi earlier in the race. The B194 oversteered, then understeered into the outer wall, which it struck very hard with its right-hand wheels. As Schumacher came back on to the track Hill arrived. As he moved to the left to pass the Benetton, which had lost all of its momentum, Schumacher moved left to block him. As Hill then dived for the right, on the inside line for the next corner, perhaps even thinking that Schumacher was moving over for him because of his incident damage, Michael came back across to cut him off. Damon's left front wheel struck the Benetton's right-hand sidepod, and the blue and green car was launched on to two wheels before going off on the outside of the corner and nudging into the tyre wall.
Schumacher hopped out, and had some anxious moments as Hill struggled back to the pits with a flat front left Goodyear. For a brief period it seemed that the Championship lay at the Briton's feet, in emulation of his father's traumatic 1968 success, but already Damon himself knew that the Williams' suspension was kinked and that his dream was over. Michael Schumacher was the first German to win the title. At 25 years 10 months he was the youngest champion since Emerson Fittipaldi, who was 25 years and 9 months when he clinched his first title in September 1972.
With Schumacher out and Hill limping for the pits and retirement the face of this remarkable race changed completely, Mansell was now in charge from Berger, and where the former was scheduled for another stop the latter apparently wasn't. The two Ferraris were now looking very nicely placed, until Alesi's stop on lap 39 when, disastrously, the engine stalled and he plummeted to ninth place behind Hakkinen, Barrichello, Brundle, Panis, Frentzen and Blundell.
Meanwhile, Gerhard was catching Mansell, but having reduced the gap to 1.9s by lap 41 it grew to 3.2s with traffic. There was, however, that second Williams stop to take into account. . .
With 31 laps remaining Mansell was still at the head of the leader board, but Berger had recovered from the loss of a second behind tardy newcomer Deletraz in the Larrousse. Hakkinen was third, while Barrichello surrendered fourth to Brundle with his second pit stop. This, actually, would cost him more still, for he was awarded a 10s stop-and-go for speeding in the pit lane. Hakkinen, with his stop on lap 54, would get the same, but Martin kept his nose clean when he refuelled in between them both on lap 52 and would thus set himself up for a podium finish.
Mansell's crucial stop came on lap 54 and he rejoined without drama as Berger took over the lead, and by lap 55 the Austrian had 19.1s over the Briton. Ferrari, meanwhile, had changed its strategy and was now planning to give Gerhard some fresh tyres. He got them in 7s with a splash of fuel on lap 57, and managed to rejoin still in the lead, 4.7s ahead of the charging Mansell. This was great stuff!
The pair of them now indulged in some great cat-and-mouse fighting, with Mansell several times looking very hard down the inside at the end of the straight, but each time Gerhard repelled his advances. Barrichello and Hakkinen paid their stop-and-go penalties on laps 58 and 61 respectively, losing fourth and third places, and with 20 laps to go Gerhard still led Mansell by 0.6s as Brundle moved up to third place from Mika and Rubens. After another disastrous (13.4s) stop, Alesi was now finished, lapped down in ninth place, so Panis was in the points from Frentzen and the impressive Blundell, who had his sights firmly set on the Sauber's seventh place after a great recovery drive.
The race finally came into Mansell's hands on lap 64, when his relentless pressure on Berger paid. Going into Brewery Bend Berger got his left-hand wheels on the kerbing and went way off course and by the time he'd rejoined the track Mansell had taken full advantage. Gerhard kept pushing hard, and he reduced the gap to 1.2s by lap 70, but now it was virtually over bar the champagne shower even though Mansell was at times looking a wee bit ragged at East Terrace. In their wake Hakkinen and Barrichello momentarily began to make inroads into Brundle's advantage in third place, until Martin stabilised things with some strong laps. Meanwhile, Panis was alone in fifth and Frentzen was under pressure from Blundell until the almost inevitable coming together on lap 67 put the Briton out.
Frentzen and Panis would then both mistake the approaching Berger for Alesi, holding him up long enough to kill his remaining chance of catching Mansell. Ferrari's only consolation was that Alesi, who was shadowing his team-mate but one lap down, caught and passed the Sauber to take sixth place. Afterwards, a bitterly disappointed Jean stormed out of the pits without a backward glance, just as he had at Monza. Like the Italian race, this was one he could have won.
The final drama in this extraordinary race came on lap 77, when Hakkinen had a huge accident at the end of the main straight, his McLaren slamming over the kerbs and into the wall after a rear brake locked on.
Brundle thus finished a worthy third, his result well deserved after the scare he had at Suzuka: while Panis' three-stop strategy paid a handsome dividend for Ligier as the team moved to sixth place ahead of Tyrrell-Yamaha in the Constructors' Championship.
Behind Frentzen, Fittipaldi enjoyed a strong battle with the Minardis which was resolved in his favour from Pierluigi Martini. Alboreto, after an early clash with Zanardi resulted in a spin, retired with suspension damage within sight of the flag. Zanardi himself drove beautifully, coping with a throttle problem that ended with a broken cable.
Mansell's victory put the seal on Williams' third straight success in the Constructors' Championship, stealing that at least from Benetton, and was his 31st GP success in his 185th race, and his first triumph in eight tries Down Under. It did his cause for 1995 no harm whatsoever.
"It's a great relief," he admitted happily. "I've now won a race every year since 1985, but this one was balls-out all the way. There literally wasn't any time for a breather. Whether I drive then or go fishing, at least I can say I won the Australian Grand Prix," he added.
His success served to heighten the sympathy felt for Hill, whose plight evoked memories of Mansell's own dramatic misfortune in Adelaide in 1986. Schumacher looked suitably contrite for a while after clinching his first World Championship in the sort of controversial style one used to associate with Ayrton Senna and Alain Prost, and offered apologies for the harsh words he'd said about his rival earlier in the season. Pointedly, however, he offered no apology for what many saw as two deliberate blocking moves which ultimately took them both out of the race. He dedicated his success to Ayrton Senna, but there was a bad taste to the post-race celebrations in the Benetton pit just as there had been at McLaren at Suzuka in 1990.
Hill was drained but remarkably philosophical in defeat, after the greatest race of his career in which he had really carried the fight to Schumacher.
"I pushed him very hard all the way, it was a terrific race and all I can say is that it is over now. I have an empty feeling, but I think I gave him a good run for his money. He certainly was feeling the pressure as he ended up going off the road.
"I saw the opportunity and I thought I had to go there. That is motor racing. I am afraid that going into the last race with one point deficit to Michael is unfortunately always going to be putting you into the position where you have got everything to lose. I couldn't win in that sort of situation.
"I want to say that everyone in the Rothmans Williams Renault team deserves a medal this year. They have been through a hell of a tough time and there at least for the last race we were fighting for the Championship and looking very strong and competitive."
In the final analysis he could justifiably feel robbed, but he fought with honour and he lost with great dignity. He'll be back. DJT
STARTING GRID
2 MANSELL Williams FW16 1:16.179 (1) 1:33.988 (2)
5 SCHUMACHER Benetton B194 1:16.197 (1) 1:32.627 (2)
0 HILL Williams FW16 1:16.830 (1) 1:33.792 (2)
7 HAKKINEN McLaren MP4/9 1:16.992 (1) 1:35.432 (2)
14 BARRICHELLO Jordan 194 1:17.537 (1) 1:37.610 (2)
15 IRVINE Jordan 194 1:17.667 (1) no time (2)
6 HERBERT Benetton B194 1:17.727 (1) 1:35.712 (2)
27 ALESI Ferrari 412 T1 1:17.801 (1) 1:33.905 (2)
8 BRUNDLE McLaren MP4/9 1:17.950 (1) 1:36.246 (2)
30 FRENTZEN Sauber C13 1:17.962 (1) 1:35.623 (2)
28 BERGER Ferrari 412 T1 1:18.070 (1) 1:33.818 (2)
26 PANIS Ligier JS39B 1:18.072 (1) 1:36.222 (2)
4 BLUNDELL Tyrrell 022 1:18.237 (1) 1:35.462 (2)
12 ZANARDI Lotus 109 1:18.331 (1) 1:39.179 (2)
3 KATAYAMA Tyrrell 022 1:18.411 (1) 1:36.628 (2)
24 ALBORETO Minardi M194 1:18.755 (1) 1:36.498 (2)
29 LEHTO Sauber C13 1:18.806 (1) 1:36.245 (2)
23 MARTINI Minardi M194 1:18.957 (1) 1:36.257 (2)
9 FITTIPALDI Footwork FH15 1:19.061 (1) 1:35.790 (2)
25 LAGORCE Ligier JS39B 1:19.153 (1) 1:37.393 (2)
10 MORBIDELLI Footwork FA15 1:19.610 (1) 1:35.136 (2)
11 SALO Lotus 109 1:19.844 (1) 1:43.071 (2)
19 NODA Footwork FA15 1:20.145 (1) 1:47.569 (2)
31 BRABHAM Simtek S941 1:20.442 (1) no time (2)
20 DELETRAZ Larrousse LH94 1:22.422 (1) 1:44.155 (2)
32 SCHIATTARELLA Simtek S941 1:22.529 (1) no time (2)
Did not qualify:
BELMONDO (Pacific PR01) 1:24.087 (1) no time (2)
34 GACHOT (Pacific PR01) 7:40.317 (1) no time (2)
AUSTRALIAN GRAND PRIX, Adelaide, November 13
81 laps of 2.348-mile circuit (190.254 miles)
1 Nigel Mansell Williams FW16-Renault V10 1h 47m 51.480s 1m 18.167s 52
2 Gerhard Berger Ferrari 412 T1-Ferrari V12 1h 47m 53.991s 1m 18.094s 48
3 Martin Brundle McLaren MP4/9-Peugeot V10 1h 48m 43.967s 1m 18.819s 76
4 Rubens Barrichello Jordan 194-Hart V10 1h 49m 02.010s 1m 18.674s 60
5 Olivier Panis Ligier JS39B-Renault V10 80 laps 1m 18.864s 60
6 Jean Alesi Ferrari 412 T1-Ferrari V12 80 laps 1m 18.193s 34
7 Heinz-Harald Frentzen Sauber C13-Mercedes V10 80 laps 1m 19.346s 66
8 Christian Fittipaldi FootworkFA15-Ford HB V8 80 laps 1m 19.458s 47
9 Pierluigi Martini Minardi M194-Ford HB V8 79 laps 1m 20.255s 54
10 JJ Lehto Sauber C13-Mercedes V10 79 laps 1m 20.159s 53
11 Franck Lagorce Ligier JS39B-Renault V10 79 laps 1m 20.436s 40
12 Mika Häkkinen McLaren MP4/9-Peugeot V10 76 laps – accident 1m 18.632s 66
Ret Michele Alboreto Minardi M194-Ford HB V8 69 laps – suspension 1m 20.338s 38
Ret Mark Blundell Tyrrell 022-Yamaha V10 66 laps – accident 1m 18.909s 56
Ret Jean-Denis Délétraz Larrousse LH94-Ford HB V8 56 laps – gearbox electronics 1m 23.929s 3
Ret Mika Salo Lotus 109-Mugen-Honda V10 49 laps – electronics 1m 20.164s 41
Ret David Brabham Simtek S941-Ford HB V8 49 laps – engine 1m 20.637s 14
Ret Alessandro Zanardi Lotus 109-Mugen-Honda V10 40 laps – throttle cable 1m 19.784s 11
Ret Damon Hill Williams FW16-Renault V10 35 laps – accident damage 1m 17.140s 29
Ret Michael Schumacher Benetton B194-Ford Zetec-R V8 35 laps – accident 1m 17.294s 20
Ret Domenico Schiattarella Simtek S941-Ford HB V8 21 laps – gear selection 1m 22.674s 16
Ret Ukyo Katayama Tyrrell 022-Yamaha V10 19 laps – spin 1m 19.592s 10
Ret Hideki Noda Larrousse LH94-Ford HB V8 18 laps – oil fire 1m 21.961s 11
Ret Gianni Morbidelli FootworkFA15-Ford HB V8 17 laps – oil pump 1m 20.771s 12
Ret Eddie Irvine Jordan 194-Hart V10 15 laps – spin 1m 18.932s 10
Ret Johnny Herbert Benetton B194-Ford Zetec-R V8 13 laps – gearbox 1m 19.658s 11
Winner's Average Speed: 105.835 mph
Conditions: warm, dry
Fastest Lap: Michael Schumacher, 1m 17.140s on lap 29, 109.615 mph
Championship points – Drivers: 1 Schumacher 92; 2 Hill 91; 3 Berger 39; 4 Hakkinen 26; 5 Alesi 24; 6 Barrichello 19; 7 Brundle 16; 8 Coulthard 14; 9 Mansell 13; 10 Verstappen 10; 11 Panis 9; 12 Blundell 8; 13 Frentzen 7; 14 Larini, Fittpaldi and Irvine 6; 17 Katayama 5; 18 Bernard, Wendlinger, Martini, de Cesaris 4; 22 Morbidelli 3; 23 Comas 2; 24 Alboreto and Lehto 1.
Constructors: 1 Williams Renault 115; 2 Benetton Ford 103; 3 Farrari 71; 4 McLaren Peugeot 42; 5 Jordan Hart 28; 6 Tyrrell Yamaha and Ligier Renault 13; 8 Sauber Mercedes-Benz 12; 9 Footwork Ford 9; 10 Minardi Ford 5; 11 Larrousse Ford 2.