Pacific Grand Prix – TI Circuit Aida, 22 October 1995 – 83 laps of 2.30 mile circuit (190.90 miles) TI Circuit Aida, 22 October 1995
1: Michael Schumacher – Benetton B195-Renault V10 – 1h 48m 49.972s
2: David Coulthard – Williams FW17B-Renault V10 – 1h 49m 04.892s
3: Damon Hill – Williams FW17B-Renault V10 – 1h 49m 38.305s
4: Gerhard Berger – Ferrari 412 T2-Ferrari V12 – 82 laps
5: Jean Alesi – Ferrari 412 T2-Ferrari V12 – 82 laps
6: Johnny Herbert – Benetton B195-Renault V10 – 82 laps
The race in brief
David Coulthard leads at the start. Michael Schumacher tries to overtake Damon Hill around the outside into the opening corner, only for the Williams to rebuff the move, forcing him out wide. Alesi nips through in the process and at the end of the lap 1 Hill is third behind the Frenchman, with Schumacher fifth behind the second Ferrari of Gerhard Berger.
Bertrand Gachot retires his Pacific with gearbox trouble on lap 3.
Schumacher gets past Berger on lap 5, by which point Coulthard enjoys and eight second lead.
Jean-Christophe Boullion demonstrates how difficult it is to overtake when his pursuit of Pedro Lamy's Minardi ends in the gravel trap on lap 9. Ahead, Hill and Schumacher are finding it equally difficult to pass Alesi.
Schumacher attempts to tow past Hill down the back straight on lap 11, locking a brake as his challenge is again repulsed. Later, he complains bitterly that his rival lifted off suddenly while the Benetton was in his slipstream.
Andrea Montermini retires the second Pacific with transmission failure on lap 15.
Alesi, Hill and Schumacher all pit, nose-to-tail, on lap 18. The Williams crew has trouble mating the refuelling coupling to the car. Hill therefore rejoins fourth, with Schumacher getting out in second.
Half a minute ahead of Schumacher, and with only two new sets of tyres at his disposal after qualifying. Coulthard switches to a two-stop strategy, pitting on lap 37. Hill quickly follows suit and demotes Alesi to fourth when the latter pits on lap 39. The delay behind the Ferrari has proved costly, though, and Hill now trails Schumacher by 37 seconds.
Taki Inoue quits with engine failure on lap 39, and Arrows team-mate Gianni Morbidelli later succumbs to a similar problem.
Struggling on his worst set of tyres, Alesi is passed by Berger for fourth on lap 45.
Coulthard laps over three seconds slower than Schumacher on lap 49, when trapped in traffic behind Heinz-Harald Frentzen, Sauber. He is therefore called in early for his final stop, rejoining in second place 14 seconds behind the Benetton, which still has one stop to make.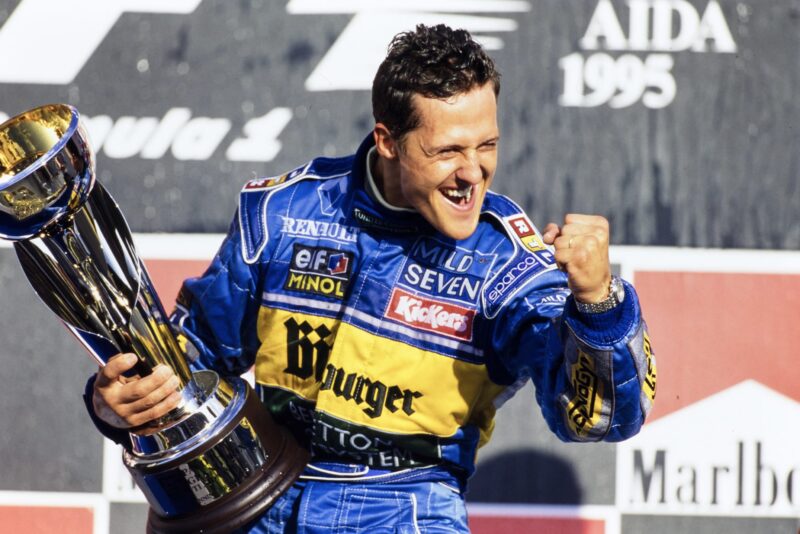 Frentzen's belligerence is rewarded when, on lap 52, he makes a quicker stop than Irvine and snatches seventh. The Sauber then pursues Johnny Herbert.
Ring of fast laps, allied to the second quickest pit stop of the race, see Schumacher exit his last refuelling stop on lap 59 just ahead of Coulthard. The latter, condemned to a long final stint on worn rubber, has to settle for second place.
Schumacher crosses the line on lap 83 to clinch the World Championship. The Williams duo also lap the Ferraris. Traffic helps Herbert stay clear of the chasing Frentzen, but also thwarts his bid to snatch fifth from Alesi. Olivier Panis inherits eighth late on when both Jordans hit trouble, Irvine picking up a puncture and Rubens Barrichello retiring with electrical trouble. Jan Magnussen ends his impressive debut 10th after closing right up on McLaren team-mate Mark Blundell in the final laps.