Tony Brise: the F1 driver with so little time
The newspapers understandably concentrated on Graham Hill in the aftermath of his fatal plane crash, but the tragedy also claimed the life of a man who might have proved even greater than his boss. David Tremayne remembers the brief but brilliant career of Tony Brise.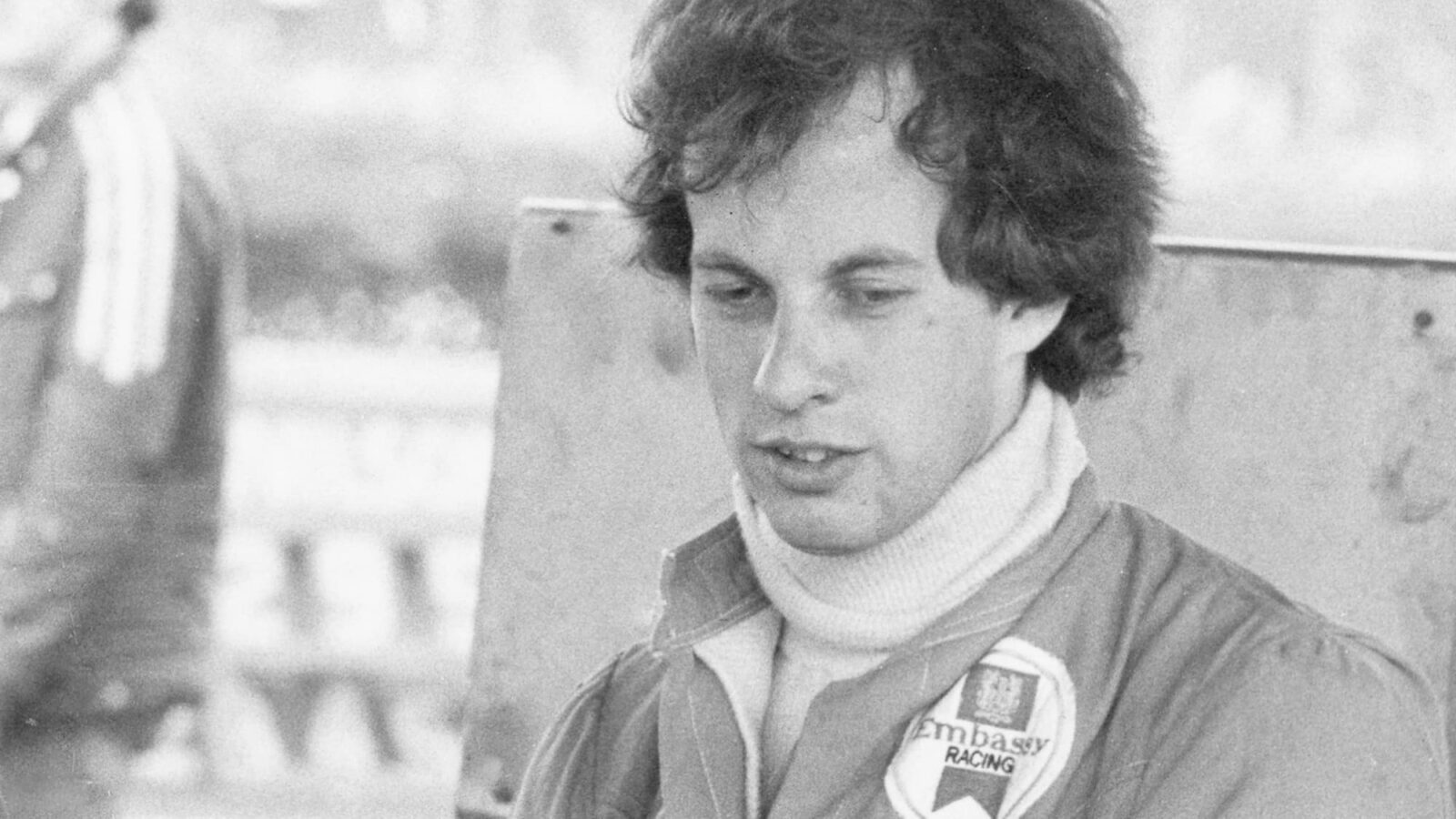 Twenty five years on, the photograph still has a mesmeric power to make your eyes prickle, to evoke anger and poignant images of what might have been. Five men stand proudly behind a white and red racing car. One of them is the legendary champion Graham Hill, wearing the smile of the new father, paternally proud of his new creation, the Hill GH2.
From the cockpit a young man smiles confidently at the camera. Good-looking, his hair is tousled and his eyes are full of the hope that will propel the little team into a brave new year in which they expect to build on the foundation of a remarkable 1975. He is self-assured in the way that only a handful of upcoming race drivers really are. He knows he is fast, and that much of the burgeoning hope within the team has been generated by his scintillating talent.
This is Tony Brise, the Michael Schumacher of his day.
In the photograph Brise's expression is not hard to read, but there were those, earlier in his career, who disliked what they saw. "When he was young and was still at Eltham College, and had his sights on being a racing driver, some local people used to call him arrogant," his mother Pam concedes. "But college can knock that out of you."
But here's one of the many unusual things about Brise: the longer he was in F1, the more relaxed and less arrogant he appeared. Here was a man who knew he had at last entered his element, who knew that a world championship beckoned, and that he had the ability to fulfil such destiny.
Just over a month after the photograph was taken the glorious dream was over, as ethereal as the fog of a cold November night which cloaked Elstree and its aerodrome. The destination that Graham Hill and members of his team, Tony Brise among them, would never reach. Hill's Piper Aztec made it as far home as nearby Arldey Golf Course, where the former champion crashed into trees. There were no survivors.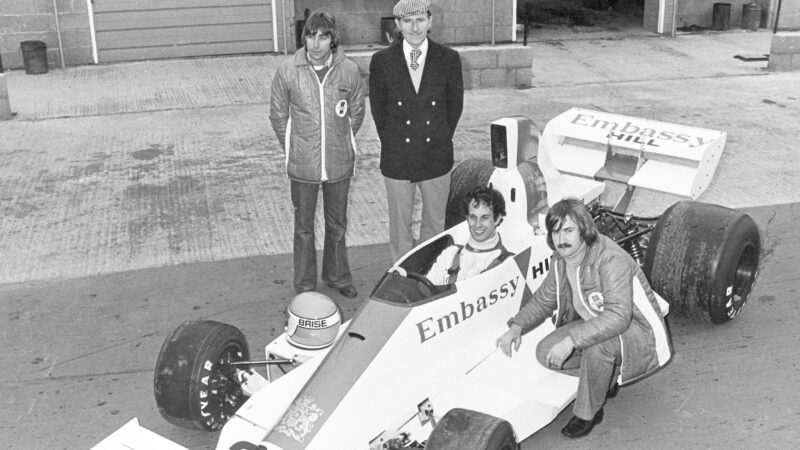 So 1975 was the one year of true fulfilment fate granted Brise. According to Autosport reporter Pete Lyons, he crossed the F1 horizon "like a comet in pagan skies". But those who knew the tall 23-year-old remain eager to talk about him. Former mechanic Jerry Bond, in particular, is anxious to lay the ghost of arrogance.
"Tony? No way, not at all."
"He was a good person," his mother says, careful her wish to be accurate is not overridden by maternal pride. "A lovely guy, very thoughtful, a deep thinker like his father. And he had that deep knowledge of cars that came from growing up with his father. He was a clever chap, actually. He liked flying, and even in his early days in racing, he said he thought he might take it up. He told us: 'It's much nicer. Motor racing is so cut-throat.' And that was back then!"
Brise's precocious talent would lift the Embassy Hill Racing team, but when he first visited their Hanworth premises he was late for a seat fitting. The mechanics paid him back.
"Everything was all foamed up and the fitting was done," recalls Ian Flux, the team's gopher. "But you stuck to the foam in those days, and chief mechanic Steve Roby and the lads just left him in the car while we all went off to lunch."
Bond remembers: "Everyone got on really well with Tony, though. I knew him before that, because I'd been working for Frank Williams when Tony made his grand prix debut over in Spain. He was a very nice, likeable guy, and he was good to us."
"Tony had been pretty devastating in Formula Atlantic," Williams recalls of his decision to invite him to substitute when regular driver Jacques Laffite had a clashing F2 commitment. "It was obvious to me that the guy was a little bit special."
Brise qualified his unfancied mount 18th at the challenging Montiuich Park, ignoring all the unsavoury politicking over safety that would make this such a controversial event In the dramatic race he put in a performance Bond describes as "mega", moving up to sixth place after 19 laps. Then he and former F3 sparring partner Tom Pryce tangled at the hairpin, necessitating a pitstop. Brise finished seventh, just missing a point on his debut. "He had good communication and understood the car," Williams continues. "He was ahead of the game, he wasn't flustered. The guy was very talented; he would have been an English great."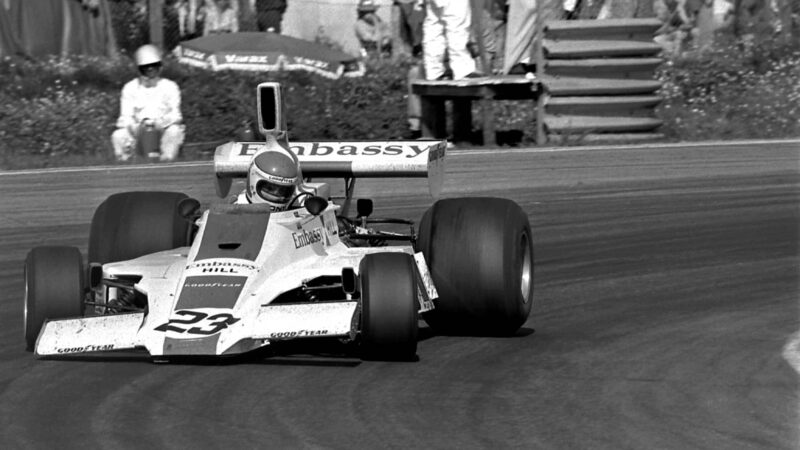 Here's another odd thing: even after that performance, Brise remained underrated. Looking back it seems incredible that such clear ability could still be overlooked. He had been a prodigy in karting, entering the sport with the encouragement of his father Johnny, a former world stockcar champion. In Formula Ford, Brise breezed to countless victories, even though his Elden had a reputation as an edgy chassis, difficult to get the best out of. In Formula Three in 1972, he emerged as one of the few drivers capable of challenging the equally outstanding Roger Williamson. A year later he won the John Player and Lombard F3 championships, but still nobody took any notice. He seemed a forgotten man.
In 1974 he dominated the Formula Atlantic scene, and then won six consecutive races at the start of 75. Despite that mature and confident performance in Spain, Brise, like Pryce before him, found himself back in the F3 support race at Monaco. This time there was no fairy tale victory, but his fabulous charge through the field after problems in his heat brought him a new lap record. He was ultimately thwarted by leader Alex Ribeiro, who slammed the door in his face at Mirabeau, forcing both to retire, but the point had been made: Fl could ignore Tony Brise no longer.
By the Belgian GP in May, Graham Hill had beaten Williams to his services, as the replacement for Rolf Stommelen, who had been injured in the tragic Spanish race. At Zolder Brise qualified a sensational seventh, and in the race fought his way by luminaries such as Emerson Fittipaldi and Ronnie Peterson before spinning. In Sweden he was heading for fifth until the loss of fifth gear dropped him back a place. Photographer Jeff Hutchinson has never forgotten the drive he witnessed that day.
"He'd bent a front wing on the first lap and it dangled all the way through, but nevertheless he drove fantastically well. He looked so at home in the car, even though it was oversteering badly. He looked to me a lot like Jenson Button does today — so composed and completely confident How Ronnie used to look."
The Hill GH1 had metamorphosed from the previous season's Lola T370. It was a good car, but on many occasions Brise would make it look great That day, too, he passed Fittipaldi and Peterson, as well as Mark Donohue, only to be frustrated by a gearbox problem and a misfire that had relegated him to 17th in practice.
In Holland he annihilated team-mate Alan Jones during the race's wet period, but a slow stop for dry tyres killed his chances of more points and left him seventh. He finished seventh again in France but crashed at Silverstone. That was the event in which Hill bade his fans an emotional farewell and finally confirmed his decision to retire. In Brise he knew he had a future champion.
At the Nurburgring Tony endorsed Hill's view, moving from 14th to seventh before his suspension failed. "This place is God's gift to racing drivers," he enthused. Brise had soul as well as talent. In the Austrian rain he soared from 17th on the opening lap to ninth on the 13th but dropped back when he pitted to replace an outof-balance front wheel. He qualified sixth at Monza but only made it to the first chicane before colliding with Mario Andretti's Parnell.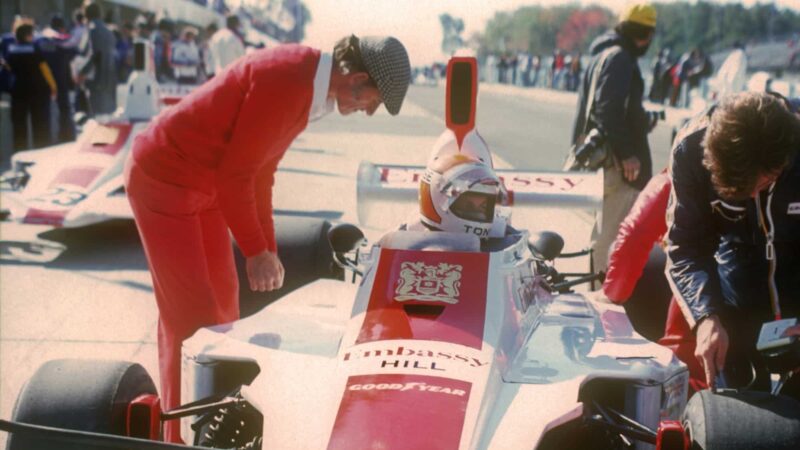 By now, Brise was in demand and dovetailed Fl with appearances in Teddy Yip's F5000 Lola T332. He thrashed Jones's far more nimble MarchCosworth until robbed by a slow puncture at Brands Hatch, but it was California's Long Beach race that allowed him to showcase his talent in even more dazzling fashion. Brian Redman and Mario Andretti were F5000 that year, but Brise matched them in qualifying until halted by a broken driveshaft In their heat, he beat Mario down to the first right-hander at the end of Shoreline Drive and went on to win. He started die final from pole alongside Al LInser Snr, with Andretti and Redman behind, yet once again won the drag race down Shoreline Drive. Eventually arise lost the lead to Andretti, but just as he regained it when the American's engine broke, another driveshaft let go within sight of the flag.
Brise was now — at last— racing at his correct level. Fourth place at Laguna Seca and sixth at Riverside rounded out his F5000 season, together with the Formula Atlantic championship title. B.4
As he flew home from a troubled US GP, he was looking forward to the first test of the Hill GH2.
The lowline car came from the pen of Andy Smallman, a selfeffacing fellow, the youngest designer in F1. A shakedown at Silverstone late in October was followed by a test at Paul Ricard. Results were disappointing: the new car was two seconds slower than the old. So they came back, made changes and a month later returned to Ricard. And this test filled them with optimism. Tony had a contract for 76, and Graham Hill had negotiated 1365,000 of sponsorship from Embassy. The future seemed limitless as Hill, Brise, Smallman, team-manager Ray Brimble, mechanic Terry Richards and workshop manager Tony Allcock boarded Hill's Piper Aztec. It should have been a routine flight home from Marseilles to Elstree, to the north of London. It was 29 November 1975.
A thick fog was slowly smothering the south of England and visibility in the Elstree area was down to 800 metres and getting worse, but Hill attempted a visual approach rather than divert to Luton. Around 21.29, having passed over Bamet, he apparently mistook the lights of Arkley Golf Course for those of Elstree Aerodrome six kilometres further west, and tried to land too soon. The Aztec clipped two oak trees and tumbled fatally into others.
Irregularities were subsequently discovered in the documentation on Hill's plane, and eventually his widow Bette lost most of her husband's estate in legal recriminations. Later it was alleged that one of Hill's advisors had failed to renew some of the plane's paperwork. But nothing changed the cruel facts.
The accident was no fault of Brise's, the way an accident on the race track might have been. Fate took his destiny from his own hands, and put it in those of the man who had so appreciated his prodigious talent. The fog, poor navigation and a basic mistake extinguished a brilliant light prematurely. Motorsport lost not one but two champions that night.